Dallas Mavericks
Dallas Mavericks
Mavericks look to snap losing streak vs. Wizards
Published
Nov. 6, 2018 12:01 a.m. ET
Booed early and often in their previous home game, the Washington Wizards regrouped behind guards John Wall and Bradley Beal for their first home victory Sunday.
Now they will try to take that success on the road.
Wall and Beal combined for 48 points,10 assists and 10 rebounds in a 108-95 triumph over the New York Knicks, when the Wizards broke a five-game losing streak.
"I don't know what sparked it, but that's what we needed," Beal told reporters Sunday. "It was put together for the whole 48 minutes for the first time. In games past, we'd play a good first half or a good second half."
Wall added five steals against the Knicks, and Dwight Howard had 10 points and 10 rebounds in his second game of the season, his first double-double. He missed the first seven games with a sore piriformis muscle
"We needed something to break the ice," Howard told reporters. "I think from here on out we know how we've got to play."
Dallas, at the same time, can hope its home success resumes when the two 2-7 teams meet in America Airlines Center on Tuesday in the opener of the Wizards' three-game road trip.
The Mavericks, who have not played since losing to the Knicks at home Friday, have lost six in a row since a 115-109 home victory over Chicago on Oct. 22. They have split four home games this season.
Recent series history is on the Mavericks' their side. They have won 14 of the last 15 games between the two and held the Wizards to 75 points on 30 percent shooting in a 98-75 home victory last Jan. 22. Washington has not won in Dallas since Oct. 27, 2009.
The game matches two teams who have had trouble getting stops in the first three weeks of the season.
The Wizards have given up a league-high 120.7 points a game and gave up at least 107 points in their first eight games before shutting down the Knicks. Opponents are shooting 47.5 percent.
"When you're good, everybody defends and everybody sacrifices," Washington coach Scott Brooks said. "When you are not, nobody defends and nobody sacrifices. It's about defending and sacrificing for one another."
The Mavericks' opponents are shooting an even 50 percent from the floor and a league-high 45 percent from three-point range. The Knicks shot 54.8 percent from the field in their victory Friday, the sixth Dallas opponent to shoot at least 51.2 percent.
For Dallas coach Rick Carlisle, the direction is clear.
"At this point we've got to get angry," Carlisle said after the loss to the Knicks.
"We've got to get more together. I'm not going to get into the intimacies on what's going on in the locker room. We're very disappointed. We've got to be more consistent throughout the game, defensively and offensively. But it's going to start with our defense."
Six-foot-11 Center DeAndre Jordan is averaging 12.7 points and 14.3 rebounds, and he and has at least 10 rebounds in every game.
The Mavs are less physical at other spots in a league that is trending toward smaller, quicker lineups. Small forwards Harrison Barnes and Luka Doncic and guards Wesley Matthews and Dennis Smith Jr. are the other starters.
"You've got to be connected (defensively)," Jordan said. "Five have got to be on the string the entire possession for the hundreds of possessions you have in a game. We're not there yet.
"We may have three on a string. We may have four. That's not good enough. We have to have everybody locked in on the same page with the same effort for the full 24 (seconds)."
Doncic, 6-foot-7, leads NBA rookies with a 19.7 scoring average and is second in assists and fourth in rebounds. Barnes, who missed the first four games and all of preseason with a hamstring, is still rounding into form, averaging 14.4 points while shooting 35.1 percent from the field.
---
---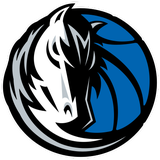 Get more from Dallas Mavericks
Follow your favorites to get information about games, news and more
---