Lowry, Westbrook set to duel as Raptors look to stay undefeated
Published
Nov. 4, 2015 1:17 a.m. EST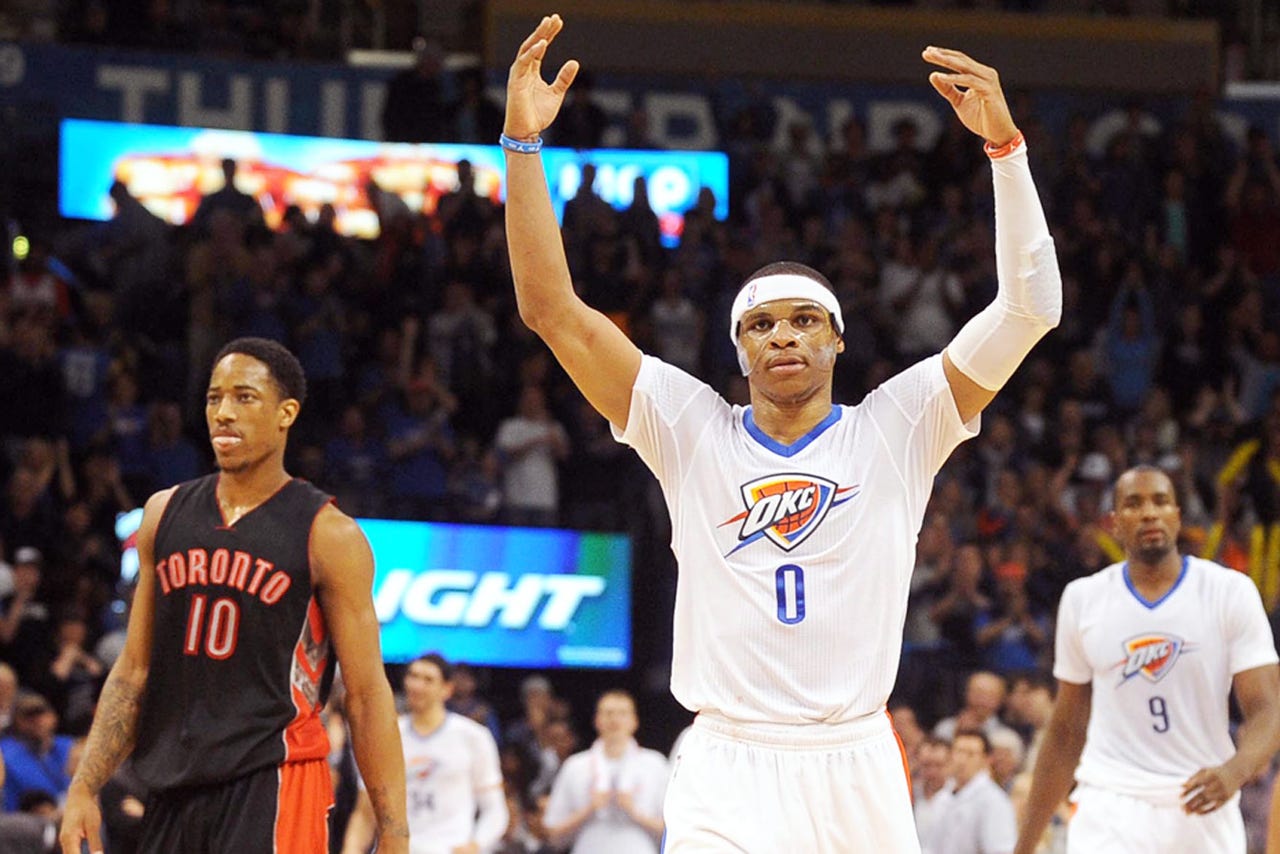 The Toronto Raptors are off to their first 4-0 start thanks in part to a defense that is limiting foes to an Eastern Conference-best 38.7 percent from the field.
They figure to be put to the test against the NBA's highest-scoring duo Wednesday night.
Kevin Durant and Russell Westbrook are off to red-hot starts for the Oklahoma City Thunder, who look to bounce back from their first defeat and become the first club to knock off the Raptors.
Toronto (4-0) started this four-game trip with Tuesday's 102-91 victory over Dallas, holding the Mavericks to 38.4 percent shooting including a four-minute stretch in the fourth quarter in which the home team didn't register a basket.
The new-look Raptors weren't sure what to expect, but like what they are seeing so far.
"I think it was the start that we needed," said Kyle Lowry, who scored a team-high 27 points and handed out 10 assists. "Either we could have a real good start, or a tough start with pretty much 10 new guys. But I think we've done a good job of just staying focused with our principles."
Now they must contend with the Thunder, who are second in the league in points per 100 possessions (109.0), points per game (118.3) and field-goal percentage (48.4).
Westbrook is second in the league with 30.3 points per game and Durant is averaging 29.8 while showing little negative effects from the broken right foot that sidelined him for most of last season.
Durant missed both games against Toronto in 2014-15. The last time he faced the Raptors, he exploded for 51 points with a 31-foot 3-pointer with two seconds left in a 119-118 overtime win March 21, 2014.
While the Thunder have been tough to stop, they have also stopped themselves by averaging 19.4 turnovers per 100 possessions to match Philadelphia for the league's worst mark. They had a season-high 25 turnovers in their first loss, 110-105 at Houston on Monday.
"I thought our turnovers tonight, (25) is too much and we've really got to try to make some strides and get better in that area," first-year coach Billy Donovan said.
The biggest culprit has been Westbrook, averaging a career-high 5.5 turnovers after he averaged 4.4 a season ago for the league's highest mark. Last season was mostly a result of Westbrook shouldering the load with Durant out; now it's more of a concern with the superstar duo reunited.
"I just think we need to get better and we keep needing to improve," Donovan said. "I think we really need to focus and really get better in terms of playing to our identity."
Oklahoma City (3-1) leads the NBA in rebound margin at plus-14.5 while Toronto is also among the leaders in that department at plus-10.3. Enes Kanter leads the Thunder with 11.0 rebounds per game and Jonas Valanciunas tops the Raptors at 10.3.
The Raptors have won consecutive road games against the West after losing nine straight such contests. They went 11-8 in the second half of back-to-back sets last season; this is their first 2015-16 set.
"We are off to a great start, but we have to remember this is a marathon, not a sprint," coach Dwane Casey said.
---
---