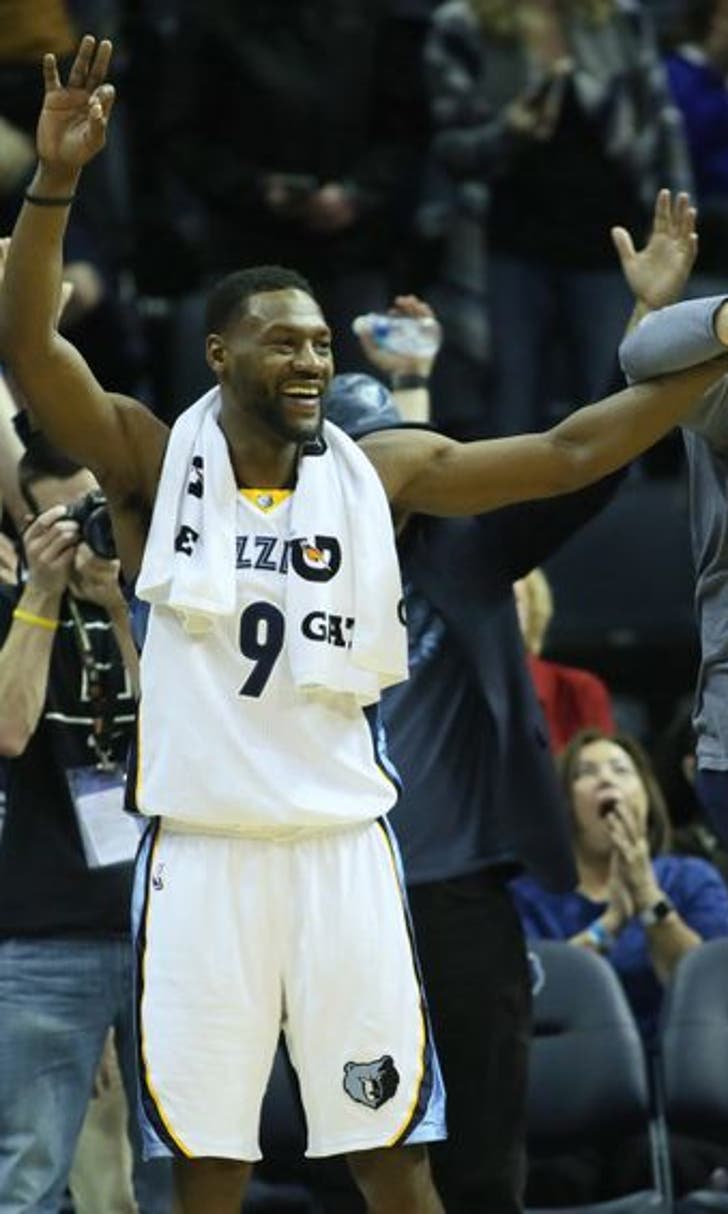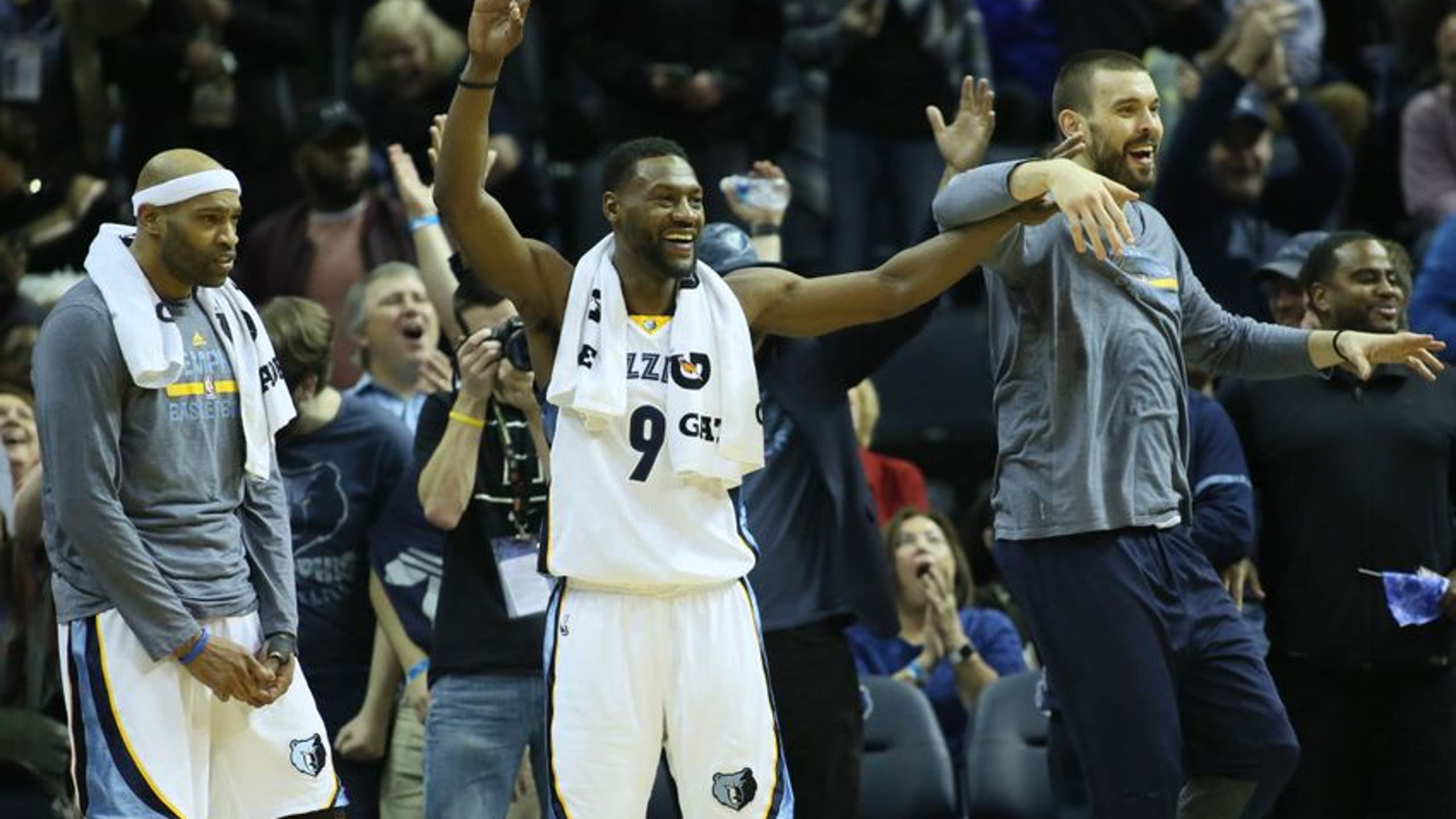 Knicks Trade Rumors: Evaluating Realistic Trade Options
BY Fansided and Maxwell Ogden/FanSided via Daily Knicks • January 1, 2017
Dec 29, 2016; Memphis, TN, USA; Memphis Grizzlies guards Vince Carter and Tony Allen (9) celebrate with center Marc Gasol after a three point basket against the Oklahoma City Thunder during the fourth quarter at FedExForum. Memphis defeated Oklahoma City 114-80. Mandatory Credit: Nelson Chenault-USA TODAY Sports
There are a number of players being mentioned in trade rumors. Which rumored option would actually be worth targeting for the New York Knicks?
---
Though it may seem as though the regular season just began, the 2017 NBA Trade Deadline is mere weeks away. Set to transpire on February 23, the landscape of the Association could change in unspeakable ways.
Though the New York Knicks aren't necessarily seeking out trade opportunities, there are realistic targets who are worth evaluating.
New York enters 2017 at 16-17 overall, 11-5 at home, and 5-9 on the road in 2016-17. It's still on pace to make the 2017 NBA Playoffs, but below .500 is an uncomfortable place to be this deep into the season.
For that reason, it's fair to believe that the Knicks could benefit from making a move at or before the deadline.
New York is one of the worst defensive teams in the NBA, which may beckon the need for improved personnel on that end of the floor. The Knicks also have a number of expiring contracts that could potentially be replaced by players on more realistic deals.
The question is: who are the rumored trade options and should the Knicks actually value the possibility of adding one of those talented players?
Nov 23, 2016; Sacramento, CA, USA; Sacramento Kings guard Ben McLemore (23) looks to pass against Oklahoma City Thunder guard Anthony Morrow (2) during the second half at Golden 1 Center. The Kings beat the Thunder 116-101. Mandatory Credit: Sergio Estrada-USA TODAY Sports
5. Ben McLemore, Sacramento Kings
Position: Shooting Guard
Age: 23 (2/11/1993)
Experience: 4th Season
2016-17 Slash Line: .409/.281/.750
2016-17 Season Averages: 16.9 MPG, 6.0 PPG, 1.4 RPG, 0.7 APG, 0.5 SPG, 0.6 3PM
The New York Knicks need defense far more than they need offense. Thus, the upside Ben McLemore possesses as an offensive player can only be acknowledged if one also addresses his lackluster defensive presence.
McLemore has the physical gifts to be a quality defender, however, which is why he's a player worth considering. Per David Aldridge of NBA.com:
Ben McLemore (7th overall), Sacramento: The Kings have been trying to move him for more than a year.
McLemore is 6'5″ with a 6'8″ wingspan and an explosive 42.0″ max vertical leap. At 23 years of age, it's fair to believe that the former Kansas Jayhawks star has untapped potential that Jeff Hornacek and Phil Jackson could help him realize.
If nothing else, McLemore has proven throughout his NBA career that he's more than capable of spacing the floor.
McLemore is on an expiring contract with restricted free agency looming. In other words: the Knicks could either let him walk or play the market and bring him back at the price that other teams dictate for him.
Unless Courtney Lee and Justin Holiday fall completely off the map, however, trading for a shooting guard simply wouldn't make sense.
Dec 28, 2016; San Antonio, TX, USA; Phoenix Suns point guard Brandon Knight (11) shoots the ball as San Antonio Spurs center Dewayne Dedmon (3) defends during the first half at AT&T Center. Mandatory Credit: Soobum Im-USA TODAY Sports
4. Brandon Knight, Phoenix Suns
Position: Point Guard
Age: 25 (12/2/1991)
Experience: 6th Season
2016-17 Slash Line: .395/.357/.843
2016-17 Season Averages: 23.0 MPG, 12.7 PPG, 2.6 APG, 2.6 RPG, 0.6 SPG< 1.0 3PM
The Phoenix Suns have two guards locked up long-term in point guard Eric Bledsoe and shooting guard Devin Booker. That's created quite the conundrum for head coach Earl Watson, who's attempting to find playing time for Brandon Knight.
According to Marc Stein of ESPN, many around the NBA believe that Knight is one of the bigger names who's expected to be moved by February 23.
The latest signals continue to suggest that Suns guard Brandon Knight will be one of the bigger names to move between now and the Feb. 23 trade deadline.
Knight finished the 2015-16 NBA regular season with averages of 19.6 points and 5.1 assists in 36.0 minutes per game. He's down to just 23.0 minutes played per game in 2016-17, however, which has resulted in his decline in production and efficiency.
Knight has the skill set and proven history of producing at a borderline elite rate, however, and that's a truth worth exploring.
Knight played for head coach Jeff Hornacek in Phoenix, which creates enough of a history to believe chemistry exists. In New York, he'd be a pick and roll playmaker who can score at the end of the shot clock and thrive both behind and alongside Derrick Rose.
This trade is highly unlikely if an injury doesn't occur, but Knight is a target to keep an eye on with an affordable contract and upside to realize.
Dec 21, 2016; Atlanta, GA, USA; Minnesota Timberwolves guard Ricky Rubio (9) battles for the ball with Atlanta Hawks guard Kyle Korver (26) during the second half at Philips Arena. The Timberwolves defeated the Hawks 92-84. Mandatory Credit: Dale Zanine-USA TODAY Sports
3. Ricky Rubio, Minnesota Timberwolves
Position: Point Guard
Age: 26 (10/21/1990)
Experience: 6th Season
2016-17 Slash Line: .365/.278/.863
2016-17 Season Averages: 31.5 MPG, 7.3 PPG, 7.3 APG, 4.1 RPG, 1.8 SPG, 0.7 3PM
Six seasons into his NBA career, Minnesota Timberwolves point guard Ricky Rubio has been wildly inefficient. That's continued into 2016-17, as Rubio has shot just 36.5 percent from the field and 27.8 percent from beyond the arc.
For as atrocious as his shooting from the field and 3-point range may be, Rubio borders on elite as both a facilitator and a defender.
Rubio's passing is Mark Jackson-esque in the way he runs the floor and makes crisp passes to shooters and slashers alike. He's an exceptional pick and roll facilitator who takes care of the ball and creates scoring opportunities.
Rubio is also one of the best defensive players at his position, as evidenced by the fact he's ranked in the Top 5 amongst point guards in Defensive Real Plus-Minus in four consecutive seasons.
Rubio's poor scoring touch is an obvious concern, which is why he may not be the best player for New York to pursue. He's signed to an affordable contract, however, which is intriguing given the fact that both Derrick Rose and Brandon Jennings are pending free agents.
Both Rose and Jennings are reestablishing themselves as dynamic playmakers, but if Phil Jackson finds one or the other underwhelming, Rubio could be the answer.
Dec 23, 2016; New Orleans, LA, USA; Miami Heat guard Goran Dragic (7) handles the ball during the first quarter of the game against the New Orleans Pelicans at the Smoothie King Center. Mandatory Credit: Matt Bush-USA TODAY Sports
2. Goran Dragic, Miami Heat
Position: Point Guard
Age: 30 (5/6/1986)
Experience: 9th Season
2016-17 Slash Line: .449/.404/.785
2016-17 Season Averages: 34.3 MPG, 18.8 PPG, 6.7 APG, 3.9 RPG, 0.9 SPG, 1.6 3PM
The New York Knicks should see the Derrick Rose experiment through to the end of the 2016-17 NBA regular season. Should an injury occur, however, there's a team that could be interested in taking on a salary dump: the Miami Heat.
In the event of an injury—and barring an otherwise devastating setback, only in the event of an injury—Goran Dragic could be the perfect fit.
Dragic has the appeal of already being signed long-term, while Rose is a pending free agent who could command upwards of $20 million per season. Dragic, meanwhile, is signed has an average salary of $17,000,450 and is signed to two more guaranteed seasons.
For those who are unfamiliar, Dragic also made the All-NBA Third Team in 2013-14 while playing for none other than Jeff Hornacek.
Some may fear that New York would miss Rose's penetrating ability, but Dragic currently leads the NBA in drives per game. Rose is the more productive player on the drive, but Dragic has the added benefit of being able to step back and convert from midrange and beyond the arc.
Thus, while it's Rose whom the Knicks should stick with, making a move for Dragic at the trade deadline would be a wise decision if injuries arise.
Nov 21, 2016; Charlotte, NC, USA; Memphis Grizzlies guard Tony Allen (9) goes up for a shot against Charlotte Hornets guard Kemba Walker (15) in the first half at Spectrum Center. Mandatory Credit: Jeremy Brevard-USA TODAY Sports
1. Tony Allen, Memphis Grizzlies
Position: Shooting Guard
Age: 34 (1/11/1982)
Experience: 13th Season
2016-17 Slash Line: .480/.250/.672
2016-17 Season Averages: 27.9 MPG, 10.1 PPG, 5.4 RPG, 2.5 ORPG, 1.0 APG, 1.8 SPG
The New York Knicks have two critical flaws: perimeter defense and defensive rebounding. Developing the big men on the roster could result in improvement in the latter area, but it would behoove New York to trade for a lockdown defender.
So long as the asking price is reasonable, the Knicks could find that player in the form of available Memphis Grizzlies shooting guard Tony Allen.
Allen is a three-time All-Defensive Team First Team honoree and a two-time All-Defensive Second Team selection. He's one of the most dominant perimeter defenders of his era and remains one of the few lockdown players remaining in the NBA.
If the Knicks were to acquire Allen for a reasonable price, they'd solidify the defense by adding a player whose effort will go unquestioned.
It's worth noting that Allen is averaging 2.5 offensive rebounds in just 27. 9 minutes. Thus, while he may not be the offensive player that New York needs, his value as a defender and rebounder would be nothing short of immense.
Allen is 34 years old and on an expiring contract, which means this all comes down to a matter of making the proper exchange of talent for talent.
More from Daily Knicks
This article originally appeared on
---
---