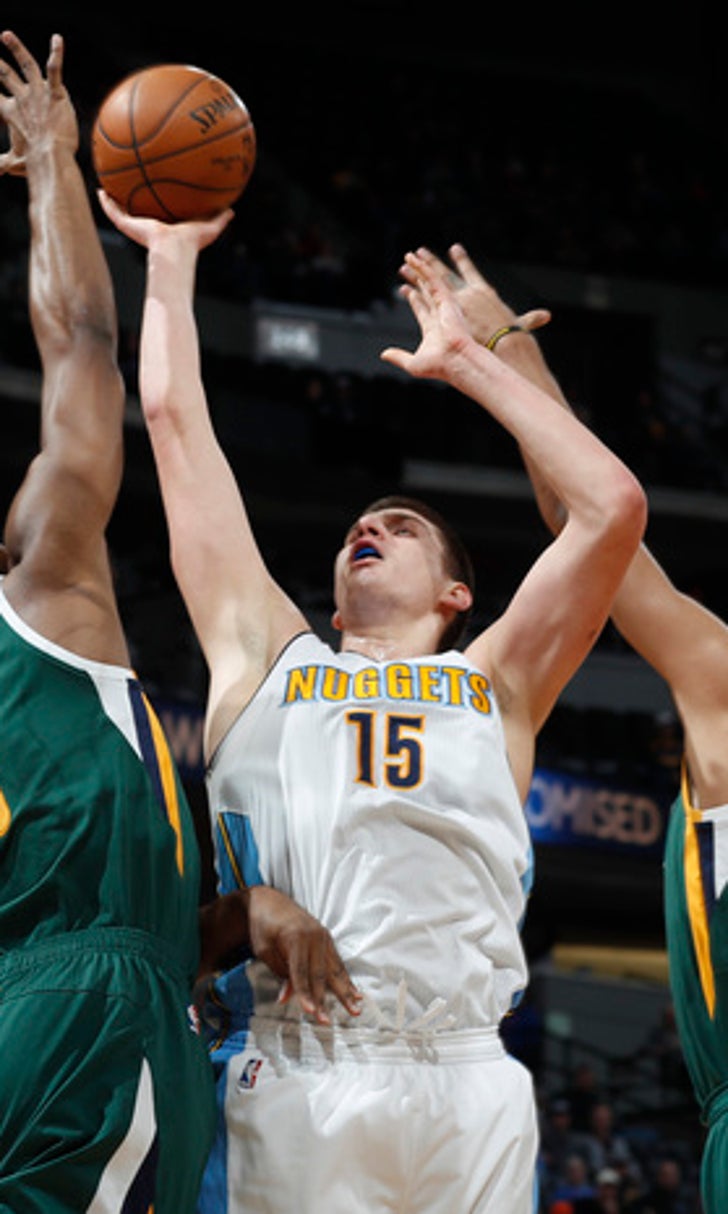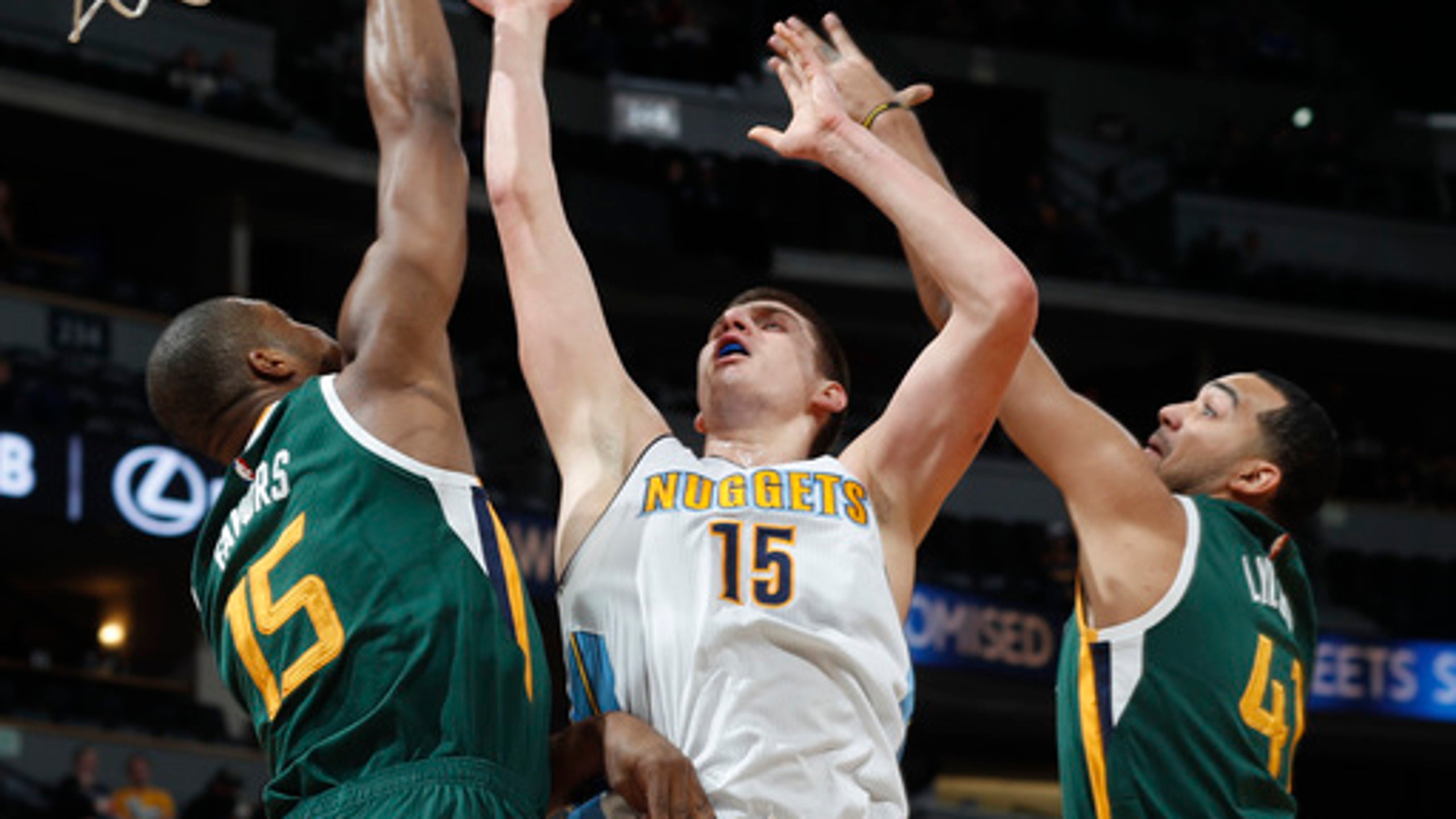 Jokic, Nelson help Nuggets beat Jazz 103-93 (Jan 24, 2017)
BY AP • January 25, 2017
DENVER (AP) For the second straight game, Jameer Nelson took over late to try and rescue the Denver Nuggets from a fourth-quarter collapse.
This time he was successful.
Nikola Jokic had 23 points and 11 rebounds, Nelson scored seven of his 17 points in the last four minutes and the Nuggets held on to beat the Utah Jazz 103-93 on Tuesday night.
It was redemption for both the Nuggets and Nelson. On Sunday, Denver let a nine-point lead slip in the final minutes and Nelson missed a potential game-tying jumper with 2 seconds remaining as the Minnesota Timberwolves prevailed 111-108.
''I've made a ton of tough shots and a ton of big shots in my career - and I've missed a ton - so it doesn't bother me,'' Nelson said. ''It's a basketball game, you're going to make some shots, you're going to miss some shots. I understand it. My team understands it.''
The Nuggets led by 17 with a minute left in the third quarter before the Jazz made their push. Rudy Gobert scored eight of his 11 in the fourth and Boris Diaw's reverse layup cut the lead to 92-88 with 2:49 remaining.
But Denver countered with an 8-0 run as Nelson scored five points, including a 3-pointer that pushed the lead back to 100-88 with 1:17 remaining. The Nuggets held on from there for their fifth win in seven games.
Darrell Arthur added a season-high 16 points off the bench.
''At times we haven't closed the game and tonight we were able to do that,'' Nuggets coach Michael Malone said. ''Hopefully that's a sign of growth. It's great to have veteran guys step up.''
Derrick Favors scored 18, George Hill had 17 and Diaw added 16 for Utah.
Alec Burks, who played up the road from the Pepsi Center at the University of Colorado, had 13 points as he continues to work back from an ankle injury.
''I'm feeling good,'' Burks said. ''We as a team just weren't getting shots to fall.''
Utah lost on consecutive nights after winning six straight. The Jazz blew an eight-point lead in the fourth on Monday as Russell Westbrook hit a game-winning jumper with 1.4 seconds to lift division rival Oklahoma City to a 97-95 win.
The Jazz looked drained most of Tuesday, something Utah coach Quin Snyder scoffed at after the game.
''Everybody's fatigued, it's January,'' Snyder said. ''I don't want our guys to think about being fatigued.''
The Nuggets outscored the Jazz 41-17 in the last 14 minutes of the half to take a 51-39 lead. Arthur made three consecutive 3-pointers as part of an 11-0 run and Jokic had four of his 10 points in the half in the last 41 seconds.
TIP-INS
Jazz: The Jazz fell to 17-6 with Hill in the lineup. They are 10-0 when he scores 20 or more points in a game. ... SG Rodney Hood (knee) missed his fifth consecutive game.
Nuggets: Jokic has 16 double-doubles in his last 24 games. ... PG Emmanuel Mudiay missed his second straight game because of lower back soreness. ''Obviously his back is still bothering him,'' Malone said. ''There is no need to rush him back.''
SLOW AND STEADY
The Jazz came into Tuesday's game ranked 29th in the league in offensive pace (93.5) and 27th in points per game (99.6), but still lead the Northwest Division.
''Golden State sets the bar with their pace and they're so explosive offensively, it's easy to say that's the way you should play because it's effective,'' Snyder said. ''But it's effective for Golden State. It wouldn't be effective for us.''
A stingy defense has also proved effective for the Jazz. They rank second in defensive efficiency (101.3).
KING ARTHUR
Arthur finished 5 of 7 from the field and 3 of 3 from 3-point range. He has scored 10 or more points in five of his last six games, averaging 11.3 points on 57 percent shooting from the field and 56 percent from 3-point range. The 28-year-old is 50 of 100 from the field this season.
''I think our developmental coach has been helping me a lot so I'm just trying to stay consistent and shoot the same way every time,'' he said.
UP NEXT
Jazz: Host the Los Angeles Lakers on Thursday. Utah is looking to sweep the season series after winning each of the first three.
Nuggets: Begin a home-and-home against the Phoenix Suns on Thursday. Denver has defeated the Suns twice this season with 120 points in each effort.
---
---