LeBron James
LeBron James
James-less Cavs worst NBA team heading into Magic game
Published
Nov. 5, 2018 12:01 a.m. ET
These are unique times for the Cleveland Cavaliers. They were hoping to contend for a postseason berth in the wake of losing LeBron James to free agency for a second time.
Instead, the Cavaliers are the worst team in the Eastern Conference and most losses are not competitive.
The Cavaliers spent Sunday dissecting its eighth loss in nine games and on Monday, they visit the Orlando Magic, who are coming off one of their best showings of the season.
Cleveland is off to its worst nine-game start since the 1984-85 edition opened with nine straight losses. So far, the Cavs are losing by an average of 16 points per game and six of their losses are by double-digit, including the first two under Larry Drew.
Drew replaced Tyronn Lue after Cleveland fell to 0-6 and the Cavaliers won his debut by 22 over the Atlanta Hawks on Tuesday. The Cavs followed it up by absorbing a 110-91 home loss to the Denver Nuggets on Thursday and a 126-94 blowout at Charlotte on Saturday.
"Team is in a very weird place right now," Cavaliers guard J.R. Smith told reporters.
"We have to figure it out, whether it's a players-only meeting or coaches or front office meeting or whatever it is, we have to figure it out and let everyone know what their individual role is and what to expect."
Smith made his understatement after leading Cleveland with 14 points in his return to the rotation. His return to the rotation occurred two days after he said he wanted to be traded.
"I had talked to JR, told him that I wanted to get him in the rotation, because I wanted to get something, I wanted to give it a different look," Drew told reporters. "See how it will pan out. I thought he did well too, given the circumstances, but I'm still searching."
Drew will likely to continue searching Monday. In his three games, Drew has played 45 different five-player lineups especially after the starting lineup of Cedi Osman, George Hill, Tristan Thompson, Sam Dekker and Rodney Hood combined for 38 points.
Whoever plays Monday, Drew will be hoping his team does not allow another night where the opponent shoots at least 50 percent. Charlotte shot 56.5 percent Saturday and it marked the fifth time an opponent shot at least 50 percent.
"Looking at the video of last night's game, it's very clear where some of our problems lie defensively," Drew told reporters after Sunday's practice.
Orlando will be playing the second night of a back-to-back after getting a 117-110 victory in San Antonio on Sunday.
The Magic ended a four-game losing streak that saw them lose by an average of 17.2 points by producing one of their best games of the season. After shooting 41.3 during the previous four games, Orlando shot a season-best 50.5 percent.
Aaron Gordon matched a season high by scoring 26 points, doing so after taking five shots and finishing with four points in Friday's 120-95 loss to the Los Angeles Clippers.
``He can't take five shots. I can take care of some of that with play calls, but he's got to be more involved,'' Magic coach Steve Clifford said before his team improved to 3-6. "I told him was that I've got to help him. But his best games last year were a result of his energy level off the ball, finding ways to get to the basket and his open spot-ups. ... I think his decision-making has been solid, but he's got to get more than five shots. That makes no sense.''
Orlando played without forward Jonathan Issac, who sprained his right ankle in Friday's loss to Charlotte. Issac, who was beset by injuries as a rookie last season, could return Monday.
Cleveland has won 19 of the last 21 meetings.
---
---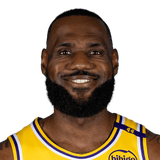 Get more from LeBron James
Follow your favorites to get information about games, news and more
---