LeBron James
LeBron James
Here's slow-motion proof Steph Curry's Game 2 move on LeBron was a double-dribble
Published
Jun. 5, 2017 12:40 p.m. ET

It's been called everything from disrespectful to jaw-dropping, but was it legal?

Steph Curry's dribbling exhibition against LeBron James during the Golden State Warriors' 132-113 beating of the Cleveland Cavaliers in Game 2 will likely be the lasting highlight of the series. It was a one-on-one moment that NBA fans salivate over, and in this instance Curry got the better of LeBron.

But a closer look at the sequence appears to show that the reigning two-time MVP got away with a sleight-of-hand maneuver that's not exactly legal. Curry tried to lose LeBron on the baseline but opted to dribble back beyond the arc and ball-faked James, who left his feet for the briefest of moments.

It was just enough time for Curry to dribble around the four-time MVP and finish a layup around James, who desperately tried to pin the ball against the backboard. But during that pump-fake, Curry's left hand looks like it touched the ball ever so briefly, which would be a double-dribble.

Here's the footage, which is paused at the 21-second mark to further highlight the potential violation.

https://twitter.com/BleacherReport/status/871734977834225666

It's not like NBA players don't bend the rules when it comes to traveling. LeBron appeared to get away with a blatant travel earlier in the postseason against the Celtics, but this one does seem to take some of the luster off Curry's move.


---
---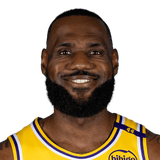 Get more from LeBron James
Follow your favorites to get information about games, news and more
---