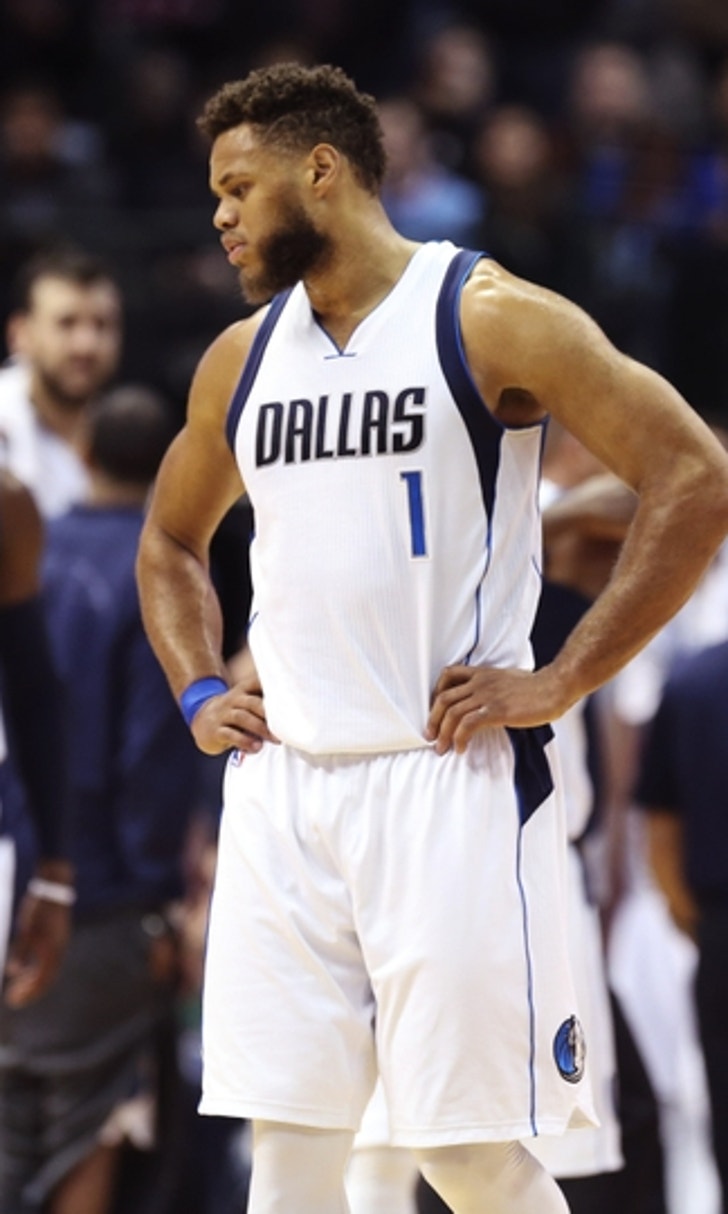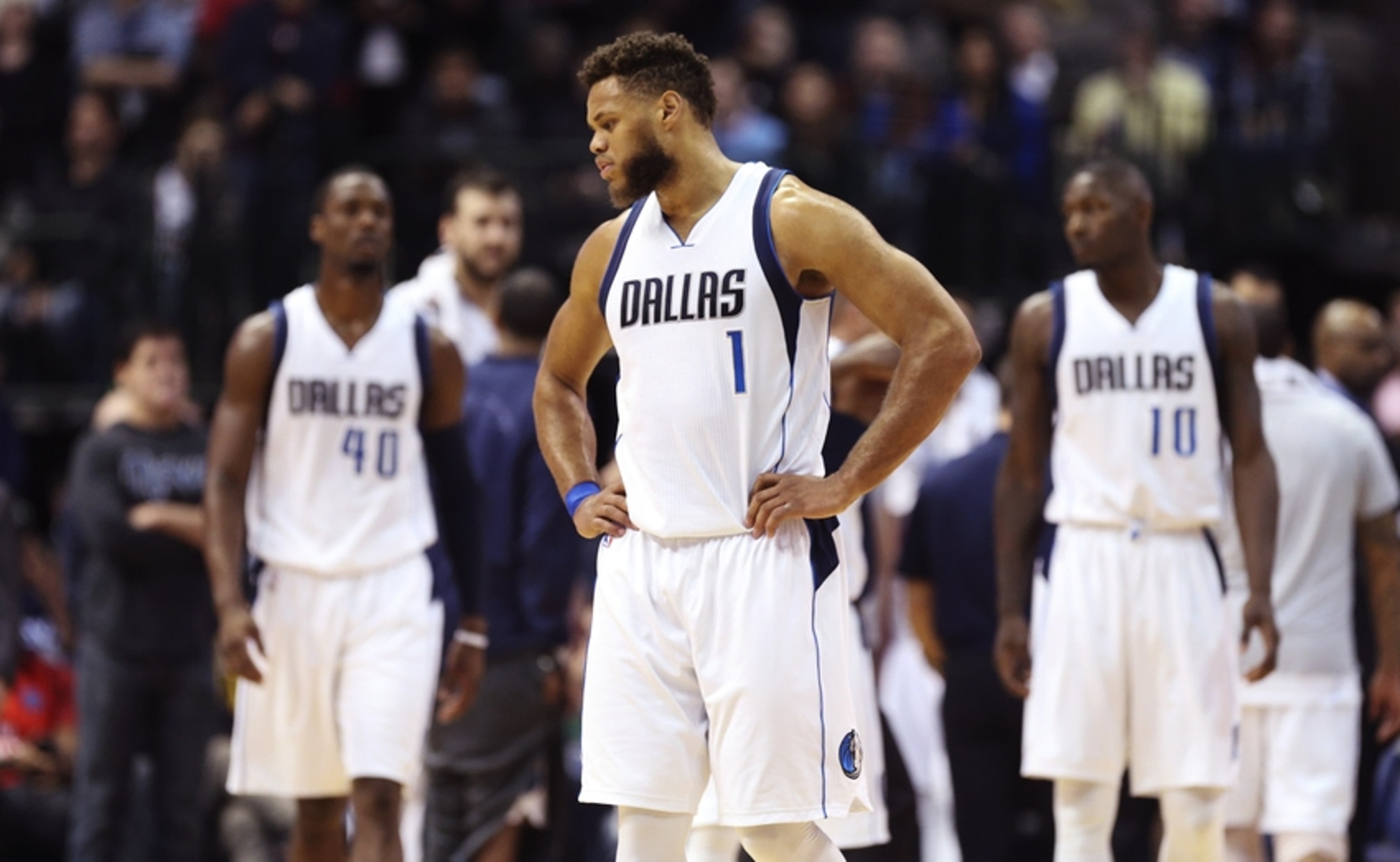 Grading the Dallas Mavericks' Trade Assets
BY Fansided and Isaac Harris/FanSided via The Smoking Cuban • December 20, 2016
Dec 18, 2016; Dallas, TX, USA; Dallas Mavericks guard Deron Williams (8) brings the ball up court against the Sacramento Kings during the first quarter at the American Airlines Center. Mandatory Credit: Jerome Miron-USA TODAY Sports
The Dallas Mavericks head into another potential busy winter trade season. Here are their trade assets in grade tiers.
The Dallas Mavericks currently sit at the bottom of the league with a 7-21 record, a place nobody in the organization had in mind when they came into the season. But reality has hit, and now the Mavericks must decide the best moves as a franchise.
If they still think a glimmer of hope is still there to make a playoff run, then their mindset might be in a whole different place heading into the trade deadline. If they continue down the path they are headed now, then everything SHOULD change during this trade season.
It was just a few Decembers ago when Mark Cuban pulled the trigger on a risky move for Rajon Rondo. Now, the Mavericks must decide if another risky move like that will be worth it or making some smaller trades is the best route.
Armed with a risk-taking owner, expiring contracts, and a coveted draft pick, Dallas could make some noise this winter.
Working under the presumption that Dirk Nowitzki and Harrison Barnes are off the table, here are the Dallas Mavericks' graded trade assets.
Nov 9, 2016; Oakland, CA, USA; Dallas Mavericks forward Nicolas Brussino (9) controls the ball against Golden State Warriors guard Stephen Curry (30) during the second quarter at Oracle Arena. Mandatory Credit: Kelley L Cox-USA TODAY Sports
Grade "D" Assets
Nicolas Brussino and future second round picks (D)
The Dallas Mavericks really don't have any bad trade assets that they would be unable to move if they tried. Some teams have situations like Joakim Noah or Rajon Rondo that would qualify as a grade D when grading their trade assets, but not Dallas.
This really isn't a knock on Brussino either, but the kid is still really raw and needs plenty of time to develop. I would assume he would not be coveted on the trade market.
Future second round picks are always thrown into deals to simply make them work.
Dec 18, 2016; Dallas, TX, USA; Dallas Mavericks center A.J. Hammons (20) and forward Dwight Powell (7) defend against Sacramento Kings forward DeMarcus Cousins (15) during the second quarter at the American Airlines Center. Mandatory Credit: Jerome Miron-USA TODAY Sports
Grade "C" Assets
A.J. Hammons (C-)
Hammons has been a staple at the end of the rotation for the majority of the season as the second round pick tries to find his spot in the league. After playing a few games in the D-League, Hammons logged some decent minutes in the big win against Sacramento.
Hammons is still raw, but does play decent defense while possessing a pretty shooting stroke. Some potential is there, but it will take time.
Salah Mejri (C+)
Salah could possibly be a "B" asset as he provides Dallas with energy and an above the rim presence, but he has his shares of mental lapses that puts him in Carlisle's dog house some time.
He is on a favorable contract and could be a cheap rim protector for a team, but he is 30 years old and the fact he can barely find minutes in Carlisle's rotation at times might not help his value.
Dwight Powell (C+)
Ok, I'm not totally bashing on Powell by putting him here, but his contract plays a lot into this. He has seemingly gotten better over the past couple of weeks, but I'm still not sure where he fits in the league. His shooting is still inconsistent, he struggles rebounding down low at times and his defense can be suspect.
Powell is still due over $30 million over the next three years. He is young, has great athleticism, and still has room to grow, but I'm unsure if teams will come calling for him.
Nov 27, 2016; Dallas, TX, USA; Dallas Mavericks center Andrew Bogut (6) walks away from New Orleans Pelicans forward Anthony Davis (23) during the second quarter at the American Airlines Center. Mandatory Credit: Jerome Miron-USA TODAY Sports
Grade "B" Assets
Dorian Finney-Smith (B)
Finney-Smith has been one of the better stories of the entire season in Dallas as the undrafted forward has started the majority of the season in place of the injured Dirk Nowitzki. He gives Dallas versatile length defensively and has improved his outside shot.
He has a super cheap contract that teams would love to get their hands on for a 3-and-D type player. Dallas will most likely hold on to their youngster, but for the right player, he could be included.
Devin Harris & J.J. Barea (B)
What team doesn't want a veteran, backup point guard to rely upon? Harris and Barea are staples to the culture in Dallas but they could be coveted by a contender for a playoff run. They both make around $4 million annually so money wouldn't be the issue.
Seth Curry (B-)
Curry, like Finney-Smith, is probably a young player Dallas would prefer to hold on to and develop, but for the right player, could be included in a deal. He is still working on his defense, but is becoming a consistent scorer off the bench. He is due just $3 million this year and next year.
Deron Williams & Andrew Bogut (B+)
Williams and Bogut are close to "A" assets, but their age brings them to a B+. They will be the hottest names on the Mavs trade rumor front as they are on expiring contracts making $9-11 million a year. Both players could give a contender a veteran presence; Bogut as an anchor and Williams as a scoring guard.
Whether it is first round picks or a young asset, both veterans could land Dallas something before they possibly leave for nothing in the summer.
Jun 23, 2016; New York, NY, USA; A general view of a video board displaying all thirty draft picks in the first round of the 2016 NBA Draft at Barclays Center. Mandatory Credit: Jerry Lai-USA TODAY Sports
Grade "A" Assets
Justin Anderson (A-)
Even though Anderson hasn't really taken the jump that many would have expected, he would still have significant value on the trade market. His strength, athleticism, and potential as a first round pick still holds value.
Even though Dallas would prefer to keep him probably, he could be a big piece to a possible larger deal.
Wesley Matthews (A)
More from The Smoking Cuban
Yes, Matthews is still due over $35 million over the next two more years and is making $17 million now, but what he brings to the table is unique to many.
Matthews is back shooting at a really high rate and is considered by many to be one of the best wing defenders in the league. If a team was trading a young star and wanted a veteran starter in the package back, Matthews could be that guy.
It would be unlikely to see Matthews go, but if the right name hit the market, don't count it out.
2017 First Round Draft Pick & Future Firsts (A+)
The Mavericks own their 2017 first rounder and it is looking like a top 5 pick in the draft. With the draft regarded by many to be a loaded draft, the Mavericks pick is becoming more and more valuable. But it's not just this first rounder that could be coveted.
Nowitzki will hang it up over the next couple of years and Dallas hasn't perfected the post-Dirk era plan yet. They do have Harrison Barnes, but unless they find younger counterparts to build around soon, they could be at the bottom for more than just this year; thus making future firsts valuable to other teams.
The Dallas Mavericks have the trade assets, now we wait to see what Cuban & Co. have up their sleeve.
---
---