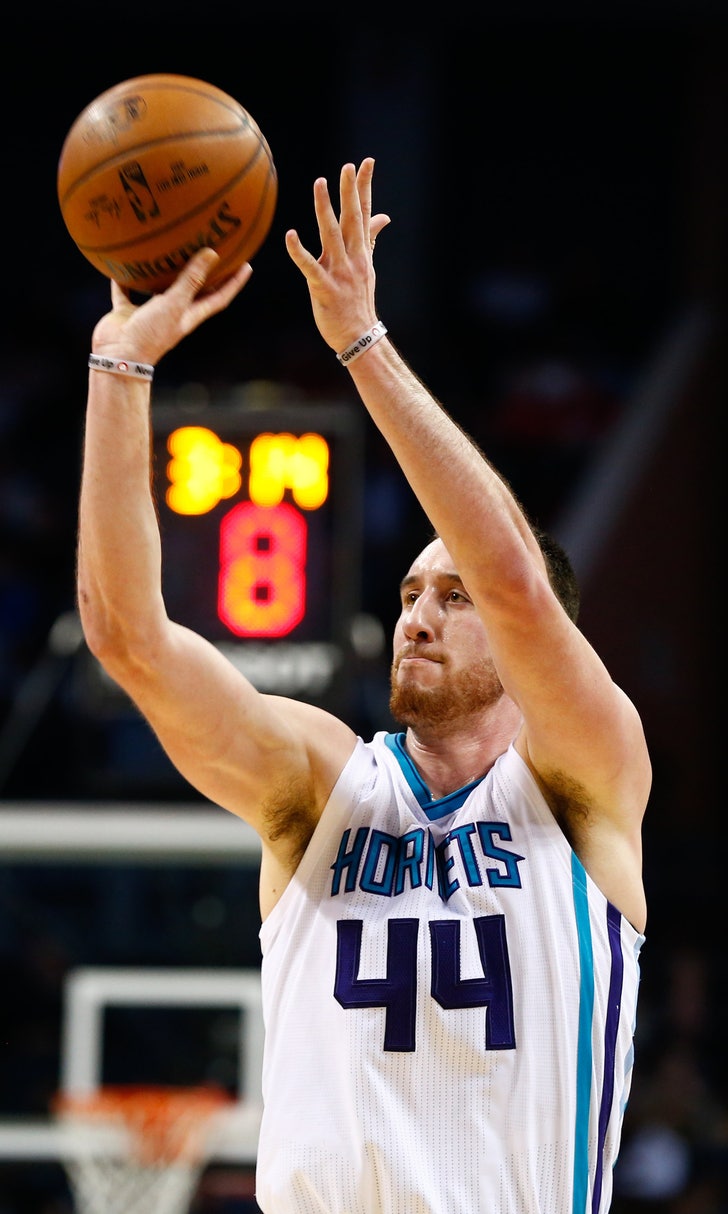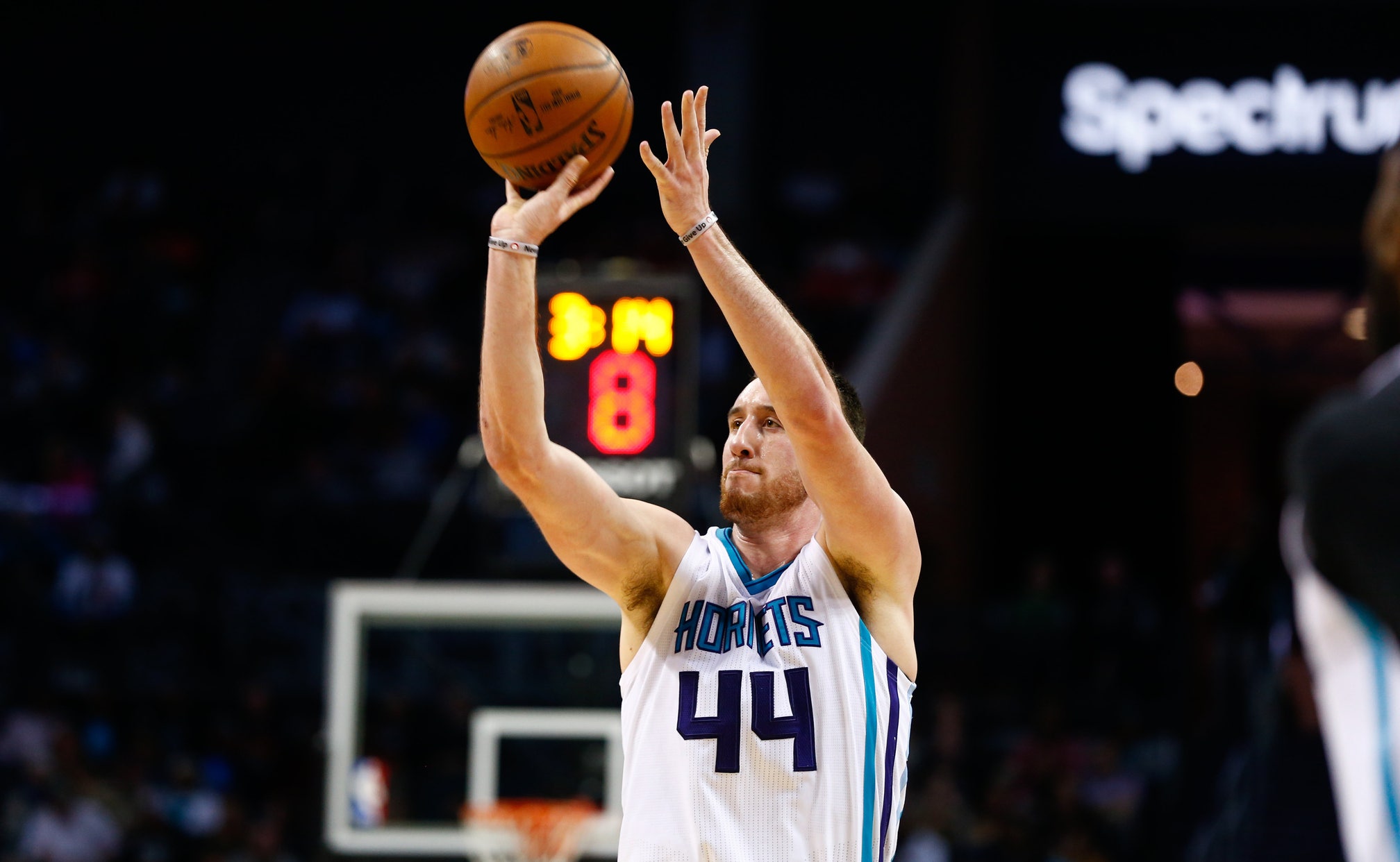 Frank Kaminsky Taking Advantage Of Starting Role
BY Fansided and Max Seng/FanSided via Hoops Habit • June 30, 2017
Frank Kaminsky has received the starting nod for the Charlotte Hornets in the wake of Cody Zeller's quadricep injury. The second-year big man has made the most of it by becoming a focal point of the offense.
Charlotte Hornets center Frank Kaminsky has a very particular set of skills. He's one of the more skilled big men in the association that works best when receiving plenty of touches and working half-court offense through him.
The Charlotte Hornets have started to do that, and are seeing an improved and more confident Kaminsky as a result. In February, Kaminsky is averaging 17.5 points, 6.6 rebounds, 2.8 assists, 1.2 steals and 0.7 blocks in 34.1 minutes on .422/.365/.759 shooting.
The increased minutes have seen increases in both his field goal and three-point percentages, as well as his per game averages across the board.
In addition, Kaminsky's usage percentage has ticked upward by more than two percentage points, and his net rating during this stretch is plus-7.5, a massive improvement over his plus-1.4 season average.
That likely has some to do with Kaminsky spending more time on the floor with Kemba Walker and Nicolas Batum and also being the only true big on the floor alongside Swiss army knife Marvin Williams.
Nevertheless, it's a reflection of Kaminsky's improved play and impact when more involved within the offense.
Whereas Zeller is constantly a threat to roll to the rim as the screen setter for Kemba's never-ending high ball screens, Kaminsky has taken on that task and pops much more often than Zeller's preferred method.
Kaminsky getting these shots aren't anything new, but hitting them is, as his 3-point percentage is up more than 5 percentage points in February from his season average.
In Kaminsky's short tenure in Charlotte, fans and critics alike have argued whether his best position is power forward or center. The Hornets have worked him in at both the 4 and 5, but this is the first extended period where he's been given major minutes at the 5.
His increased involvement within the offense has boded well for the entire team.
As the trade deadline came and went, fans like myself clamored for another playmaker on the roster. Kaminsky isn't going to channel any Marc Gasol comparisons, but he can make basic reads to hit spot-up shooters from the post, one of the best paths to setting up a long ball.
When Charlotte re-signed Marvin Williams over the summer and extended Zeller in October, many took that as a signal that the organization didn't have faith in Kaminsky growing into the starting role the Hornets envisioned when they took him ninth overall in the 2015 draft.
But this recent stretch says that Kaminsky may be better served in a starting role.
Despite Kaminsky's better play over this period, the Hornets are 2-8 in February and the Kaminsky-Williams lineup is not a home run success on the season.
According to NBA Stats, in 358 minutes the duo has a minus-5.0 rating on the court, whereas Kaminsky-Zeller is plus-10.8 in 302 minutes. The biggest differences between the two lineups are predictably rebounding and defense.
More from Hoops Habit
The Kaminsky-Zeller lineup has a defensive rating five points lower and rebounds 5 percentage points better, according to NBA Stats.
To compare, the Zeller-Williams lineup is plus-7.1 in 694 minutes per NBA Stats.
With the team struggling and Williams regressing to the mean from his career season last year, it bears asking the question that whenever Zeller does return, does coach Steve Clifford insert Frank into the starting five?
Approaching that conversation with a veteran like Williams may be a difficult one and the decision certainly isn't made in a vacuum with the team just rewarding the 30-year-old with a four-year, $54.5 million deal.
Fans would surely wonder aloud why the Hornets didn't let the ink dry before benching Williams.
Hopefully when Cody returns, Clifford can mix and match lineups in an effort to figure out if the sample size holds up–not just for the rest of the season, but going forward, as this is certainly not a team that can stand pat heading into the summer.
---
---