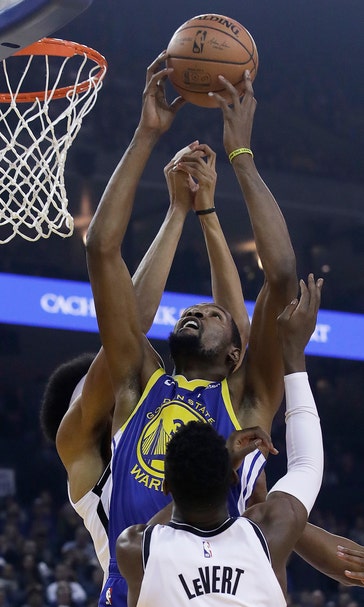 Durant's double-double lifts Warriors past Nets 116-100
November 10, 2018
OAKLAND, Calif. (AP) — Quinn Cook did an admirable job late last season for Golden State when Stephen Curry was hobbled by knee and ankle injuries. With the two-time NBA MVP sidelined again, Cook is ready to do it again.
Kevin Durant showed with his passing that he can do a pretty good imitation of Curry, too.
Durant had 28 points and 11 assists, Cook scored a season-high 27 and the Warriors used another big run in the third quarter to pull away and beat the Brooklyn Nets 116-100 on Saturday.
"I just feel like Quinn thinks that he's always supposed to be ready no matter what," Durant said. "When his number is called he's able to go out there and produce, and that's just because of the work he puts in every day. It's no surprise to me that he can do this."
Two days after losing Curry to a groin injury in a 23-point home loss to Milwaukee, Golden State bounced back behind Cook with little problem while their leading scorer sat at home watching.
Signed on a two-way contract a year ago when he made 18 starts with Curry out, Cook looked just as comfortable this time around. He made his first seven shots and matched Durant with 19 points in the first half, then made a shot-clock beating 19-footer in the third to push the Warriors lead to 103-81.
"That's the mark of a pro," Warriors coach Steve Kerr said. "He's a great fit for us. Always prepared and always ready. His role is going to swing wildly based on our health and what's happening out on the floor but he's always ready."
Cook hasn't played much this season but said the experience he got last year was a big factor in keeping him ready when his turn came up.
"Our guys do a great job of always making you feel important, making you feel a part of the team, even when you aren't playing," Cook said. "I felt comfortable out there and we got it done."
Draymond Green was also missing from Kerr's lineup but Durant - with a lift from Cook - made both absences a moot point while ending Brooklyn's three-game winning streak.
The nine-time All-Star had 13 points in the first quarter, scored the final six of the second then came up big again in the third when the Warriors led by as many as 20.
Golden State needed it on a night when their other Splash Brother, Thompson, had an off night shooting. Thompson made four of his first five shots but finished 11 of 20.
Joe Harris scored 24 points for the Nets. Spencer Dinwiddie added 14 points and six assists and DeAngelo Russell had 12 points.
"You had Durant and Thompson, and (Cook) did a Curry imitation tonight," Brooklyn coach Kenny Atkinson said. "You could argue he made the difference tonight. He really scored the ball well."
GOTTA BE THE SHOES
Dinwiddie has taken full advantage of the NBA's relaxed policy on shoe colors and has worn a different pair each night. Earlier this season Dinwiddie wore a pair of white shoes with a picture of 11-time All-Star Allen Iverson. With the Nets in the Bay Area, Dinwiddie switched things up again and had shoes that were inscribed with the word WITH across the top of one and KAP on the other, along with a picture of former NFL quarterback Colin Kaepernick on the side.
TIP-INS
Nets: Russell left the game late in the fourth quarter as a precaution after appearing to injure his hand while reaching for the ball. ... Brooklyn has lost eight straight to Golden State. ... The Nets haven't won our consecutive games since a six-game streak in 2014-15.
Warriors: Golden State is 51-12 following losses since 2014-15. ... Curry did not play as expected but was feeling better after getting some work in with team trainer Rick Celebrini at the team's downtown facility. "I saw him this morning," Kerr said. "He had better mobility, less pain so it's a good sign." The two-time NBA MVP is nursing a mild to moderate left groin strain suffered Thursday in the loss against Milwaukee. ... Green missed his second straight game because of a sprained right toe. ... Shaun Livingston (right foot soreness) was also held out.
UP NEXT
Nets: At Minnesota on Monday.
Warriors: At the Los Angeles Clippers on Monday.
__
More AP MLB: https://apnews.com/NBA and https://twitter.com/AP_Sports
---
---