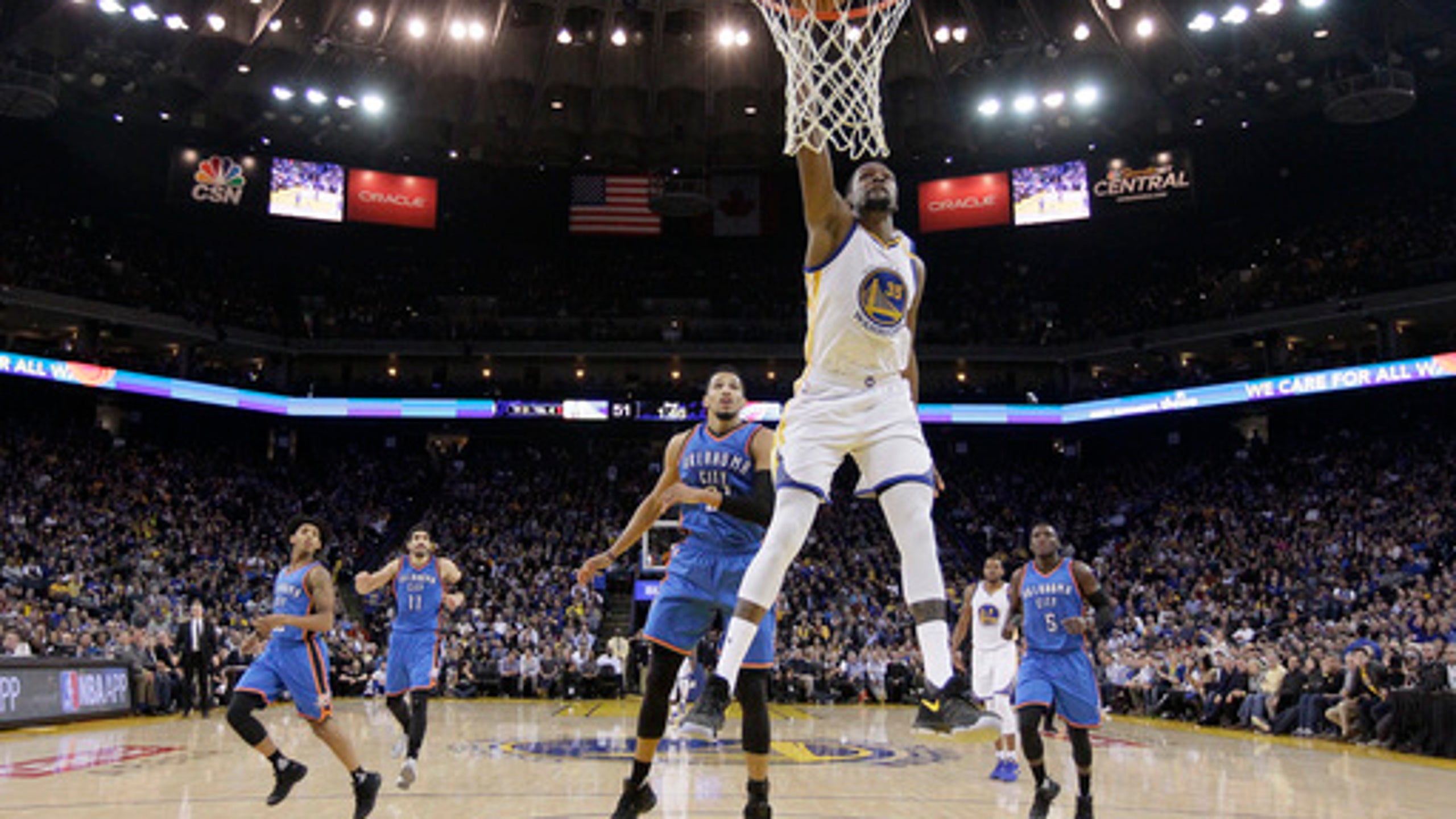 Durant dazzles against former Oklahoma City team once more (Jan 18, 2017)
BY AP • January 19, 2017
OAKLAND, Calif. (AP) Russell Westbrook promised to pay back Zaza Pachulia for a hard foul.
Kevin Durant had the last word against his old team - again.
Durant dazzled with a season-best 40 points, and the Golden State Warriors beat the Oklahoma City Thunder 121-100 on Wednesday night despite Westbrook's 21st triple-double.
Westbrook had 27 points, 15 rebounds and 13 assists in an improved showing from his 20-point outing on 4-for-15 shooting when OKC first faced Durant here 2 1/2 months ago and watched him dismantle the Thunder from every which way.
''You can't deny the history obviously with him with OKC,'' Stephen Curry said. ''It's one of those games the intensity is high and at all costs you want to get the win.''
In his two games against the Thunder, Durant has scored 79 points on 28-for-40 shooting. He hit seven 3-pointers in the first meeting, a 122-96 Warriors rout Nov. 3 at Oracle Arena. Durant also had 12 rebounds Wednesday.
''The efficiency of this guy is just amazing. He's not going to win the MVP because there are a lot of people out there who are playing extremely well,'' Warriors coach Steve Kerr said. ''But I don't think anybody's more efficient. He doesn't need the ball and he still scores big numbers.''
Curry added 24 points and eight assists, and Klay Thompson had 14 points after he arrived back in the Bay Area just in time to play after a short absence dealing with a personal family matter.
This one had tension, which just might be the norm from here on out whenever Durant faces the Thunder. There were words exchanged and stare downs, and of course a few hard fouls - then an occasional smile to balance things out, like when Durant missed on a driving tomahawk jam and the ball shot back to midcourt. This atmosphere wasn't that much different from two days earlier when the champion Cavaliers visited Golden State's home floor and left with an embarrassing 126-91 defeat.
Enes Kanter added 22 points and nine rebounds off the bench for the Thunder, who missed center Steven Adams for a second straight game with a concussion.
Westbrook shot just 8 for 23 this time and missed all but one of his six 3-point tries, but made 10 of 11 free throws.
He also had 10 turnovers, including a travel on which he took five steps before beginning to put the ball to the floor - ''He forgot to dribble. ... I guess the limit is six steps,'' Curry said.
With 4.4 seconds left in the first half, Pachulia collided with Westbrook and clobbered the OKC star in the face as the Warriors center went with his man as Kanter set a screen on Andre Iguodala. Westbrook went down and grabbed his face in obvious pain and Pachulia glared at Westbrook as he stood over him. The play went to official review before Pachulia received a flagrant 1 foul, drawing boos from the sellout crowd.
''I'm going to get his ass back. Straight up,'' Westbrook said.
Golden State outscored Oklahoma City 37-22 in the third to turn the game into another blowout on the way to wrapping up 9-1 stay in Northern California over the past 3 1/2 weeks.
Durant posted his 11th game with 30 or more points and fifth with at least 30 points and 10 boards.
As dominant as KD has been against the Thunder, the Warriors still must go to Oklahoma City on Feb. 11 and March 20.
WEST INJURED
Golden State backup power forward David West sustained a non-displaced fracture of his left thumb and will be re-evaluated in two weeks. He has brought key energy and a steadying force with the second unit.
''It's a big loss,'' Kerr said. ''David has been fantastic.''
TIP-INS
Thunder: Oklahoma City is 5-11 on the road against Golden State and hasn't won on the Warriors' home floor since Dec. 18, 2014. ... Adams wasn't with the team.
Warriors: Golden State was tied at halftime for the first time all season. ... After outrebounding the Cavs 58-35, the Warriors led the category 46-36. ... Golden State committed 13 first-half turnovers and 18 total, taking better care of the ball after the break.
UP NEXT
Thunder: At Utah on Monday after a four-day break without a game.
Warriors: At Houston on Friday. Golden State wrapped up a stretch of more than three weeks at home that included only a bus ride to Sacramento for a lone road game in a 10-game stretch since Dec. 26.
---
---