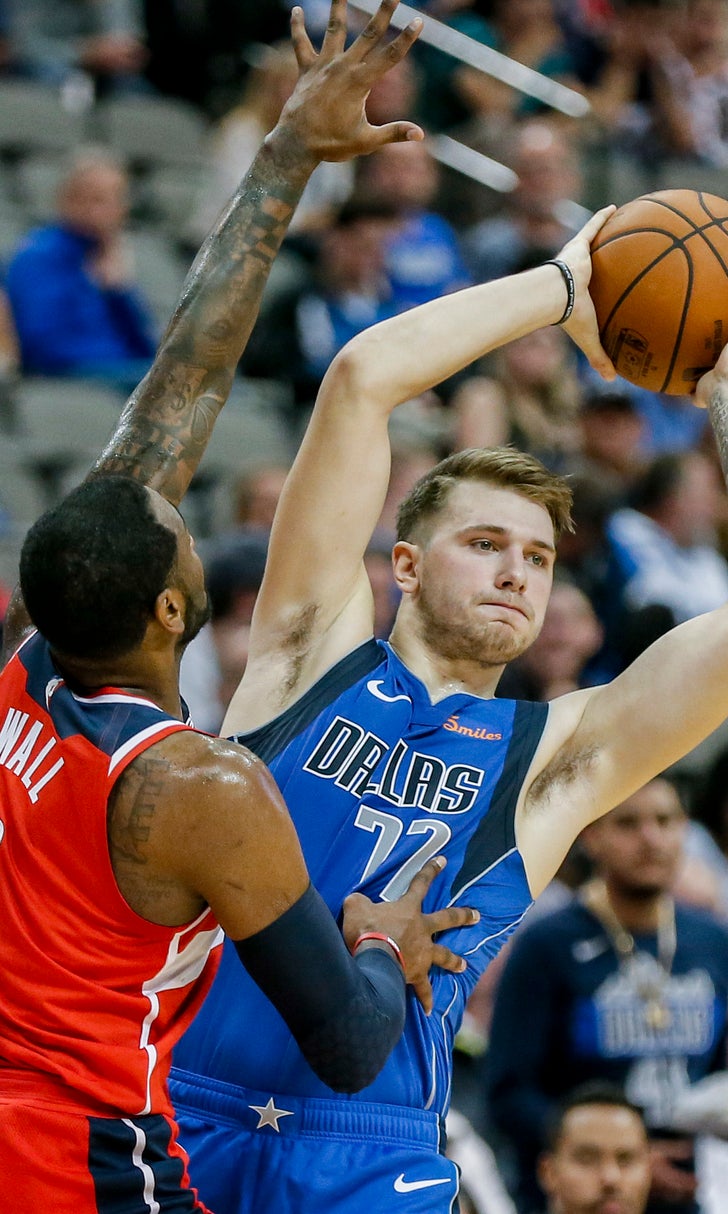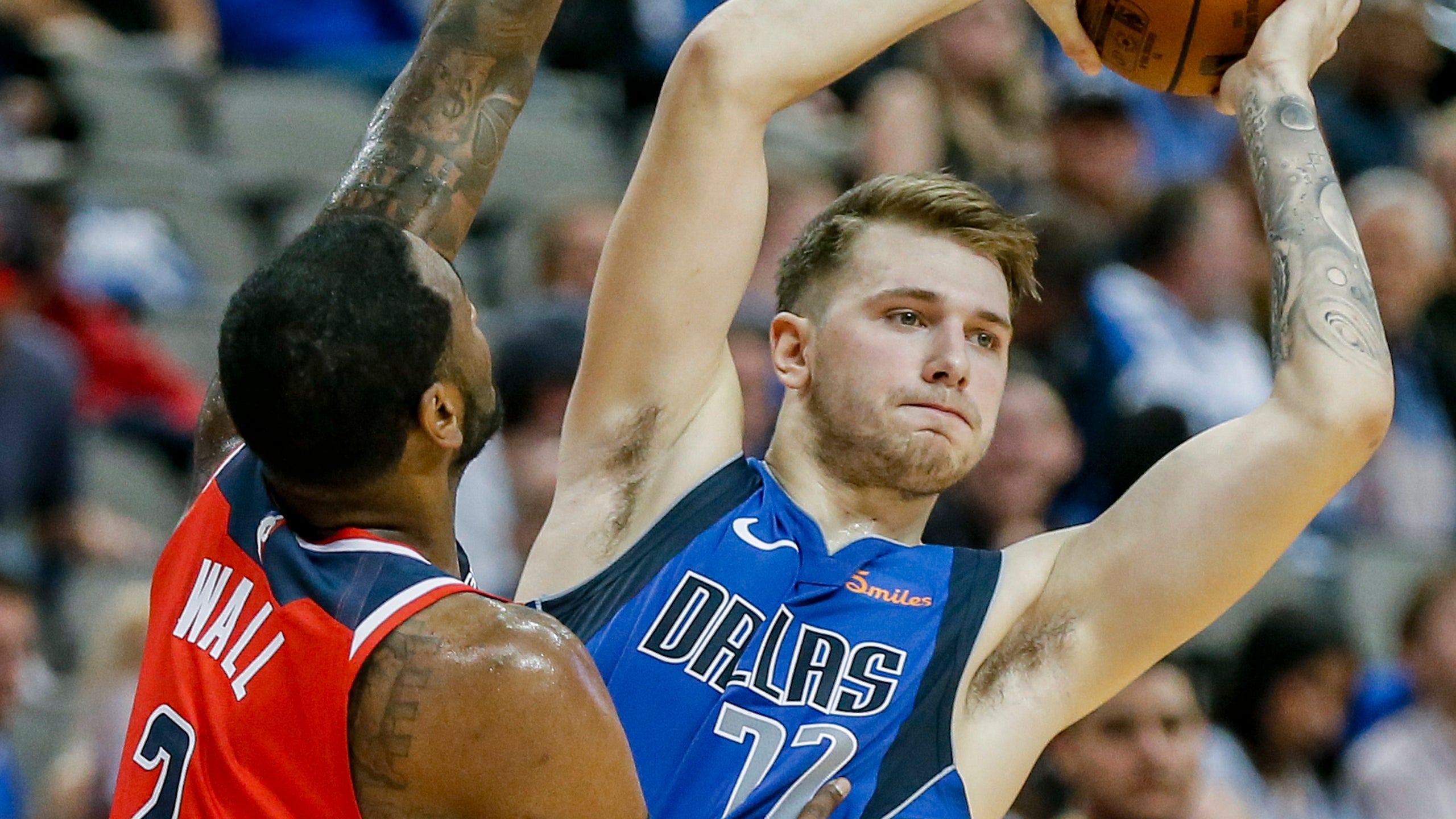 Doncic, Smith lead Mavs past Wizards 119-100 to stop skid
November 7, 2018
DALLAS (AP) — The Mavericks have had the Washington Wizards' number in recent years, and Dallas' young backcourt ensured that remained the case Tuesday night.
Luka Doncic scored 23 points and Dennis Smith Jr. made three key plays down the stretch as the Mavericks ended a six-game losing streak by beating Washington 119-100.
It was the Mavericks' 16th win in their last 17 meetings with the Wizards. In the first half, when Dallas built a 24-point lead, it looked like a foregone conclusion.
The Wizards climbed back within six midway through the fourth quarter, but Smith scooted past Dwight Howard to grab an offensive rebound and fed a cutting DeAndre Jordan for a dunk that put the Mavs up 101-93 with 5:33 left.
Just 30 seconds later, the pair collaborated again on a pretty alley-oop, then Smith stole the ball from Bradley Beal near half-court and got it to Harrison Barnes for a three-point play and a 13-point lead.
"This is where you've got to trust your players," Dallas coach Rick Carlisle said. "Dennis has earned the trust. He's seeing things, and those plays were real pivotal plays in the game and it kept them at a distance."
Smith finished with 19 points and seven assists. Wesley Matthews added 22 points for Dallas, and Barnes had 19 points and 13 rebounds.
John Wall led the Wizards with 24 points. Otto Porter Jr. and Beal had 19 each, but Beal was 1 for 9 on 3-point attempts. Washington was just 11 for 35 on 3s.
"We just didn't make shots and we didn't communicate well in transition," Wall said. "In the third quarter, we did a better job of playing with intensity. I just feel like maybe eight, 10 wide-open 3s, we just missed and still had a chance down six in the fourth quarter with five minutes to go."
Doncic scored 13 in the first half, including a rainbow 3 just before the halftime buzzer to put Dallas up 70-49. It was the Mavs' highest first-half output of the young season.
Washington started the third quarter strong, with Beal scoring seven points in a 12-4 run to pull within 13. Porter had three 3s in the quarter, the last in the final seconds to bring the Wizards within single digits for the first time since the first period.
THREE FEELS GOOD
While Dallas is just 3-7, the Mavericks won their third game considerably sooner than the previous two seasons — they started 2-14 last year and 2-13 in 2016-17.
BACK IN FORM
Barnes delivered his first double-double of the season in a strong performance after missing the first four games of the year due to a right hamstring strain.
Barnes credits having played with great players at Golden State before coming to Dallas and now having a role model in teammate Dirk Nowitzki.
"The biggest thing I've learned from them is to do it by example every single day," Barnes said. "To come in, to put the work in, and let that speak for itself."
TIP-INS
Wizards: Coach Scott Brooks reminisced about Dallas counterpart Rick Carlisle, his roommate in the CBA in 1987. "He doesn't get a lot of credit for being a great player," Brooks said. When pressed by skeptical reporters about his claim, Brooks drew laughter by arguing that he would recognize greatness because: "I WAS a great player. I was better than a lot of guys that you're asking me about and a lot of guys that tried to make it," he said.
Mavericks: Devin Harris missed his ninth straight game with a left hamstring strain. Carlisle said Harris wouldn't play before the weekend at the earliest. ... Jordan had 12 rebounds and has been in double digits in all 10 games with the Mavs. ... Dallas made 26 of 27 free throws, with nine players making at least one.
UP NEXT
Wizards: At Orlando on Friday, the middle game of a three-game road trip.
Mavericks: At Utah on Wednesday. Dallas is 0-5 on the road this season.
---
---