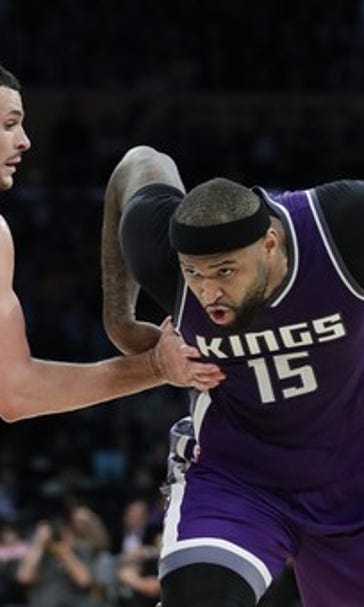 Cousins scores 40 points, Kings hold off Lakers 97-96 (Feb 14, 2017)
February 15, 2017

LOS ANGELES (AP) Good fortune overcame sketchy play by the Sacramento Kings in the closing minutes after they blew a 13-point lead.
DeMarcus Cousins had 40 points and 12 rebounds, and the Kings hung on to beat the Los Angeles Lakers 97-96 on Tuesday night for their fourth straight win.
''It was lousy basketball down the stretch,'' Cousins said. ''We took a step backwards in the fourth quarter. We got too comfortable and made plays that aren't in our character. Quick shots and turnovers down the stretch is only going to help them. In our case it gave them some momentum and we almost lost it.''
The Kings never gave up the lead in the fourth, when the Lakers outscored them 18-10 in the paint and 12-0 on fast-break points.
''This was actually a big win for us, believe it or not,'' said Darren Collison, who had 13 points. ''We didn't lose focus. Normally in the past we will lose focus and we won't come out with that same urgency that we did after we win a few games.''
Reserve guard Lou Williams scored 19 of his 29 points in the fourth quarter to lead the Lakers, who tied the game 91-all on his 3-pointer with 1:31 left.
''Lou Williams is a hired-gun professional scorer, heck of a player and had a terrific game and really gave us fits,'' Kings coach Dave Joerger said.
Los Angeles pulled even twice more, including on another 3 by Williams, but couldn't overcome Cousins, who scored the final 10 points for Sacramento.
''When he caught it, we were trying to bring two guys toward him,'' Lakers guard Nick Young said. ''He's strong. He's big and he can score around the rim. It's a tough matchup for anybody.''
Williams' potential game-winning 3 went wide right of the basket at the buzzer. He was 4 of 11 from long range.
Lakers starters Julius Randle and D'Angelo Russell didn't play in the fourth. Randle finished with 11 points and Russell had eight.
''They earn that chance,'' coach Luke Walton said.
The Lakers have lost four of six and remain one shy of their 20th victory. Williams sees reason for optimism, though.
''We're playing with better purpose,'' he said. ''I think guys understand it's a bad taste in your mouth to lose consistently. We're starting to grow up in that area. I'd like us to play well enough for fans to understand we're a work in progress.''
The Lakers got within two in the third only to have the Kings run off nine points in a row and extend their lead to 68-57. Williams made a 3 and another basket, and Larry Nance Jr. scored to cut Sacramento's lead to 70-64 heading into the fourth.
Cousins scored 12 points in the opening quarter when the Kings dominated in the paint, 20-8, and shot 67 percent.
Collison scored five in a 10-0 run during the second quarter. Young's 3-pointer got the Lakers within two at halftime.
TIP-INS
Kings: Own a 2-1 lead in the season series. ... The twin sons of G Matt Barnes had second-row seats behind Lakers co-owner Jeanie Buss. ... G Ty Lawson sat out with a left adductor magnus strain. ... Also out were F Omri Casspi, F Rudy Gay and G Garrett Temple.
Lakers: G Jordan Clarkson had a wrap on his sprained right thumb after the game. ''It's a little messed up,'' he said. ... With three days between games, the team practiced once and participated in a hot yoga session. Walton said his only request to the players was not to leave if they didn't like the activity. ''Just lie there and enjoy the silence,'' he advised them. ... Denzel Washington and his wife shared a Valentine's Day meal of hot dogs and popcorn. ... Dodgers outfielder Yasiel Puig laughed it up courtside and posed for selfies.
MAGIC'S INFLUENCE
Magic Johnson, newly hired as an adviser to Buss, has been talking to the media about his role with the team. He is set to meet next week with GM Mitch Kupchak and co-owner and executive vice president of basketball operations Jim Buss. Walton anticipates meeting with Johnson at some future date.
''Magic and I will sit down and talk,'' Walton said. ''I'm excited about it.''
Johnson has said one of his first calls would be to Kobe Bryant to see if the retired Lakers superstar would like any kind of role with the team.
Walton said he's spoken to Bryant this season, but there were no plans to bring him in.
''He's given me advice on ways to work with some of these young, talented guys,'' Walton said. ''Trying to tap into the best way to communicate and get (through) to them.''
UP NEXT
Kings: At Golden State on Wednesday in their last game before the All-Star break. The Kings are 4-8 in the second game of a back-to-back.
Lakers: At Phoenix on Wednesday before the break begins. The Lakers are 3-9 in the second game of a back-to-back.
---
---