Brooklyn Nets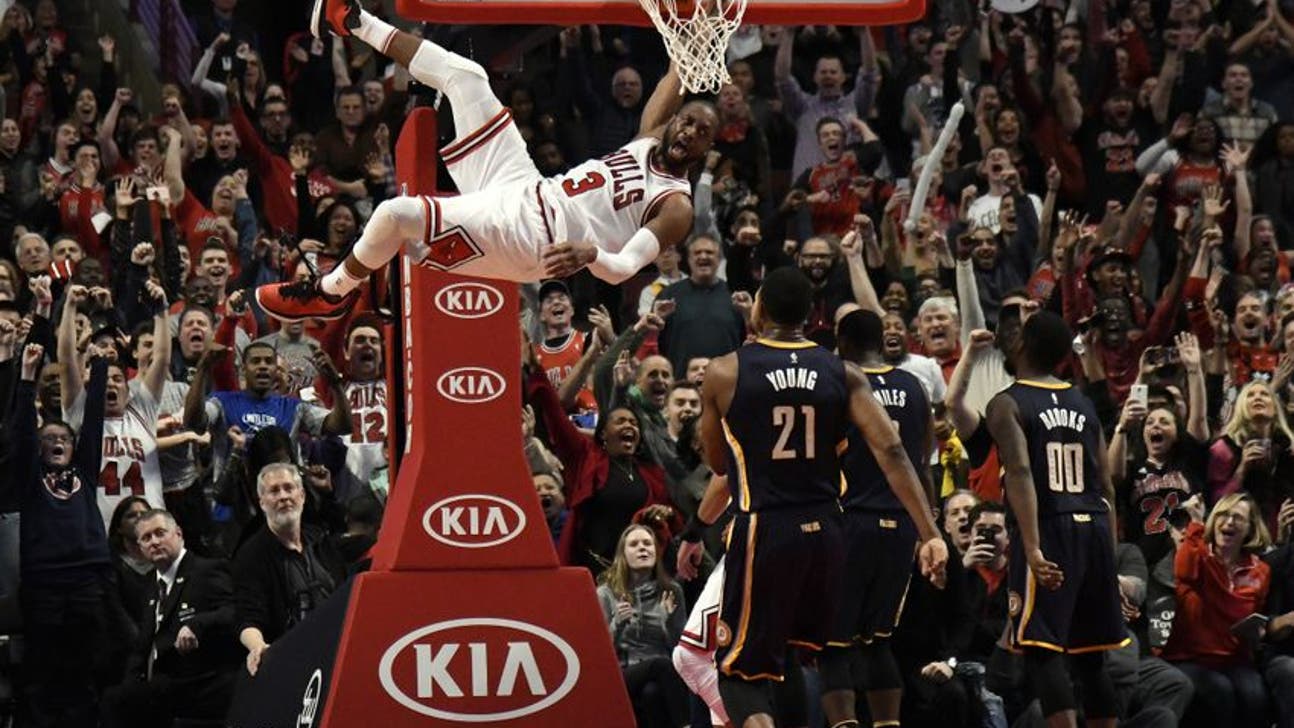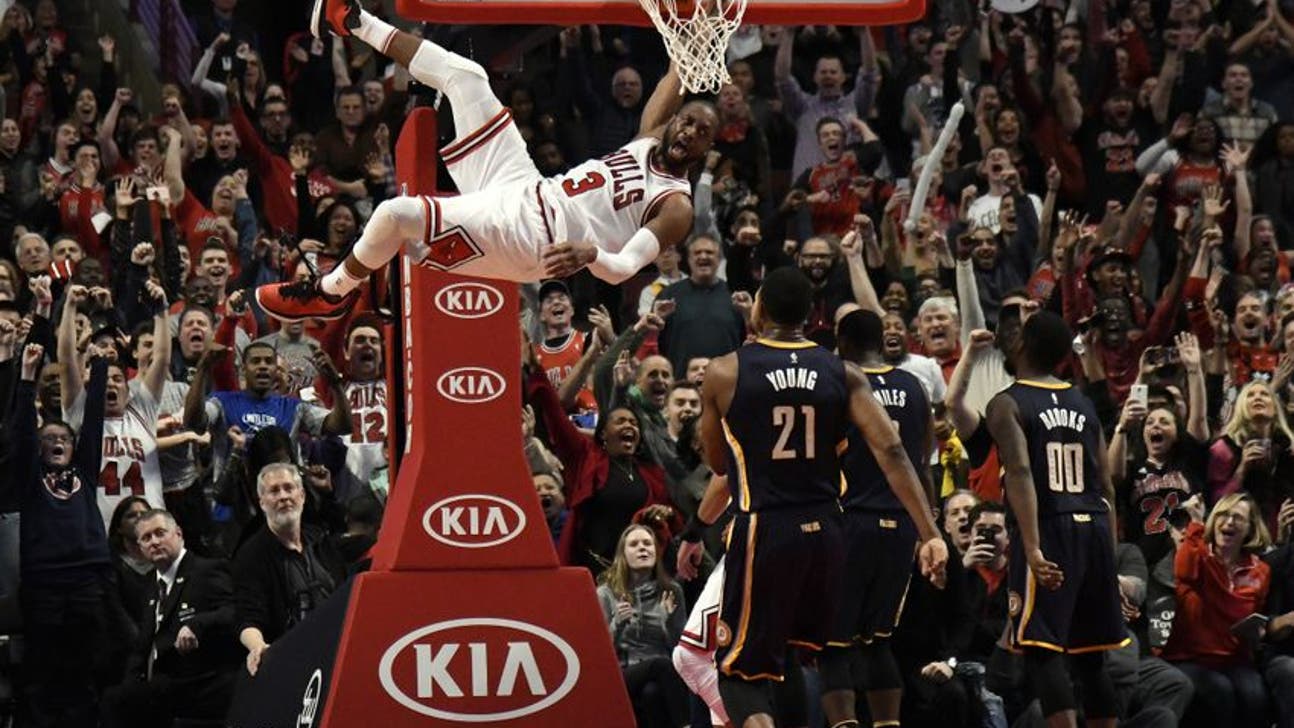 Brooklyn Nets
Chicago Bulls: 5 Biggest Storylines From 2016
Updated
Mar. 4, 2020 11:40 p.m. ET

Fansided, James D. Tillman III/FanSided via Hoops Habit
Dec 26, 2016; Chicago, IL, USA; Chicago Bulls guard Dwyane Wade (3) reacts after dunking against the Indiana Pacers in the final seconds of the game during the second half at the United Center. The Bulls won 90-85. Mandatory Credit: David Banks-USA TODAY Sports
It has been an interesting year for the Chicago Bulls. Here is a look back at some of the team's biggest storylines from 2016.
The Chicago Bulls struggled to find an identity during the first quarter of last season.
Despite the early struggles, the Bulls began 2016 with a season-high six-game winning streak and a postseason berth seemed to be all but a formality.
But thanks to injuries, along with inconsistent play, their 2015-16 campaign did not end the way they would have liked (more on that later).
The identity crisis was pointed out by former big man Joakim Noah.
"I mean, what is the identity of this team?" Noah asked, via ESPN. "It's hard to say. Our identity has always been: You come to Chicago, you're in for a war. It's not like that right now. I don't care what the numbers say. Just watch the games. There are 25,000 people in the building, and it's dead quiet. It has never been like that. It's tough to see the building that way. And it's on us. You bring the fire, and they will love you here. But if you're coasting, playing this low-energy game, I'm not sure we can win like that."
In light of that fact, the team opted to bring in several new faces during the offseason in hopes of improving the product that fans saw on the court last season. As expected, the results have been a mixed bag at this point.
After a somewhat promising 13-10 start, the Bulls have fallen back to earth a bit as they struggle to stay above the .500 mark.
Despite their shortcomings, however, there were plenty of interesting storylines from the past calendar year, and today we will take a look back at some of them.
November 19, 2016; Los Angeles, CA, USA; Chicago Bulls head coach Fred Hoiberg watches game action against the Los Angeles Clippers during the first half at Staples Center. Mandatory Credit: Gary A. Vasquez-USA TODAY Sports
5. Bulls Miss Playoffs For First Time In Eight Years
The Bulls were advertised as a championship-caliber team that was in need of a different voice to help get them over the hump. That being said, the organization turned to Fred Hoiberg to be that voice in question.
As I alluded to a bit ago, the Bulls got off to a decent start in Hoiberg's first season. But thanks to their inability to play well on a consistent basis, injuries and lack of team chemistry, the Bulls were eliminated from playoff contention with two games left to go in the regular season.
The irony here is the previous coach won 65 percent of his games and the team never finished lower than fifth in the conference during a five-year stretch. That being said, it will be interesting to see if Hoiberg will fare any better in year two.
Apr 4, 2016; Houston, TX, USA; Hall of Fame inductees (from left to right) Chicago Bulls owner Jerry Reinsdorf, NBA former player Allen Iverson, Michigan State Spartans coach Tom Izzo, WNBA former player Sheryl Swoopes, and NBA former player Shaquille O'Neal wave during their halftime presentation in the championship game between the Villanova Wildcats and the North Carolina Tar Heels of the 2016 NCAA Men's Final Four at NRG Stadium. Mandatory Credit: Troy Taormina-USA TODAY Sports
4. Jerry Reinsdorf Inducted Into Hall Of Fame
The Bulls enjoyed their most successful run as a team during the 1990s — an era in which they won six titles in the span of eight seasons.
While the individuals who played on those teams deserve a lot of credit for putting their bodies on the line each and every night, they were not the only people who were an integral part of assembling a championship-type atmosphere.
Some of that honor goes to the top of the organization as well, which starts with team owner Jerry Reinsdorf. Although Reinsdorf cannot take credit for drafting Michael Jordan, he hired a group of people that acquired the necessary talent that helped turn the Bulls into a modern day dynasty.
"I was able to put together a great organization with great people. Jerry Krause (former Bulls GM) is really the architect of the championships, Phil (Jackson) and Michael (Jordan) and Scottie (Pippen)," Reinsdorf told CSN Chicago. "Then turning everything over to my son Michael to run in the last couple years. Then John Paxson and Gar Forman, wonderful people, really talented. I'm just proud of the people I have with the Bulls."
Although Reinsdorf's contributions may be often overlooked, it is worth nothing that that he has seen more NBA titles since taking ownership of the Bulls in 1985 than any other NBA owner with the exception of Dr. Jerry Buss, who oversaw the Lakers win eight NBA championships.
Dec 28, 2016; Chicago, IL, USA; Chicago Bulls forward Jimmy Butler (21) dribbles the ball against Brooklyn Nets guard Randy Foye (2) during the second half at the United Center. Mandatory Credit: Mike DiNovo-USA TODAY Sports
3. Jimmy Butler Earns Gold Medal With Team USA
Following a 2011-12 rookie campaign in which he played sparingly (8.5 minutes per outing), Jimmy Butler has been far and away the best player in a Bulls uniform over the past two seasons.
As a result of becoming one of the best two-way players in the NBA, Butler was selected as a member of the 2016 U.S. Olympic Men's Basketball Team that went 8-0 en rout to their third consecutive gold medal.
During that eight-game stretch, Butler posted averages of 5.6 points, 2.5 rebounds and 1.4 steals per contest on just 34 percent shooting overall and a rather forgettable 22 percent from beyond the arc.
Despite the fact that Butler's numbers were not overly impressive, he became the third active Bulls player to win a gold medal for the United States since NBA players started playing for Team USA back in 1992, joining Michael Jordan and Scottie Pippen.
Dec 23, 2016; Charlotte, NC, USA; Chicago Bulls guard Dwyane Wade (3) stands on the court prior to the game against the Charlotte Hornets at Spectrum Center. The Hornets defeated the Bulls 103-91. Mandatory Credit: Jeremy Brevard-USA TODAY Sports
2. Bulls Sign Dwyane Wade
For the second straight offseason, Dwyane Wade and the Miami Heat were at opposite ends of the spectrum in terms of what the organization felt he was worth. The odds were that the two sides would find a way to ink a deal for top player in the history of the franchise.
For whatever reason, though, that did not happen and Wade ended up signing a two-year, $47.5 million deal with the team he grew up rooting for during his childhood.
With 13 years of NBA miles under his belt, there was concern about Wade's ability to be a difference-maker for a team in transition at this point in his career. So far, Wade has answered the call, averaging 19.1 points and 4.2 rebounds per contest.
Additionally, Wade is shooting a somewhat respectable 31 percent from distance, which is a far cry from the 16 percent conversion rate he posted during his bounce-back season with the Heat in 2015-16.
Even more important, Wade has played the role of the mentor to Butler, often telling the two-time All-Star to take court every night with a killer instinct. That being said it would be of little surprise if Butler turned in yet another career season.
Nov 4, 2016; Chicago, IL, USA; New York Knicks guard and former Bulls player Derrick Rose (25) shakes hands with Chicago Bulls Vice President of Basketball Operations John Paxson before a game between the Chicago Bulls and the New York Knicks at the United Center. Mandatory Credit: David Banks-USA TODAY Sports
1. Bulls Part Ways With Derrick Rose
There is an old adage that states "all good things must come to an end." That principle can be applied in the sports world as well.
After being named Rookie of the The Year and the league's most valuable player in the span of three seasons, it appeared that Rose was on the path to becoming a franchise cornerstone.
But thanks to various injuries, including three knee surgeries, the former Bulls star played in just 39 percent of the team's games over the past four seasons.
That, along with the fact they missed the playoffs for the first time in eight years, ,the Bulls decided they had gone as far as they could possibly go with the previous core.
One of the first moves the front office made to pave the way for a new era of Bulls basketball was trading the former MVP to the New York Knicks in exchange for Robin Lopez, Jerian Grant and Jose Calderon — who was then sent to the Los Angles Lakers.
Fair or not, Rose's health status was a black cloud that continuously hovered over the team since he sustained an ACL injury in the 2012 playoffs.
With those discussions now a thing of the past, and Rose playing well with the Knicks (17.4 points, 4.4 assists and 4.1 rebounds per contest), the decision to go a in a different direction appears to be a beneficial one for both sides.
More from Hoops Habit
This article originally appeared on
---
---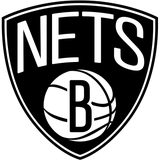 Get more from Brooklyn Nets
Follow your favorites to get information about games, news and more
---