National Basketball Association
National Basketball Association
Cavaliers coach Tyronn Lue fined for comments after Game 4 loss
Published
Jun. 12, 2016 2:24 p.m. ET

Cleveland Cavaliers head coach Tyronn Lue was fined $25,000 for his critical comments about the officiating in Game 4 of the NBA Finals, the league announced Sunday.
Lue complained about the lack of calls on fouls committed by the Warriors, specifically on LeBron James.
"He never gets calls," Lue said of James during his press conference following Game 4. "(He) attacks the paint every single play. He doesn't get a fair whistle all the time because of his strength and because of his power and guys bounce off of him. But those are still fouls, and we weren't able to get them. But we've got to play through officiating."
James attempted only four free throws in the Cavaliers' Game 4 loss, despite his numerous drives to the basket.
"Four free throws for a guy who lives in the paint is rare," Richard Jefferson said of James.
However, James has been to the foul line just 17 times this series, and he's averaging a career-low 5.4 free throw attempts throughout the entire playoffs.
"I'm not quite sure what I can do personally to get to the free-throw line, but I've got to continue to be aggressive for our team," James said following Game 4. "I'm getting hit, but the refs are not seeing it that way, on my drives. ... You know, it's tough playing 46 minutes and only going to the line four times, as much as I attack the rim. So it's just a tough situation for our team."
James declined to comment further on the officiating, stating that he'd like to "save his 25K."
The Cavaliers finished the game with 26 free-throw attempts, while the Warriors had 31 (thanks to last-minute intentional fouling).
Many fans and media members were surprised by the way the game was officiated, especially considering how chippy things became in the second half.
The league admitted that the officials misjudged at least one call late in the game, announcing Sunday that Draymond Green's below-the-belt hit on James was upgraded to a flagrant 1 foul after the play was reviewed. The change resulted in an automatic one-game suspension for Green, who has accumulated four flagrant foul points this postseason.
---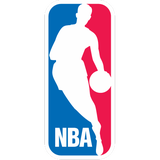 Get more from National Basketball Association
Follow your favorites to get information about games, news and more
---