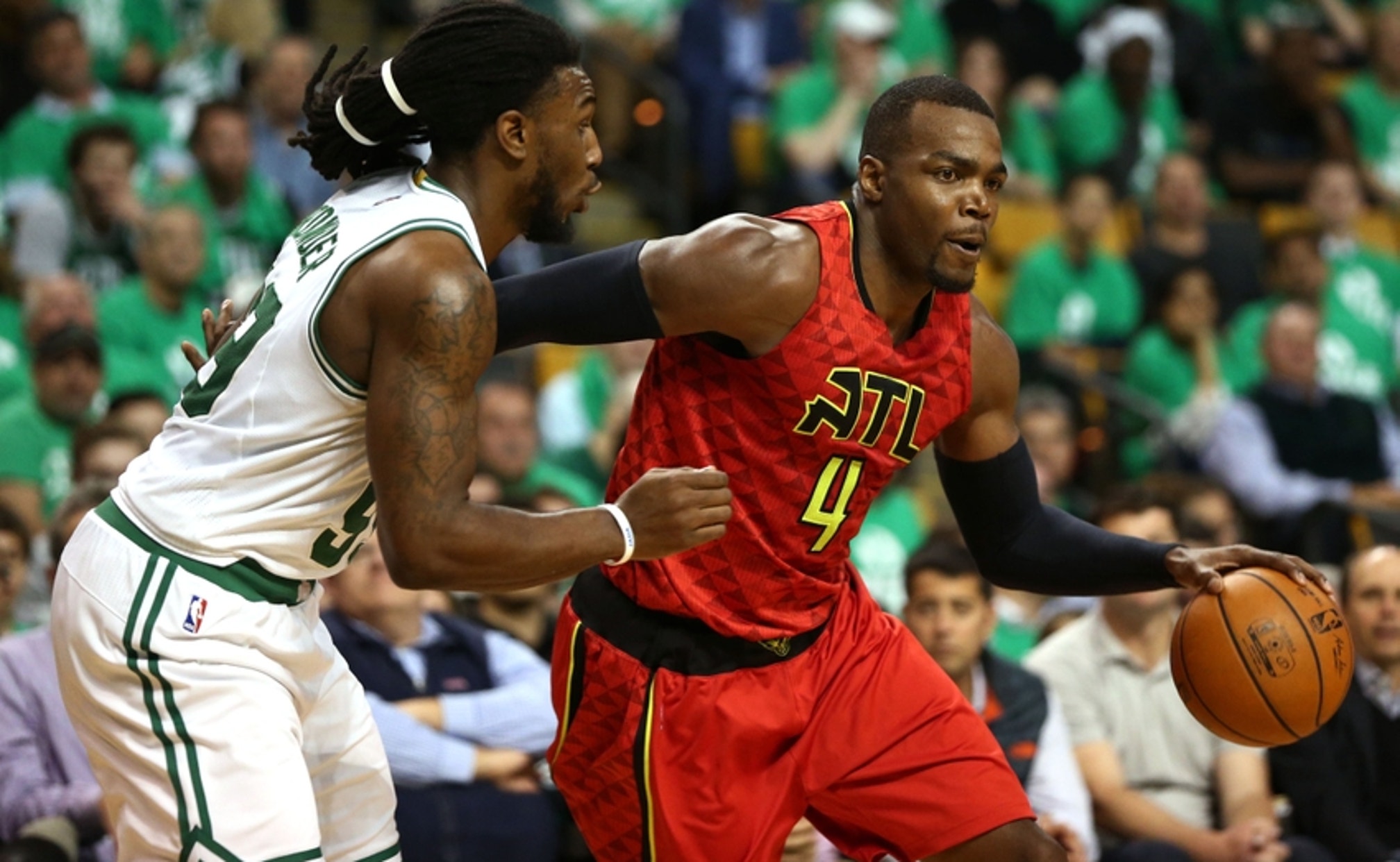 Boston Celtics Should Target Paul Millsap
BY Fansided and Liam O'Brien/FanSided via Hardwood Houdini • June 30, 2017
Trading for Atlanta Hawks power forward Paul Millsap could help to shore up the Celtics rebounding woes and might not require Boston to give up an overwhelming amount.
With the Boston Celtics averaging the second-fewest total rebounds per game (41.3), their necessity for acquiring a rebounding asset prior to the trade deadline has been stressed repeatedly. This need to add a big man could bring one of the culprits of the Celtics struggles on the glass, Al Horford, back into contact with one of his former Atlanta Hawks frontcourt companions.
More from Hardwood Houdini
Since the declaration of Paul Millsap's intent to waive his player option for 2017-18 and become a free agent this summer, the Hawks have fielded a plethora of calls around the league inquiring about his services. There is little doubt that Celtics general manager Danny Ainge is on the list of those who have expressed interest in the big man. Boston currently ranks 28th in rebounding differential and have seen a propensity to allow offensive rebounds hamper their ability to escape from tight battles against elite teams with victories. Millsap could provide Boston with the rebounding effectiveness that they so direly lack, and add another dynamic scoring option to their starting lineup.
Through the first two months of the season, Millsap is posting nightly averages of 17.8 points, 8.2 rebounds, and 1.5 steals per game in 34.1 minutes per outing. His rebounding numbers present the Celtics with just what they need to shore up their glaring void. Millsap's defensive rebound percentage of 21.1 percent towers over Horford's rate of 17.6 percent and fellow starting big man Amir Johnson's underwhelming 15.1 percent rate, both of which are far below career averages. Millsap has long been recognized as a feisty performer on the glass, and his will to garner defensive rebounds would be a monumental addition to Boston's frontcourt. On the offensive end, Millsap's true shooting percentage might be down to 53.1 percent from last season's 55.6 percent, however, this can be attributed to his three-point attempt rate increasing from 21.8 percent in 2015-16 to 24.2 percent this season.
Coming off of his third consecutive All-Star nod, Millsap's passing numbers have skyrocketed as well. With the ball placed in his hands more often as a result of Horford and point guard Jeff Teague bolting from Atlanta, Millsap's usage rate has hovered around 24.2 percent, well above his career average of 22.1 percent. As a result, the 32-year-old has received more opportunities to create open looks for his teammates.
Millsap has capitalized on this opportunity, posting a career-best assists percentage of 17.7 percent in addition to a personal-high 3.9 assists per 36 minutes. Even more encouraging is the fact that despite receiving more isolation opportunities where he is relied upon to create offense, Millsap's turnover percentage has decreased from 13.3 percent last season to 11.2 percent in 2016-17, his most favorable mark since 2011-12 when he was a member of the Jazz.
With his newfound passing skills, Millsap would fit well into the Celtics passing-dominant offensive approach. In rejoining Horford, who has recorded as astronomical 24 percent assists percentage this season, Millsap would help to nurture an already burgeoning offense predicted on sharing the rock. This would create more brilliant displays of team offense such as the one that Boston enjoyed in their 115-104 win over Utah on Tuesday night in which the team dished out 31 assists.
The most enticing aspect of acquiring Millsap would be his price tag. With the 10-year veteran planning to waive his player option of $20 million for 2017-18 to test the free agent market this summer, the Hawks are willing to relinquish his services for a bearable asking price. If Horford would have re-signed with the team, reports have surfaced stating that Atlanta was planning on parting ways with Millsap in a deal with the Raptors. This displays that they would not be opposed to ridding the team of Millsap's presence. The Celtics would not be forced to give up either of the Brooklyn Nets picks that they claim the rights to over the next two years, and would likely only be bound to hand over a separate first-round pick. Neither would they be compelled to concede valuable backcourt assets such as Avery Bradley or Marcus Smart.
If the Celtics were to garner Millsap in a trade, they would submit either Johnson or Tyler Zeller, two expiring contracts, for cap considerations while letting go of either Kelly Olynyk or Jonas Jerebko in the process. The only string tugging at the heart of Ainge would be the likely requirement of giving up point guard Terry Rozier, who has showcased flashes of brilliance since bursting onto the scene in Summer League in 2016. However, this is a small price to pay for someone who is capable of putting up 32 points and 13 rebounds in an overtime win over the Spurs, as Millsap did on New Year's Day. In addition, if Millsap enjoys the experience of performing in Boston, he could potentially accept the player option to remain with the Celtics next season.
---
---