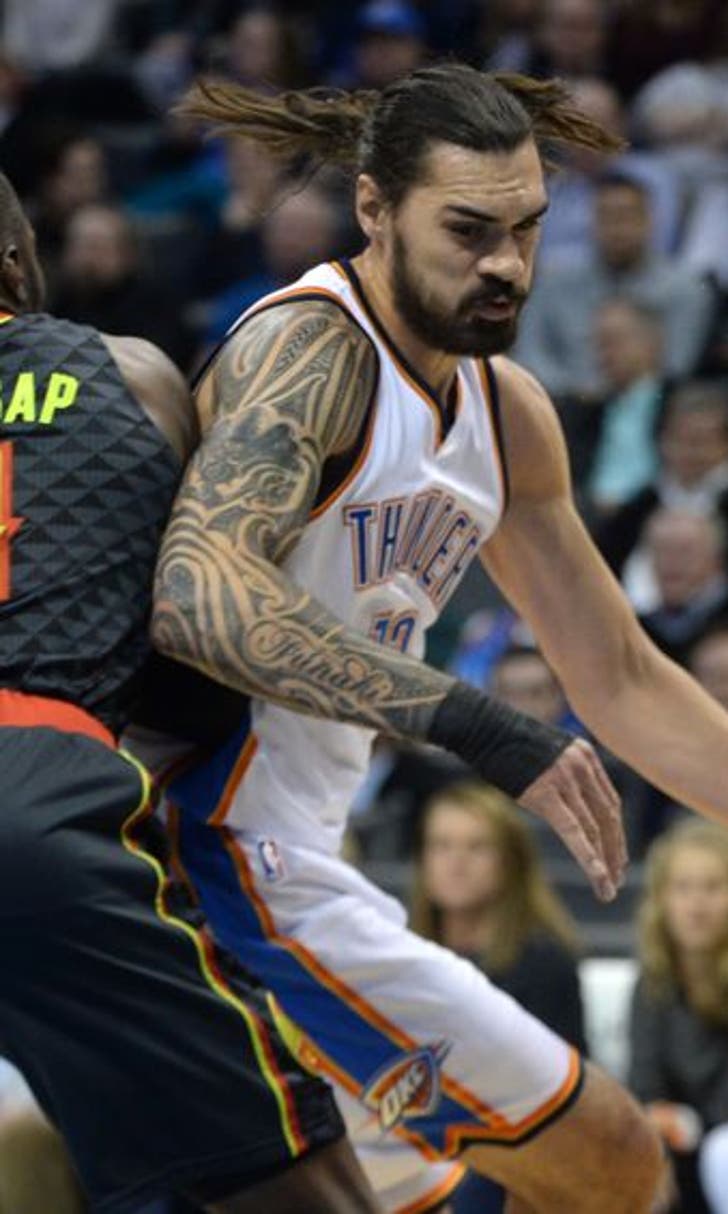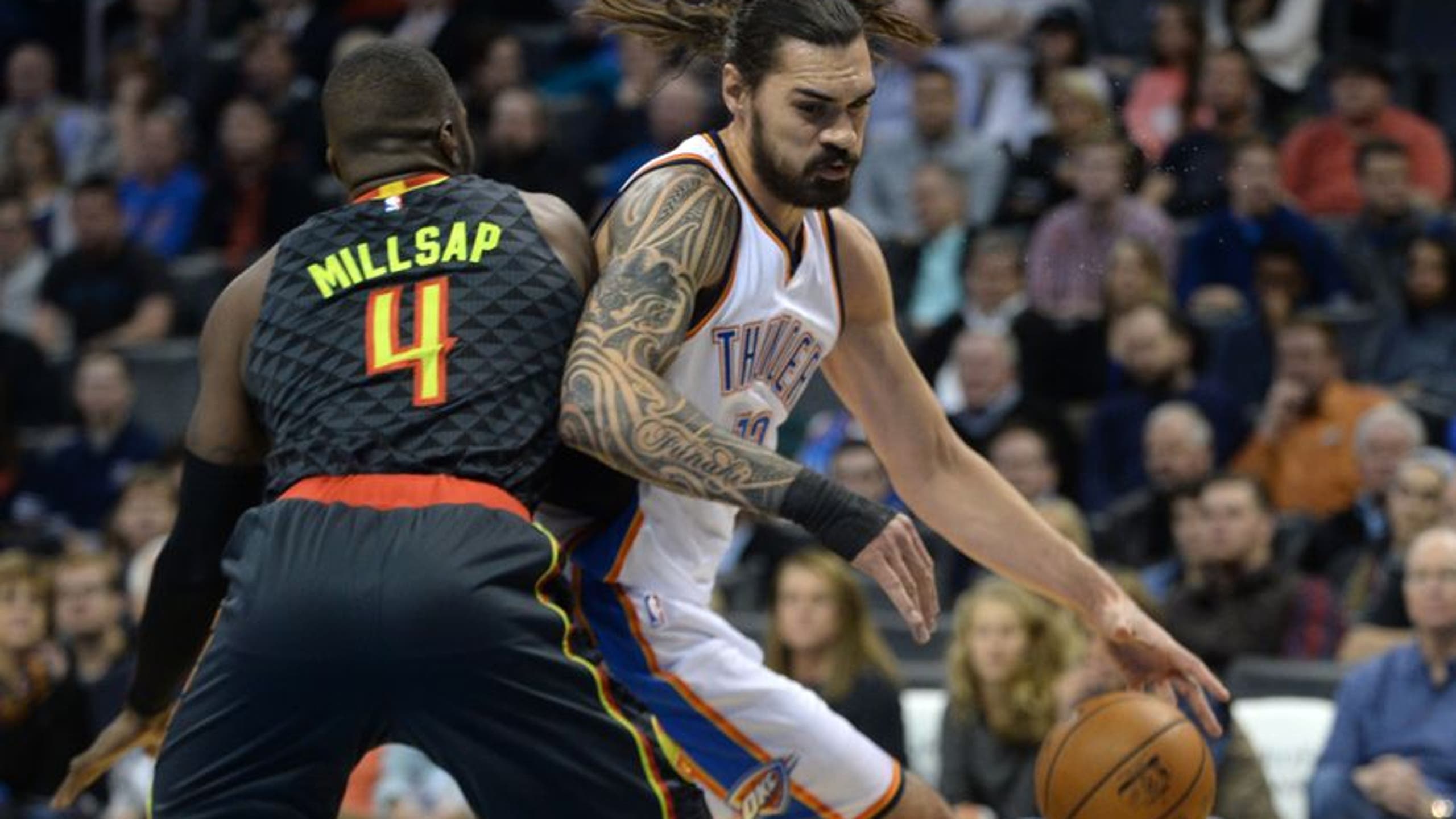 Atlanta Hawks: Grades From Thrilling 110-108 Win Over Thunder
BY Fansided and Andrew Snyder/FanSided via Soaring Down South • December 20, 2016
Dec 19, 2016; Oklahoma City, OK, USA; Oklahoma City Thunder center Steven Adams (12) spins around Atlanta Hawks forward Paul Millsap (4) during the first quarter at Chesapeake Energy Arena. Mandatory Credit: Mark D. Smith-USA TODAY Sports
The Atlanta Hawks took on the Oklahoma City Thunder last night. How did they fare?
The Atlanta Hawks have had an up and down season. They're a Jekyl and Hyde team if I've ever seen one. High highs are followed by low lows. Over the weekend they followed up an impressive road win over the Toronto Raptors with a home loss to the Charlotte Hornets.
This team has beaten teams like the Raptors and the Cleveland Cavaliers. This team has lost to teams like the Washington Wizards and the Orlando Magic. The only consistent thing about this team is their inconsistency.
Monday evening they faced another difficult opponent in the 16-11 Oklahoma City Thunder. Anytime you face off against Russell Westbrook you're in for a difficult battle. They'd also be without starting center Dwight Howard, who sat out due to back tightness. 
More from Soaring Down South
The Hawks got off to a hot start against the Thunder. No Dwight, no problem. In Howard's absence Mike Budenholzer opted for a small-ball starting five comprised of Dennis Schroder, Kent Bazemore, Kyle Korver, Thabo Sefolosha, and Paul Millsap.
Pace and space, baby!
After one quarter, Atlanta held a 22-16 lead thanks to stand-out performances by Schroder and Millsap. They also benefited from some early stumbles from Westbrook, who started 1-for-6 from the field. The first quarter featured an impressive defensive performance from the Hawks.
Budenholzer unleashed an aggressive defensive scheme, featuring a heavy dose of trapping.
It appeared to pay off. Until it didn't. In the second quarter Russell Westbrook happened. Westrbook scored 23 points on 9-for-17 shooting in the first half. The Thunder also dominated the offensive glass, taking advantage of Howard's absence. They collected 10 offensive rebounds in the first half, leading to 10 second chance points. At halftime the Thunder would hold a 53-48 lead. Still, Hawks fans were likely content with that half.
The Hawks roared back in the third quarter, thanks to some inspired play by Bazemore, playing out of position at point guard, and a five timely points from Mike Scott (he's back!). Heading into the final quarter Atlanta clung to an 81-78 lead.
This one would come down to the wire with the Hawks and Westbrook trading buckets down the stretch. A Schroder mid-range jumper would give the Hawks a 108-106 lead with 49 seconds remaining. Westbrook would answer with an off-balance jumper off his own to tie things up at 108 with 32.1 seconds left.
You could cut the tension with a knife. A Paul Millsap drifting jumper off of a beautifully designed play by Mike Budenholzer gave Atlanta a 110-108 lead in the waning seconds.
On the ensuing possession, an errant Westbrook three-pointer fell into the hands of Steven Adams. Adams' put-back dunk at the buzzer came too late, and the Hawks would escape with a 110-108 win.
The win brings Atlanta to 14-14 on the season. How did Atlanta's primary contributors grade out? Lets take a look.
Dec 19, 2016; Oklahoma City, OK, USA; Atlanta Hawks guard Kyle Korver (26) smiles as he leaves the floor after defeating the Oklahoma City Thunder at Chesapeake Energy Arena. Mandatory Credit: Mark D. Smith-USA TODAY Sports
The Starting Five
Dennis Schroder
PG, Atlanta Hawks
A+Dennis Schroder was fantastic. The Thunder had no answer for him defensively, Schroder was getting into the lane at will. Schroder is at his best when he's getting to the rim, whipping passes to shooters in the corner, and knocking down the occasional jumper. He did all those things against the Thunder. Schroder ended his night with 31 points, eight assists, and five rebounds on 10-for-16 from the field. He was also 10-for-10 from the free-throw line. If Schroder plays like this for the rest of the season there's no way the Hawks will find themselves back below .500.
Kent Bazemore
SG, Atlanta Hawks
B-It was a rough start to the evening for Kent Bazemore. Bazemore made his return to the starting lineup, but it didn't look like he was ready just yet. He looked hesitant with his jumper and reckless with his drives to the basket. He was sound defensively, as usual, but something was off offensively. In the third quarter he came to life, serving as a point guard in certain lineups, creating for himself and his teammates out of pick and roll sets. A rough fourth quarter that featured some questionable shot selection and costly turnovers rounded out his overall performance. He finished the game with 12 points, six rebounds, five assists, and two steals. Bazemore gained confidence as the game progressed, which is something to monitor moving forward. He may not be all the way back to being the player he was last season, but he's finding his rhythm. Slowly but surely.
Kyle Korver
SG, Atlanta Hawks
B+It was a good, if low-key until the very end, performance from Kyle Korver. Temporarily back in the starting lineup due to Dwight Howard's injury, Korver scored eight points on 3-for-6 shooting and 2-for-4 from three-point range. Korver was in a sharing mood for most of the night. He finished with six assists, the most important one coming late in the fourth quarter. Korver made a perfect pass to Paul Millsap just before his game-winning shot. Korver has been playing well lately, showing he still has something to contribute to this team.
Thabo Sefolosha
SF, Atlanta Hawks
B+Thabo Sefolosha was tasked with guarding Russell Westbrook for much of the evening. That didn't go particularly well, but that doesn't go well for anyone. At least he made him work for his points On offense Sefolosha was an efficient 6-for-10 from the field totaling 15 points. He also nabbed six rebounds serving as a power forward in small-ball lineups. Sefolosha's insertion into the starting lineup was a polarizing issue, but it seems to be working. For now Sefolosha should continue to start. He's been Atlanta's most consistent wing player this season.
Paul Millsap
PF, Atlanta Hawks
A+In case you've forgotten, Paul Millsap is really good at playing basketball. That's convenient because he happens to be a professional basketball player. Millsap torched the Thunder for 30 points on 12-for-18 shooting, showing off all the traits of his versatile offensive game. He knocked down mid-range jumpers, he got to the rim, he unleashed floaters in the middle of the lane, and he shot 3-for-5 from three-point range. Millsap got buckets and he got them with ease. He also got the most important bucket, scoring the game-winning shot with just ten seconds left in the contest. Millsap is Atlanta's best player and I imagine the Oklahoma City Thunder agree.Next: The Bench
Nov 25, 2016; Salt Lake City, UT, USA; Utah Jazz guard Shelvin Mack (left) talks with Atlanta Hawks forward Mike Scott prior to the game at Vivint Smart Home Arena. Mandatory Credit: Russ Isabella-USA TODAY Sports
The Bench
Malcolm Delaney
PG, Atlanta Hawks
C-I don't like to give bad grades. I'm soft. Malcolm Delaney didn't get much action against the Thunder. Budenholzer tightened his rotation, leading to Delaney only playing 11 minutes. He finished with two points and one rebound on 1-for-3 shooting. It's hard to blame Budenholzer for this. Schroder was playing well so he decided to ride him to the finish line. Delaney will have better games. This was just a blip on the radar.
Tim Hardaway Jr.
SG, Atlanta Hawks
B-My grandmother always says "if you don't have anything nice to say you shouldn't say anything at all." Well, at least I have a few nice things to say. Tim Hardaway Jr. tried his best and that is to be commended. He's having a very good season. Tonight was not his best game. He did hit some shots late to make his stat line a little more appealing. Hardaway dropped seven points on 3-for-7 shooting, and was the recipient of some particularly silky dimes during the "point Baze" phase of the third quarter.
Mike Muscala
PF, Atlanta Hawks
DThis is not a game Mike Muscala will want to remember. He missed the only two shots he took, failing to score a point in the entire game. He only played 11 minutes despite the Hawks being without Dwight Howard. Muscala is having a productive season, so it's likely nothing to worry about.
Mike Scott
PF, Atlanta Hawks
BMike Scott is back! After a stint in the D-League, Scott returned to the rotation Monday night. Scott only played eight minutes, but he connected on a three-pointer and a lay-up to finish with five points. He also collected two rebounds. For Scott, getting minutes in Atlanta instead of Long Island has to be a welcome change. It remains to be seen whether or not Scott will continue to get minutes when there is a healthy Dwight Howard, or on an evening when Mike Muscala isn't struggling so mightily.Next: The Head Coach
Dec 17, 2016; Atlanta, GA, USA; Atlanta Hawks head coach Mike Budenholzer argues a call by referee Michael Smith (38) in the fourth quarter of their game against the Charlotte Hornets at Philips Arena. The Hornets won 107-99. Mandatory Credit: Jason Getz-USA TODAY Sports
The Head Coach
Mike Budenholzer
Head Coach, Atlanta Hawks
AMike Budenholzer did what he needed do with a shorthanded lineup. He tied this thing together with silly string and duct tape. He decided that playing his starters heavy minutes was worth it to try and win an important road game against a quality opponent. He was right. As a team, Atlanta shot 54.7 percent from the field and 39.1 percent from deep. Despite a significant size disadvantage Atlanta didn't allow OKC to bully them in the post to the point where the Thunder came away with the win. Bud seemed to let Westbrook get his, knowing that the Thunder didn't have enough firepower to beat them with someone else. Then there's the play that sealed the game for Atlanta. Budenholzer crafted a beautiful Schroder/Millsap pick and roll that led to Schroder feeding Korver coming off of a screen, which led to Korver finding Millsap for the game-winning jumper. It was magnificent.Next: The Thunder
Dec 19, 2016; Oklahoma City, OK, USA; Oklahoma City Thunder guard Russell Westbrook (0) reacts after a play against the Atlanta Hawks during the fourth quarter at Chesapeake Energy Arena. Mandatory Credit: Mark D. Smith-USA TODAY Sports
The Oklahoma City Thunder
Oklahoma City Thunder
Western Conference, 16-12
The Hawks will return to action Wednesday evening as they take on Karl-Anthony Towns and the Minnesota Timberwolves.
---
---