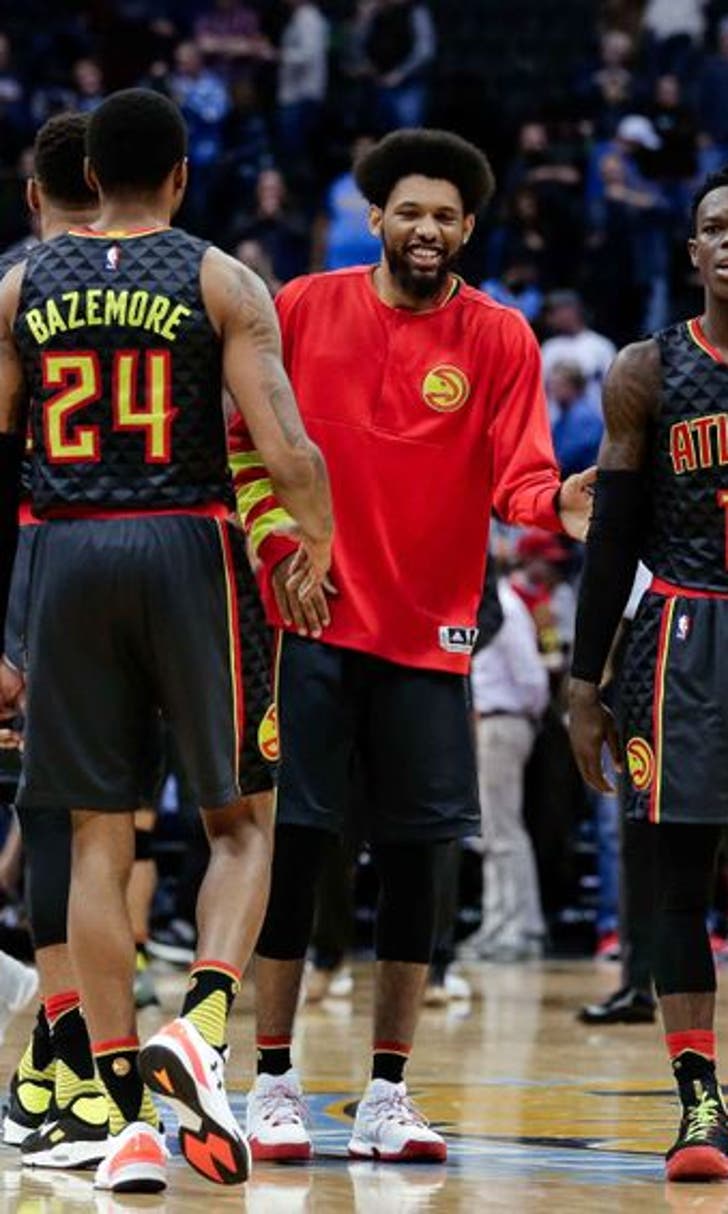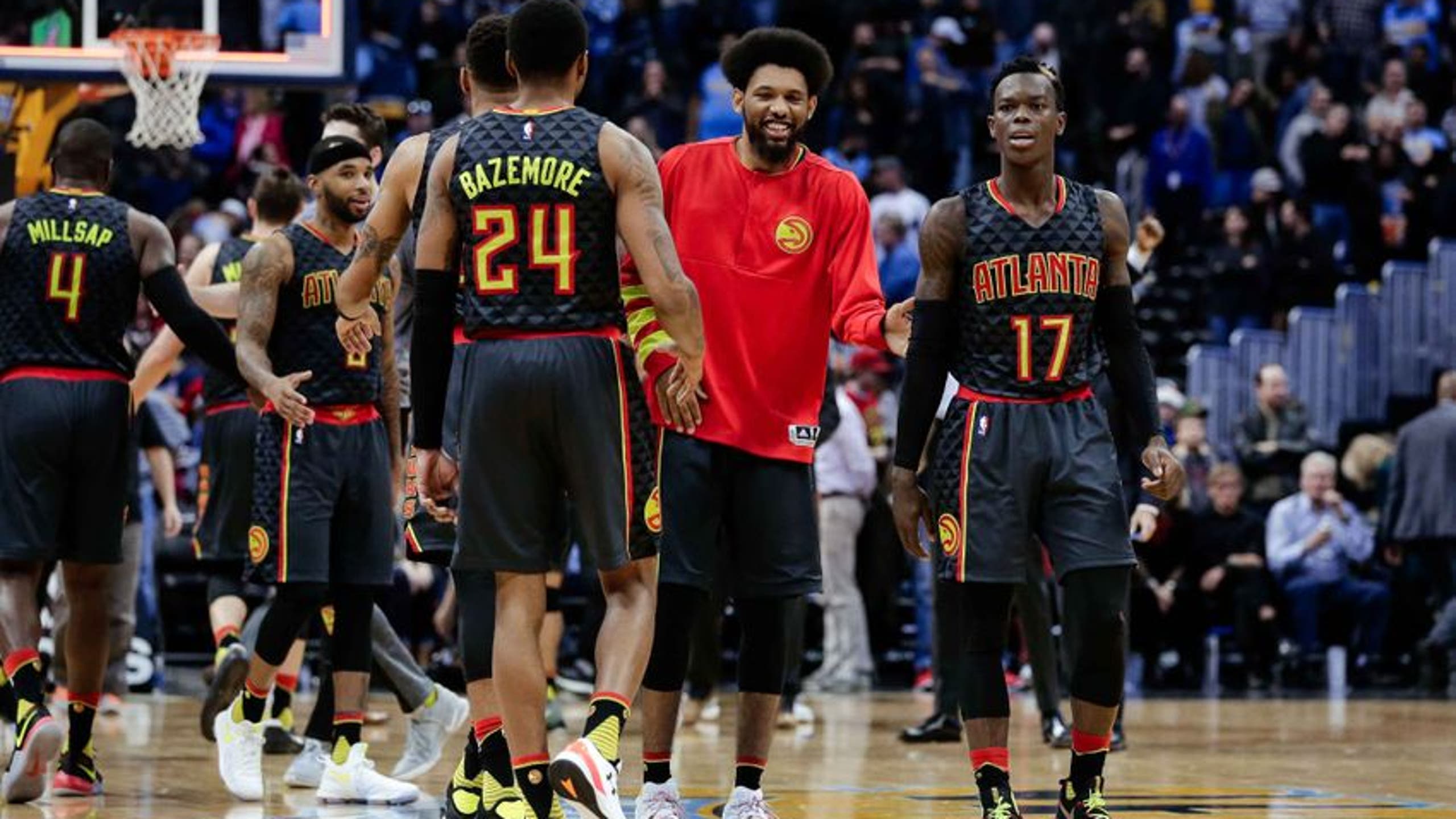 Atlanta Hawks: Grades From Shocking Win Over Nuggets
BY Fansided and Andrew Snyder/FanSided via Soaring Down South • December 24, 2016
Dec 23, 2016; Denver, CO, USA; Atlanta Hawks forward DeAndre Bembry (center) celebrates with forward Kent Bazemore (24) and guard Dennis Schroder (17) after the game against the Denver Nuggets at the Pepsi Center. The Hawks won 109-108. Mandatory Credit: Isaiah J. Downing-USA TODAY Sports
The Atlanta Hawks stormed back to beat the Denver Nuggets Friday night, in a game that they looked destined to lose. Who had the best individual performance?
I don't think the Denver Nuggets play on 34th street. If they did, I would decree that last night's Atlanta Hawks comeback be dubbed "The Miracle On 34th Street". Not all dreams come true. It was a shocking win, to say the least.
The Hawks started their night shorthanded. Tiago Splitter has been out all season, you know that. Wednesday, it was announced that Dwight Howard would miss his third straight game with back tightness. That was expected.
A few hours before the game, suspicions were confirmed with Tim Hardaway Jr. He would miss the game with a groin injury that he suffered in Wednesday's loss to the Minnesota Timberwolves.
Still, there was one more shoe to fall. Just before game-time, it was announced that Kyle Korver would miss the game due to illness. Their injury report looked like that little dog in the burning house from the "this is fine" meme.
Mike Budenholzer again got creative with his starting lineup to combat their depth issues. After struggling to break into the rotation, Kris Humphries made his first start as a Hawk. He started alongside Dennis Schroder, Kent Bazemore, Thabo Sefolosha, and Paul Millsap. Not quite small-ball, not quite a traditional set of big men. Bud is trying things!
More from Soaring Down South
It looked like Atlanta was going to let this one slip away. The Nuggets took control of the game in the third quarter, but things were still tied at 82 heading into the fourth quarter. After two Emmanuel Mudiay free-throws, Denver's lead was stretched to 108-100 with under two minutes to play.
Then things got weird. Over the last 1:43 of the game, Atlanta made 9-of-9 free-throws to pull themselves back ahead. For some reason, Denver kept committing silly fouls. It was an implosion like I've never seen before. Will Michael Malone get "don't foul with the lead" tattooed on his eye lids?
Paul Millsap made two freebies with six seconds remaining to give the Hawks a 109-108 lead. After a Nuggets miss at the buzzer, the improbable victory was complete. A 9-0 run just on free-throws to win a game? Yeah, that's crazy.
It was as unlikely as a win gets, and it moves the Hawks record to 15-15 as we approach Christmas Day.
Who had the best performances from the wacky win in the Mile High City?
Dec 23, 2016; Denver, CO, USA; Denver Nuggets guard Gary Harris (14) guards Atlanta Hawks guard Dennis Schroder (17) in the fourth quarter at the Pepsi Center. The Hawks won 109-108. Mandatory Credit: Isaiah J. Downing-USA TODAY Sports
The Starting Five
Dennis Schroder
PG, Atlanta Hawks
AThe season of Dennis Schroder lives on! This type of play is becoming the norm for the young German. Once again, he was Atlanta's best player. His jumper seems to be improving, as well. One game after going 1-for-7 from behind the arc, he turned in a 2-for-4 performance against Denver. He's picking his spots, but his form looks better than ever. Schroder scored 27 points, handed out five assists, and grabbed six rebounds in 36 minutes. His 7-for-7 effort from the free-throw line was huge in a game where every point mattered. He's quickly becoming the straw that stirs the drink.
Kent Bazemore
SG, Atlanta Hawks
C+Another mixed performance from Kent Bazemore. It's been a rough season for the guy. His energy never wavers, but sometimes his performance does. He shot 2-for-9 against Denver, finishing with five points, four assists, and two rebounds. He was also a team worst minus 15. Stay the course, Baze. Stay the course. It will get better.
Thabo Sefolosha
SF, Atlanta Hawks
AThabo Sefolosha was tremendous. Moving him into the starting lineup continues to look like an excellent decision. His defense was great against the Nuggets, not surprising, and he had one of his better offensive performances. Sefolosha scored 12 points on 4-for-8 shooting and 2-for-3 from three-point range. Anytime Sefolosha makes multiple three-pointers it's a good day. To add to his stat line, he recorded three assists, four rebounds, and four steals. He also knocked down two clutch free-throws during Atlanta's comeback. Thabo being Thabo.
Paul Millsap
PF, Atlanta Hawks
B+Death, taxes, and Paul Millsap finding a way to help you win. He only shot 5-for-15 from the field, but that doesn't mean he had a bad game. He still finished with 20 points, eight rebounds, and three assists. He made 8-of-10 free-throws, including the game-winner. Millsap also played a team high 38 minutes in high altitude. Schroder was Atlanta's best player on this night, but Millsap wasn't far behind. He is a model of consistency on a team that struggles to find consistency as a unit. With a guy like Millsap leading the way, I imagine they'll figure it out at some point.
Kris Humphries
C, Atlanta Hawks
BAfter struggling to even break into the rotation over the last few games, Kris Humphries made his way into the starting lineup against Denver. This was undoubtedly Mike Budenholzer's way of fixing Atlanta's rebounding woes against a team that rebounds the ball very well. It worked out quite nicely. The Hawks still lost the rebounding battle, 45 to 41, but they didn't get crushed like they did against Minnesota. Humphries played well. He finished with 10 points and 8 rebounds on 4-for-10 shooting. Humphries is a polarizing player for Hawks fans. Some think he's been unfairly been left out of the rotation. Some feel he's rather useless. The truth probably lies somewhere in between. Has he earned more minutes with this outing? I'd say yes.Next: The Bench
Dec 19, 2016; Oklahoma City, OK, USA; Oklahoma City Thunder guard Russell Westbrook (0) drives to the basket between Atlanta Hawks forward Mike Muscala (31) and Atlanta Hawks guard Dennis Schroder (17) during the second quarter at Chesapeake Energy Arena. Mandatory Credit: Mark D. Smith-USA TODAY Sports
The Bench
Malcolm Delaney
PG, Atlanta Hawks
BMalcolm Delaney finally got some more minutes. Well, he got many, many minutes. Delaney played relatively well in 30 minutes of action. He shot 3-for-8 from the field, but had seven points, three assists, and two rebounds. He looked like a reliable backup point guard, as he did earlier this season. When Delaney gets the opportunity, he plays well. I don't think we'll see many more games where he fails to play at all in the second half.
Mike Scott
PF, Atlanta Hawks
CIt was a rough shooting night again for Mike Scott, as he eases his way back into regular minutes. Scott scored five points, recorded three assists, and grabbed four rebounds. He shot 1-for-4 from the field, including 0-for-3 from three-point range. With Kris Humphries playing well against Denver, it makes one wonder how the rotation will shake out once Atlanta has completely healthy roster.
Mike Muscala
C, Atlanta Hawks
B+Mike Muscala has become Atlanta's most reliable backup big man, and it's not close. Muscala turned in another sparkling performance Friday night. The man with basketball's best man-bun can get buckets with the best of them. Muscala had 13 points on an efficient 5-for-7 shooting, in a tidy 21 minutes. If he had not committed five fouls he might have played more minutes. Nevertheless, it was another great night for Muscala.
DeAndre Bembry
SF, Atlanta Hawks
ADeAndre Bembry got minutes! Fresh off a stint in the D-League, Bembry got his most of action of the season. He made the most of the opportunity. Bembry finished with nine points, four rebounds, one assist, and one steal in 19 minutes. He shot 4-for-6 from the floor, and truly looked like be belonged. He also had the best hair in the game. This is fact, not an opinion. Will Bembry continue to find himself in the rotation, or is another stint in the D-League on the horizon? Of course, I'm in favor of both Bembry and Taurean Prince getting time on the court. The Hawks aren't winning the title this season. Budenholzer should play the young guys as much as possible.
Taurean Prince
SF, Atlanta Hawks
Inc.I'm struggling to give Taurean Prince a grade for this performance. He played one minute, and scored one point. Is a trip to the D-League coming soon for Prince? It might be a good idea to get him regular minutes. It's hard to become a better basketball player without playing basketball. I apologize for that hot take.Next: The Opposing Team
Dec 23, 2016; Denver, CO, USA; Denver Nuggets forward Wilson Chandler (21) dribbles the ball up court in the fourth quarter against the Atlanta Hawks at the Pepsi Center. The Hawks won 109-108. Mandatory Credit: Isaiah J. Downing-USA TODAY Sports
The Denver Nuggets
Denver Nuggets
Western Conference, 12-18
C-Boy, that escalated quickly. The Denver Nuggets imploded in the last two minutes of this game. What's one thing you shouldn't do when you have the lead late in a basketball game? The answer is foul. Don't foul. Don't foul with the lead. Don't do it. It is a bad thing to do. The Nuggets committed four personal fouls, and one technical foul on head coach Michael Malone, during the last few minutes of the game. This led to nine Atlanta free-throws, essentially gifting them a win. Other than that, the Nuggets controlled the game. They shot 47.4 percent from the field. Danilo Gallinari was fantastic, scoring 21 points on just ten shots. Wilson Chandler scored 19 points on 9-for-17 shooting. Both had 11 rebounds on the night, each recording a double-double. Sadly, that will all get lost in the shuffle. What a weird way to lose a game. This one will haunt them if they barely miss the playoffs at the end of the season.Next: The Head Coach
Nov 18, 2016; Charlotte, NC, USA; Atlanta Hawks head coach Mike Budenholzer argues a call in the second half against the Charlotte Hornets at Spectrum Center. The Hornets defeated the Hawks 100-96. Mandatory Credit: Jeremy Brevard-USA TODAY Sports
The Head Coach
Mike Budenholzer
Head Coach, Atlanta Hawks
B+The Hawks got the win thanks Denver's implosion, but lets give Budenholzer some credit. Entering the night, his team was down three rotation players (four if you count Splitter), but somehow he pulled things together. The starting lineup was weird, the rotation was weird, the way they won was weird, but the insertion of Humphries into the starting lineup helped the Hawks not get absolutely killed on the glass by one of the best rebounding teams in the league. That's something! One day he'll have a healthy roster to work with. One day.Next: Dennis Schroder's Hot StreakThis article originally appeared on
---
---