Golden State Warriors
Golden State Warriors
And now, 29 teams will start chasing the champion Warriors
Published
Jun. 13, 2017 12:08 p.m. ET

The alarm was sounded loud and clear by LeBron James not long after the NBA Finals ended, and every other player, coach and general manager around the league who did not end this season drenched in champagne surely agreed with what he was saying.
The Golden State Warriors are a problem.
And they're probably going to stay that way.
There will be one question inevitably asked this offseason by most of the 29 other teams in the NBA whose fingers didn't get to smudge the golden surface of the Larry O'Brien Trophy this year. That question will not have a good answer for many, if any. Basketball's offseason is here, a draft and free agency loom, and for the second time in three years everyone is chasing the Warriors.
Good luck, everybody.
You're going to need it.
''They're going to be here for a while,'' James said after the Finals ended , his words coming as the Warriors' celebration was still going in earnest. ''They're going to be around for a while. Pretty much all their guys are in their 20s. Pretty much all their big-name guys are in their 20s, and they don't show any signs of slowing down.''
Boston has the No. 1 pick in the draft to add to a team that went to the Eastern Conference finals this season. Miami will have around $37 million in spending money once Chris Bosh comes off the books. James will try and lure more help to come to Cleveland. Chris Paul, Dwyane Wade, Derrick Rose, Gordon Hayward, Paul George and Blake Griffin may all be changing addresses. The Knicks have openly been begging Carmelo Anthony to seek a trade elsewhere.
No, quiet will not happen in July 2017.
It's unclear if any of this summer's moves will matter come June 2018.
The Warriors might be that far ahead of the field already.
''There's going to be a lot of teams that's trying to figure out ways to put personnel together to try and match that if they're able to actually face them in a playoff series, both Eastern Conference and Western Conference,'' James said. ''Because they're built for ... from my eyes, they're built to last a few years.''
Technically, the Warriors have some work to do in order to remain the Warriors.
Stephen Curry, Andre Iguodala, Shaun Livingston, Zaza Pachulia, David West and JaVale McGee will be among many Golden State players in the free-agent waters, and Kevin Durant will likely join them. Even though it will cost the Warriors big money - remember, Curry is in line for an enormous raise and made ''only'' $12 million this season - it's more than possible for them to keep their core intact.
There also are some other matters of business around the league to clear up this season.
Many players have opt-in decisions coming before the July 1 shopping spree opens. Some of those decisions could affect what happens on draft night, when Markelle Fultz will likely go to the Celtics with the No. 1 overall pick. And there is still all the awards that need to be handed out, like settling the Russell Westbrook versus James Harden race for MVP.
There hasn't been a coaching change in more than a year, which is an incredibly rare occurrence for the league. But some front offices have undergone recent overhauls, and more of that could be on the way - especially if Cleveland does not retain GM David Griffin, whose contract with the Cavs is expiring.
Rosters, though, will definitely change. They always change. The Warriors won't be the same when Commissioner Adam Silver hands them their rings next October (when the league's longer season designed to give more rest over the 82-game span) begins. The Cavaliers won't be the same either. Nobody will have the same 15 players they ended the season with.
But the Warriors look like they're on the brink of something dynastic .
No team had a winning record against Golden State this season - five were .500 against the Warriors - and 16 of the 29 other teams in the league didn't beat them even once. The best example of how far the league has to go to catch the Warriors might be the Portland Trail Blazers, a very solid team with two great scorers in Damian Lillard and CJ McCollum.
Portland played Golden State eight times this season. The Blazers went 0-8.
Again, good luck, everybody else.
''We're obviously just getting started,'' Curry said. ''This is something that we want to continue to do.''
---
More AP NBA: apnews.com/tag/NBAbasketball
---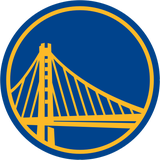 Get more from Golden State Warriors
Follow your favorites to get information about games, news and more
---