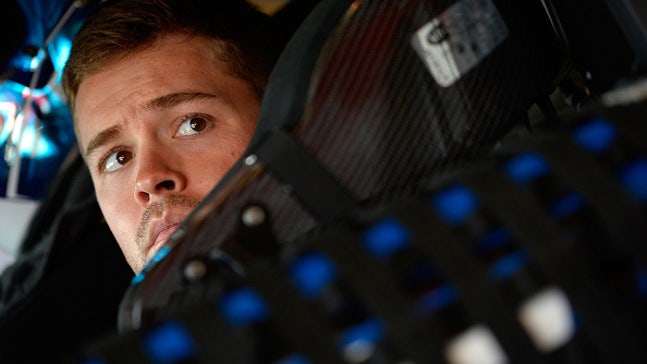 Ricky Stenhouse Jr. looks to improve one Sprint Cup race at a time
Published
Mar. 21, 2016 3:18 p.m. ET

Baby steps. One at a time.
That's how Ricky Stenhouse Jr. is looking at the progression for his No. 17 Roush Fenway Racing team this season. Now in his fourth full-time Sprint Cup season, it hasn't gone the way Stenhouse envisioned when he first broke into NASCAR's top series after winning back-to-back championships in NASCAR's second-tier series in 2011 and 2012, respectively.
His fifth-place finish last Sunday in the Auto Club 400 was just his fourth top-five finish in 117 career Cup starts. So while it was a solid finish, it's not exactly time to break out the champagne and celebrate.
But it is something for Stenhouse and his team to build on, and that's how he's looking at it.
"I feel really confident in my guys and the cars that we're building," Stenhouse said after Sunday's race at Auto Club Speedway in Fontana, Calif. "We still got a long ways to go as a race team, as the 17 team. But we're limiting our mistakes, which we had last year. That's helping us improve. They're bringing faster racecars."
After blowing a tire and crashing out a week earlier at Phoenix and finishing 37th in a 39-car field, Stenhouse is a respectable 14th in points heading into the next race at Martinsville one week from this Sunday. (There is no race this Easter weekend coming up).
With a 10th-place finish at Atlanta earlier in the season, Stenhouse already has two top 10s in the first five races this year. Last year he only had three in the entire 36-race season, and he's never had more than five in a single season.
He said for this season's improvement to continue, the No. 17 Ford will need to perform better on short tracks -- beginning with the race coming up at Martinsville.
"Our short-track program needs to get a little bit better, after (the poor finish) at Phoenix. We had a decent car, but didn't have it just right and ended up blowing that tire," Stenhouse said. "I thought we were going to have a decent run there. We put a lot of effort on our mile‑and‑a‑half and speedway tracks like California and Atlanta and Vegas. I can tell a big improvement. I'm really happy about that.
"We've still got to go to work on our short track program, but I'm very happy at the progress we made over the offseason. Hopefully we can continue the progress the rest of the year so that we can restart these last final restarts maybe in the top five and have a shot at the win."
---
---