NASCAR Cup Series
NASCAR Cup Series
Logano has learned from Martin
Published
Jun. 11, 2012 1:00 a.m. ET

When Mark Martin left Roush Fenway Racing in 2006, he said that if it was possible, he would pick Joey Logano to replace him. Obviously back then, Joey wasn't old enough to race in the NASCAR Sprint Cup Series.
The point is that even back then, Mark was a huge Joey Logano fan.
So I think it was pretty cool Sunday at Pocono Raceway to see those two racing for the win. As you heard Mark say in his postrace interview, sure he wanted to win, but he also knew that kid was trying to win the race. Joey had the best car pretty much all weekend. In fact, for the first time in 2012, our polesitter won the race.
Joey has been scrutinized ever since he moved up to the NASCAR Sprint Cup ranks. A lot has been made of the fact that he hasn't won nearly as much as everyone predicted in that No. 20 Joe Gibbs Racing car. Sure he's been widely successful in the Nationwide ranks, but that hasn't been able to carry over to Sunday in the Cup car.
Joey's first win in his 2009 rookie season was at New Hampshire Motor Speedway. That day his team didn't have a very good car, but the group played their strategy perfect and when the rains came they were out front, the race was called and Joey was declared the winner.
Much has been made of this being a contract-renewal year for Joey and whether or not he is going to be back in that No. 20 car in 2013. Does Sunday's win take the heat completely off Joey? I am not sure about that, but I do know it should reduce it a great bit.
I just think the confidence level from this point forward is going to go straight up for Joey. He beat his mentor, who had a very fast race car and now you might see him begin to live up to that potential that everyone has seen for years.
Just look at what the young man had to weather in 2011. There was the question of whether or not at the end of 2010 Carl Edwards was going to take his ride. Was his crew chief staying or going? Was the sponsor going to stick behind Joey? So he's been through a lot both on and off the track mentally.
Winning as much as he has early on this season in the Nationwide Series has been a huge benefit to his confidence. Joe Gibbs, owner of Joey's team, admitted he even scratched his head when he saw Joey win on Saturday but turn right around and not do so on Sunday. Think about who he is beating on Saturday. He's beating a lot of the guys he has to race on Sunday.
Even though Joey won at Pocono, you have to tip your hat to Mark Martin. That old man has been fast all year. This is his first season at Michael Waltrip Racing and it's a partial season at that. However, Mark has been fast every time he crawls behind the wheel of that No. 55 car. He's already sat on three poles.
I think it's hard for any driver to gear up for a partial schedule and stay in the flow of things. Evidently not for Mark, though. He'll race again this weekend at Michigan, but then he doesn't return to the car until the Brickyard 400. Brian Vickers and team owner Michael Waltrip will share the driving duties until then.
I think it just goes to show you that the No. 55 car doesn't know how old the driver is that's cranking on its steering wheel and mashing the gas. Mark Martin is an unbelievably smart race car driver that doesn't tear up equipment. I think that's why everyone in our sport has so much respect for Mark Martin.
So Sunday was pretty cool with the race coming down to a battle between a 22-year-old vs. a 53-year-old. Think about this, Mark was already eight years into his NASCAR Sprint Cup career before Joey was even born. Heck, now that I think about it, Mark had already won a Cup race when Joey was born.
So that's one of the cool things about NASCAR Sprint Cup racing. Our sport, like no other, gives opportunities for athletes both young and old. If you don't believe me, then go watch those closing laps from Pocono on Sunday.
---
---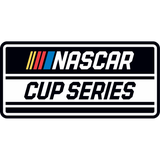 Get more from NASCAR Cup Series
Follow your favorites to get information about games, news and more
---