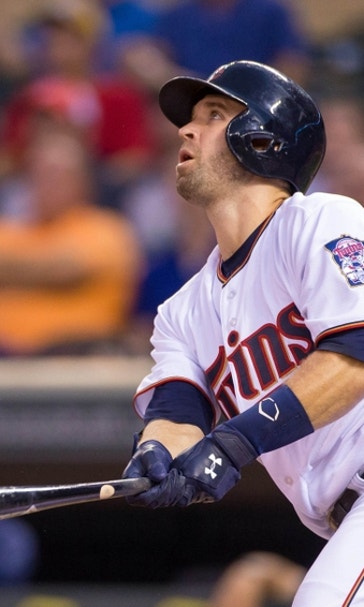 Minnesota Twins Asking for Best Offers for Brian Dozier
December 31, 2016

Fansided, Joshua Mayer/FanSided via Call to the Pen
As the MLB offseason creeps into January, the Minnesota Twins are reportedly asking interested teams to submit their best offers for second baseman Brian Dozier.
After a career year, Dozier has been a hot commodity this offseason on the trade market. The Los Angeles Dodgers have been connected to the power hitting second baseman, as well as the Cardinals, Giants, and Nationals.
La Velle E. Neal III of the Star Tribune was first to report that the Twins were asking for final offers.
"The Twins have been listening to offers for All-Star second baseman Brian Dozier for several weeks — but not much longer, it appears.

The club would like interested teams to step up with their best offer in the coming days, or they plan to prepare for the 2017 season with Dozier as their second baseman, according to a source with knowledge of negotiations."
It's hard to blame the Twins for such a strategy as having lingering trade talks would not be good for the team, or for Dozier.
Minnesota is in an interesting spot. They had an awful season in 2016, finishing 59-103. But, in 2015 they finished 83-79. So is this a clear rebuilding team that is years away from contention? It is not so clear.
More from Call to the Pen
With catcher Jason Castro recently signed, the Twins project to start Castro, Joe Mauer, Dozier, Miguel Sano, Byron Buxton and Max Kepler, with some combination of Byung Ho Park, Kennys Vargas, Danny Santana, Eddie Rosario, Robbie Grossman, Jorge Polanco, and Edwin Escobar filling out the remaining spots. This is certainly not a lineup to get excited about, but there are some good pieces.
At the same time, this could be the perfect time to trade Dozier. With only two more years of team control, Dozier would need a large contract extension to remain with the Twins through the team's top prospects primes. After a season in which he slashed .268/.340/.546 with 42 home runs, his value may never be higher.
The Dodgers have reportedly offered top pitching prospect Jorge De Leon, but the Twins want more, and understandably so. After seeing the haul that Adam Eaton got, no one would blame the Minnesota front office for pushing for two top prospects in return for a top five second baseman in baseball.
As seen here, the Twins have a few top prospects in Nick Gordon and Travis Blankenhorn that project to play in the middle infield. Finding a suitor for Dozier and going into full rebuilding mode could be the best option for Minnesota. The fact that they are asking teams for their final offers should not signal any sort of reluctancy from the front office.
Instead, many deals happen when teams ask for final offers, as it is easier to choose from different suitors that way. Or, if the Twins do not find an offer to their liking they can hold onto their star player and see how the season goes and possibly re-open trade discussions in July.
---
---