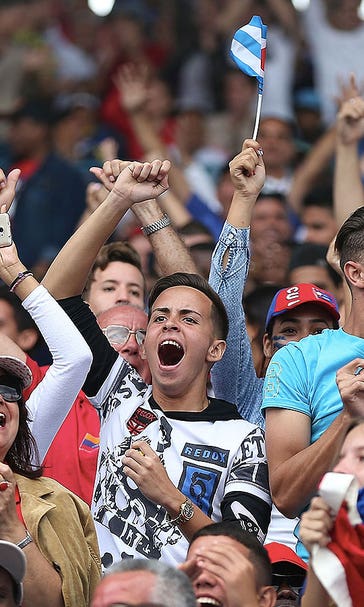 Major League Baseball returned to Cuba and it was a sight to behold
March 22, 2016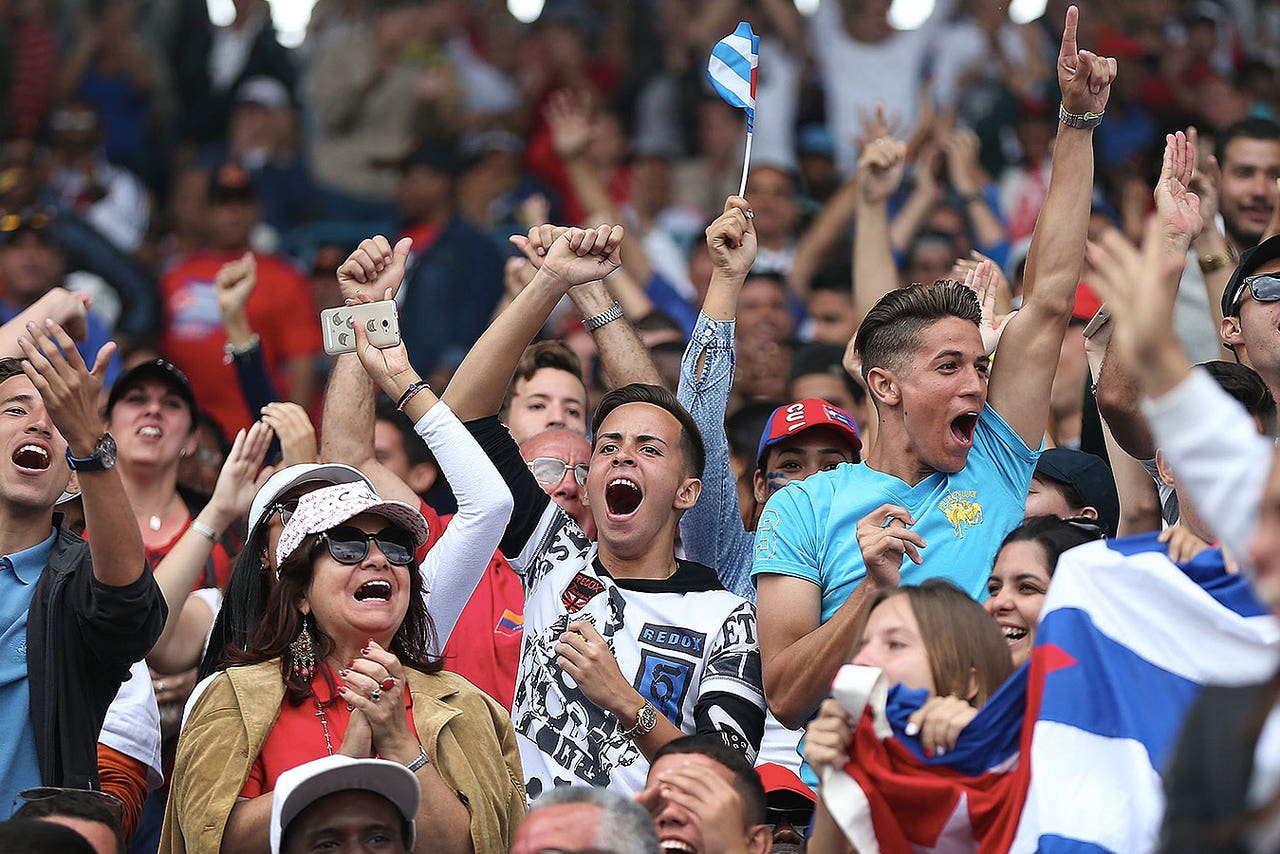 HAVANA — The first pitch of the most meaningful spring training game in generations was more than two hours away, yet Estadio Latinoamericano was nearly at capacity. As the music pulsed and anticipation crackled, Antonio Castro — a Cuban baseball executive and Fidel's son — surveyed the backdrop for his country's showcase.
I approached Castro's front-row seat, the one at which later Tuesday afternoonhe'd stand and extend his cellphone as high as he could, to capture the best possible video of President Obama's entrance, a few feet away.
I asked Castro the best question I could manage in my simple Spanish: What are your feelings right now?
He simply smiled and gazed around at the crowd.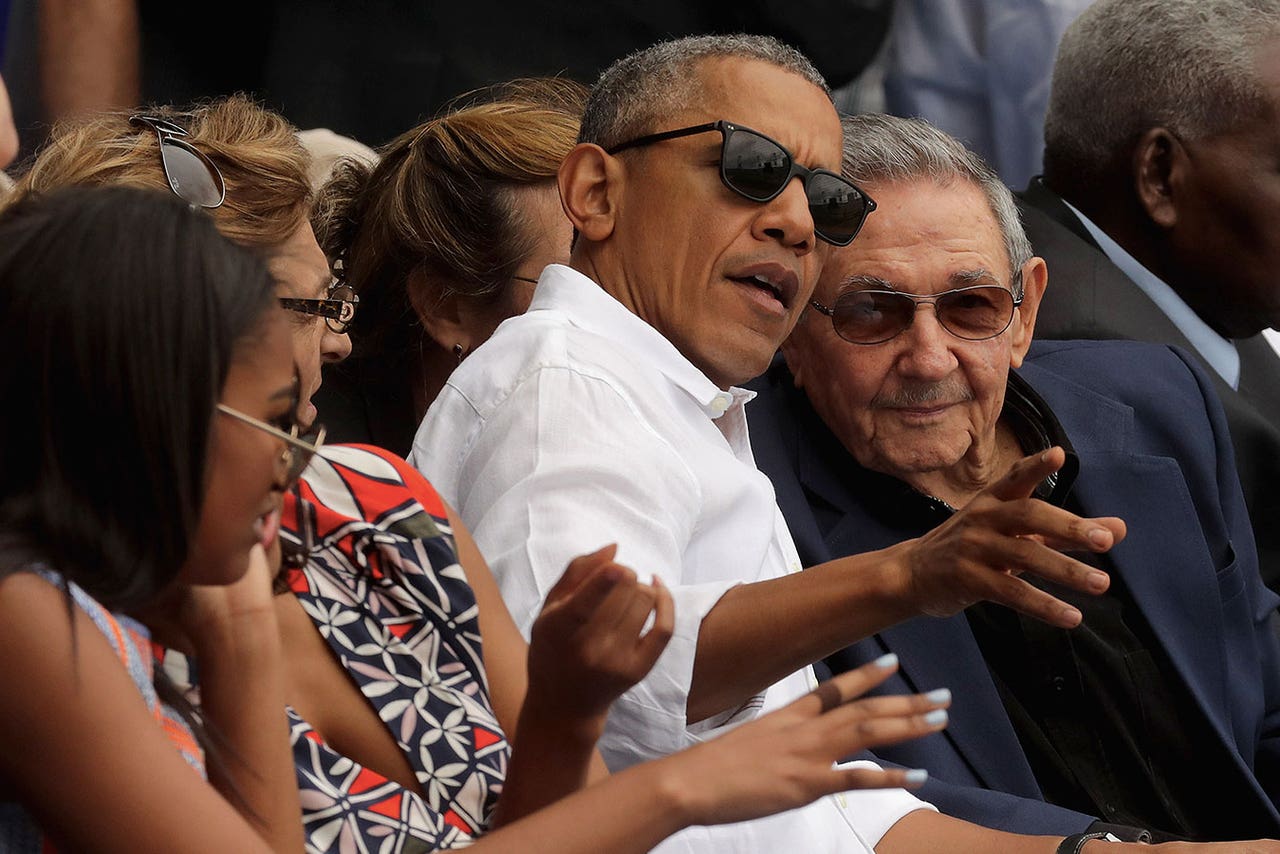 U.S. President Barack Obama and Cuban President Raul Castro, during Tuesday's game.
"Mira," he told me.
Look.
What would we see? Cuban and American flags, rippling side by side atop a monochromatic scoreboard displaying only runs, hits, errors, count, and time.
What would we see? Two presidents emerging from a tunnel behind home plate — an American waving to the raucous applause, his Cuban counterpart hearing chants of "RA-UL! RA-UL! RA-UL!"
What would we see? Rachel Robinson, greeting the first African-American U.S. president on a new occasion steeped in history, 70 years after her husband Jackie reported for his first spring training with the Los Angeles Dodgers.
What would we see? Two teams approaching the presidential box, the Cubans doffing their caps respectfully toward the U.S. president, the Tampa Bay Rays presenting white roses, one after the other.
What would we see? A Cuban women's choir, all in white dresses, singing two national anthems — Cuba's first, with the gentle accompaniment of 50,000, as if the faithful at church. The devotion was audible, as tickets were distributed to friends of the Cuban government and not through a public sale.
What would we see? The most powerful man in the world, sitting beside a longtime adversary, conversing through a baseball game with an interpreter's help. They'd sit comfortably, disrupted only by President Obama's animated "GO! GO! GO!" exhortation and "SAFE!" gesture as Tampa's Kevin Kiermaier slid home with the Rays' first run in their 4-1 win. "He's probably never heard of me," said a smiling Kiermaier, who'd reached base on a hustle double, "but at least for this little wrinkle in time, he can say, 'Well, Kevin Kiermaier plays the game hard.'"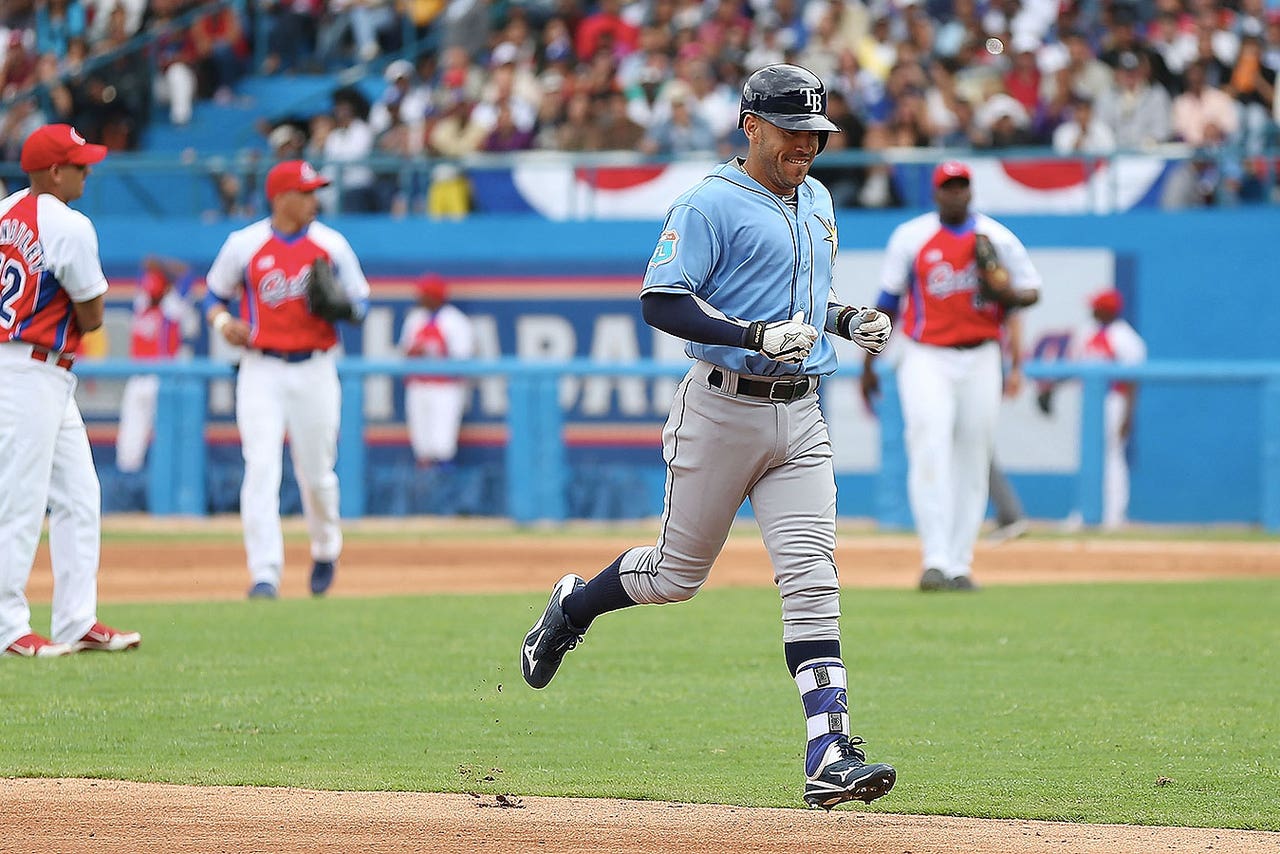 Tampa Bay Rays player Dayron Varona, who defected from Cuba in 2013, runs off the field in the first inning.
What would we see? Derek Jeter, a worldwide icon of America's national pastime, a baseball ambassador on this trip, posing for pictures in the front row with members of the Castro family, at Antonio's request.
Years ago, the visuals would've been incomprehensible. But now they're part of U.S.-Cuban history, too, an upbeat parenthetical leading to ... well, we're not sure yet.
To be sure, not far from the ballpark, the hardships endured by ordinary Cubans were evident. President Obama met with Cuban dissidents Tuesday, a sign that the U.S. remains uncomfortable with controls on individual liberties and economic opportunity in Cuba.
One image of Havana I will never forget: In front of one building that appeared on the verge of collapse, I saw one man diligently sweeping the front walkway, the dignified work of preserving what he could of his home.
And that is why, from behind the wheel of a 1950s Chevy, one taxi driver told me something I'd heard other Cubans intimate but never say explicitly: "I love America."
Had he been there before? No, he said. "But if Obama can come here," he told me, "then maybe I can go there." He didn't explain how he could love a country he'd never seen. We both knew why: the freedoms I enjoy, which he does not have.
And that is why this occasion should be nearly as meaningful for Americans as for Cubans, especially in an election year. We've heard politicians enumerate ways in which our country is supposedly diminished. Well, the President, Secretary of State and a Congressional delegation watched a baseball game on foreign soil, and one consequence is a manifest increase in optimism surrounding Cuba's future. It appears our international standing is quite sound.
Earlier Tuesday, I spoke with a Cuban expat who had returned home to visit family. He said, yes, Cuba has changed — modestly — in the 15 months since President Obama announced his intent to normalize relations.
"There's a different wind," he told me. "You feel a little oxygen. Maybe there will be change. And that 'maybe' is enough to make people hope."
Here's what I know: On this day, many Cubans appeared quite proud of their country. Americans should have felt the same way about theirs.
---
---