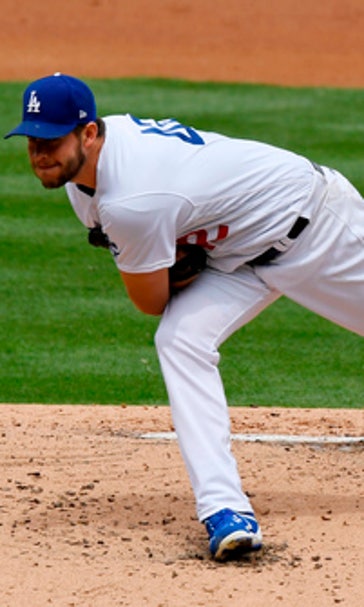 Kershaw sharp, Dodgers end 11-game skid vs Diamondbacks, 7-2
April 15, 2018
LOS ANGELES (AP) Clayton Kershaw took care of the Los Angeles Dodgers' long drought against the Diamondbacks.
Kershaw struck out 12 and pitched two-hit ball over seven innings as the Dodgers ended an 11-game losing streak to Arizona in the regular season, beating the Diamondbacks 7-2 on Sunday.
''When you face a team like we're going to face the Diamondbacks, four times in the first two months - same thing with the Giants - you can't be predictable,'' Kershaw said. ''The slider was better today. I mixed some shapes on it, I threw it to the arm side a little bit more today.''
Dodgers manager Dave Roberts it was good to end the losing skid.
''It's good to get a win against anybody but, yeah, these guys have had our number,'' Roberts added. ''Clayton was sort of in a groove early. There's something with Clayton's track record, when he takes the mound there's a heightened focus. His intensity every single time and when he takes the mound, our guys felt that today.''
Los Angeles had been 0-5 versus the Diamondbacks this year, and hadn't beaten them in the regular season since last August. But the Dodgers swept Arizona 3-0 last year in the NL Division Series.
Chris Taylor homered, doubled and drove in three runs to help the Dodgers stop a three-game skid. The Diamondbacks, who had won three in row, finished a 6-3 road trip.
''Hopefully we can build on this momentum,'' Taylor said. ''I thought today was the best approach we had offensively so hopefully we can build on that.''
Kershaw (1-2) gave up one run, on Paul Goldschmidt's leadoff homer in the seventh, and has a 1.73 ERA after four starts. The Dodgers totaled just three runs in three previous starts this season by their ace lefty.
This was the ninth time Kershaw has struck out at least 12 in a game without issuing a walk. It was his 59th game with double-digit strikeouts.
Kershaw struck out two batters in each of the first six innings. Overall, he has fanned 31 with just three walks this year.
Kershaw improved his career record to 9-1 at Dodger Stadium against Arizona. The only other hit he allowed was a two-out double by David Peralta in the third.
Zack Godley (2-1), who led the National League with a 0.64 ERA entering the game, gave six runs on five hits and six walks in four innings.
''I felt good, my arm felt strong and the pitches felt fine but they weren't going for strikes and they took advantage of it,'' Godley said. ''Some days you have it and some days you don't. Today I just didn't have my best stuff.''
Arizona manager Torey Lovullo said Godley was little off.
''Zack was misfiring, not by much but the Dodgers did a good job and they were patient,'' Lovullo said.
Yasiel Puig's two-run single highlighted a three-run third that made it 4-0.
Taylor homered in the fourth and added a two-run double in the fifth.
SALUTE
As part of the Jackie Robinson Day tribute, all fans at Dodger Stadium received a Jackie Robinson jersey. All players wore his No. 42 on the anniversary of the date the Brooklyn great broke baseball's color barrier on April 15, 1947. Don Newcombe, a former Robinson teammate, was in the stands with Hall of Famer Frank Robinson.
TRAINER'S ROOM
Diamondbacks: RHP Taijuan Walker was put on the 10-day DL with inflammation of the right forearm. The Diamondbacks recalled RHP Silvino Bracho from Triple-A Reno. Walker came out of Saturday's game after two innings with discomfort. He will undergo a MRI in Arizona on Monday.
Dodgers: INF Logan Forsythe was put on the 10-day DL (right shoulder inflammation) and recalled INF Breyvic Valera, 26, from Triple-A Oklahoma City.
Valera was hitting .316 with a .417 on base percentage in 7 games at OKC.
BEING ACCOUNTABLE
Lovullo said first base coach Dave McKay took blame for Saturday night's base running miscue that cost Deven Marrero a home run. With two on and one out in the fourth inning, Marrero hit what appeared to be a three-run homer off Rich Hill over the left center field wall.
But Alex Avila, who was on first base, went back to the first base to tag up thinking the ball may be caught. In the process, Marrero passed Avila on the base path between first and second. Roberts appealed the play and the after a review, Marrero was ruled out.
''It was pretty impressive how Dave ... was accountable for the home run baserunning mistake,'' Lovullo said. ''He said it was his fault and I know he felt bad about it. I think we were all ball watching at the time.''
UP NEXT
Diamondbacks: After a day off on Monday, the Diamondbacks will host the San Francisco Giants for a three-game series starting Tuesday. Patrick Corbin (2-0, 2.45 ERA) starts for Arizona.
Dodgers: The Dodgers travel south to San Diego to open a three-game series with the Padres. Hyun-Jin Ryu (1-0, 2.79) will pitch for the Dodgers in Monday's opener.
---
---