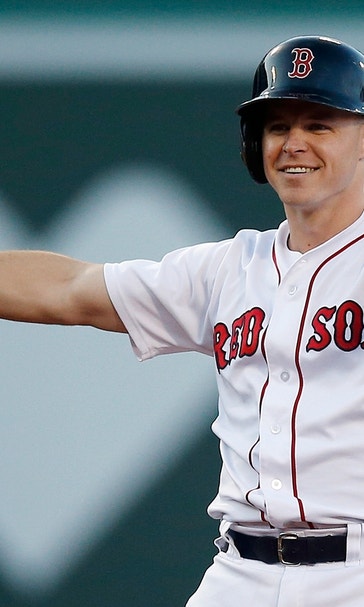 Brock Holt's pinch double lifts Red Sox over Mets 5-3
September 15, 2018
BOSTON (AP) — Any disappointment Jackie Bradley Jr. had about the replay review that turned his home run into a double disappeared soon after Brock Holt walked up to the plate.
The Red Sox pinch-hitter drove a tiebreaking double off the Green Monster on the first pitch after Bradley narrowly missed a homer, and Boston beat the New York Mets 5-3 on Saturday. Rick Porcello earned his 10th straight interleague victory and helped the Red Sox lower their magic number to four.
"What's the old saying: Everything happens for a reason," Bradley said. "We get an extra run out of it, (and) we won."
Porcello (17-7) pitched five innings of two-hit ball as the Red Sox improved their major league-best record to 102-47. Combined with the Yankees 8-7 loss to Toronto, Boston expanded its lead in the division to 10 ½ and could clinch, regardless of what happens Sunday, by winning two out of three at Yankee Stadium this week.
Steve Pearce had three hits for Boston, and Craig Kimbrel pitched the ninth for his 41st save.
The Mets, who had won four straight, took a 3-1 lead on Brandon Nimmo's three-run homer in the fourth. With two on in the fifth, Bradley lined a ball that bounced off the top edge of the wall and up, back toward the field. Although the umpires signaled for him to circle the bases, Bradley was sent back to second base when replays showed it didn't completely clear the red line that signifies a homer.
Mets manager Mickey Callaway argued that the runner from first should go back to third, but the umpires ruled that he would have scored if they hadn't signaled the homer.
"I was a little surprised they let one guy score," Callaway said. "But once they set the runners after replay you can't really challenge that."
Paul Sewald (0-6) intentionally walked Rafael Devers, Drew Smith replaced Sewald, Holt hit for Sandy Leon and, on the first pitch, lined one off the Monster in left-center to score both runners and make it 5-3.
Holt has five extra-base hits in 14 appearances as a pinch-hitter this season, including his second game-winning pinch-hit homer of the season Tuesday.
"He's our secret weapon," Porcello said. "He's made a huge impact coming off the bench."
Porcello allowed three runs, walking one and striking out five. The Red Sox have won each of his last 14 interleague starts — the longest streak since regular season interleague play began in 1997; Johan Santana started 12 straight interleague wins from 2002-05.
Sewald got two outs, allowing four runs on three hits and an intentional walk. He also struck out one.
Boston's 102 wins is third-most in franchise history, passing the 1915 World Series championship team. The Red Sox need to win four of their last 13 games to surpass the franchise record of 105 set by the 1912 champs.
ENEMY TERRITORY
A large contingent of Mets fans, many wearing the same blue and orange shirt, took over the right-field corner at Fenway Park and at times outshouted the home crowd. Both sides took part in a spirited "Yankees Suck!" chant in the eighth inning.
WRIGHT'S STUFF
With Mets third baseman David Wright announcing this week that he would retire at the end of the season, the Red Sox gave him a No. 5 from the Fenway Park scoreboard. Red Sox second baseman Dustin Pedroia, a teammate of Wright's from the 2009 World Baseball Classic, presented it to him after batting practice.
"Pedroia sent me a text that he'd like to get together kind of privately. It was really cool, a really cool gesture," Wright said. "It's usually a lot more trash talk, but this is the first time that he actually hasn't been mean to me. So it was kind of nice."
FOR STARTERS
Mets spot starter Corey Oswalt, who has been in and out of the bullpen this year, allowed one unearned run on three hits and a walk while striking out three. He was pulled with one on and two out in the third.
"I wanted to go as deep as I could for the team," he said. "I knew I was kind of on a pitch count."
TRAINER'S ROOM
Red Sox: RF Mookie Betts took a sinker off the midsection with Oswalt's third pitch of the game. He remained in the game.
UP NEXT
The teams finish the series at 1 p.m. on Sunday with a pair of Cy Young Award candidates. LHP Chris Sale (12-4) will face Mets righty Jacob deGrom (8-9). It's a rematch from their college days in 2010, when deGrom, a two-way player at Stetson, hit his only college home run off Sale, the ace at Florida Gulf Coast.
---
---