After Jackie Robinson, Ray Lamb became the last Dodger to wear 42
April 15, 2015

On Wednesday, for the seventh consecutive April 15, every player, coach and umpire in Major League Baseball took the field wearing No. 42 as part of the league's annual Jackie Robinson Day celebration.
But while several others have donned Robinson's number since he broke the league's color barrier on April 15, 1947 — including Mariano Rivera, who retired in 2013 as the last player allowed to wear the number full-time after it was retired by the league in 1997 — there's only one man who carries the distinction of being the only player to wear 42 in Dodger blue after Robinson's retirement in 1956.
Los Angeles selected Ray Lamb in the 40th round of the 1966 draft, and on Aug. 1, 1969, the right-hander slipped on a No. 42 jersey and made his big-league debut, in relief of Don Drysdale, and immediately coughed up a two-run double to Joe Torre before being charged with one run in three innings in a 7-2 loss to the St. Louis Cardinals.
Lamb knew the No. 42 was sacred in Dodgers lore. After all, only one Dodger had ever worn 42 prior to Robinson's historic 10-year career in Brooklyn (George Jeffcoat, for one game in 1939) and no one had worn it since Robinson's final game on Sept. 30, 1956. But 42 was also Lamb's number in college at Southern Cal, so when he arrived at Chavez Ravine, a few miles from his childhood home in Glendale, and saw it in his locker, Lamb figured he wouldn't sweat it if the team didn't mind.
"I didn't think much about it, and I guess they didn't either," Lamb, now 70, told FOX Sports on Tuesday. "At the time, the 30s, 40s and 50s were pitchers' numbers, and I don't know who was in charge of passing them out, but it was probably just the clubhouse guy's choice."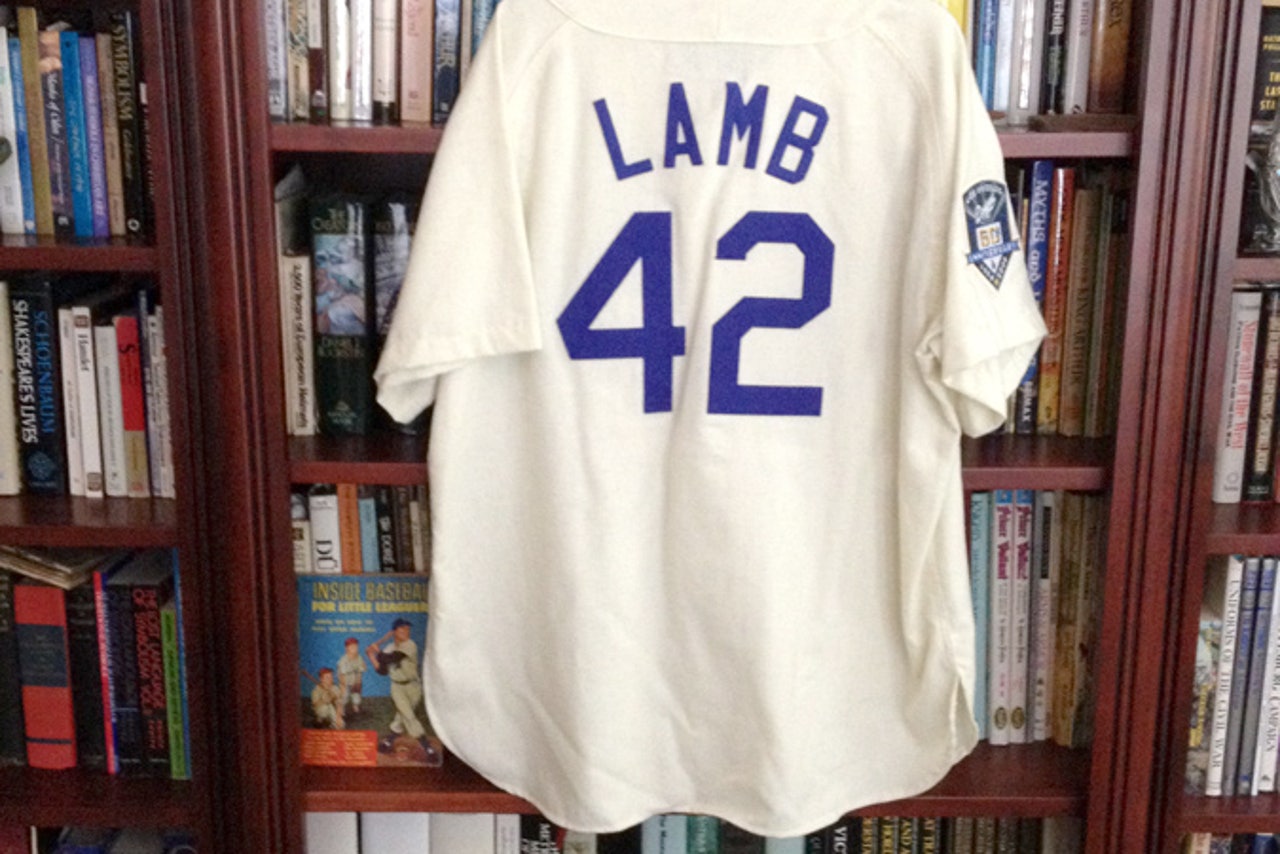 Seeing a name other than Robinson on the back of a No. 42 Dodgers jersey looks odd to everyone except Lamb.

Over the final two months of the 1969 season, Lamb made 10 appearances and went 0-1 with a 1.80 ERA over 15 innings while wearing the historic number, but shortly after the campaign ended, the team came to Lamb with some news.
"It was probably after they saw the number out on the field (that) they figured, 'We probably should take care of that number,' " Lamb said. "When the season was over, the clubhouse guy came over and said, 'Hey, we're going to retire your number, so we have to give you a new one,' and I asked him, 'Did I have that good of a year?' "
"Or that's the story I always tell everyone," Lamb added with a laugh.
In reality, the team was planning on retiring the number in honor of Robinson, and though the ceremony didn't take place until 1972, the Dodgers figured it was best to swipe it from Lamb sooner than later. Of course, what the Dodgers couldn't have possibly known at the time was that the new uniform they assigned Lamb, No. 34, also would go on to become legendary at Dodger Stadium, as Fernando Valenzuela's number from 1980 to 1990.
"They haven't given it to anybody else after Fernando, far as I know," Lamb said.
Lamb's time as No. 34 would be short-lived, however, and after the 1970 season, Los Angeles traded him to Cleveland, where he would wear No. 30 — a number later worn by Joe Carter during his days with the Indians — until his retirement in 1974. But in Lamb's mind, he'll always be the other No. 42 for the Dodgers.
"(Robinson) is a legend and everything, and I was privileged to wear (42)," Lamb said. "But I have confused feelings about Jackie Robinson Day when I watched the games on TV and everyone's wearing my old number."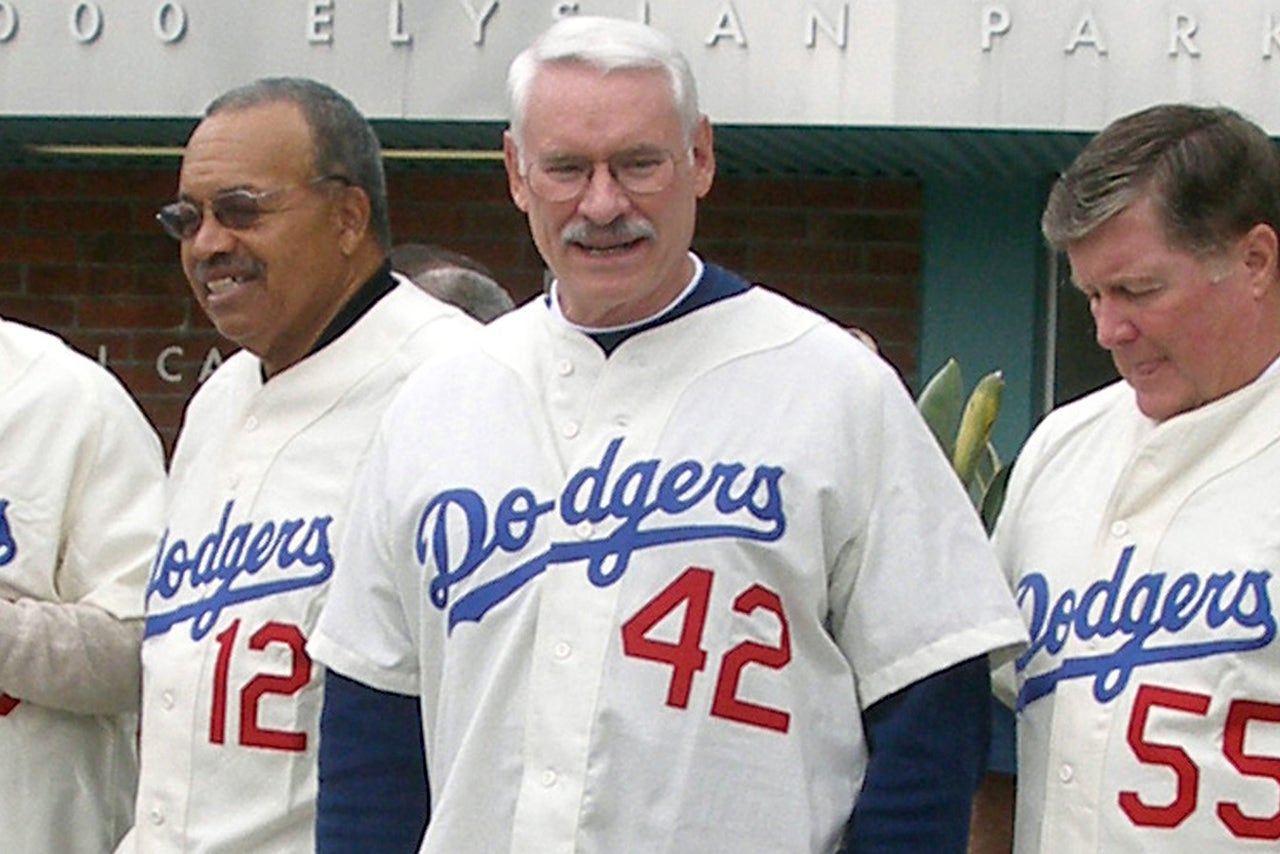 Ray Lamb wears the No. 42 at a Dodgers event. He was the only Dodger to wear the number after Jackie Robinson.
You can follow Sam Gardner on Twitter or email him at samgardnerfox@gmail.com.
---
---