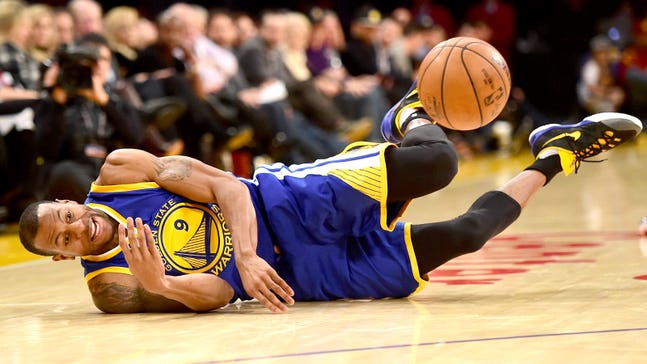 Fantasy Basketball Injury Report Analysis: Iguodala, Rose, Crowder
Updated
Mar. 4, 2020 7:26 p.m. EST

Memphis Grizzlies
The Beale Street Blues has taken on a new meaning in Memphis where injuries have ravaged the Grizzlies. Shooting guard Jordan Adams has appeared in just two games this season due to a reoccurring knee issue that has required multiple surgeries. Franchise stalwart Marc Gasol underwent season-ending surgery to repair a fractured navicular bone in his foot, and offseason acquisition Brandan Wright is nursing a sprained MCL that occurred in just his fifth game back from a knee surgery that caused him to sit for three months. Reserve point guard Mario Chalmers ruptured his Achilles last Wednesday, and the team was forced to waive him to create a much needed roster spot. Throw in injuries to Mike Conley (Achilles tendinitis), Zach Randolph (knee soreness), Matt Barnes (hamstring soreness), Chris Andersen (subluxed shoulder), and Vince Carter (calf strain), and it's amazing Memphis has even been able to roster enough players to remain competitive.
Conley's Achilles tendinitis will have the biggest impact, as the diminutive point guard is expected to miss between three and four weeks. Looking at the fantasy schedule, Conley is more than likely out through the playoffs in most formats. As a result, he becomes droppable in nonkeeper leagues.
Randolph's situation is a little trickier to read, as a true injury remains unrevealed. The team considers him day-to-day with right knee soreness, though the diagnosis is vague. Randolph has a lengthy history of knee problems, so relying heavily on his production is a risk. JaMychal Green has stepped up in Z-Bo's absence, averaging 14.6 points and 8.6 rebounds in the last seven games. He was less than impressive Saturday against the Hawks, scoring just four points on 2-of-13 shooting, but he could be a sneaky waiver wire addition.
Veteran Tony Allen, fresh off his own mild knee injury, has been one of the biggest beneficiaries and has suddenly become fantasy relevant. He's continuing to collect steals, averaging 3.3 per game over his last four games, but is also chipping in 15.3 points, 5.0 rebounds and 1.8 assists a game over that same stretch. Lance Stephenson is also taking advantage of his increased role in Memphis' last five games, averaging 16.6 points, 5.8 rebounds and 3.6 assists in 28.2 minutes per game. Matt Barnes is also worth consideration as he's averaging 15.3 points, 6.0 rebounds, 4.3 assists, 1.3 blocks, 1.0 steals and 3.0 threes in 34 minutes in his last four games played. However, keep in mind he's dealing with a hamstring injury, an issue that can be easily aggravated.
Jae Crowder
The Celtics will be without the services of Crowder for a few weeks after the forward suffered an ankle sprain against the Rockets. Sadly, the ankle sprain isn't the normal inversion sprain but instead a more severe high ankle sprain.
The distal ends of the lower leg bones, the tibia and fibula, and the talus of the foot create the ankle joint. Ligaments on each side of the joint fortify and stabilize the sides of the ankle. Additional ligaments stretch across the tibia and fibula creating the distal tibiofibular joint. If these ligaments are sprained, the injury is considered a "high ankle" or syndesmotic sprain. High ankle sprains often occur when the talus is forced upward and generally take more time to heal. One of the primary reasons players need more time to recover is linked to the need to limit weight bearing, causing the individual to spend time in a cast or walking boot. Crowder was seen wearing a boot and will be re-evaluated in two weeks.
The return of Kelly Olynyk will help ease the loss of Crowder a bit, though Jonas Jerebko, Marcus Smart and Evan Turner should all see a bump in usage. None of these options are overly enticing from a fantasy angle, though Olynyk could be worth a look if someone dropped him following his shoulder injury.
Fast Breaks
Pau Gasol: The veteran center missed the last two games with a knee injury. Gasol underwent an MRI after his knee developed noticeable swelling, though no structural damage was discovered. To help alleviate the problem, Chicago will rest Gasol as long as necessary, and Coach Fred Hoiberg insinuated the issue could keep Gasol sidelined more than a just a few games. As a result, Gasol should be benched in all formats.
Jimmy Butler, Derrick Rose: Gasol isn't the only injury concern in the Windy City, as the Bulls' backcourt is also managing its own problems. Butler recently experienced some swelling in his previously strained knee and was forced to sit three additional games. He visited renowned orthopedist Dr. James Andrews where it was determined that his knee remains free of any serious problems, and he played Monday and Wednesday. Butler's too good to bench, even if he's limited, though his inherent risk will remain high for the remainder of the season.
Rose is also a question mark as he recovers from a mild groin strain. He played 29 minutes Wednesday after missing two games. Look for E'Twaun Moore and Aaron Brooks to see an expanded role if Rose needs to sit again.
Andre Iguodala: The Warriors sixth man will miss the next two weeks with an ankle sprain, potentially altering the team's chase for 73 wins and the availability of its superstars down the stretch. If Golden State drops a few games and a run at history becomes increasing unlikely, don't be surprised if Coach Steve Kerr opts to rest Stephen Curry, Klay Thompson and other members of the rotation as the regular season nears its conclusion.
Stotts works as a Certified Athletic Trainer (MAT, ATC, PES, CES) and is a former winner of the Best Fantasy Football Article from the Fantasy Sports Trade Association.
Follow @RotowireATC on Twitter.
Get a FREE RotoWire 10-day trial (no credit card required) at RotoWire.com
---
---