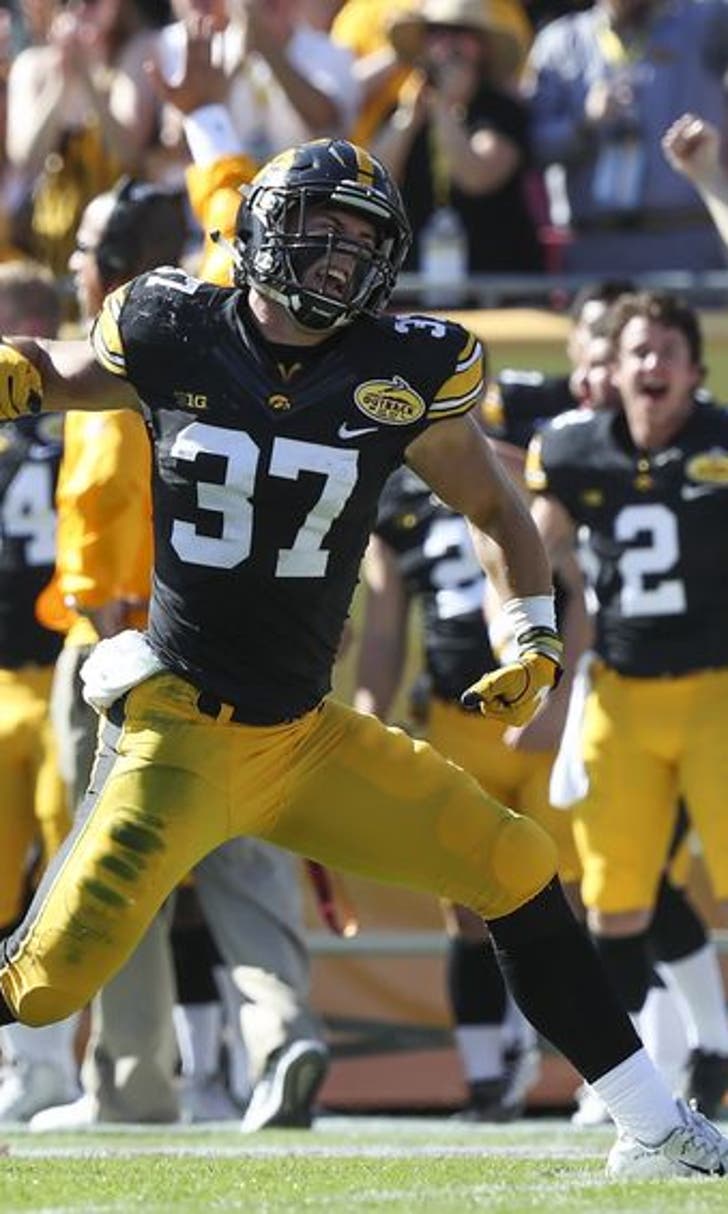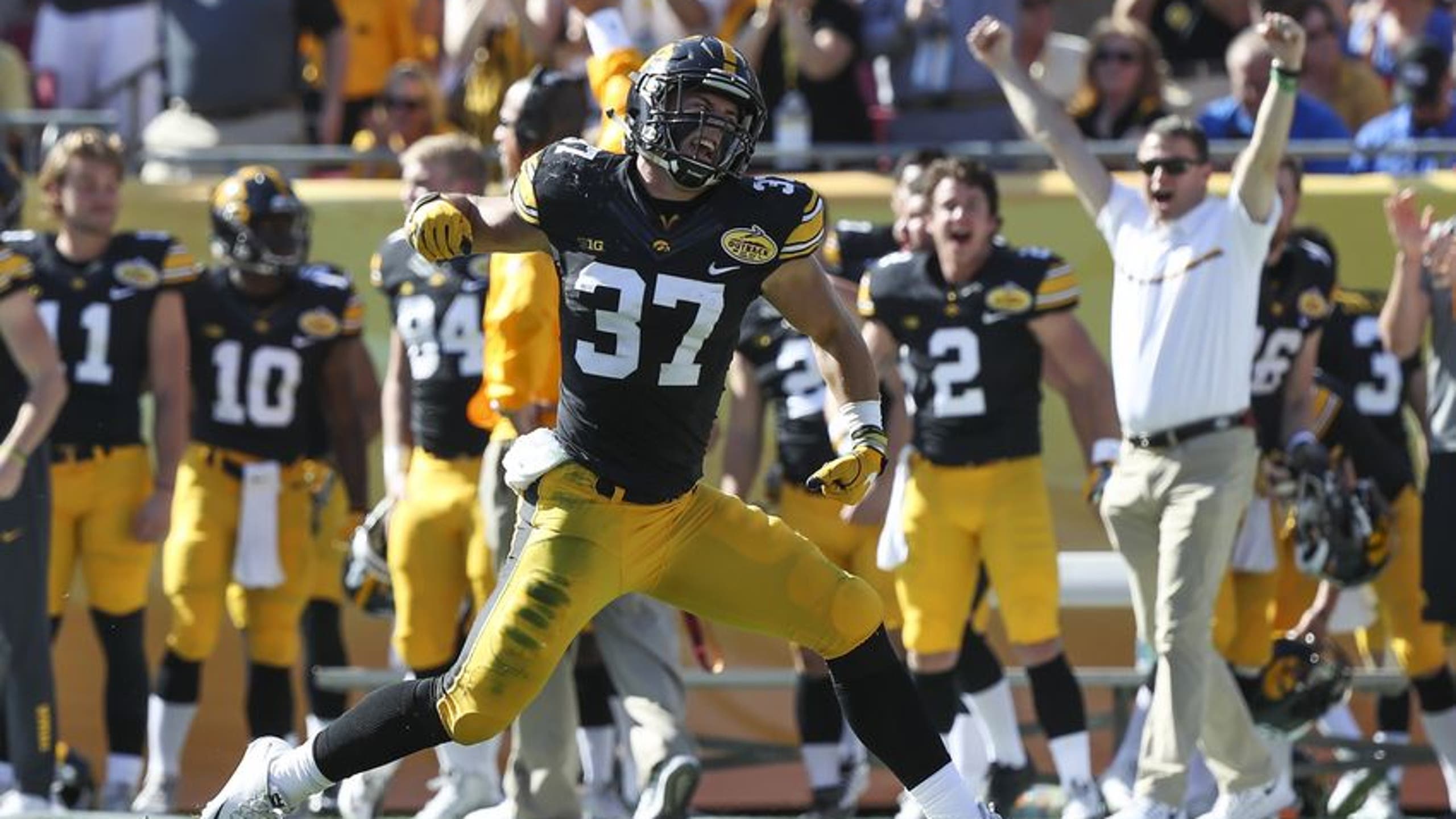 Outback Bowl Unit Grades: Iowa Football 3, Florida Gators 30
BY Fansided and Jeremy Karll/FanSided via Dear Old Gold • January 3, 2017
Mandatory Credit: Logan Bowles-USA TODAY Sports
A look at how each unit performed in Iowa's 30-3 loss to the Florida Gators
In close games, it's easy to pinpoint where it went wrong. In blowouts, like Florida beating Iowa football 30-3 in the Outback Bowl, it's evident that almost everything went wrong and barely anything went right for the Hawkeyes.
That said, everything didn't start to unravel until the second half when Florida scored 20 points. In fact, Florida scored 30 unanswered points after Iowa took an early first quarter lead.
The game was tied 3-3 after the first quarter and Iowa only trailed 10-3 at half. Sure, a 17-3 Florida lead wasn't promising for Iowa heading into the fourth quarter, but their explosive offense that we saw in the last three games could have shown up and at least gave Florida a scare.
Instead, the Hawkeyes seemingly gave up and watched as the clock ticked down to zero. They gave up 13 points and looked more interested in heading back to Iowa City than the game.
It goes without saying that Iowa didn't live up to expectations with their lackluster Outback Bowl performance. From coaching to the players, nothing went right for Iowa.
Here's a look at how each unit performed.
Mandatory Credit: Logan Bowles-USA TODAY Sports
Offense: F
Iowa's offense has looked bad many times this year, but their three-point performance in the Outback Bowl takes the cake for their worst offensive showing of the year. Iowa turned the ball over three times, only gained 226 yards and converted just 4-of-16 third downs. Surprisingly, Iowa did gain three more first downs than Florida, though.
However, outside of a couple of drives, Iowa could never sustain a drive. Iowa only had three drives longer than four minutes. They only gained 32 yards in 4:40 on one drive and their other two drives resulted in Florida stopping them at the goal line on fourth down and a missed 30-yard field goal by Keith Duncan.
Their only points occurred because Desmond King intercepted an Austin Appleby pass at the 27-yard line. The Hawkeyes only gained nine yards before opting to kick the field goal.
The Hawkeyes' offense went down hill when C.J. Beathard suffered a hamstring injury midway through the second quarter that hindered his mobility. Florida was getting pressure on Beathard all game, however he wasn't able to avoid it as well or scramble for positive yards.
Instead, he forced passes, which resulted in three interceptions and a pick-six. Plus, Iowa became dependent on hoping Akrum Wadley would break a long touchdown run to keep Iowa in the game.
Wadley did gain 115 yards on 22 carries, however his longest run was just 27 yards. Once Florida realized Beathard was hurt and Iowa was only running the ball, they packed the box and forced Wadley and LeShun Daniels Jr, who finished with 45 rushing yards, to beat them.
Usually Iowa's offense finds some sort of rhythm as the game progresses, but Florida kept that from happening by continuing to pressure Beathard and making big hits on him.
Also, Florida's stingy secondary held Iowa's wide receivers to just one catch. Riley McCarron didn't record his only reception until five minutes into the second half.
Outside of Wadley doing it all for Iowa, there aren't a lot of positives from the offense. Their offensive line was shaky all game, which led to Beathard injuring himself more as the game went on and Nathan Stanley finishing the game for Iowa.
Mandatory Credit: Logan Bowles-USA TODAY Sports
Defense: D
Iowa intercepted two passes in the first five minutes and the offense put them in a lot of tough situations, but the defense did not play very well, either.
Florida gained 331 yards and Austin Appleby averaged an astounding 8.9 yards per pass attempt. Plus, Jordan Scarlett averaged 6.7 yards per carry on his 94 rushing yards, while Antonio Callaway caught seven passes for 55 yards, although 34 yards came on one play.
hawkeyes
Dear Old Gold 16hIowa Football: Nothing Goes Right For Hawkeyes In Outback Bowl
More headlines around FanSided:
18h - Iowa fans troll Florida during Outback Bowl with Seminoles war chant1 d - Outback Bowl live stream: Watch Iowa vs Florida online1 d - Iowa Football: Preview, How To Watch Outback Bowl2d - Happy New Year And Thank You For Reading - From Dear Old Gold3d - 2016 College Football Playoff: Preview and PicksMore News at Dear Old Gold

Missed tackles led to a lot of big plays for Florida. On Mark Thompson's 85-yard screen pass touchdown from Appleby, the Hawkeyes missed four tackles. They could have easily had him wrapped up before the first down marker, but, instead, he took it to the house.
That became a common trend for Iowa's defense. Iowa consistently stopped Florida for a loss or just a couple of yards before they broke a couple of tackles and had a 20-plus yard gain.
Florida gained confidence against an Iowa defense that stopped the run early when they Scarlett gained 55 yards on two carries with Florida starting their drive at the three-yard line. Instead of a potential Jaleel Johnson safety, Florida found a solution to Iowa's defense.
It only got worse in the second half when Florida scored on three of their four possessions.
To be fair, Florida scored seven points off of a pick-six and six more points came from interceptions in Iowa territory. The Hawkeyes held Florida to just five yards on eight plays following Beathard's interceptions in the second half. Therefore, Iowa's defense only gave up 17 points without turnovers.
Desmond King had a nice individual ending to his senior campaign, while Josey Jewell was a small bright spot in the middle of the field with his 10 tackles. Although, despite Iowa's three sacks and five tackles for loss, they gave up too many big plays.
The difference between this game and other games Iowa's offense struggled in is that the defense didn't keep them in the game. They gave the offense chances, but they also blew their own to stop Florida's offense by not wrapping up on tackles.
Mandatory Credit: Bryon Houlgrave/The Des Moines Register via USA TODAY Network
Special Teams/Coaching: D-
Keith Duncan made a 36-yard field goal but then missed an easy 30-yard field goal that ended a 13 play, 63 yard drive that took up 7:25 to start the half. It could have brought Iowa within four, but instead the Hawkeyes blew their last scoring opportunity of the game.
Ron Coluzzi averaged 39.3 yards per punt on seven punts, but the one that sticks out the most is his worst of the season. The drive after throwing a pick-six and going down 24-3, Coluzzi punted it a measly 14-yards following an Iowa three-and-out. For as good as Coluzzi has been this year, it was fitting that even he had a poor play.
The thing that is saving this unit is Desmond King. He didn't get his first return touchdown, but he forced Florida to kick away from him and took advantage when they didn't. He had a 49-yard kick return and averaged 39 yards per kickoff and gained an impressive 19 yards on his only punt return attempt.
Through the poor play of every unit, the coaching was exceptionally bad for Iowa. Besides the fact that Iowa lost their fifth straight bowl game under Kirk Ferentz, he simply didn't have his team ready to play.
Evidently by the score, Iowa wasn't as focused as they needed to be. Plus, it seemed like some of the team quit at the end of the game. Sure, Iowa was down 27 points with not enough time to make a comeback, but it's a sense of pride to play hard until the end of the game. As disappointing as the loss was, it was as hard to watch them just go through the motions to end the game.
Also, the play-calling by offensive coordinator Greg Davis was head-scratching at times. For instance, on fourth and goal at Florida's one-yard line, Davis called a LeShun Daniels run up the middle instead of a bootleg with Beathard or something on the outside.
Beathard did just injure his hamstring, however almost anything would have been better than a run up the middle with Florida stacking the box and waiting for it. Iowa had a chance to take a 10-3 lead but the momentum completely shifted in favor of Florida after that play.
Iowa didn't come to play, and it showed. As much as it's on the players to perform and compete, it also says a lot about the preparation leading up to the game set up by the coaches. Considering this is the second straight year Iowa has been embarrassed in their bowl game, something has to change during bowl season for Iowa.
More from Dear Old Gold
This article originally appeared on
---
---