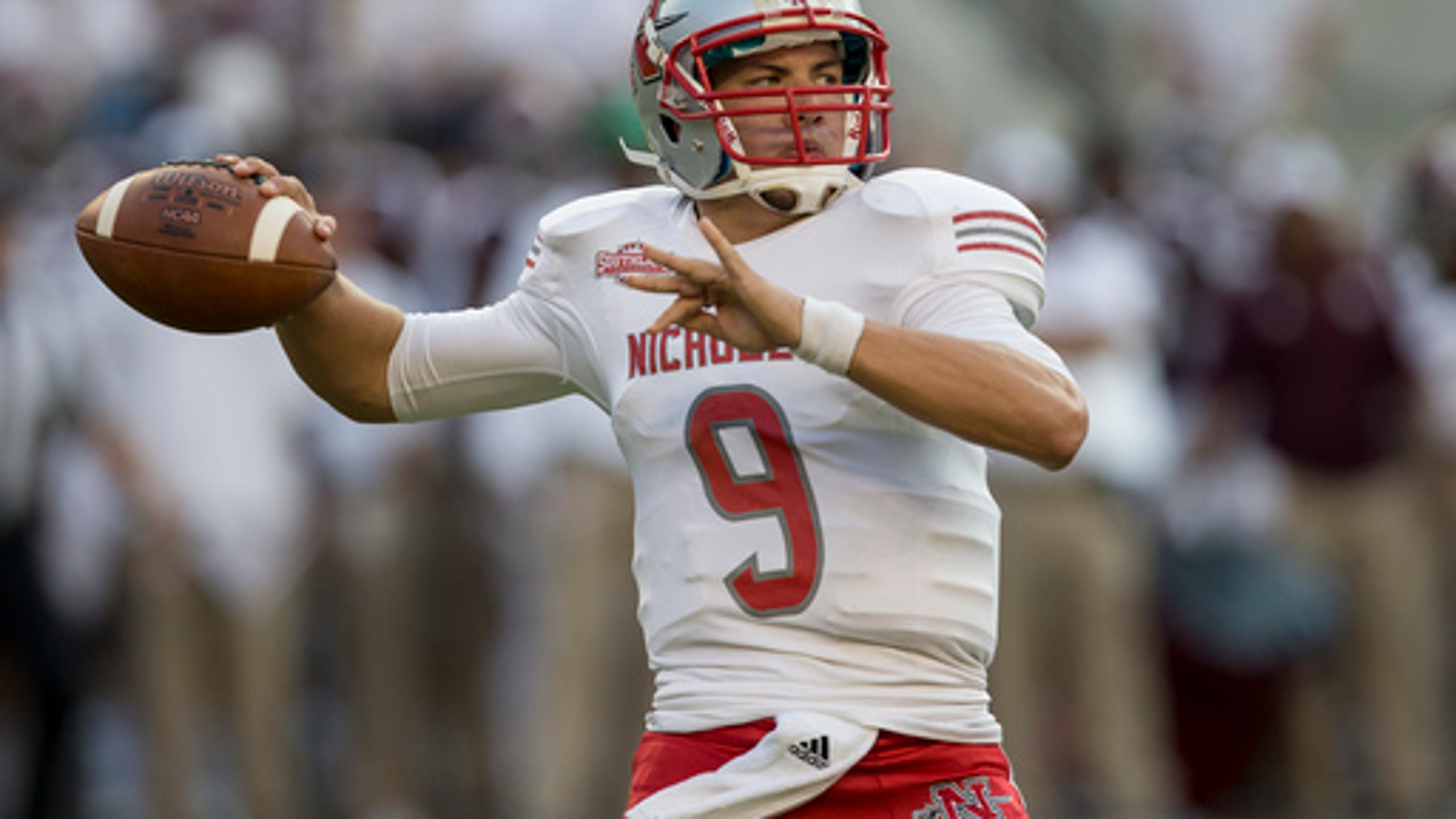 Nicholls no longer a pushover
BY AP • September 15, 2017
(STATS) - Two years removed from a 23-game losing streak, Nicholls has come so far in such a short amount of time that not only has it become a Southland Conference contender, but the team is giving fits to Southeastern Conference powers.
That's right, the mighty SEC has had trouble handling this unheralded FCS program. Nicholls put a big scare into a ninth-ranked Georgia team last season, losing 26-24 in Athens, and last weekend, the Colonels stunned the College Station crowd by pulling even with Texas A&M in the fourth quarter before losing 24-14.
"We looked like we belonged," Nicholls coach Tim Rebowe said on his weekly radio show. "I guess one of the biggest compliments we got is somebody was talking about if you change the uniforms, you couldn't tell who was who."
That has to be attributed to Rebowe's arrival and recruiting ability. In 2014, the year before he took over, Nicholls went 0-12 and allowed 50.2 points per game - worst in the nation. That number dipped nearly 18 points in 2015 in the longtime defensive assistant's head coaching debut, and Rebowe helped put an end to the worst losing streak in school history - one that lasted two years.
Last season, the near-miss against Georgia preceded a winning season in conference play, the program's first since 2005. That led to Nicholls being picked to finish fifth in the 11-team Southland this year, three votes behind fourth-place Southeastern Louisiana. Then the Colonels opened the season by beating the third-place pick, knocking off traditional conference power McNeese 37-35. The Cowboys had won the previous eight meetings by an average of 24 points.
Nicholls followed with an even more impressive performance despite not getting a win. The Colonels put the clamps down on a Texas A&M team that put up 44 points in a season-opening loss at UCLA.
"I thought we stood toe-to-toe with them and I was really proud of the effort of our team," Rebowe said.
Rebowe brought in offensive coordinator Rob Christophel upon taking over the program after previously working with him on Louisiana-Lafayette's staff, and the Colonels' scoring output more than doubled from 2014 to last season, when they averaged 30.2 points.
"It comes from coach Rebowe," Christophel said when asked where the team's growth comes from. "We're getting better players and it gives us an opportunity to do some things offensively and expand the offense."
One of those guys is Damion Jeanpiere, part of Rebowe's first recruiting class. Jeanpiere is the second-leading receiver in the FCS with 319 yards - all on just eight receptions. That 39.9 average is better than anyone in all of college football. After catching two touchdown passes against McNeese, he went for 174 yards last weekend and was named the Southland's offensive player of the week.
Chase Fourcade is the one who keeps finding Jeanpiere deep, but the sophomore signal-caller must be more consistent if Nicholls is to be successful. Fourcade, the nephew of former Saints quarterback John Fourcade, has completed just 50 percent of his passes, a drop from last season when he finished sixth in voting for the STATS FCS Jerry Rice Award for freshman of the year.
"Chase is a leader. He's at his best when the game's on the line," Rebowe said. "But he'll also be the first one to tell ya that he's not playing like he should be playing."
The next two weeks will certainly put Fourcade and the Colonels to the test. Before a visit to No. 3 Sam Houston State, Nicholls hosts a Prairie View A&M team that gave the Bearkats all they could handle in a 44-31 defeat. That Sept. 7 game is the only one played by the Panthers, who were 7-2 in the SWAC last year.
"I think they got everybody's attention on that Thursday night game when they played Sam Houston," Rebowe said. "We know we have a tough task. I'm really glad we have 'em coming to our place."
---
---