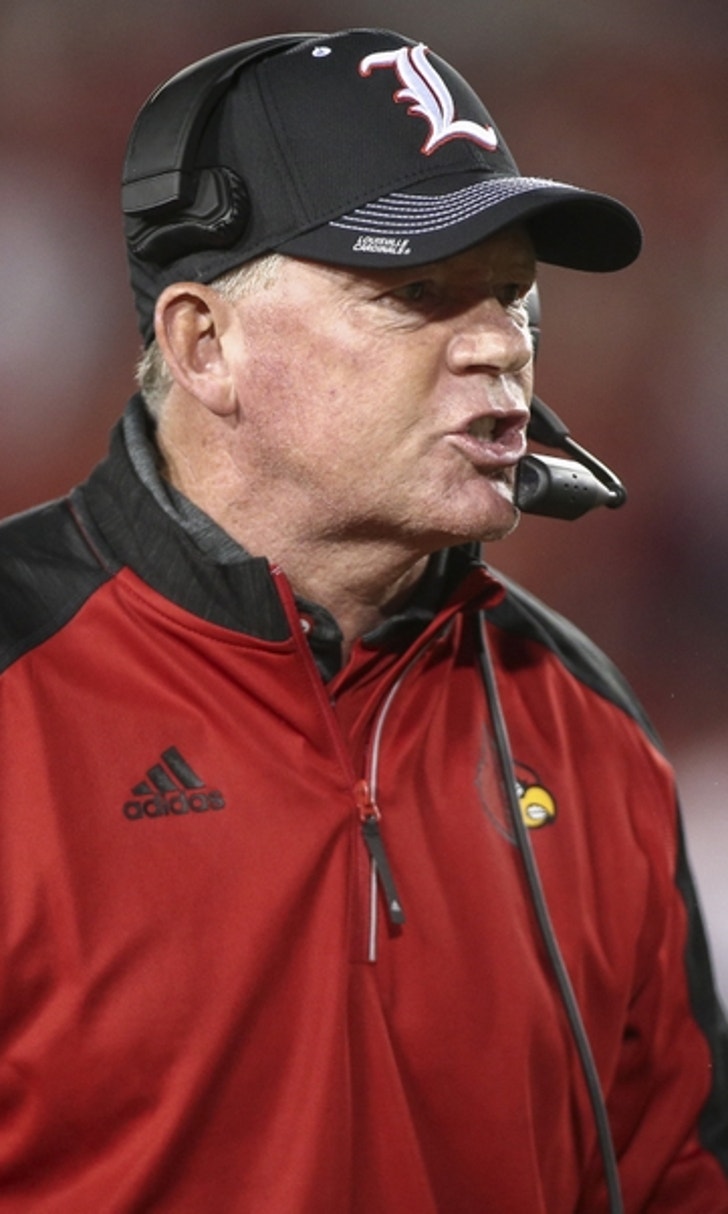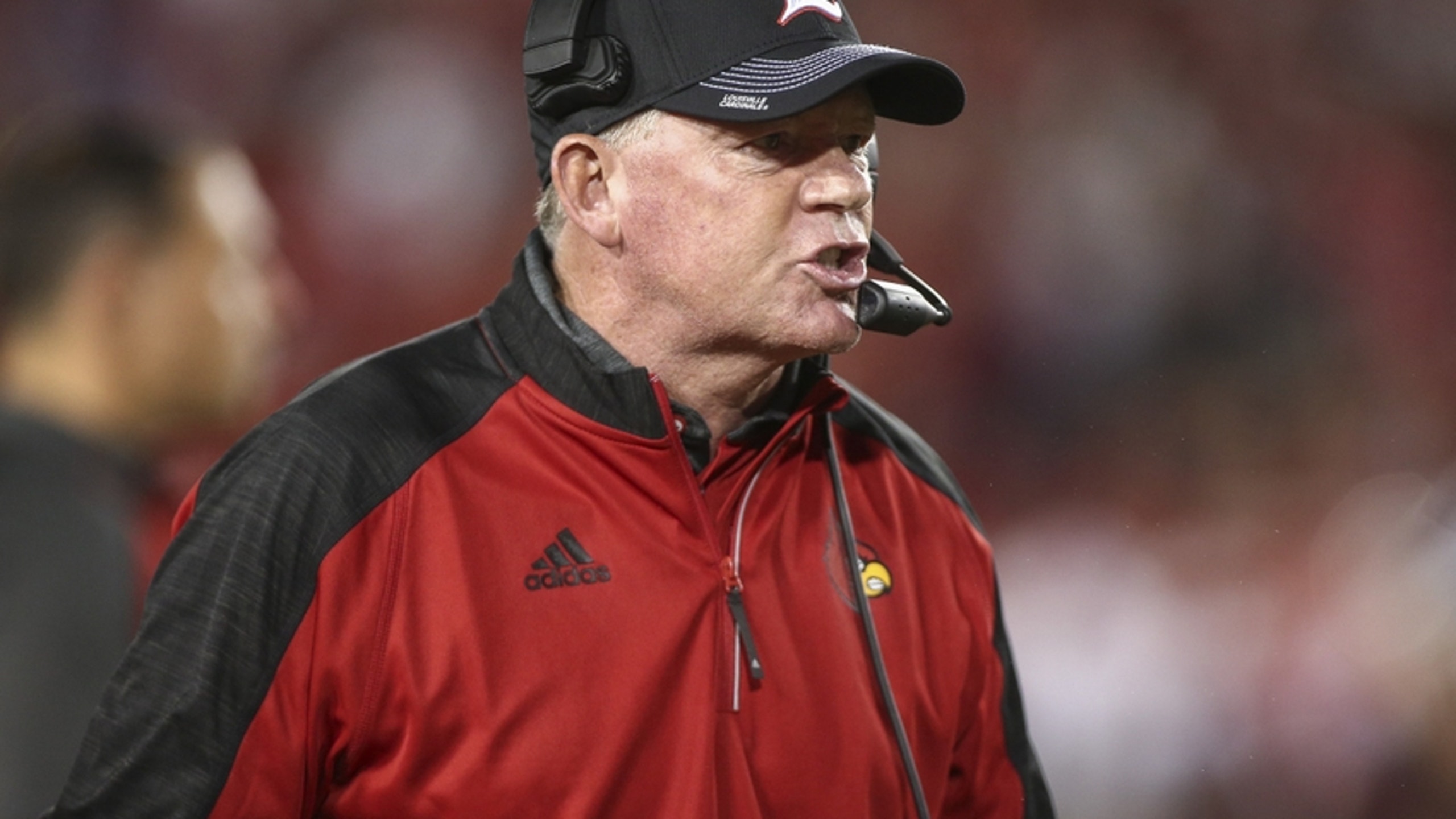 Louisville Football: The Absolute Worst Twitter Reactions To "Wakeyleaks"
BY Fansided and Derek Snyder/FanSided via Big Red Louie • December 17, 2016
We take a look at the absolute worst twitter reactions surrounding Wakeyleaks and the Louisville football program from this past week.
It has been an interesting week for the Louisville football program to say the least. Lamar Jackson went from winning the Heisman Trophy to watching his head coach and program getting demolished by the national media because of receiving information from a former Wake Forest assistant.
We have learned this past week that facts really don't matter to most people. If you have done something wrong in the past, it automatically means that you're guilty for anything else going forward.
Well, that's at least what these four people thought about the "Wakeyleaks" scandal:
Nov 17, 2016; Houston, TX, USA; Louisville Cardinals head coach Bobby Petrino shouts during the second quarter against the Houston Cougars at TDECU Stadium. Mandatory Credit: Troy Taormina-USA TODAY Sports
4. Jon Weiner From ESPN Radio
Okay, this one doesn't even make any sense and as usual, just assumes that Bobby Petrino is the reason why Louisville "cheated". I just don't understand the overall saltiness from the national media about these coaches suspending themselves for not knowing something about their programs.
I completely understand that people wanted to question Rick Pitino about the stripper scandal, but Petrino is dealing with a much larger coaching staff than the basketball team.
To me, all this talk about Petrino is bringing up old situations and using them for arguments about why Petrino should be the one who is punished.
Not to mention, it wasn't Petrino who suspended Lonnie Galloway, it was Athletic Director Tom Jurich.
Dec 10, 2016; New York, NY, USA; Louisville head coach Bobby Petrino speaks with the media during a press conference at the New York Marriott Marquis after quarterback Lamar Jackson wins the 2016 Heisman Trophy award during a presentation at the Playstation Theater. Mandatory Credit: Brad Penner-USA TODAY Sports
3. Booger McFarland
Here we go again, another reason for Booger McFarland to explain why the Louisville football program isn't as good as anyone else.
With that being said, how is Petrino bringing this Louisville program down? If I have a problem with anything, it's that Jurich had a terrible first press release and that Lonnie Galloway shouldn't have used that information from Wake Forest's "rat".
If McFarland cannot believe Petrino because of something he did at Arkansas in the past, then there's not going to be anything he can do go forward to change that guy's mind.
Louisville fans just have to accept the fact that some people in the media strongly dislike Petrino and will jump on any opportunity to publicly tear him down.
Dec 5, 2015; Louisville, KY, USA; Louisville Cardinals head coach Rick Pitino smiles during the second half against the against the Grand Canyon Antelopes at KFC Yum! Center. Louisville defeated Grand Canyon 111-63. Mandatory Credit: Jamie Rhodes-USA TODAY Sports
2. Matt Jones From Kentucky Sports Radio
There are many times throughout the the football and basketball seasons that I believe Matt Jones loves to report on Louisville more than he does on Kentucky. Not to mention, I would love to know when the last time he was in charge of a football or basketball program at a major university.
It just blows my mind whenever people comment on if Pitino or Petrino should have known about shady things going on within their program.
Not to mention, every single one of those people haven't been coaches or assistant coaches in a program like Louisville's.
But hey, it's the age of the internet and everything that we read and say is true right?
Jul 22, 2016; Charlotte, NC, USA; Louisville Cardinals head coach Bobby Petrino speaks with the media during the ACC Football Kickoff at Westin Charlotte. Mandatory Credit: Jeremy Brevard-USA TODAY Sports
1. John Kincade From Atlanta's 680 The Fan
This was easily the most uncalled for tweet about the Wakeyleaks incident. John Kincade works for CBS Radio down in Atlanta and clearly doesn't have a problem telling the world about how horrible of a person that Bobby Petrino is.
Frankly, this just doesn't make sense either. It's almost like all of these people know whether Petrino knew more about this issue than he led Tom Jurich to believe.
It's unbelievable that there are so many people around the United States that have so much inside information about the Louisville football program.
But hey, all we can say is that haters are gonna hate. Petrino just needs to keep his team focused and ready to take on LSU on December 31st.
More from Big Red Louie
This article originally appeared on
---
---