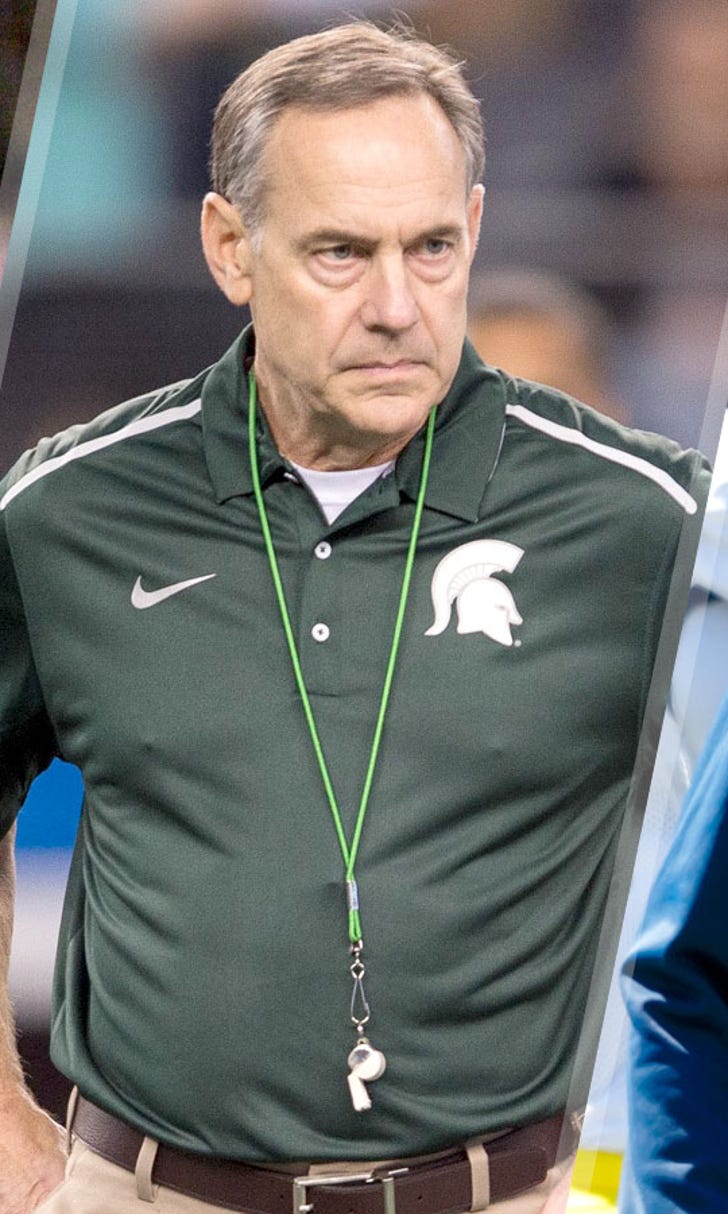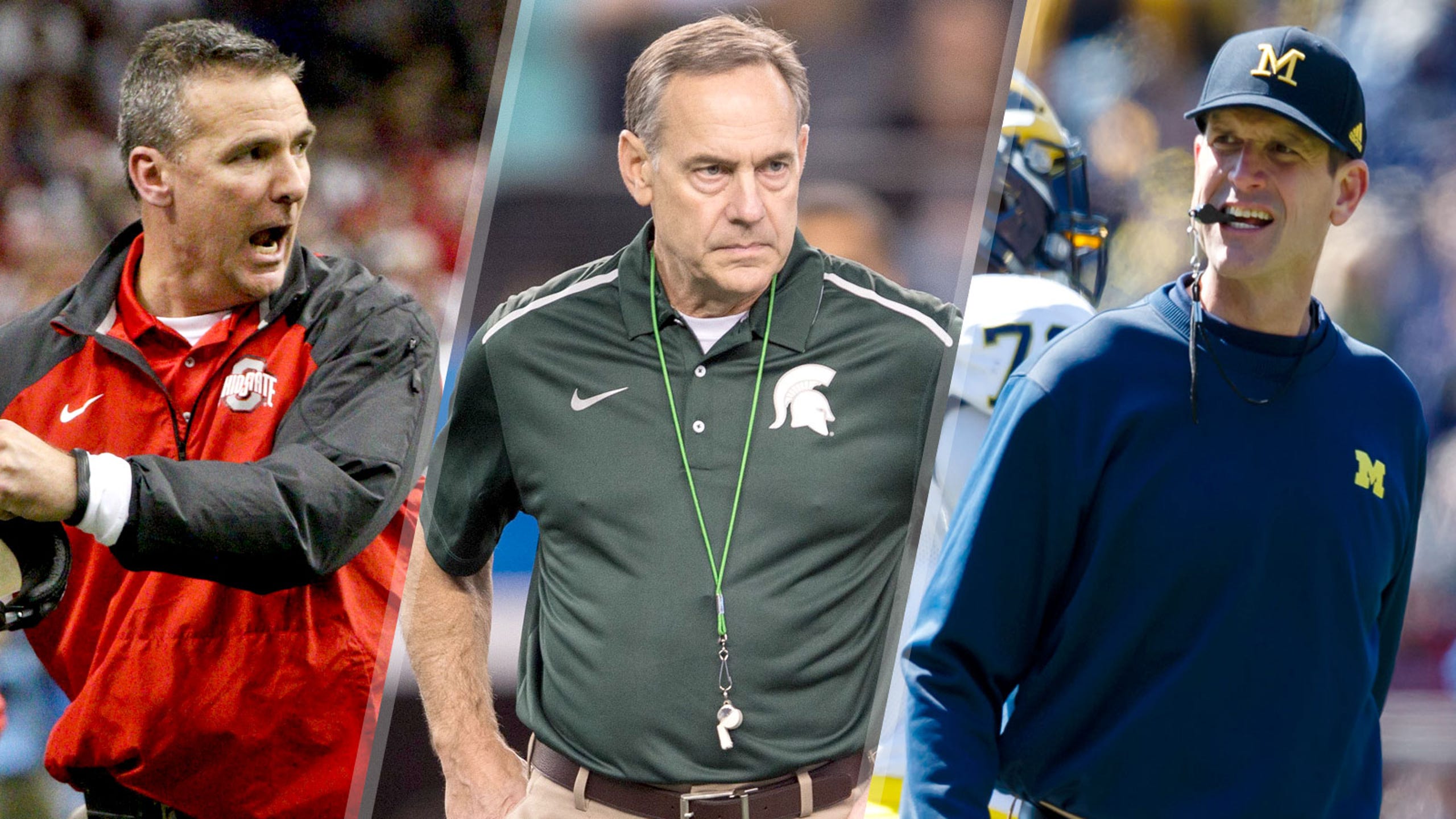 Five Big Ten Q's: Can Ohio State handle the pressure to repeat?
BY Marcus Hartman • July 29, 2015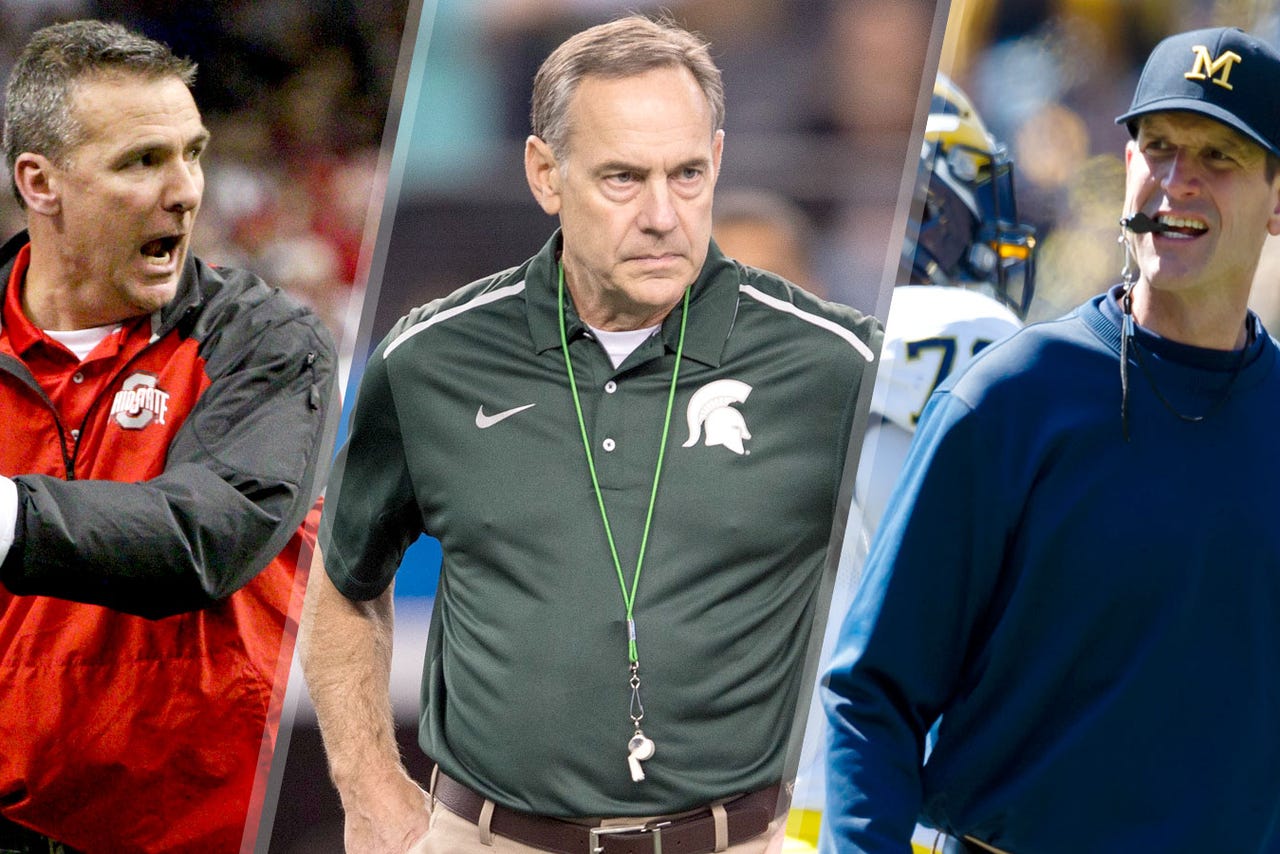 With all 14 Big Ten teams set to send coaches and representatives to Chicago for the annual Big Ten Football Media Days on Thursday and Friday, let's take a look at the conference's biggest storylines. 
Urban Meyer's winning at Ohio State and Jim Harbaugh's arrival at Michigan have given the Big Ten a lot of positive momentum over the past year. The success of Mark Dantonio and Michigan State and the potential of James Franklin's Penn State Nittany Lions also give the conference hope for becoming a deeper league than it has been for the past decade or so.
All four of those East Division programs enjoyed big summers on the recruiting trail, too, but now the challenge is to continue making progress on the field this fall.
Then of course there is the Big Ten West, where two of the top programs (Wisconsin and Nebraska) are in the midst of coaching changes, another (Iowa) is trying to find its way back under a long-time mentor and Minnesota is looking to prove it belongs in the conversation after tying for second place in the division last season.
Last year, Wisconsin emerged from a similar hodgepodge as a 10-game winner before the Badgers were flattened by the Buckeyes in the conference title game, 59-0. Will anyone be able to take control of the West like Wisconsin did last fall?
The apparent resurgence of the league reached a critical mass in January when Ohio State, Michigan State and Wisconsin all won bowl games against major-conference opponents, but it is also worth noting why going 6-5 in bowl season was cause for celebration in the Midwest: The Big Ten was 10-21 in bowls over the previous four seasons and has posted winning bowl records only three times since 2000 (numbers courtesy the Cedar Rapids Gazette).
The recent success means Big Ten coaches will get to spend the end of this week trumpeting the league's potential. Question is, will they keep it up? 
2. How are the Buckeyes handling their new place in college football?
Ohio State's surprise run to the first College Football Playoff national championship represented the end of a 12-year quest to win another national title and purged whatever demons remained from back-to-back BCS championship game losses in the middle of the last decade.
Now the Buckeyes are the popular pick to win the whole thing again, and Ohio State has never won back-to-back national titles. They will face a whole different type of pressure and attention this seasonm starting this week in Chicago.
3. Is Michigan State ready to bounce back?
No surer sign of the times in East Lansing exists than this: An 11-win season was a bit of a downer for the Spartans in 2014.
Mark Dantonio's club ended the season on a high note with an amazing comeback win in the Cotton Bowl against Baylor, but there was still disappointment the Spartans weren't playing for more after they entered the 2014 slate as the favorite in the Big Ten East.
Fast forward a year and they are not only chasing Ohio State again but also dealing with questions about whether or not Harbaugh's Michigan program will pose a threat, too.
In Chicago, Dantonio will get a chance to set the tone for how his team will deal with those challenges this fall and into the future.
4. Is Penn State ready to make a leap?
For all the attention James Franklin has gotten since becoming head coach at Penn State, his team won only two conference games in his first season in Happy Valley.
His early success on the recruiting trail isn't quite ready to have much of an impact on the program, but a year with the strength and conditioning program he brought with him from Vanderbilt might.
With standouts Christian Hackenberg and DaeSean Hamilton on offense and stalwarts Anthony Zettel, Austin Johnson and Jordan Lucas on defense, the Nittany Lions have some star power on the field to match Franklin's presence on the sideline even as they continue to rebuild depth in the aftermath of NCAA sanctions.
They also have a favorable schedule aside from trips to Ohio State and Michigan State, so last season's seven wins would seem to fall below minimum expectations this fall.
5. Will Jim Harbaugh say anything?
The new head coach at Michigan has proven this offseason he can be entertaining -- unless he chooses not to be.
How he handles the media in Chicago might not have much bearing on where the Wolverines finish in the standings this fall, but you can bet it will make headlines one way or another.
The good news: Even if the Michigan mentor is tight-lipped about the upcoming season, his program will still be represented by linebackers Joe Bolden and James Ross III and wide receiver Jehu Chesson, three seniors who have been through quite a bit in their time in Ann Arbor. Their perspective on the Harbaugh impact from the inside definitely figures to be worth getting.
Of course, if their coach brings up Judge Judy, his favorite rappers, American Sniper or whatever he happened to dream about the night before, nobody on press row is likely to complain.
---
---