Clemson's Dexter Lawrence has 'future No. 1 pick' written all over him
Published
Dec. 30, 2016 10:07 a.m. ET

If you tune in to Saturday night's Ohio State-Clemson Fiesta Bowl semifinal, you might see the potential No. 1 draft pick — for 2019.

That's the prediction Tigers senior defensive tackle Carlos Watkins is making about his teammate, 6-foot-5, 342-pound freak Dexter Lawrence. At a position generally occupied by more developed upperclassmen, Lawrence started nine games and racked up 74 tackles, seven sacks, two blocked kicks, two fumble recoveries and a team-high 20 quarterback pressures this season.

As a true freshman.

"Once he puts it all together, I don't see anyone stopping him," said Watkins, who himself had 70 tackles and 8.5 sacks. "You don't see many guys who can dominate in the trenches at his level."

Hence his prediction.

"[Lawrence] is going to be the No. 1 pick in the draft."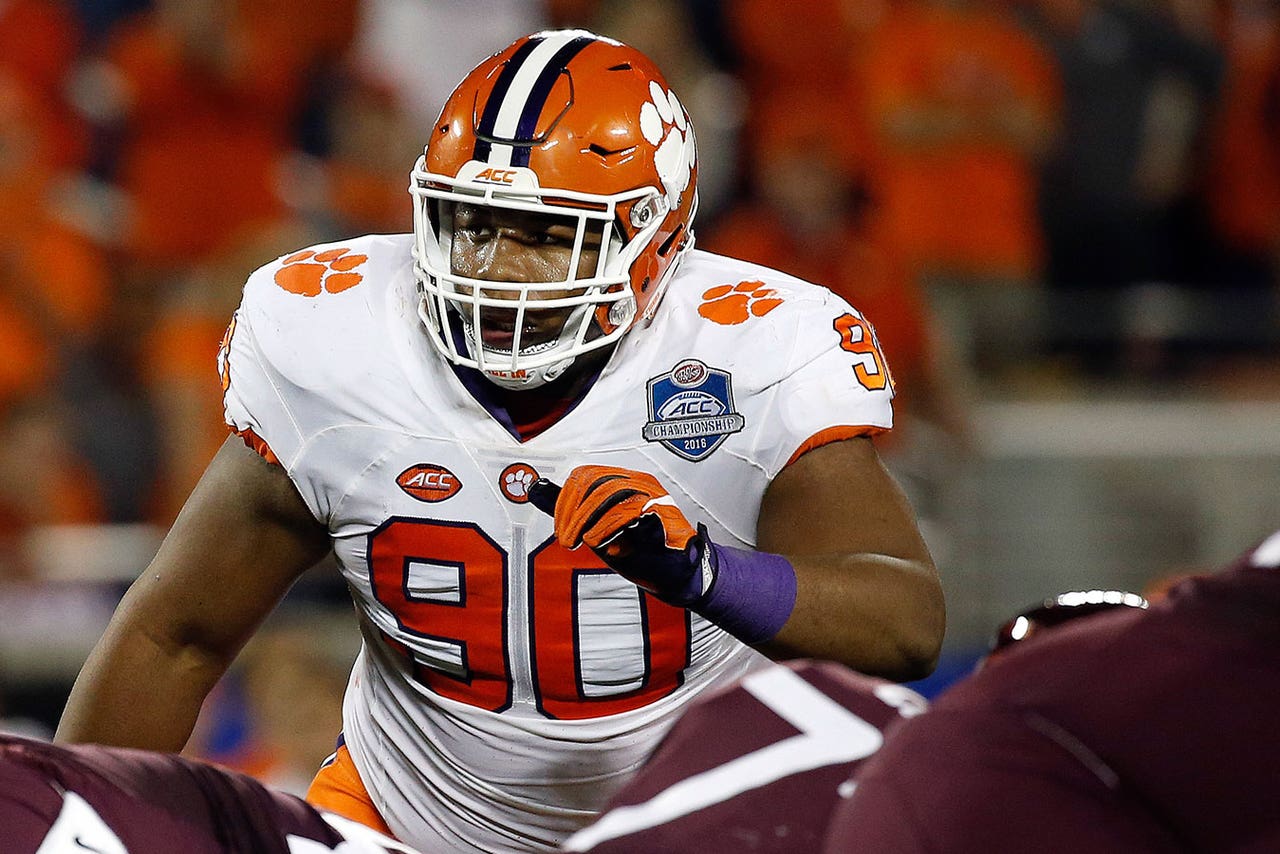 It's too soon for visiting NFL scouts to inquire about someone still two years away from becoming draft-eligible, but, "They don't have to ask," Clemson coach Dabo Swinney said. "They notice him quick."

As Swinney says, last year's No. 2 recruit in the country (per 247Sports) arrived on campus with "no assembly required." The North Carolina native wasn't just big; he is in fact lean, with just 18 percent body fat.

In the weight room he can bench press 32 reps at 225 pounds. The top performer at last spring's NFL combine did 34.

And while college 40 times should always be met with skepticism, all parties swear Lawrence has clocked in under 5.0. None of the linemen who achieved that in Indianapolis last winter weighed anywhere close to 340 pounds.

"I've got some burners," Lawrence said with a smile at Thursday's Fiesta Bowl Media Day. "I say I'm the fastest [on the team] pound for pound.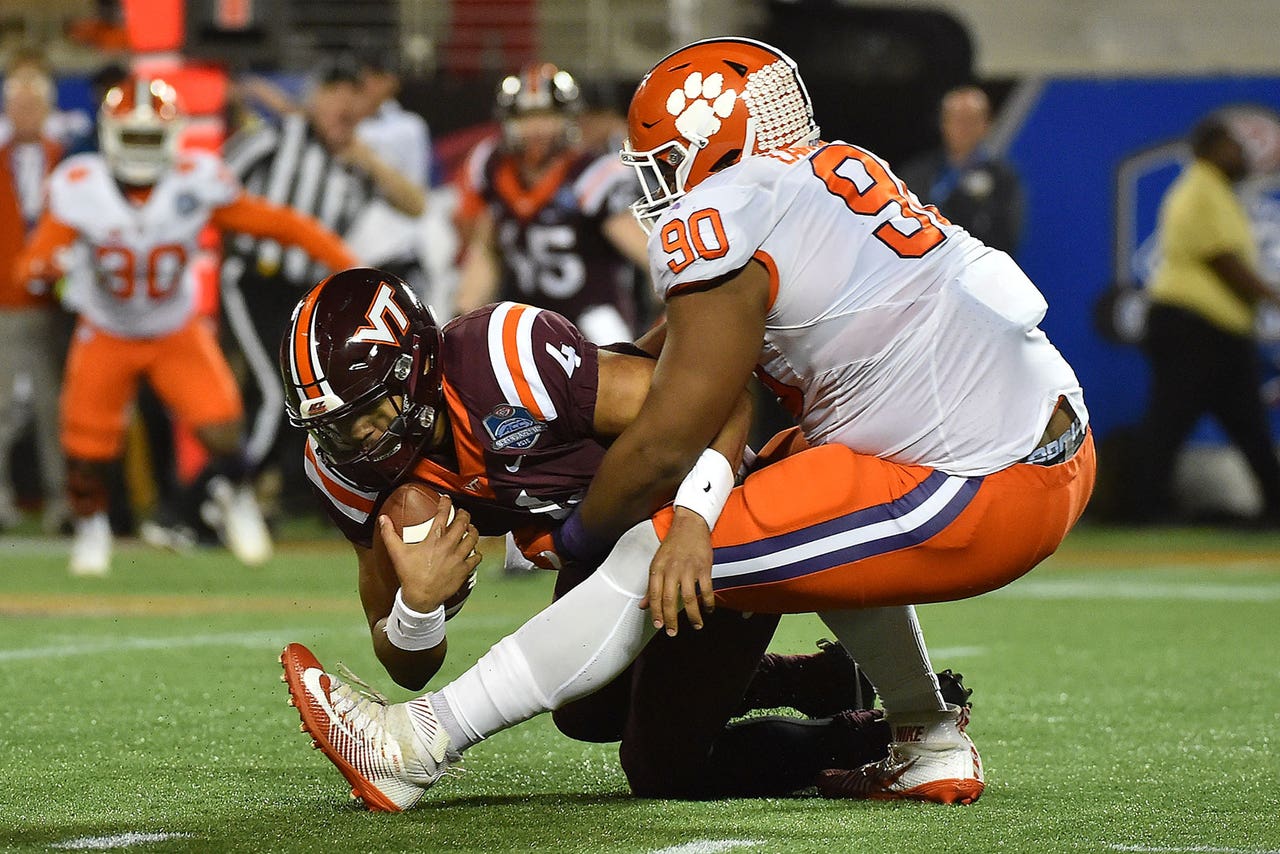 "A lot of people can't do the things I can, being my size," he said. "I'm really blessed to be able to do those things. It sometimes amazes me the things I can do."

But beyond his athletic gifts, Lawrence dazzles on the field as well. On his first play at Tiger Stadium, during a scrimmage last spring, Lawrence picked off a screen pass and nearly returned it the other way. Coaches and players knew immediately he'd be making an impact by fall.

On a star-studded front four that also includes Nagurski finalist Christian Wilkins at end and second team All-American Watkins at tackle, Lawrence broke out right from his first game. In a road win at Auburn, the freshman had seven tackles, a sack and a pass-break up.

By season's end, he'd played about two-thirds of Clemson's snaps (559) and finished fourth on the team in tackles. Swinney also likes to use him occasionally as a short-yardage blocker on offense.

"The moment's not too big for such a young player," said Clemson defensive coordinator Brent Venables. "He came out of his mama's womb ready to play defensive tackle."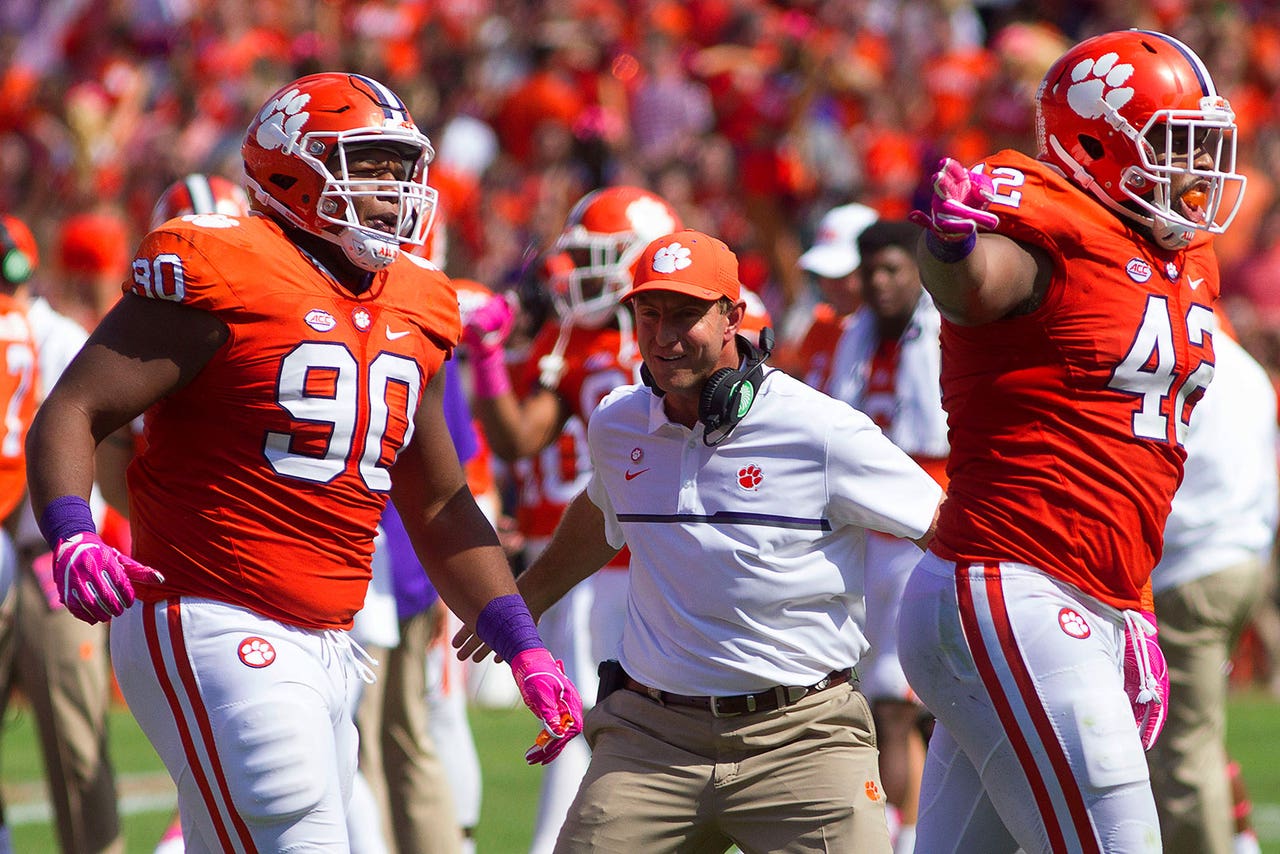 Dexter Lawrence, Dabo Swinney and Christian Wilkins


Whereas many freshmen get by mostly on their athleticism, Lawrence's technique was strong from the start.

"He's just so natural playing inside," said Venables. "Pad level, not staring into the backfield, good hand placement, physical, tough."

Lawrence will have a tougher matchup than usual Saturday night — a strong Ohio State offensive line led by Rimington Award-winning center Pat Elflein. While Lawrence gets noticed more for his QB pressures, he's most valuable as a run-stopper. The Buckeyes boast the nation's No. 9 rushing offense (258.3 yards per game).

Much like Deshaun Watson in last year's playoff games, Lawrence has a chance to raise his profile considerably playing for such a large audience. But should Lawrence blow up like Watkins predicts, Venables would prefer he squash the way-premature No. 1 pick talk.

"He's not ready for all that yet," said Venables. "But Carlos has seen a lot, too. Carlos knows and respects the game and what it takes to play at a very high level. And everyone realizes [Lawrence] has got a unique skill set."

He's a lean, flexible 342-pounder who runs a sub-5.0 40. Yep — that's pretty unique.


---
---