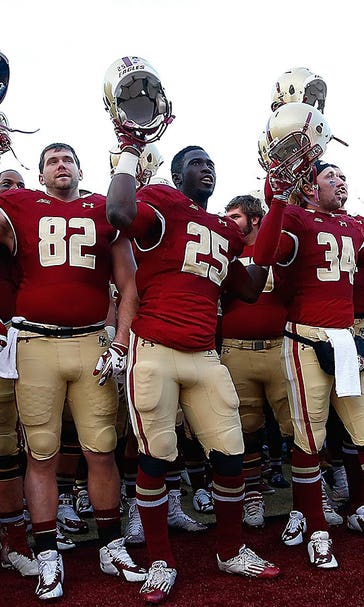 Boston College charging $25,000 donation for four tickets to Notre Dame game at Fenway
April 13, 2015

The priciest ticket at Fenway Park isn't for a Boston Red Sox game. Not close.
If you fancy yourself as a fan of Boston College, prepare to look for a loan in order to get into the Nov. 21 game against Notre Dame.
While the game will be played in Boston, the Chestnut Hill faithful -- read: alums -- will have to dig deep to get a ticket to the game.
Face value will be $400. That's steep for a regular-season college game. However, you'll have to dig deeper to make sure you get your share of the 5,000-seat Boston College allotment.
All you have to do in order to put yourself in line for four tickets is donate $25,000-plus to the athletic department/program in the fiscal year 2015 (June 1, 2014, to May 31, 2015). That's because as Boston College notes in this allocation post:
Of course, for those who can't pony up $25,000, you can try for three tickets in the $10,000-$24,000 range or a pair in the $5,000-$9,999 market. These donations would be considered a seat license.
There are also varying allotments for those who have donated over $100,000 lifetime, those who have donated $100,000-plus between 2011-2014 and those who have donated $100,000 or more this fiscal year alone.
As for season ticket-holders? They will be entered in a lottery for a shot at two tickets.
Thankfully, there will be an allotment for students. Because, after all, they should have a chance to go to watch the school they attend play college football.
---
---