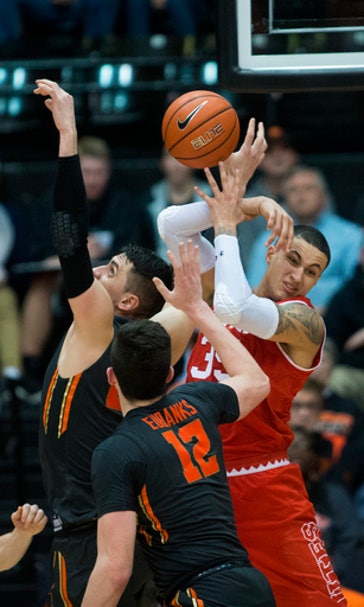 Utah's NCAA Tournament hopes in trouble after skid
February 21, 2017

SALT LAKE CITY (AP) Utah coach Larry Krystkowiak said he ''just about blew a gasket'' Sunday when he heard giggles on the bus ride after his Utes blew a nine-point lead in the final minutes of a loss to an Oregon State team that was 0-14 in Pac-12 play.
Utah now likely needs a deep run in the Pac-12 tournament to be considered for the NCAA Tournament.
''I think there's a time and place for things,'' Krystkowiak said. ''So, they're young and maybe they thought (the bus) was time to have a little comedy and a little humor. But a half hour after we lost that game, I don't care what somebody said, nothing's funny.
''We'll get the guys' attention and make sure that everybody's focused. ... Where our guys are, they better be locked in and ready to go because I'm looking for that group of guys that wants to finish this off right and it's going to start with a mindset. We'll see how that goes.''
This season has hit the skids for the Utes. They've lost five of eight, including their last four road games. The loss to the worst team in the league, including three turnovers in the final 68 seconds, was just the latest low.
Krystkowiak pointed to mental mistakes that have been the biggest issue, particularly on defense. He acknowledged the team doesn't have a shot blocker or lock-down perimeter defenders, so they need to defend as a unit. But the communication has been poor, leading to breakdowns.
''And it's just become pretty apparent that you're only as strong as your weakest link,'' Krystkowiak said, ''and a lot of times, in our defensive scheme, it just takes one guy to have that breakdown. And those have been really, really costly. We have to figure out a way to get all five guys on the same page, give ourselves a chance. To me, if we don't start bringing our brain to the game plan and to offensive execution and being more poised and not have as many turnovers, I don't know that we have a chance. That's the cold reality of it.''
Krystkowiak believes that's fixable, but leading scorer and rebounder Kyle Kuzma isn't so sure.
''That's a real hard question,'' Kuzma said. ''We haven't really been a talkative team for the majority of the year, so how can you really change it three games left in the regular season? It's kind of tough, but we can definitely build on it for the future.''
The Utes (17-10, 8-7) are behind Cal (18-8, 9-5) and USC (21-6, 8-6) in the race for the No. 4 seed in the Pac-12 tournament and a first-round bye. Utah finishes the season at Colorado then with home games against Cal and Stanford.
The outlook is grim, but Krystkowiak remains optimistic.
''I'm going to go down swinging,'' Krystkowiak said. ''Just like you're trying to teach anything and trying to get it right, I'm not going to give up until the last bell. I'm pretty confident that we can catch a little magic here, a little lightning in the bottle and get everything going. But it's going to take everybody being on the same page.''
---
More AP College Basketball: http://collegebasketball.ap.org
---
---