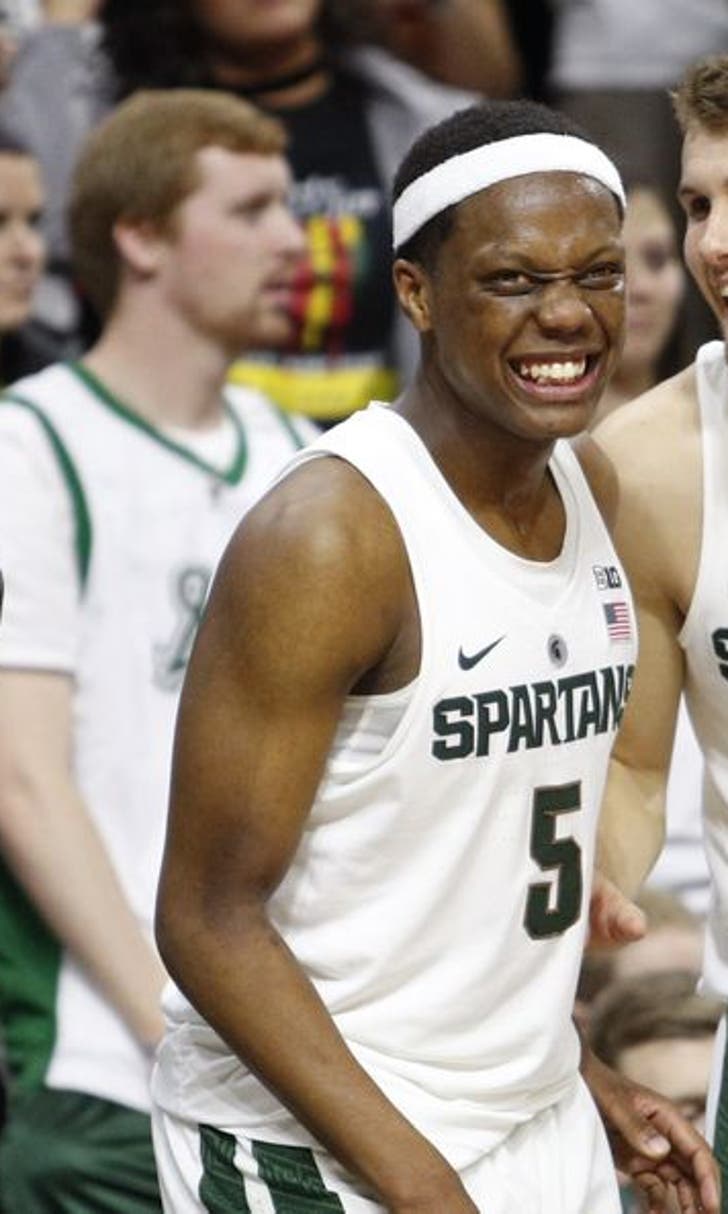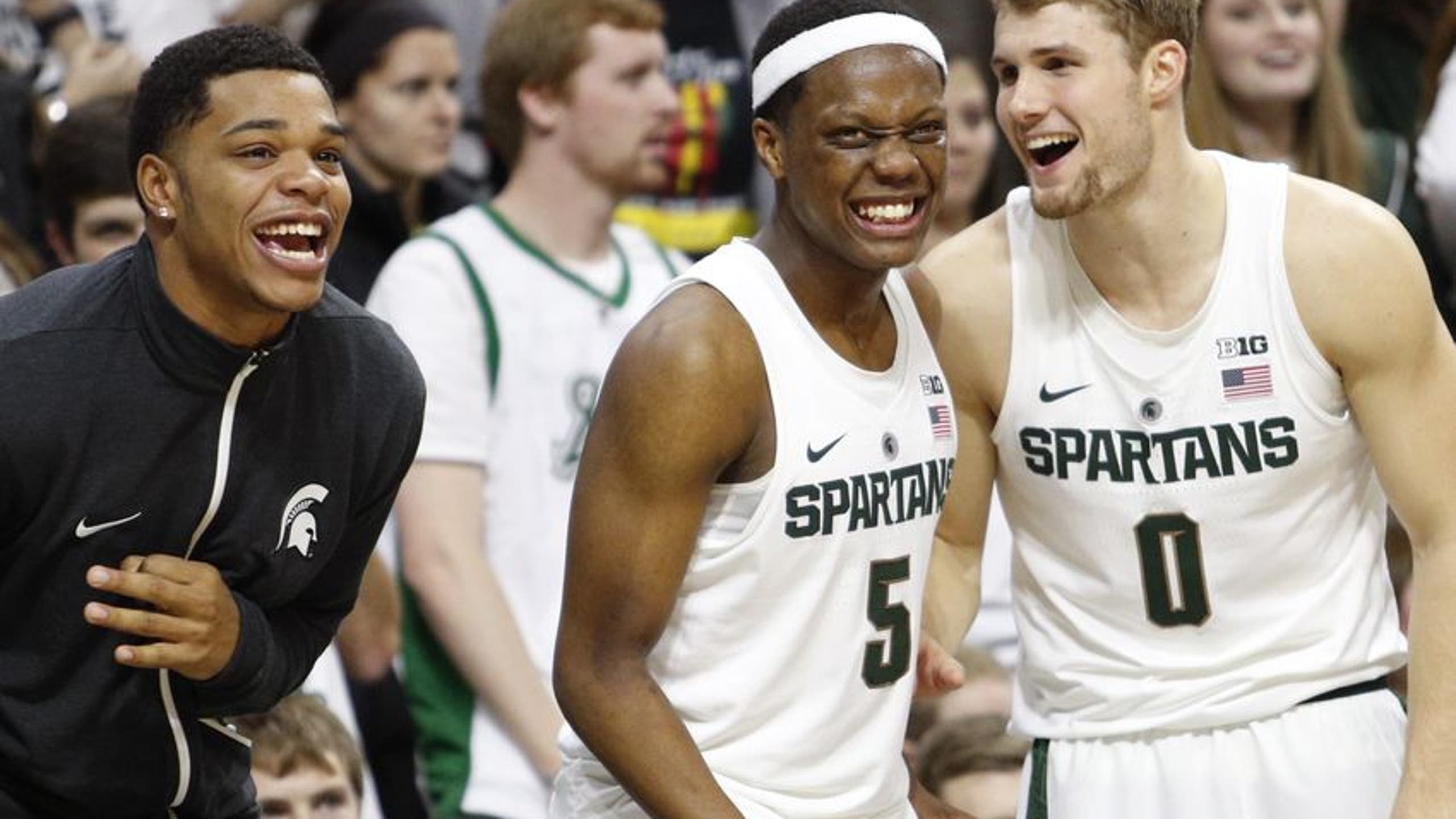 NCAA Basketball: Injury Report (Is Miles Bridges close to a return?)
BY Fansided and Carmine Carcieri/FanSided via Busting Brackets • December 16, 2016
Dec 7, 2016; Chapel Hill, NC, USA; North Carolina Tar Heels guards Theo Pinson (left) and Joel Berry II watch their team during the first half against the Davidson Wildcats at Dean E. Smith Center. Mandatory Credit: Rob Kinnan-USA TODAY Sports
Catch up on the latest injury updates before this weekend's NCAA basketball games.
We are only a month (and change) into the college basketball season, but we have already seen significant injuries sweep through the nation.
Ben Carter is out for the season for Michigan State, while Gavin Schilling also suffered a knee injury and may not return until late in the year, if at all. Harry Giles still isn't back for the Duke Blue Devils. Ray Smith tore his ACL for the third time in three years for Arizona. And Cal's Kameron Rooks remains out with a knee injury, zapping the Bears of some rim protection and aggressiveness on defense.
These are just some of the injuries that have had a massive impact on certain programs across the country.
Obviously, teams, coaches and players want to avoid injuries at all costs. However, it doesn't always work like that. Some rosters will get ravaged by them, while others will be pristine clean.
Duke was playing with six guys just two weeks ago, but now the Blue Devils have two of their top three freshman back. Meanwhile, Michigan State has three key players who are currently on the sideline. They are relying on multiple youngsters to carry their team.
This is why it's important to look at the key injuries in college hoops every week. This week, we will continue with five updates.
Jan 8, 2015; El Paso, TX, USA; UTEP Miners forward Vince Hunter (32) dribbles the ball against Louisiana Tech Bulldogs guard Xavian Stapleton (11) at the Don Haskins Center. Mandatory Credit: Ivan Pierre Aguirre-USA TODAY Sports
Xavian Stapleton inching closer to game action
Mississippi State is a young team searching for answers early in the 2016-17 season. They have nice pieces like Quinndary Weatherspoon, Aric Holmon and five emerging freshman, but they are currently 6-3, with losses to UCF, Lehigh and East Tennessee State.
With two tune-ups before SEC play tips-off to start the New Year, Mississippi State will ease another player, Xavian Stapleton, back into the lineup.
Obviously Stapleton is not going to turn Mississippi State into an SEC contender. However, he adds depth, talent and experience to a team that could show strides before the 2017-18 season.
Stapleton transferred over from Louisiana Tech following one season (2014-15) with the Bulldogs. As a freshman, he played in 36 games, averaging 15.5 minutes, 6.7 points, 2.1 rebounds and 0.6 blocks per game. He shot 41 percent from the field overall and hit 69 percent of his free throws, but he also only shot 29 percent from long range.
He opted to transfer to Miss State before the 2015-16 campaign and was obligated to sit out a year due to NCAA transfer rules. He was eligible to practice though, and unfortunately, tore his ACL in a pickup game in late August.
Seven months later (March), Stapleton tore the same ACL.
The most recent injury has cut into Stapleton's eligible playing time. He has missed the first nine games of the season for the Bulldogs, and will likely need all the minutes he will receive in the next two games to prep for SEC play. It can't be easy after sitting out two years and tearing two ACLs.
Dec 2, 2015; Chicago, IL, USA; Illinois-Chicago Flames forward Dikembe Dixson (10) controls the ball as DePaul Blue Demons guard Eli Cain (11) defends during the first half at UIC Pavilion. DePaul won 82-55. Mandatory Credit: Patrick Gorski-USA TODAY Sports
Dikembe Dixson tears ACL, done for year
UIC receives very little national attention due to their status in the Horizon League — they are 5-5. However, they do have a star player who won the Horizon League Freshman of the Year honors last season and was one of the leading scorers in the nation until playing just six minutes in the Flames' last game.
The sophomore forward, Dikembe Dixson, will miss the remainder of the 2016-17 season though. The 6'7″, 200 pound "big man" has a torn ACL and will be eligible to pursue a medical redshirt, according to College Basketball Talk.
"We're all disappointed that Dikembe's season has come to an end," UIC coach Steve McClain said in a statement. "After he put together one of the best freshman seasons in the history of our program and the Horizon League a year ago, he dedicated himself to improve every single day. He was having another great year as one of the top scorers in the NCAA and a fantastic leader in our program."

"I have no doubt that his positive attitude and the relentless support we will give him will help Dikembe come back stronger than ever next season," said McClain.
Dixson was averaging 20.3 points, 6.0 rebounds, 1.0 assists and 1.5 steals in 29.3 minutes per game. He was also shooting 48 percent from the field, 37 percent from three and 79 percent from the free throw stripe.
If UIC had any chance of earning the Horizon League's at-large bid (and it was a true long shot with Valpo and Oakland in the conference), they needed Dixson to be a star. Now, he won't even play, which could result in UIC being the worst team in the league.
Nov 11, 2016; Honolulu, HI, USA; Indiana Hoosiers forward OG Anunoby (3) takes a shot against Kansas Jayhawks forward Carlton Bragg Jr. (15) and center Landen Lucas (15) at Stan Sheriff Center. Mandatory Credit: Brian Spurlock-USA TODAY Sports
OG Anunoby set to return on Saturday
After missing three straight games due to an ankle injury suffered against the North Carolina Tar Heels, OG Anunoby is set to return for the Indiana Hoosiers on Saturday against the Butler Bulldogs.
He might not start, but he should play hefty minutes if he feels comfortable enough.
Indiana went 3-0 without Anunoby, who averages 12.5 points, 6.0 rebounds and 1.2 assists per game.
So why is this so key? Not only is Anunoby one of Indiana's top players and perimeter shooters, but he is a lock down defender and a high level athlete.
"OG is another-level athlete than most anybody playing college basketball," Butler coach Chris Holtmann said this week. "His size, strength and physicality present some real challenges. He'll be one of the best athletes, if not the best athlete, we play against all year."
He has wiped out numerous elite players from games (Jamal Murray, Josh Jackson, Justin Jackson, just to name three), and will be tasked with guarding Butler's dynamic scorer Kelan Martin.
Anunoby may not have all his lateral quickness back. However, he'll still have his length, athleticism and instincts, which could make it a long day for Martin and the Bulldogs at Bankers Life Fieldhouse.
Nov 30, 2016; Bloomington, IN, USA; Indiana Hoosiers guard Josh Newkirk (2) dribbles the ball as North Carolina Tar Heels guard Joel Berry II (2) defends during the first half at Assembly Hall. Mandatory Credit: Brian Spurlock-USA TODAY Sports
Joel Berry II expected to play for North Carolina
While OG Anunoby's presence is critical for Indiana, junior point guard Joel Berry II's status is more important to North Carolina's overall success.
Berry suffered an ankle injury in North Carolina's victory over Radford, and has missed the last two games. In both of those outings, against Davidson and Tennessee, the Tar Heels nearly lost on their home floor.
The good news: Berry is expected to be back in the Tar Heels' starting lineup for their big showdown versus Kentucky on Saturday.
Joel Berry expected to play tomorrow vs Kentucky. Has missed last two games due to sprained ankle. Practiced the last two days. #UNCBBall

— Carolina Basketball (@UNC_Basketball) December 17, 2016
Berry is averaging 14.8 points, 4.7 assists, 3.8 rebounds and 1.6 steals per game so far this season. He is also shooting a solid 45 percent from the field, 36 percent from long range and 86 percent from the free throw line.
With Berry in the lineup, the Tar Heels' offense flows much better. Nate Britt is a solid backup at the point guard position but he thrives in transition and on defense. He's not as good of a scorer and shooter as Berry, and is definitely not as good of a playmaker.
There's no word on how many minutes Berry will be able to play tomorrow or how healthy he actually is, but regardless, the Tar Heels have a much better shot at beating Kentucky with him in the lineup.
Dec 3, 2016; East Lansing, MI, USA; Michigan State Spartans guard Miles Bridges (right) sits on the bench with an injury during the first half against the Oral Roberts Golden Eagles at Jack Breslin Student Events Center. Mandatory Credit: Raj Mehta-USA TODAY Sports
Miles Bridges still isn't practicing
Two weeks ago, Michigan State announced that freshman Miles Bridges was expected to miss "at least a couple weeks" with an ankle injury. He was in a boot and was on crutches shortly after the injury, but according to Land of 10, Bridges was riding a stationary bike at practice earlier this week.
Kevin Goheen also mentions that while Bridges is apparently "closer" to a return, he has yet to participate in a live practice.
Bridges is closer to returning but head coach Tom Izzo still hasn't put a timetable on when the team's leading scorer and rebounder can get back to the practice court, let alone play in a game. He definitely won't be available Sunday night against Northeastern, and isn't expected to play against Oakland next Wednesday night. There is a possibility Bridges could be ready when Michigan State begins Big Ten play at Minnesota on Dec. 27, but all of that is up in the air at this moment.
Obviously, the best case scenario for Michigan State would be for the Spartans to get Bridges back before Big Ten play begins; the freshman could get his legs under him and have one game to prep for a gauntlet. It sounds unlikely to happen though.
Michigan State is obviously no lock to make the NCAA Tournament because of their lack of depth and offensive creators. They don't have great size in the paint and are relying way too heavily on freshman.
Having Bridges back as soon as possible (he's their best player), is only going to help Michigan State win the games they are supposed to win. If the Spartans want to hit their stride in March, they need Bridges 100 percent healthy.
More from Busting Brackets
This article originally appeared on
---
---