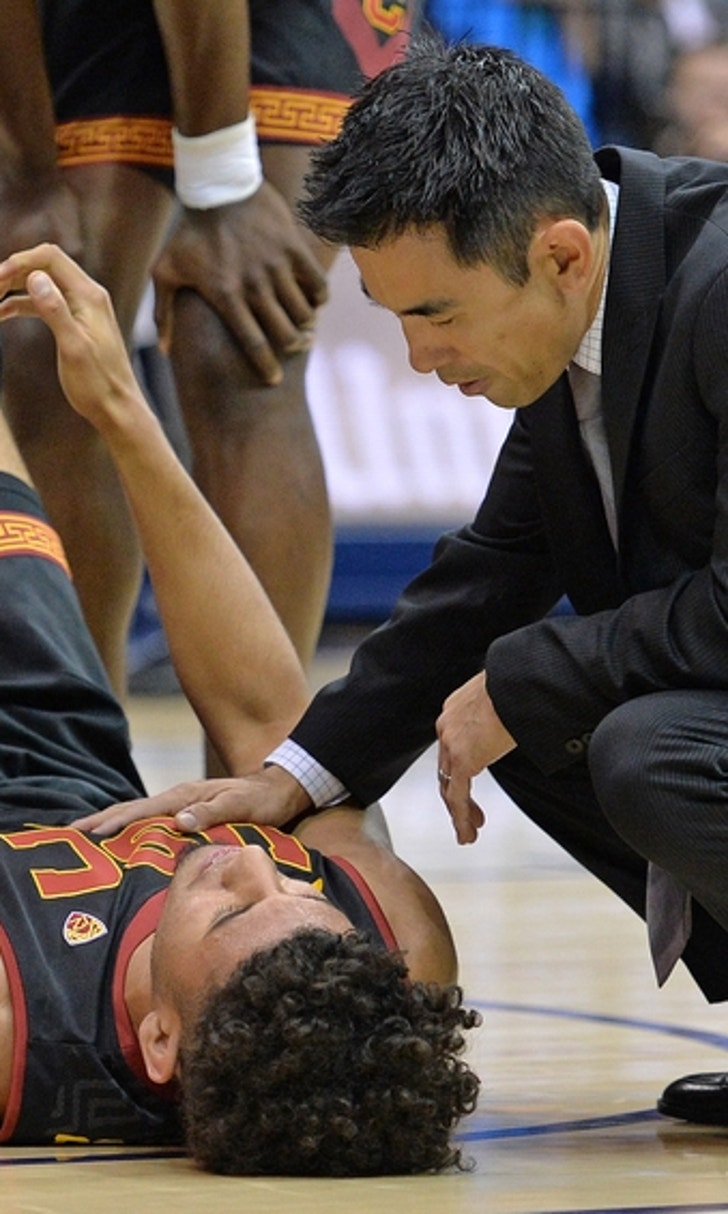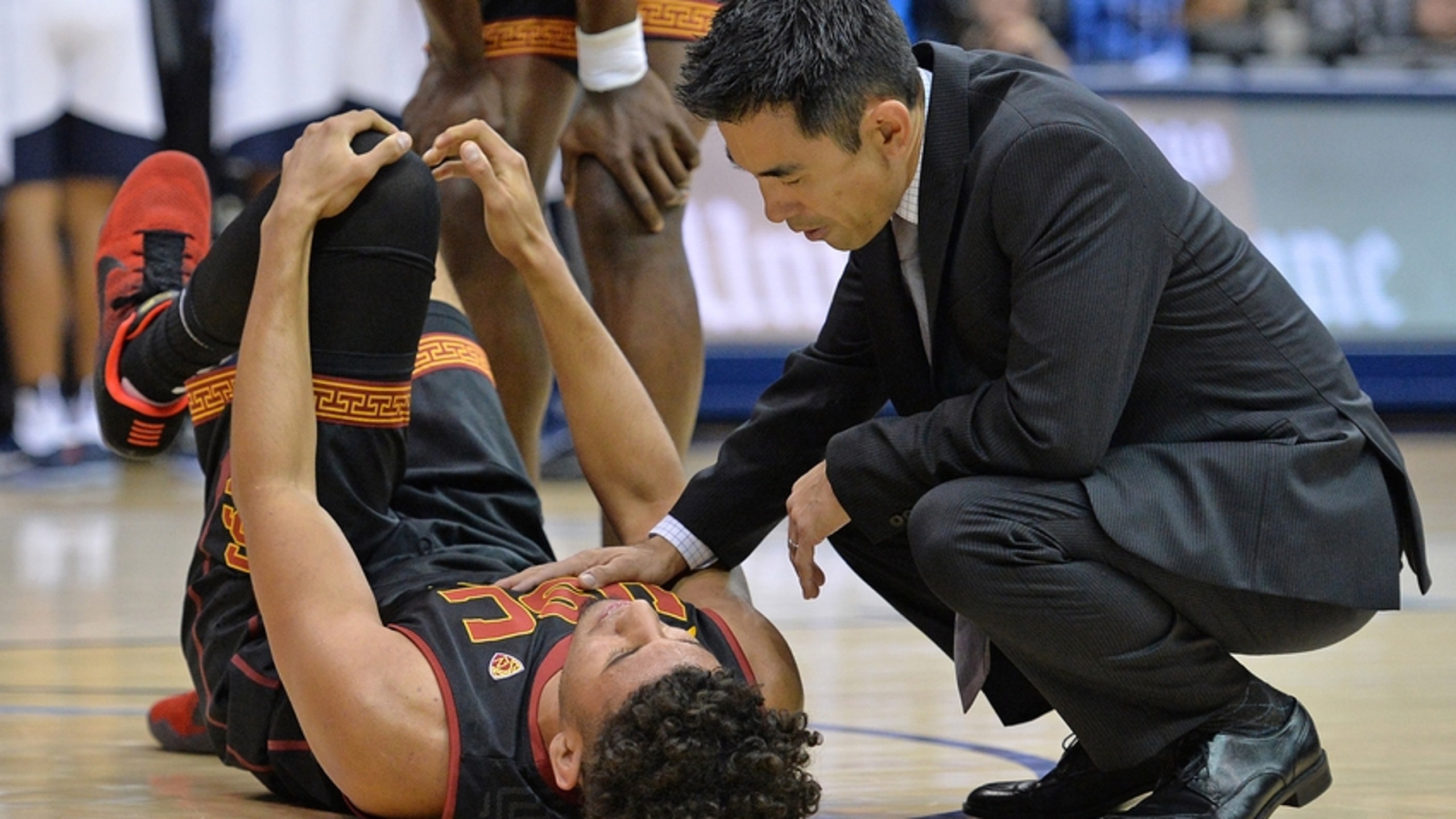 NCAA Basketball: Injury Report (Is Bennie Boatwright any closer to a return?)
BY Fansided and Carmine Carcieri/FanSided via Busting Brackets • December 30, 2016
Dec 7, 2016; Lincoln, NE, USA; Nebraska Cornhuskers guard Anton Gill (1) looks down in the final moments of the game against the Creighton Bluejays in the second half at Pinnacle Bank Arena. Creighton won 77-62. Mandatory Credit: Bruce Thorson-USA TODAY Sports
What NCAA basketball injuries should we keep an eye on as we head into the weekend?
Conference play just began on Tuesday and we haven't even hit the New Year yet, but we've already seen significant injuries sweep through the nation.
Ben Carter is out for the season for Michigan State, while Gavin Schilling also suffered a knee injury and may not return until late in the year, if at all. Miles Bridges is also out for the Spartans. Harry Giles just recently returned for the Blue Devils and isn't 100 percent just yet. Ray Smith tore his ACL for the third time in three years for Arizona. And Cal's Kameron Rooks remains out with a knee injury, zapping the Bears of some rim protection and aggressiveness on defense.
These are just some of the injuries that have had a massive impact on certain programs across the country.
Obviously, teams, coaches and players want to avoid injuries at all costs. However, it doesn't always work like that. Some rosters will get ravaged by them, while others will be pristine clean.
Duke was playing with six guys just a month ago, but now the Blue Devils have all three of their freshman back (even though Giles and Marques Bolden are playing limited minutes). Meanwhile, Michigan State has three key players who are currently on the sideline. They're relying on multiple youngsters to carry their team.
This is why it's important to look at the key injuries in college hoops every week. This week, we will continue with five updates.
Dec 21, 2016; Dayton, OH, USA; Dayton Flyers guard Charles Cooke (right) reacts after being called for a foul against the Vanderbilt Commodores in the first half at the University of Dayton Arena. Mandatory Credit: Aaron Doster-USA TODAY Sports
Charles Cooke set to play on Friday night
The Dayton Flyers open up Atlantic 10 play on Friday evening at home against the La Salle Explorers. With Archie Miller's team needing a victory (you must hold down your home court in conference play), it's good news that their leadings scorer and top player, Charles Cooke, is returning to the lineup.
Cooke missed Dayton's last game against VMI due to a wrist injury, and it was questionable as to if he would play in the team's conference opener.
The Flyers really do need Cooke.
La Salle is an underrated team that scores the ball efficiently and effectively on offense, and played Villanova tough their Big 5 showdown earlier in the season.
Cooke is Dayton's leading scorer at 19.2 points per game, as he shoots 48 percent from the field and 37 percent from beyond the arc. He can create his own shot, but also impacts the game on the glass (5.5 rebounds per game) and defensively.
Dayton can ill afford to lose any more bodies. They aren't exactly the deepest and tallest team in the nation, and Cooke is one of four Flyers that average double figures in points.
Feb 28, 2016; Corvallis, OR, USA; Oregon State Beavers forward Tres Tinkle (3) and guard Langston Morris-Walker (13) celebrate in the second half in a game against the Washington State Cougars at Gill Coliseum. The Beavers won 69-49. Mandatory Credit: Troy Wayrynen-USA TODAY Sports
Tres Tinkle will not return against UCLA
Oregon State has had an ugly start to the 2016-17 college basketball campaign, as the Beavers head into Friday night's Pac-12 showdown with a 4-10 record. Wayne Tinkle's squad has lost to Lamar, Nevada, Fresno State, Tulsa, Mississippi State, Charlotte, Savannah State, Long Beach State, Portland and USC.
There is only one surefire NCAA Tournament team on that list – the Trojans.
While their losses are unacceptable no matter who is missing, the Beavers haven't had the services of sophomore big Tres Tinkle since he scored 31 points and 10 rebounds versus Fresno State.
Tinkle broke his non-shooting hand in the loss against the Bulldogs, and hasn't played in the last eight outings.
There was some speculation that Tinkle was going to return this week, but FanRag is reporting that the 6'8″ forward will not make his return against the UCLA Bruins on Friday evening.
Before suffering the injury, Tinkle played in six games and averaged 20.2 points, 8.3 rebounds, 2.3 assists, 2.2 steals and 0.8 blocks per game. With Gary Payton II in the D-League, Tinkle is the leader of this Oregon State roster. He needs to be healthy if they're going to avoid embarrassment in Pac-12 play. For now, this game against UCLA could get real ugly.
Dec 28, 2016; Reno, NV, USA; Nevada guard Josh Hall (33) is removed after a hard collision with San Jose State forward Brandon Mitchell (4)(not pictured) in the first half of their NCAA basketball game at Lawlor Events Center. Mandatory Credit: Lance Iversen-USA TODAY Sports
Josh Hall diagnosed with a concussion following scary incident
Nevada freshman guard Josh Hall was recently inserted into the Wolf Pack's starting lineup, and has helped Eric Musselman's team through their recent seven game surge.
But on Wednesday night, Hall was stretchered off the floor after a scary incident against San Jose State. Hall went up for a dunk and Spartans forward Brandon Mitchell collided with the freshman on his way to the rim.
Considering how hard Hall hit the ground, Nevada and Hall's family received good news less than 24 hours ago.
We are thankful that Hall is OK and that nothing more serious than a concussion was diagnosed.
It seems secondary to think about basketball at this point, but it doesn't look like Hall will be returning anytime soon. And that's obviously a key loss for the Wolf Pack. Even though Hall is averaging less than three points per game and only 10.2 minutes per game, his role was increasing, he has had solid efficiency and his presence helps create match-up advantages with Cameron Oliver moving down to the five and Jordan Caroline to the four.
Regardless of when he returns, Nevada still has a strong chance to win the Mountain West. And Hall has to be happy he is OK.
Mar 27, 2015; Syracuse, NY, USA; Louisville Cardinals guard Anton Gill (1) hugs guard Terry Rozier (0) during the second half against the North Carolina State Wolfpack in the semifinals of the east regional of the 2015 NCAA Tournament at Carrier Dome. Louisville won 75-65. Mandatory Credit: Mark Konezny-USA TODAY Sports
Anton Gill finished for the 2016-17 season
After transferring from Louisville and sitting out the 2015-16 season, Anton Gill is back on the sidelines. The Nebraska guard ruptured his patella tendon during a practice earlier this week and will miss up to six to eight months after undergoing surgery.
While Gill isn't a massive piece to Tim Miles' puzzle at Nebraska, he provides depth and experience off the bench. Gill was averaging 3.8 points, 1.9 rebounds and 0.5 assists per game, while shooting 27 percent from the field, 28 percent from three and 63 percent from the free throw line.
Those aren't great stats, however, the Raleigh, NC native showed flashes of brilliance in three games this season. Gill scored 10 points on 3-of-5 shooting against Southern, dropped 10 points on 4-of-5 shooting in a two-point win over Dayton and put up seven points in a blowout loss to Kansas. Gill could've had a solid impact during conference play, but now he will remain on the bench for the remainder of the season.
Nov 25, 2016; Los Angeles, CA, USA; Pac-12 Networks broadcaster Don MacLean (left) interviews Southern California Trojans forward Bennie Boatwright (25) during a NCAA basketball game against the SMU Mustangs at Galen Center. USC defeated SMU 78-73. Mandatory Credit: Kirby Lee-USA TODAY Sports
When will Bennie Boatwright return?
Three weeks ago, USC forward Bennie Boatwright was given a six week timetable to recover from a Grade 2 MCL sprain.
So is one of the Trojans' best front court players on track to return when he was originally expected?
More from Busting Brackets
That seems to be the case, according to the Associated Press. Following USC's road victory over the Oregon State Beavers, the AP reported that Boatwright is expected to be back by mid-January (which would be exactly the six week timetable that was given back in early December).
That would be welcoming news for the Trojans, even though they have begun the season in impressive fashion. Despite Boatwright's seven missed games, the Trojans are still 14-0 and are 1-0 in the Pac-12.
Boatwright is tremendous, but his absence has created even more opportunities for Chimezie Metu, who is succeeding in his "new role." Metu is averaging 13.5 points, 7.9 rebounds and 2.0 blocks per game. He looks much improved offensively and has helped the Trojans to a 7-0 record with Boatwright out.
But let's not overlook the fact that USC hasn't played the most difficult schedule with their sophomore big out of the lineup. Their biggest win over this stretch of games is BYU, and their second biggest is Wyoming.
The Trojans need Boatwright back as soon as possible if they want to compete atop the Pac-12. And that's why it's critical that he hasn't suffered a setback or anything of that nature.
---
---