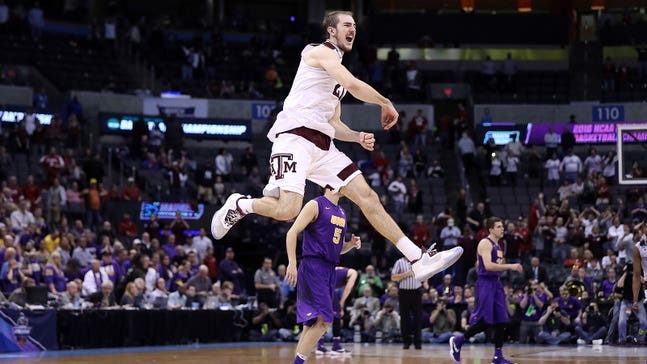 Let's re-pick the Final Four after that absolutely crazy first weekend
Published
Mar. 21, 2016 1:28 a.m. EDT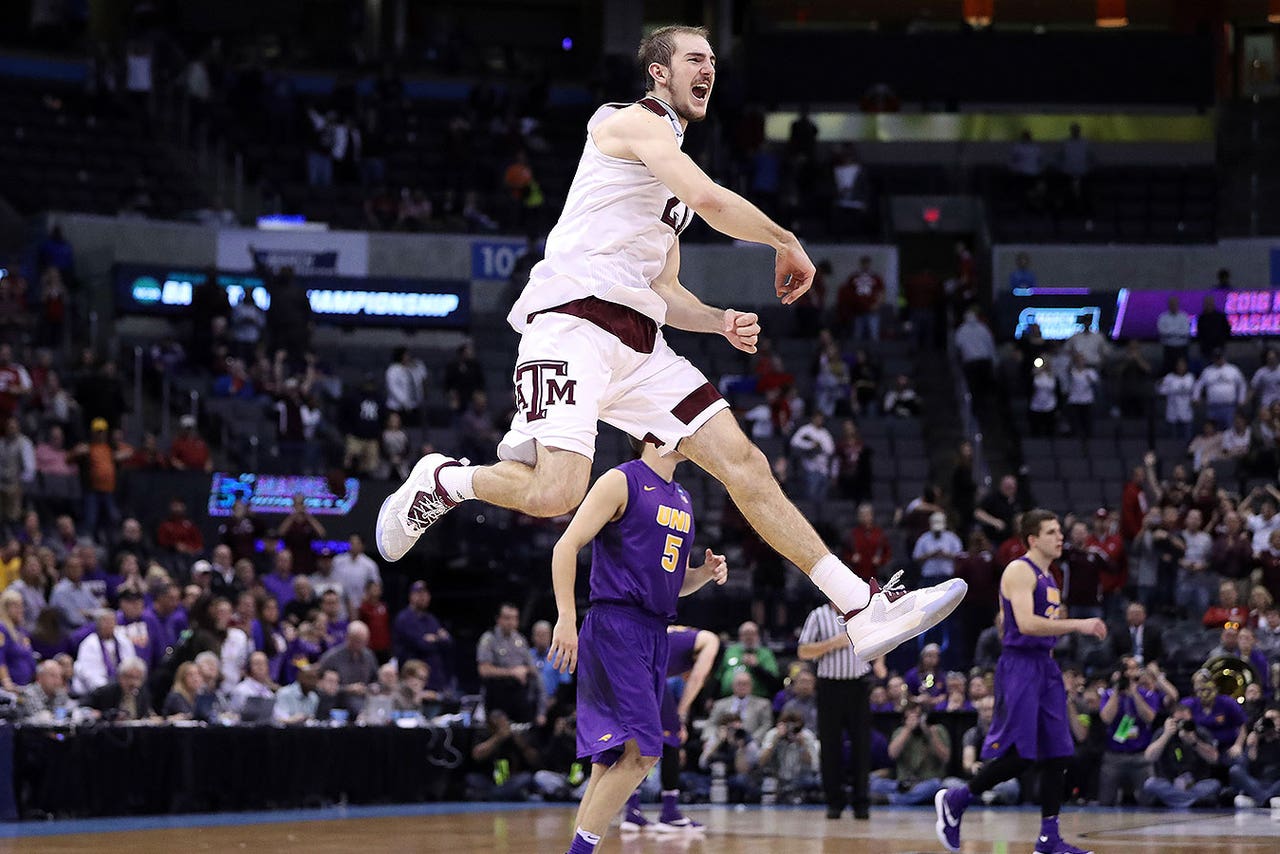 But man, all that drama takes a toll on the bracket. I lost half my Final Four picks -- Kentucky and Michigan State -- by Saturday of the first weekend, and if not for the Aggies erasing a 12-point deficit in 44 seconds, it would have been three.
So now that we're down to the Sweet 16, I'm going to use this occasion to take a do-over on my Final Four picks. They're guaranteed to be more prophetic because hey, there's three-fourths fewer choices to start with.
But just in case my intuition is still off, I'm bringing in a couple outside experts as well. See below.
SOUTH: Kansas. The No. 1 overall seed did nothing in its wins over Austin Peay and Connecticut to suggest they're vulnerable in the next two rounds. Sweet 16 foe Maryland is considered more talented than the Jayhawks but have largely struggled this season against top-flight competition. (Their tourney wins came over South Dakota State and Hawaii.) Either potential Elite Eight foe, No. 3 seed Miami or No. 2 seed Villanova, will be formidable, but KU is more complete than both.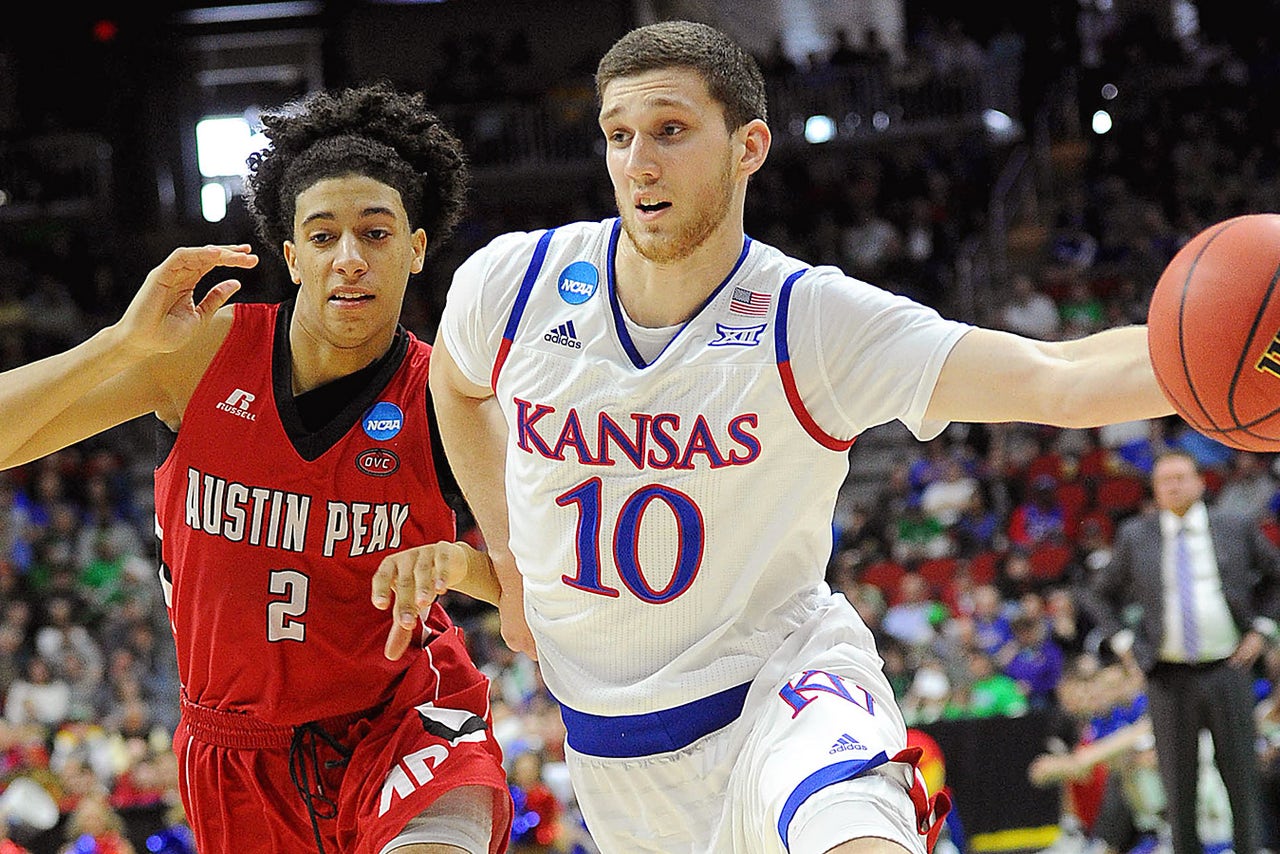 Kansas guard Sviatoslav Mykhailiuk
WEST: Texas A&M. I liked the third-seeded Aggies coming into the tourney, and I like them even more now that they pulled their comeback for the ages against Northern Iowa. There's a long history of tourney teams staving off scares -- or in this case, a full-on disaster movie -- to go on to a deep run. This is the time to do it, too, in a region where every team -- No. 1 seed Oregon, No. 2 seed Oklahoma and No. 4 seed Duke -- have all lived dangerously at some point as well.
EAST: North Carolina. I was skeptical of the Heels for much of the regular season, even adamantly believing the ACC champs did not deserve a No. 1 seed. But starting with UNC's regular-season finale at Duke (a 76-72 win), followed by three ACC tourney wins and then NCAA routs of Florida Gulf Coast and Providence, the Tar Heels have fully blossomed into the team most experts foresaw when installing them as a preseason No. 1 choice. Marcus Page and Brice Johnson will handle Indiana and the Notre Dame-Wisconsin winner.
MIDWEST: Virginia. The ACC has gone a staggering 12-1 so far, sending six of its seven teams to the Sweet 16, so of course two members will face each other in the Final Four. These are not the same Cavaliers that lost to lower seeds the past two seasons. Tony Bennett's team is extremely efficient on both ends, and with its region down to a No. 10 (Syracuse) and No. 11 (Gonzaga) on the other side, it's likely Final Four-bound if it handles Iowa State on Friday.
I feel really good about these. But I also concede that picking three No. 1 seeds is incredibly conservative. So for those of you who like things a little riskier, I called in two bracket experts I trust for their opinions.
SOUTH: Maryland. My daughter took one look at my bracket and broke out in tears. That must mean she thinks I'm not taking Maryland near seriously enough. After all, talent usually prevails the deeper you go in the tournament, and not even Kansas has a core group as talented as Melo Trimble, Jake Layman and Diamond Stone. She thinks the Terps will take down the Jayhawks, then ride their newfound confidence all the way to Houston.
WEST: Oklahoma. You really think a baby is going to pick against a Buddy? Sooners star Buddy Hield reminded us against VCU just how dramatically he can take over a game, scoring 29 of his 36 points in the second half. There's no reason he can't put second seed OU on his back and lead it to Houston, seeing as the Sooners could have very easily been the No. 1 seed instead of Oregon.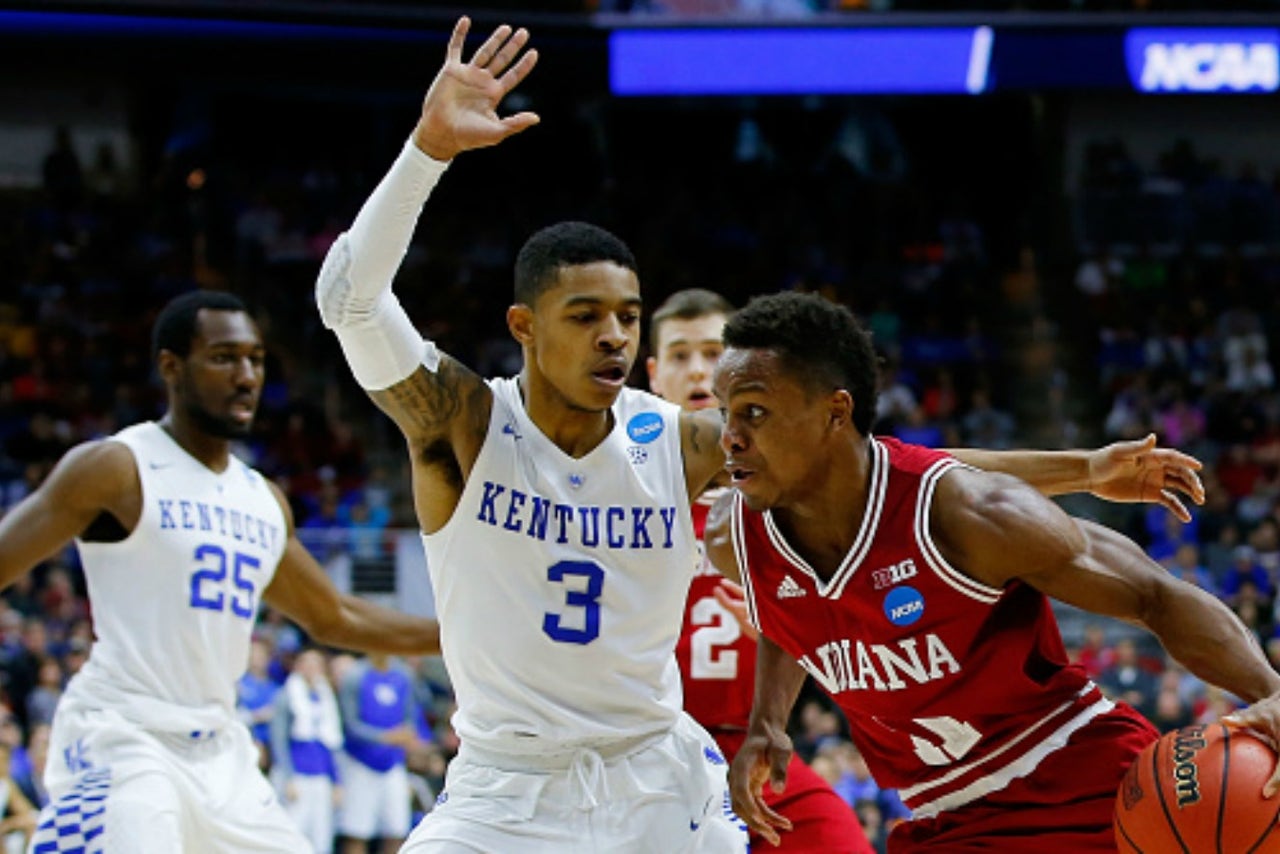 Indiana's Yogi Ferrell

EAST: Indiana. My daughter is not old enough to remember a time when Tom Crean was on the hot seat. All she knows of the Hoosiers is a smart, tough team that won the Big Ten regular season title and flat-out took it to a more highly regarded Kentucky team. She sees them doing much the same to North Carolina and seems no more concerned about Notre Dame or Wisconsin than she does with soiling herself.
MIDWEST: Iowa State. Babies love when you make funny noises, so perhaps that's why my daughter responded most favorably when I started repeating over and over, "Niang. Niang." She thinks the Cyclones' senior All-American, Georges Niang, will join veterans Monte Morris and Jameel McKay in delivering the deep tourney run ISU fans have been longing for.
SOUTH: Miami. Dogs like to stick with their pack, and the pack of ACC Sweet 16 teams is so deep, it's tempting to pick a whole bunch of them. The 'Canes looked dominant in building a huge early lead against Wichita State, then helpless in blowing the entire thing, then resilient in finally pulling out the win. It helps to have a leader like Angel Rodriguez, who won't back down from Villanova or Kansas.
WEST: Oregon. Dogs aren't ones for overthinking, and mine thinks we're all overthinking this region by picking anyone but the No. 1 seed. Yes, the Ducks were most questionable of the four top seeds. Yes, they're the lone team remaining from a woefully overseeded Pac-12. But they're still a better team than Sweet 16 foe Duke, which caught a break in drawing Yale in the second round, and long enough to cause problems for Oklahoma and Texas A&M.
EAST: Wisconsin. Dogs like routines and familiarity, so it's his instinct to pick the Badgers to return to the Final Four. These Badgers are far lower on star power than the Frank Kaminsky/Sam Dekker team, but they've been on a heck of a run since coach Greg Gard took over. Bronson Koenig's clutch performance against Xavier -- most notably the game-winning three -- bodes well for the Badgers, which match up well with Sweet 16 foe Notre Dame and have already beaten Indiana once.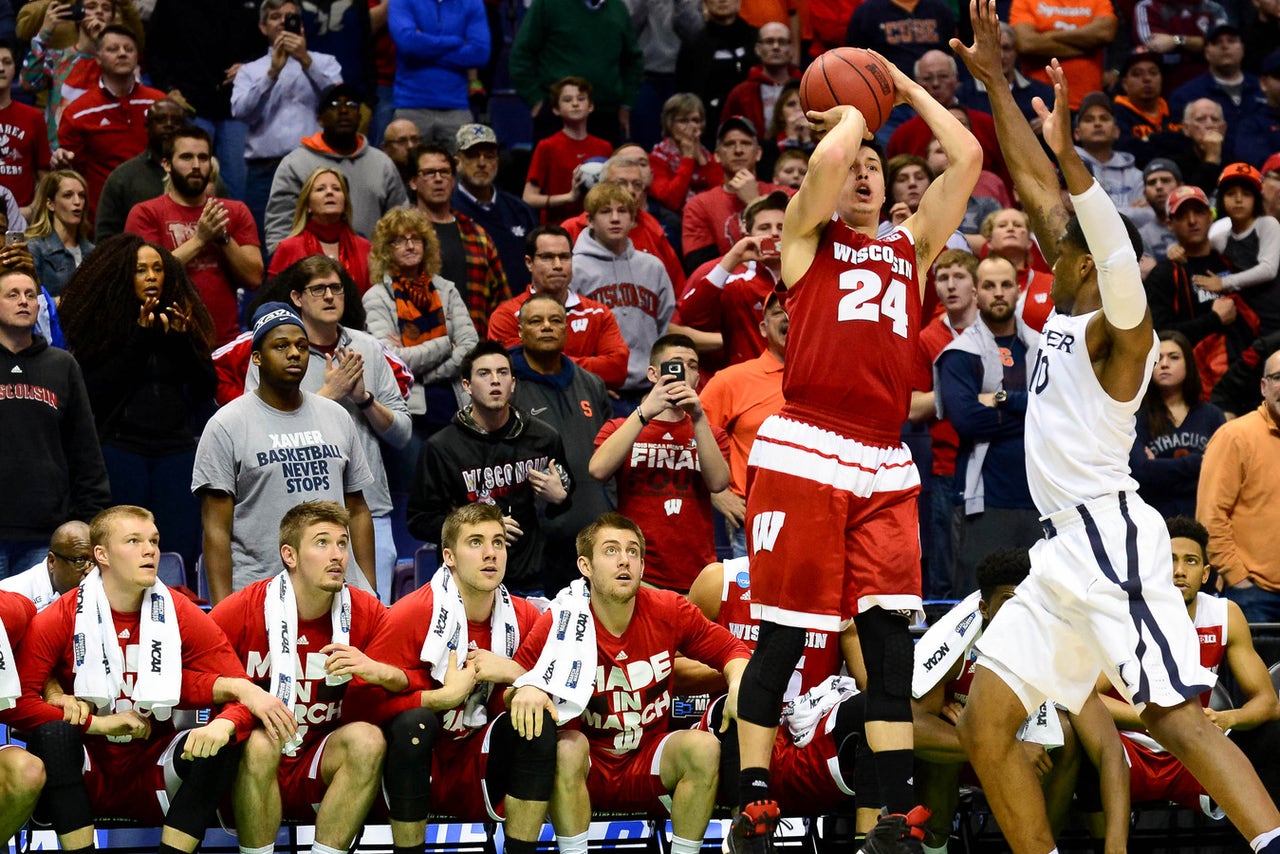 Wisconsin's Bronson Koenig
MIDWEST: Gonzaga. Of course, the dog likes the Bulldogs. But it's not as crazy a pick as the No. 11 seed suggests. The 'Zags rank 17th in KenPom's efficiency rankings, well ahead of Sweet 16 foe Syracuse and just one spot behind Iowa State. Kyle Wiltjer and Domantas Sabonis have played in quite a few tourney games. Wouldn't it be something if Mark Few's least heralded team in more than a decade winds up producing his first Final Four?
So there you have it. Three different potential combos from three very diverse voices. The only teams none of us had winning two more games were Villanova, Duke, Notre Dame and Syracuse.
Watch them end up being the four.
---
---