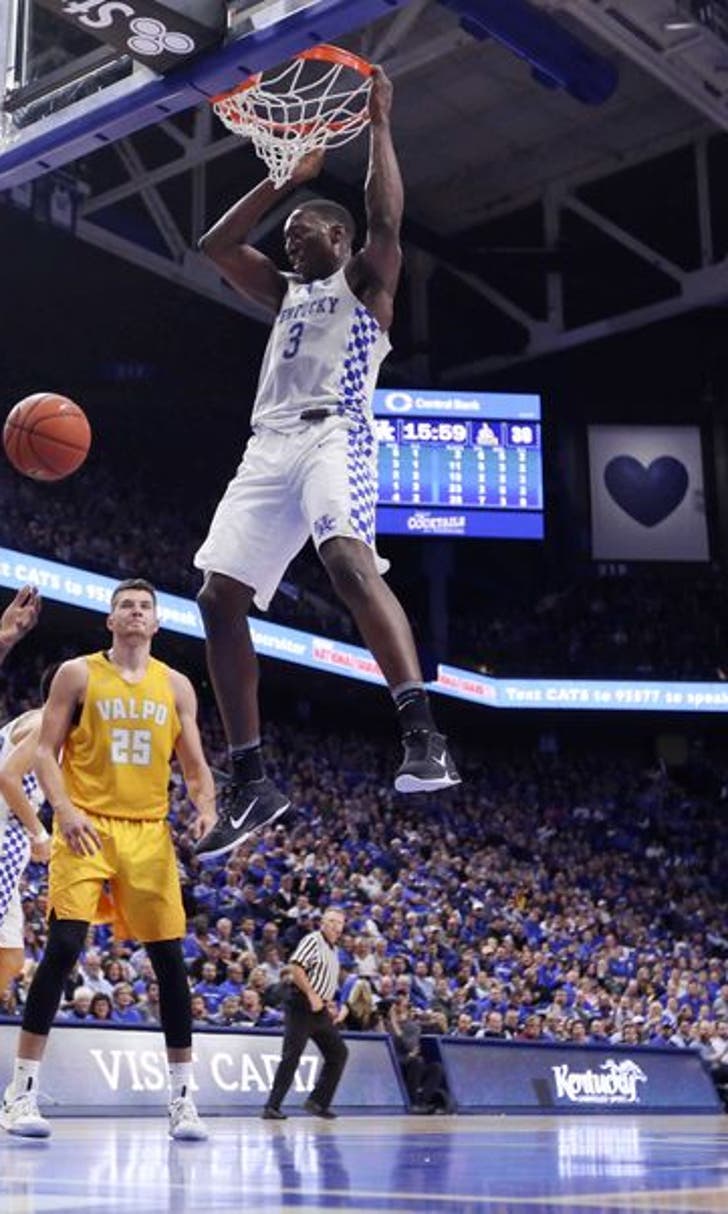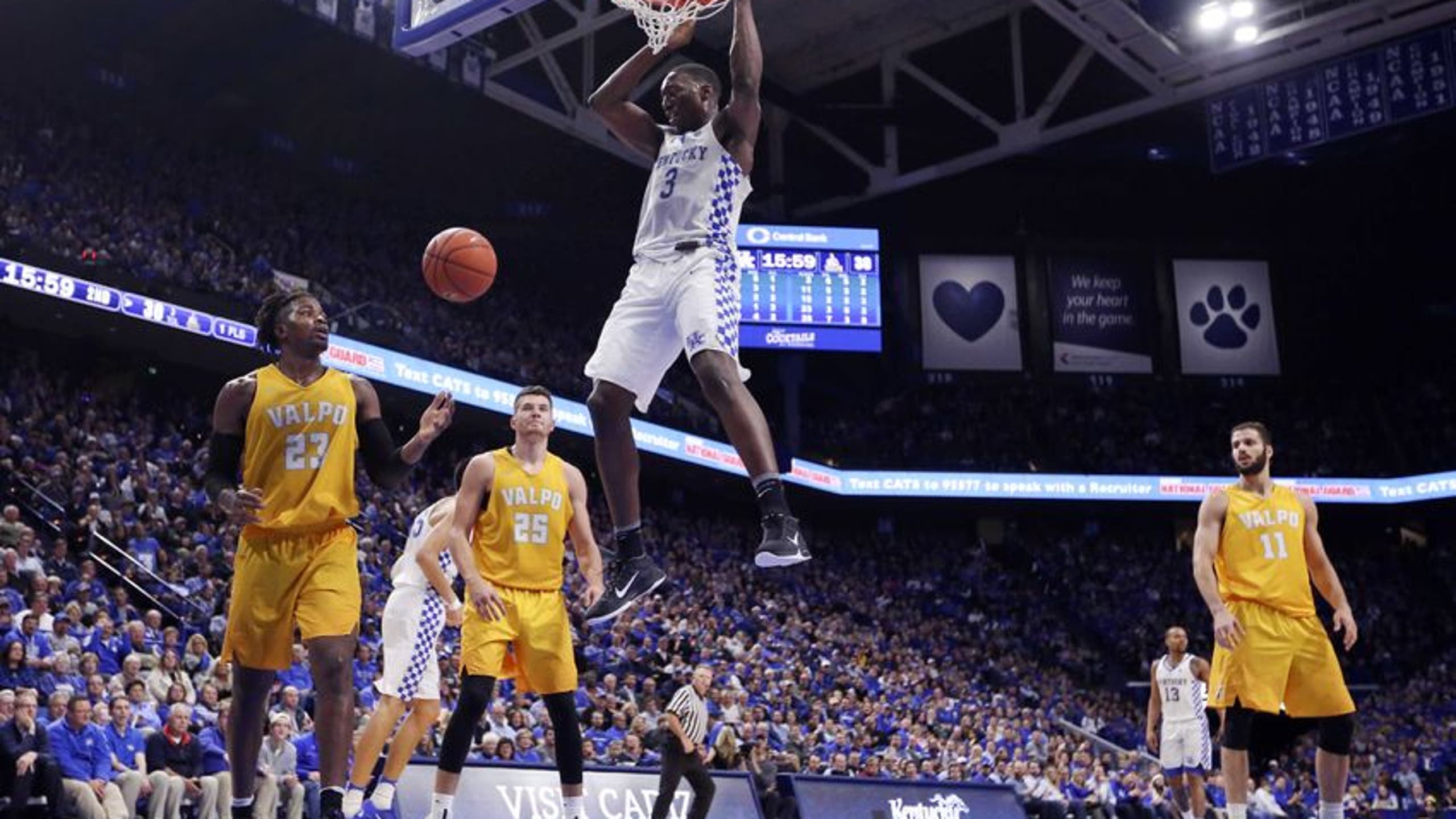 Kentucky Basketball: Cats Preview Vs Ole Miss
BY Fansided and Chad Adams/FanSided via Wildcat Blue Nation • December 28, 2016
Kentucky Basketball: Cats head to Oxford, MS to open SEC league play against Ole Miss, where half court offense, and a heavy dose of Bam Adebayo, are key
Dec 7, 2016; Lexington, KY, USA; Kentucky Wildcats forward Edrice Bam Adebayo (3) dunks the ball against Valparaiso Crusaders guard Nick Davidson (22) and forward Alec Peters (25) in the second half at Rupp Arena. Kentucky defeated Valparaiso 87-63. Mandatory Credit: Mark Zerof-USA TODAY Sports
Kentucky Basketball opens SEC play when the Cats travel to Oxford, MS to take on Ole Miss, a solid rebounding team that should provide a solid challenge in only UK's second true road game. Ole Miss, who employs various defensive schemes, including a 1-3-1 zone, is expected to attempt to take the air out of the game, slowing Kentucky down into a methodical, half court offense.
The remedy, a heavy dose of Bam Adebayo.
"Well, they know it," said head coach John Calipari. "We've made it clear that when he gets it, it puts pressure on the defense and helps us all. The biggest thing (for) these guys is with 25 seconds on the shot clock, a good shot is different from when there are seven seconds on the shot clock. Three minutes left in a close game, what a good shot is is a little different than 15 minutes in the flow of the game. That's what they don't understand yet. That's what we're trying to do when we're scrimmaging, but I come back and say this: We're playing on the road at Mississippi. Hard game. Ole Miss is a good team. Where are we on the 29th of December on the road within our league, we'll find out. Not only find out, then it's where do we have to go? Where do we have to take this? I think it was more discipline. I've been a little bit tougher in practice as far as holding them accountable. Making it clearer what we're looking for and then holding them accountable. So that's what we've been doing."
Feeding Bam of course puts pressure on defenses in many ways. If you don't collapse on the big man, he's proven capable in the post, recently going five of six from the field against the Cardinals. But if you do choose to double, then the inside-out game opens up space for Kentucky's talented guards.
Another point of emphasis for the Cats against Ole Miss, one where Kentucky has struggled at times, will be rebounding.
"I feel like rebounding wins games," said Mychal Mulder. "If you get beat in the rebounding battle it's really hard to stay in a game like that, especially against a good team. That's something we've been focusing on. We always want to try to outrebound our opponent and crash the boards as hard as we can. That's something we'll continue to do."
Coming off a heartbreaking loss in a thrilling game against archival Louisville, the young Cats were able to take many lessons to build upon, from the relentless intensity to the atmosphere sure to follow Kentucky into every SEC arena.
"Just the intensity of these games," Mulder explained. "The gym is packed. The fans are going crazy. They all want to beat you so bad. You're at Kentucky, it's their big game. That kind of stands out to me the most when I think about SEC play.
"We're excited about that," Mulder continued. "You know their fans will be packed in that gym. It'll be a great opportunity for us to see our first real road test in SEC play. We're all really excited about that. We've been working hard and focusing, really locking in. We'll see how that goes."
More from Wildcat Blue Nation
Tip-off is scheduled for 8 PM EST; ESPN2 will broadcast the game.
---
---