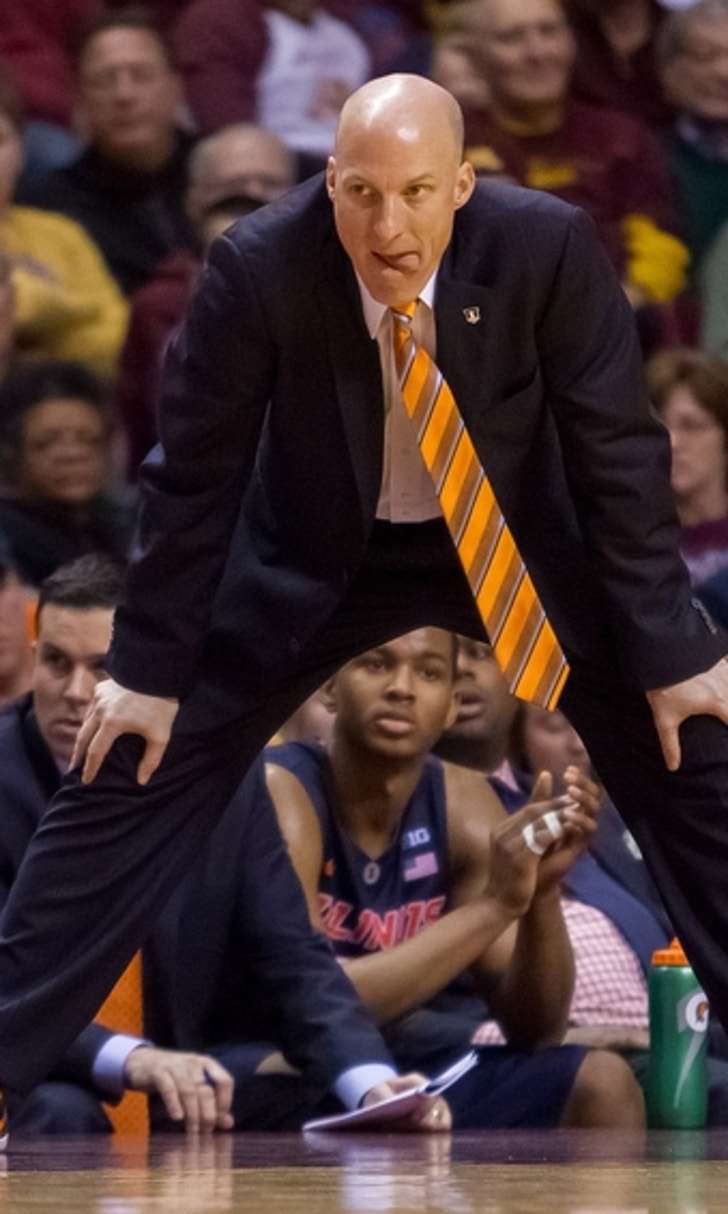 Illinois Basketball: Illini Recruits Dominating Prairie Farms Classic
BY Fansided and Rees Woodcock/FanSided via Writing Illini • December 30, 2016
This time of year should be exciting for Illinois basketball fans because the team should be doing well.
But, after the first game of the Big Ten slate, the Illini fan base is nervous about how the rest of the season will go.
One thing that has helped take the edge off the recent shellacking that Maryland put on the Illini is high school holiday tournaments.
The one particular tournament that I have been watching is the Collinsville 33rd Annual Prairie Farms Holiday Classic.
This tournament features some great schools with top talent.  Illinois actually has a few players who have committed to the program playing in it and another who they are tracking as well.
Let me first start by saying I am impressed with the people running the tournament.  They have two cameras set up, one on each side of the court.
illinois fighting illini
Writing Illini 3dIllinois Basketball: Illini Could Use Transfer Isaac Copeland
More headlines around FanSided:
4d - Illinois Football: Owen Carney Will Replace Missing Defensive Ends6d - Illinois Football: Lovie Continues to Build Defense with Nathan Hobbs1 w - Illinois Football: Kendrick Green Helps Solidify Defensive Line1 w - Illinois Football: Louis Dorsey Would Be Big for the Illini1 w - Illinois Football: Howard Watkins Picks Lovie Smith and the IlliniMore News at Writing Illini

When the ball goes to one side of the court they switch to one camera and when it goes to the other side then they switch to the other camera.
This feels pretty sophisticated for a high school tournament and it makes a great experience for people who can't go to these tournaments to be able to watch from home.
Now I want to get to the players on the court.
The Illini had both Jeremiah Tilmon and Javon Pickett in action.  These two players will be important for the Illini in the near future.
Tilmon has impressed me throughout the tournament.  They all still have one game to play, but watching Tilmon has been fun.
So far through three games, Tilmon has averaged 21 points and 10.6 rebounds per game while only having 2.6 fouls per game as well.
These are some great stats that Tilmon is putting up.  I think his game is going to translate into college fairly easy.
All Illinois fans knew that Tilmon was great, though.  There are some who aren't sure what we are getting with Javon Pickett.
Let me just tell you, this kid is listed at 6-foot-4, 175-pounds, but I think he plays about 6-foot-7.
Pickett can do everything on the floor and more.  He has impressed me so much so far in this tournament and I think he can be a nice piece for John Groce in 2017.
In the three games that Pickett has played so far, he has averaged 19.6 points, 7 rebounds, and 3.6 assists per game.
Malcolm Hill is leaving the Illini after this season and if you are looking for a replacement then look no further than Pickett.  He will be really good at the college level.
The final player I want to point out is Mark Smith.  He is a recruit that Illinois is targeting and assistant coach Paris Parham was watching last night.
Through the three games that Smith has played, he has averaged 18.6 points, 7 rebounds, and 4.6 assists per game.
Watching Smith play has been a joy because he reminds me a lot of a former player for the Illini.  He is powerful, has good handles, a good ball distributor, and has great confidence shooting the ball.
If Illinois fans want a taller version of Deron Williams, I think we have something similar in Smith.
I know that is a big stretch comparing Smith to Williams when Smith hasn't even seen the college floor, but the game is there and I want him on the Illini.
These three recruits have really impressed me in this tournament.  The final games are today and hopefully we get to continue seeing the great production.
More from Writing Illini
This article originally appeared on
---
---