Wambach and Rapinoe brighten the spotlight on concussions in soccer with brain donation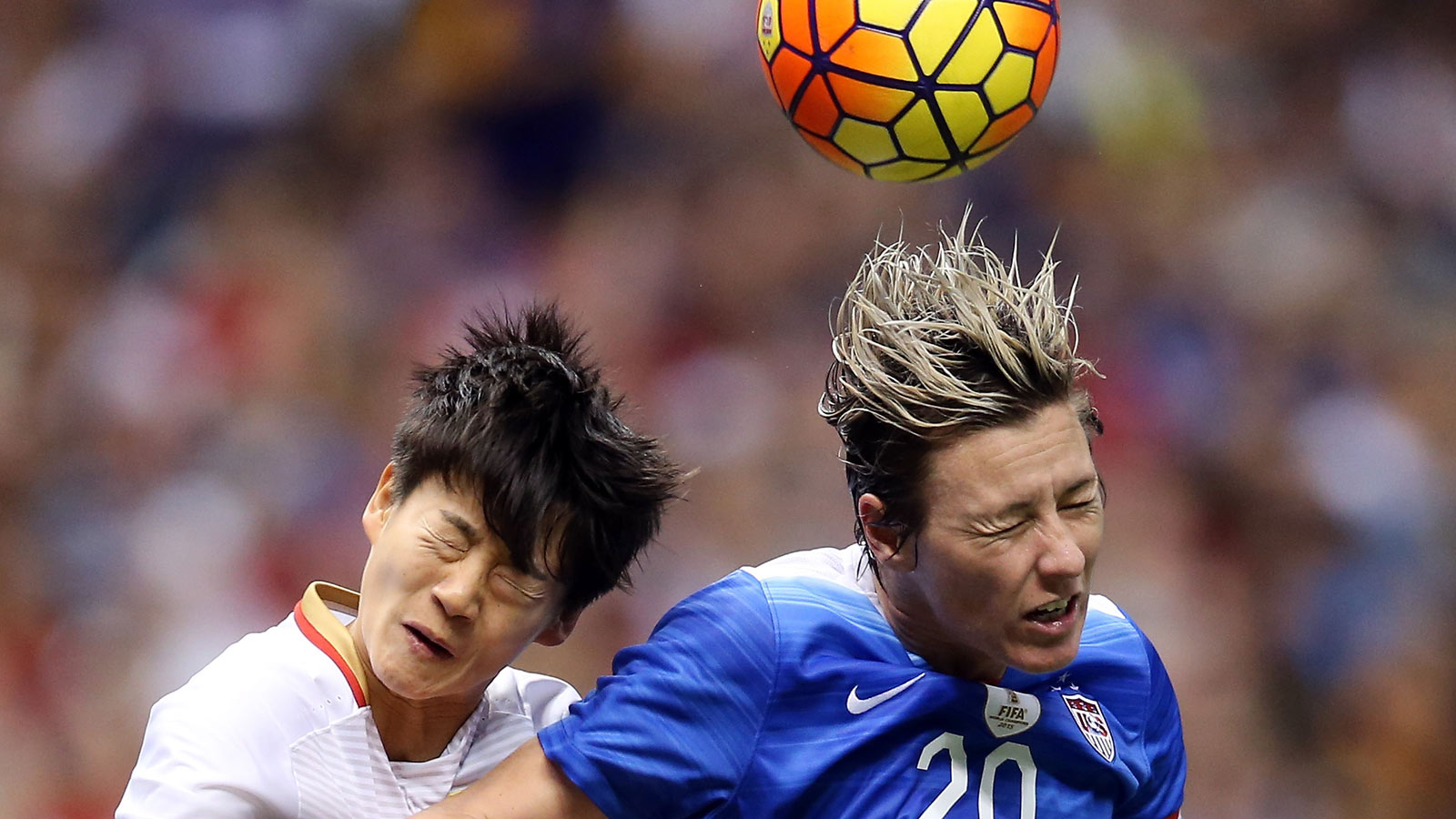 Abby Wambach and Megan Rapinoe have joined the growing ranks of professional athletes who are promising to donate their brains to science after their death.
The announcement comes at time of heated debate over the role of sports in brain disease. Most of the discussion surrounds football, specifically the NFL, but these statements from some of the biggest stars in women's soccer will reframe the debate and bring some much-need attention to the implications of concussions on soccer and women's sports.
Rapinoe and Wambach's comments came as the USWNT duo participated in a panel discussion at The Ohio State University. They discussed a range of topics including the World Cup victory, sexuality, Wambach's retirement and most notably, the decision to help further concussion research, according to The Lantern.
Wambach is the most prolific international goalscorer in soccer for both men and women. She netted 184 goals in her 15-year career before hanging up her cleats at the end of 2015. 67 of those goals were with her head. That doesn't even factor in the hundreds or thousands of headed balls that she must have hit in the course of scoring those goals.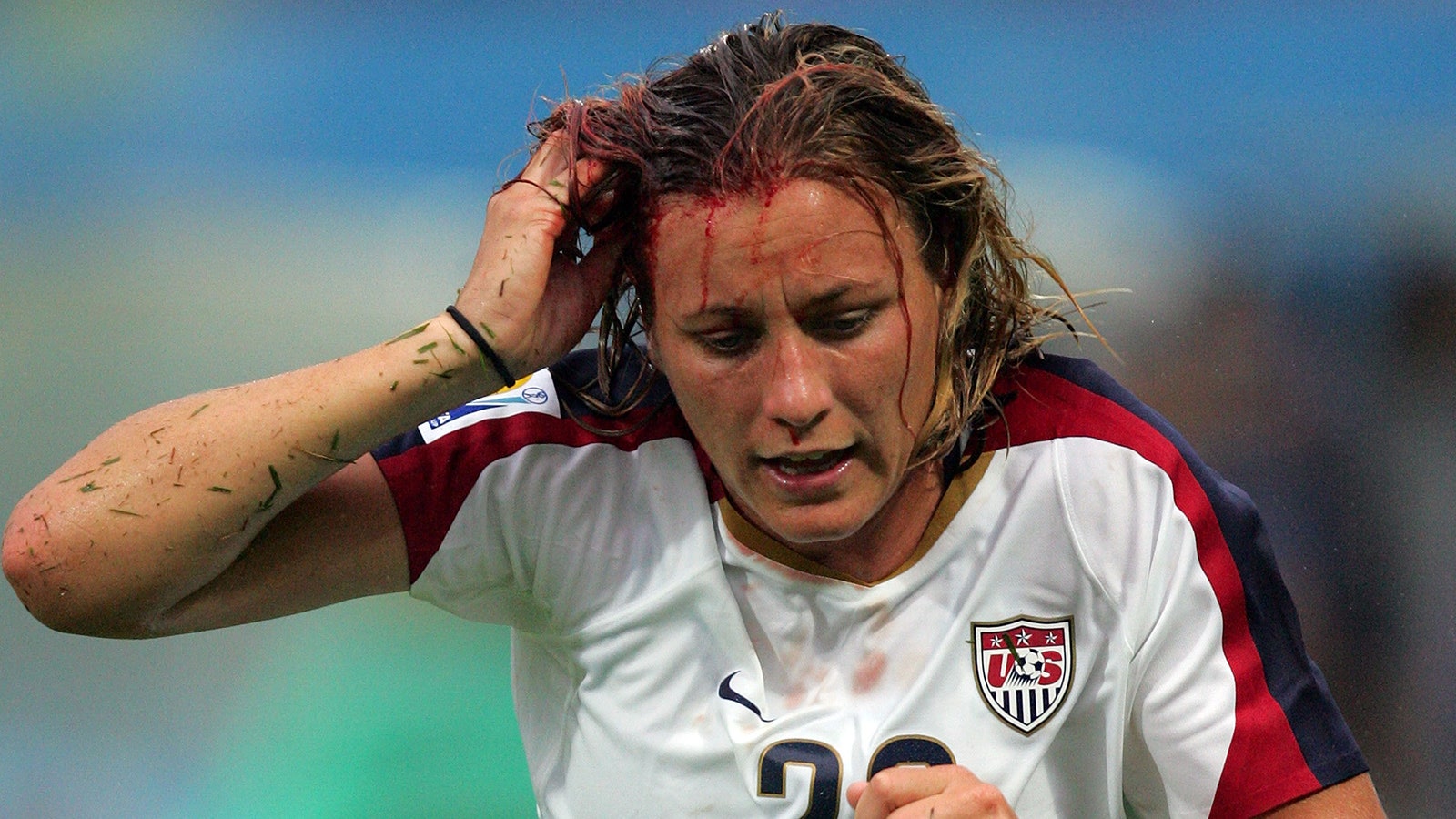 Wambach's long and prolific career was defined by her prowess with her head. But even her more iconic moments highlighted the danger she subjected her head to, like the time she got staples to stop the bleeding from a head collision.
Her announcement at the Ohio State forum is like asking the person with the best vision in the world, who also made a put extreme stress on their eyes, to donate those eyes for science. Even Rapinoe hinted that out of the two of their donated brains, Wambach's would likely be more interesting.
Wambach's public commitment is a coup for concussion research, and she and Rapinoe are just the latest in a growing list of athletes making the promise. Former teammate and USWNT star Brandi Chasten announced she would also donate her brain for research. NASCAR legend Dale Earnhardt, Jr. just made a similar commitment along with a growing list of NFL players. Of course, a brain donation doesn't help scientific research until the donor has passed away, hopefully years from now for both Wambach and Rapinoe, but what the announcement can do is draw much needed media and research attention to the underlying issues.
In recent years, medical studies have started to tie brain trauma, like concussions or frequent stresses on the skull (football tackles, soccer heading), to the degenerative brain disease chronic traumatic encephalopathy (CTE). The brain degeneration, which can occur months and years after the initial trauma, is associated with memory loss, confusion, impaired judgment, impulse control problems, aggression, depression, and, eventually, progressive dementia.
The headlines have focused more on the fight between reports and the NFL over the connection between the full contact sport and risks of brain injury. It was only earlier this month the NFL publicly acknowledged the connections between CTE and football. Just last week, former Detroit Lions defensive end Tracy Scroggins filed suit against the NFL after getting a preliminary diagnosis of CTE claiming that the players were coached to use their helmets as weapons despite the league being aware of the seriousness of repeated head trauma. But it's a debate that's gaining traction and could easily change the rules and expectations of all athletes in all age and skill levels.
With the heal-dragging of the NFL and college organizations like NCAA, the soccer community seems to be slightly more proactive about addressing head injuries. But there is still a long way to go, especially outside of the United States. In November, U.S. Soccer recommended new guidelines that prohibit players under there age of 10 from heading the ball and limit the use of heading for 11-13 year olds. Another change modifies the substitution rules to better serve players who may have suffered a concussion during a game.
In the game as a whole, FIFA attempted to address the issue of head injuries but the new policies are arguably not strong enough. During the 2014 World Cup in Brazil there were several high profile head injuries like an incident with Germany's Christoph Kramer during the final and Uruguay's Álvaro Pereira, who appeared to be knocked unconscious and then continued to play the match.
The new measures include a three-minute window in which a player can be evaluated by a team doctor who can then make the final decision whether the player is fit to continue. It is a decent plan that, in theory would help protect players, but in reality it falls far short. Players and doctors often hold the needs of the team above the individual, and worry more about end results and less about immediate impact on the player. Also, medical experts also say that an effective concussion test takes closer to 10 minutes and requires a less distracting environment than a busy sideline.
On top of the concussion risks with soccer players come the relatively unstudied disparities between men and women. Recent studies seem to show that women athletes tend to suffer concussions at higher rates and with more severe or longer lasting symptoms.
With Title IX in college athletics and the growth in women's professional leagues, there are more women spending more of their lives playing in competitive environments, leaving them more exposed to possible injury. A recent study of female NCAA athletes determined that the highest rate of concussions in all college athletes was with female ice hockey players, at a rate nearly three times that of male football players. Another study analyzed concussion rates for youth sports and found that girls' soccer had the most concussions among girls sports and the second-highest incidence rate of all 12 sports reviewed, after boys football.
In recent years there has been some increased attention on players and their histories of head injuries. Former USMNT forward and commentator Taylor Twellman has been outspoken about the need for change in the game. Twellman retired in 2010, two years after suffering from a severe concussion, saying that the side effects of the head injury gave him no option but to step away from the sport. Former USWNT player Cindy Parlow Cone suffered several concussions in her career, which finally ended after collapsing on a field in 2004.
In women's ice hockey, which is gaining a reputation of being the most dangerous of sports for head injuries, Amanda Kessel has been fighting her own battle. Kessel, who is one of the best American ice hockey players, has only recently returned to the ice after being sidelined post-concussion symptoms since the 2014 Sochi Winter Olympics
Much of what is known about post-concussions symptoms and their connection to CTE is based on anecdotal evidence and a small number of studies. It maybe be years, or even decades, before data from brains like Wambach's can be studied – €"a CTE diagnosis can only be confirmed after death, after all -€" but promoting the conversation can only improve things.
Brain donations, like those promised by Wambach and Rapinoe, shine a some much needed light on the fledgling field of concussion research, especially in relation to soccer and women's sports.