UNC Basketball: Nate Britt season preview 2016-17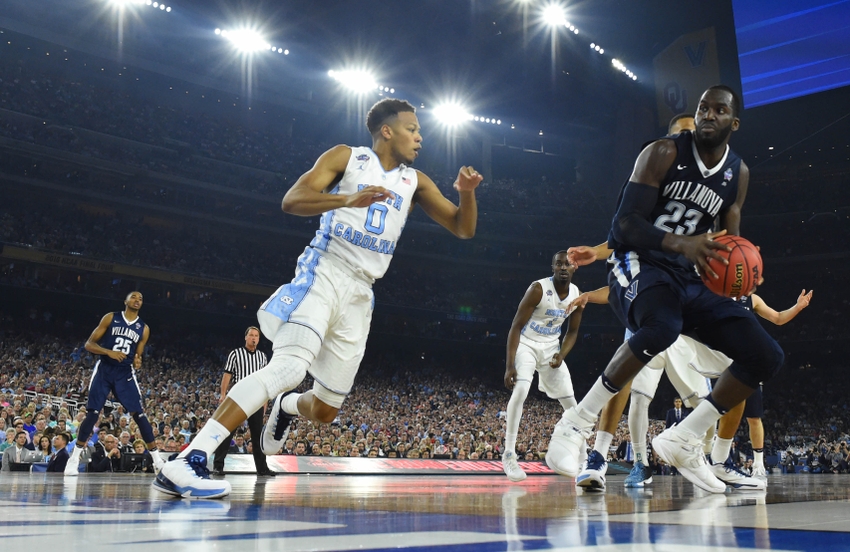 We continue our player preview series as we take a look at senior guard Nate Britt
Shea Rush | Brandon Robinson | Seventh Woods | Tony Bradley Jr. | Kenny Williams |Justin Jackson | Joel Berry | Stilman White | Kanler Coker
Entering his fourth year at North Carolina, Nate Britt looks to step up for a talented Tar Heels squad and perhaps lead this team to another deep tournament run.
Following Theo Pinson's fifth metatarsal injury, there was a lot of speculation regarding who would take the starting shooting guard spot this upcoming season, and all the chatter seems to be leaning toward Britt.
Here's what head coach Roy Williams has to say on Britt:
"Nate played the two-spot before – when he's played with Marcus he was the two-man a lot, his sophomore year more so than last year. … I do have more confidence in Nate because I've already seen what he can do. And Nate's worked really hard in the offseason, also."
Britt also got the starting spot against UNC-Pembroke in the exhibition match on Friday, November 5th.
Although it is very plausible that Britt will start until Pinson returns, it wouldn't be surprising to see Kenny Williams or Seventh Woods rotate into the starting five every so often.
 Looking back at 2015-2016
Last year Britt averaged 5.4 points and 1.7 assists while seeing the floor only 15.4 minutes per game. The 6-foot-1 guard from Upper Marlboro, Maryland also shot 80% from the free-throw line.
Despite his limited playing time, Britt was a key contributor in many games last season, providing a spark from behind the arc or when slashing through the paint. As the first point guard off the bench, Britt was essential last season in providing depth and being a counterpart for Joel Berry II, the starting point guard for the Heels.
Britt went into last season with a lot of experience, having been on two tournament teams, one of which made a run to the Sweet 16.
Britt's experience boded well for the Tar Heels throughout last season, as he had the instinct and stamina to help get the Tar Heels all the way to the tournament's final night.
This season, Britt should continue to improve his all-around game, and in a big way.
Strengths
Perhaps the most solid aspects of Britt's game are his size and quickness. Britt utilizes his small stature to weave in and out of defenders, finding the choice path to the basket. He also uses his blinding speed to drive to the hoop from any angle, finishing it off with a kiss off the glass.
Britt was also a threat behind the arc, having the third-highest three-point percentage on the team at 32%. The only two players who shot a higher percentage were starting guards Joel Berry II and Marcus Paige.
Not only is he a quality offensive threat, but he is a ruthless on-ball defender. Britt is arguably the best on-ball defender on the team now that Pinson is injured.
And although he's not as effective as Berry, Britt has decent ball-handling skills, providing the Heels with some serious potency in the back court.
Weaknesses
Although Britt has been a good all-around player for the Heels the past three years, Britt does have a few flaws.
For instance, Britt shot 38% last season, the third-lowest percentage among scholarship athletes. The two players who shot lower were the freshmen Kenny Williams and Luke Maye.
Another thing that he lacks is explosiveness. When you're down and you need a boost off the bench, Britt is not the first name that pops into mind. Britt is not the type of player to make game-changing plays or spark a huge momentum shift in a close match.
But this season, with Pinson injured for a good chunk of the schedule, Britt needs to be ready to provide whatever the team needs from him.
What to expect from Britt in 2016-2017
Britt will likely be the starter for the first half of the season, so look for his numbers to make a huge jump from his junior campaign.
Britt has been playing behind talented guards like Paige and Berry for his whole college career and now, with experience, he should finally be able to show his full skill set. Plan on Britt's playing time to double as he will probably be playing the majority of the game.
As Williams said, Britt has worked really hard in the offseason, so we should expect to see improvement in his game, particularly his three-point shooting.
In the past, Britt has been considered and used more as a point guard. Now Britt has to make a transition to shooting guard, which shouldn't be too difficult since he already shot a fair percentage from behind the arc.
In his senior season, Britt is poised to become a threat offensively and defensively, making other teams regret overlooking him.
More from Keeping It Heel
This article originally appeared on