Miami Freshman Dewan Huell Arrested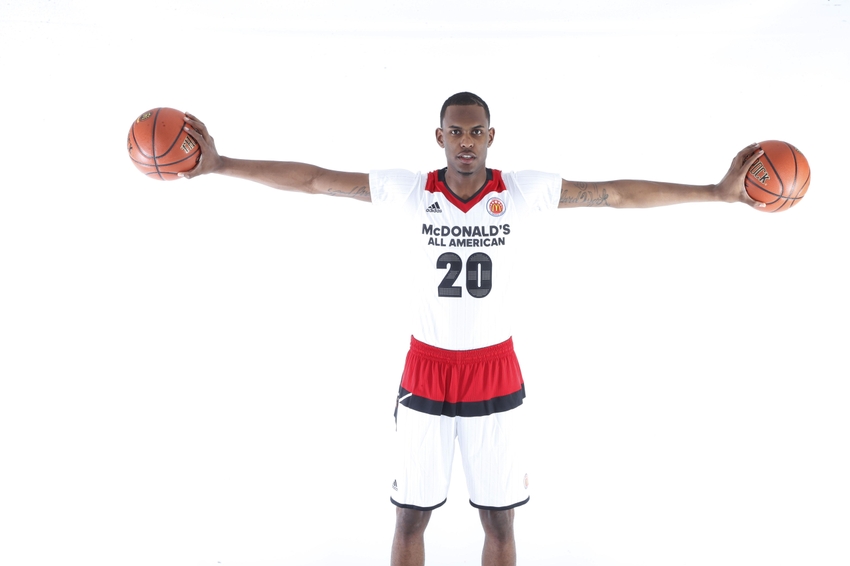 Miami Hurricanes' freshman basketball player Dewan Huell has been arrested for battery in a domestic case. Miami's flagship station WQAM  and the Big O Show reported that Huell found his girlfriend hiding in the closet with another man. He reportedly dragged the man out of the closet. It is being reported that the victim only suffered scratches.
WINZ Miami's the Slater Show obtained a copy of the police report that said "Huell walked into his ex-girlfriend's dorm room at FIU uninvited. He found her hiding in the closet with another man. Police say Huell grabbed the man by his shirt and dragged him out of the room, which left the man with scratches on his chest and neck."
Huell is/was likely to get a lot of playing time this season and likely challenge to be a starter. Huell is a 6'10 205 pound five-star power forward. He is the 247 Sports' 29th ranked player in his class, the ninth-ranked power forward and the third-ranked player in Florida
The University is in the process of gathering information regarding the incident. Athletic Director Blake James issued a short statement. ""I am aware of the reported incident involving Dewan Huell last night, and we are still gathering information,"
He has made a good impression on Miami Head Coach Jim Larranaga thus far. Larranaga told the Palm Beach Post 
"Very, very pleased" with Huell's progress…He's been terrific to work with, to be around. I've been working with him individually and he's been doing a terrific job. At some point today I expect that he and I will sit down and he'll share with me what happened and we will react appropriately."
Huell is a candidate to enter the 2017 NBA draft. He told Inside the U in July about his future and when he would enter the NBA Draft "I'm not going to rush it, but I'm trying to get out of here as soon as possible," Huell said. He is not currently listed among the projected picks by NBADraft.Net.
Huell attended Miami's Norland High. He is one of Miami's highest rated recruits ever and part of one of its top-ranked classes ever with guard Bruce Brown and four-star center Rodney Miller. Miami's class is 15th nationally according to 247Sports.
Huell is a key recruit, as he is the rare nationally ranked player from South Florida. He is only the fourth Mcdonald's All-American to attend Miami. Tito Horford (1985) Steven Edwards (1992) and Darius Rice (2000) were the first three.
More from Canes Warning
This article originally appeared on