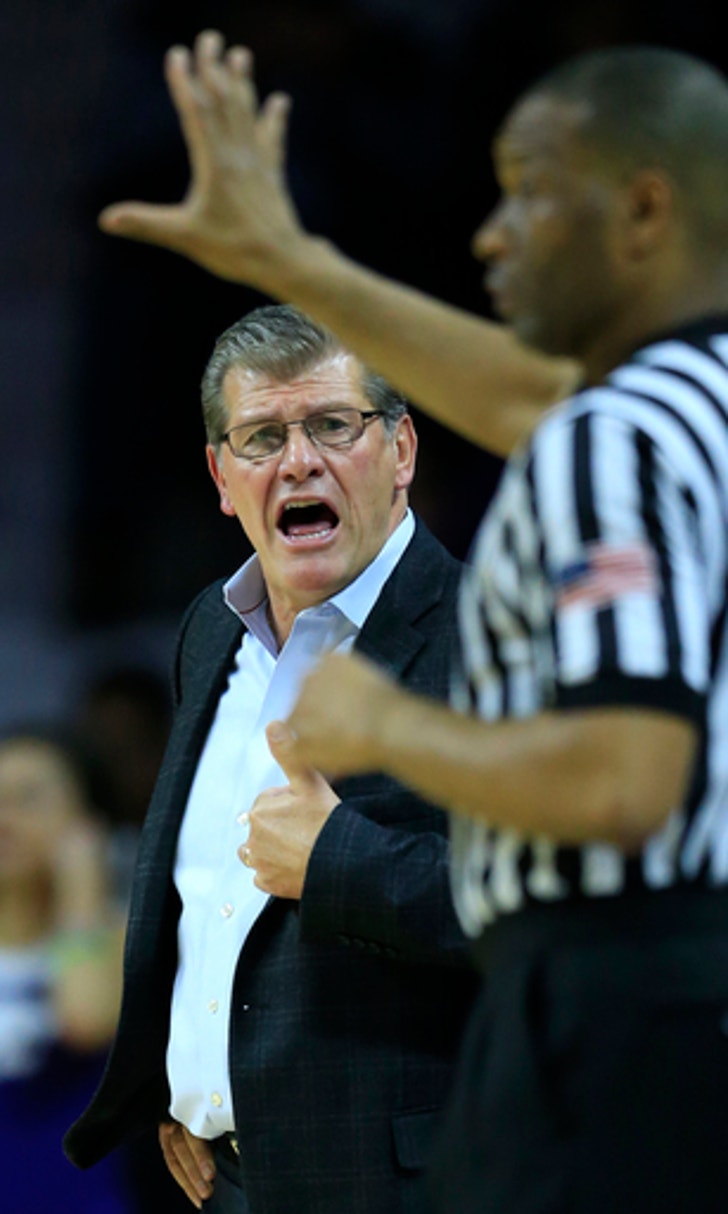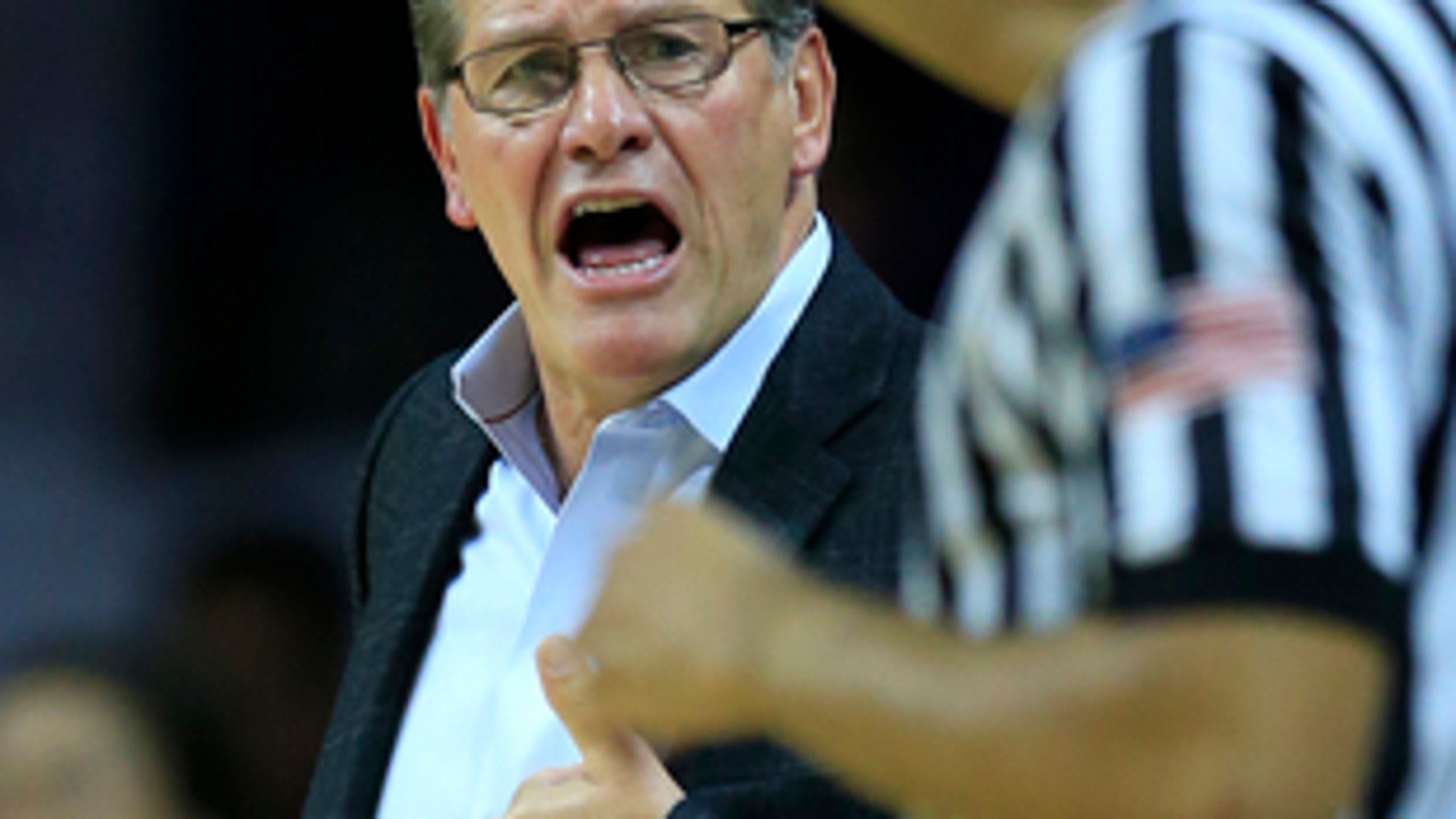 ICYMI: UConn continues to roll through its schedule
BY AP • December 12, 2016
NEW YORK (AP) Geno Auriemma challenged his young team with a supposedly difficult early schedule.
Even he has been a little astonished with the success top-ranked UConn has had so far, going undefeated.
''This is December 7, and I know there's a long way to go between now and the end of the season,'' Auriemma said after his team beat No. 2 Notre Dame on the road Wednesday. ''We purposely tried to put together a schedule this year that, going into March, there would be no doubt as to what we can and cannot do. I think up to this point, we've passed every test. I don't know that we've gotten a 100 on every test, but we've passed. And the tests are going to keep coming. But the fact that we are where we are, I'm kind of surprised.''
The Huskies have played five Top 25 teams in the first month of the season. The team still has games left against No. 12 Ohio State and at No. 6 Maryland, but passing their own record 90-game winning streak is now in sight.
''I would think if this was the first time our program had ever been here, we'd be acting a little bit different. You don't want to sound like you don't appreciate it, but we did win 90 in a row,'' Auriemma said.
In other things that happened this week:
PAC-12 SUPREMCY: Kelsey Plum took down the Pac-12 career scoring record in stellar fashion, scoring 44 points on Sunday to help No. 11 Washington beat Boise State. Plum entered the day needing 23 points to surpass the mark of Stanford's Chiney Ogwumike , who finished her career in 2014 with 2,737 points. Plum nearly reached the record in the first half, scoring 22 points before the break. Plum hit back-to-back 3-pointers to push the Huskies lead to 19 and then made two free throws with 34 seconds left to tie the mark. After missing her first two shots of the second half, Plum made a pair of free throws with 8:38 left in the third quarter to set the new mark.
SWAT: Baylor freshman Lauren Cox has been coming into her own lately, getting more comfortable on the court. On Tuesday, she matched her career high with three blocks, including one massive swat that had the Lady Bears bench hyped up.
A FAMILY AFFAIR: Duke coach Joanne P. McCallie coached against her daughter Maddie when the Blue Devils beat Elon 68-61 on Thursday night. While the coach was all business through the game, not even cracking a smile when Maddie hit a 3-pointer late - her only basket - once the postgame press conference was over she was finally able to enjoy the special moment. The family took photos on the court postgame.
''I am really proud of Maddie, and I had no problem preparing for this game, no problem getting ready for this game,'' the Duke coach said. ''I am very impressed with this team, they presented problems to us, and I think that it is a wonderful story for women's basketball just to see different things happen in families. ... I think it's an awesome thing for women's basketball to have stories like this. So again it's wonderful, but I was quite comfortable with it and very proud of her.''
McCallie's husband John, her sister and son all sat behind the Elon bench supporting Maddie. They did wear shirts with both Duke and Elon on them.
RECORD NIGHT: Cal sophomore Kristin Anigwe scored 50 points in just 24 minutes in the Golden Bears victory over Sacramento State on Thursday night. Cal (9-0) is off to the best start in school history and Anigwe matched the Pac-12 record for points in a game set by USC's Cherie Nelson in 1989. Of the 52 teams that played on Thursday night, Anigwe outscored nine of them all by herself.
PUTTING UP POINTS: Ohio State's Kelsey Mitchell became the fastest player in NCAA women's basketball history to reach 2,000 points, doing it on Wednesday in her 79th career game. She reached the milestone with a pair of free throws with 3:54 to play , passing Missouri State's Jackie Stiles who did it in 82 games.
---
Follow Doug on Twitter at http://www.twitter.com/dougfeinberg
---
---