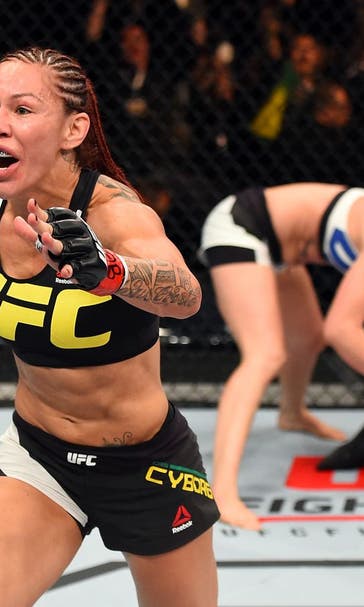 Yves Edwards says the UFC should build a division around Cris Cyborg
November 15, 2016

"Cyborg" is arguably the No. 1 pound-for-pound women's fighter in the sport, but she's also one of the biggest as she typically walks around at around 170 pounds when she's just training for an upcoming fight.
The Brazilian born knockout artist typically fights at 145-pounds where she's the reigning Invicta FC featherweight champion, but to fight in the UFC she's now made the perilous weight cut down to 140 pounds once previously and she'll do the same on Friday.
Yves Edwards, who is a veteran with more than 60 professional fights and who will be helping to analyze the fights this weekend for FOX, says that making "Cyborg" cut down the extra five pounds for a catch weight bout like she has against Lina Lansberg on Saturday is just unnecessary.
"Cyborg" has talked about the arduous journey to get down to that weight and Edwards knows she's putting a lot of damage on her body just to get to 140 pounds.
"To make 140 pounds she's running six miles everyday. That's a lot of mileage to put on your knees and your ankles," Edwards told the Fight Society podcast. "I'm more sympathetic to her trying to make 140 or trying to make 135."
In Edwards' mind, "Cyborg" is such a draw and a star in the featherweight division that the UFC should just create a new weight class with her in mind.
"Cyborg" hasn't been defeated since her professional debut and she's run through every fighter who has stepped in her destructive path over the past decade.
The attention that "Cyborg" would receive while fighting at a much healthier weight would be enough in Edwards' opinion for the UFC to justify creating an entirely new division just to showcase her fights.
"If she can't make 135 pounds, we want to see the best Cris Cyborg that we can. I think we should try to implement a weight class for her," Edwards said.
On the latest podcast, Edwards will also break down her fight with Lansberg and whether or not the 13-to-1 underdog has a shot to take out "Cyborg" on Saturday night as well as looking at the rest of the fight card from Brasilia, Brazil.
UFC Fight Night: Cyborg vs. Lansberg kicks off with the main card on FS1 this Saturday night at 10 p.m. ET with the prelims airing live at 8 p.m. ET. 
Subscribe to the Fight Society podcast via iTunes or Soundcloud.
[pullquote align="center" attribution="— Yves Edwards"]There's been divisions built around people and I think Cris Cyborg has the talent and she has the name recognition to build a division around her.[/pullquote]
---
---