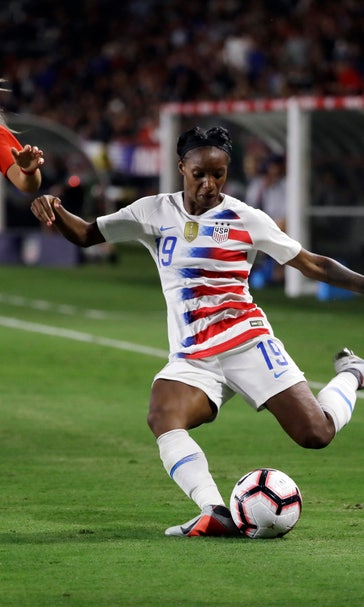 US, Canada embark on World Cup qualifying
October 3, 2018
Crystal Dunn is pragmatic about her shifting roles: Whatever helps get the U.S. women's national team to next year's World Cup in France is fine with her.
Dunn plays midfielder for the North Carolina Courage, which just won the National Women's Soccer League championship after a record-breaking season. On Thursday, she moves to defense when the national team opens the CONCACAF World Cup qualifying tournament with a match against Mexico in Cary, North Carolina.
"I'm playing the outside back role now on the national team, and it's not an easy position. It's not like I get a ton of practice there, as well, during the season," she said. "So first day of camps are always interesting because I'm always like, 'Let me get my footing right, where should I be? Talk to me.' But it's like riding a bike, you don't really forget how to play."
The United States is the defending World Cup champion, having won the title in 2015 with a dramatic 5-2 victory over Japan. The team is in Group A for the CONCACAF Women's Championship, which decides the region's three spots in the World Cup next year in France. A fourth team will earn the right to a playoff against Argentina for a spot.
Trinidad and Tobago and Panama round out Group A in Cary. Canada, Costa Rica, Cuba and Jamaica are in Group B, which plays its matches in Edinburg in the southern tip of Texas.
The semifinals and finals will be played in Frisco, Texas, outside of Dallas, at Toyota Stadium.
The United States, ranked No. 1 in the word, heads into the tournament on a roll, undefeated in its last 21 matches dating back to a 1-0 loss to Australia in the 2017 Tournament of Nations. So far this year, the team is 11-0-2.
"We've been coming in form and definitely the chemistry has been a lot better the last couple of months," Dunn said. "I just think we're going to build on that and every game we're getting better and I just feel the environment changing."
Dunn, 26, has motivation going into qualifying. Heading into the World Cup in Canada, she was one of the last players cut.
Since then she's become a national team vet and she now has 69 caps with 23 goals. Her versatility is valued by coach Jill Ellis, who has at times moved her up to a more attacking role late in games when subs are made. The backline for the U.S. team during qualifying will likely include Dunn, Becky Sauerbrunn, Abby Dahlkemper and Kelley O'Hara.
Mexico, ranked No. 24 in the world, has qualified for the past two World Cups. The United States defeated Mexico twice in a pair of exhibition matches in April. Trinidad and Tobago and Panama have never reached a World Cup.
Canada, ranked fifth in the world in the latest FIFA rankings, is seeking to qualify for its seventh straight World Cup. In 2015, the team reached the quarterfinals of the sport's premier tournament on home soil.
The team is playing under new head coach Kenneth Heiner-Moller, who took over in January after longtime coach John Herdman moved over to coach the Canadian men's team.
Canada captain Christine Sinclair has 173 goals, second only to Abby Wambach (184) for the international career record among men and women.
Canada opens Friday against Jamaica. The Reggae Girlz, as they are known, have never qualified for a World Cup.
It is the first time that Cuba has qualified for a CONCACAF Women's championship. The other team in the group, Costa Rica, played in Canada in 2015.
---
---