Cristiano Ronaldo
Cristiano Ronaldo
FIFA says information gained 'illegally' in cyberattack
Published
Oct. 30, 2018 8:37 p.m. ET
LONDON (AP) — FIFA President Gianni Infantino is braced for a release of private information gained by hackers after world soccer's governing body said its computer network was subject to another cyberattack.
The disclosure comes in the same month the U.S. Department of Justice and the FBI said Russia's military intelligence body was responsible for a hack on FIFA in 2016, which led to evidence from anti-doping investigations and lab results being published.
FIFA did not provide details about the data gained in the latest attack this year on e-mail systems, but it has been contacted by media outlets about internal information contained in private exchanges.
"The questions we received, we answered," FIFA President Gianni Infantino said when asked about what could be released. "My job entails having discussions, having conversations, exchanging documents, drafts, ideas, whatever, on many, many, many, many, topics. Otherwise you don't go anywhere.
"I mean, if I just have to stay in my room and not speak to anyone and cannot do anything, how can I do my job properly? So if then this is being portrayed as something bad, I think there's not much I can do more than my job in an honest way, in a professional way and trying to defend the interests of football."
Before being elected FIFA president in 2016, Infantino was general secretary at UEFA, overseeing the administration of European soccer at a time when new Financial Fair Play rules were being enforced on European clubs.
UEFA has also been subject to phishing attempts to gain access to its email accounts, but said it could find no evidence of a hack. Still, UEFA has received dozens of questions about cases going back several years and the contents of private exchanges.
"We are not stealing," Infantino said, discussing the contents of any leaks. "What counts is do things in an appropriate way."
In a separate statement, FIFA said it "condemns any attempts to compromise the confidentiality, integrity and availability of data in any organization using unlawful practices."
"Of course, we are concerned by the fact that some information has been obtained illegally," it said.
Soccer has been hit by the release of confidential information in recent years, including a group called "Football Leaks." Through the European Investigative Collaborations, it has released details on the financial arrangements of top footballers, which have led to tax evasion convictions. The leaks group also obtained a 2010 non-disclosure agreement that saw five-time world player of the year Cristiano Ronaldo accused of a rape allegation he denies. The EIC did not respond to emails in the last week about the potential release of information from FIFA and UEFA.
Cybersecurity is under constant review at FIFA, which organizes the World Cup.
"FIFA takes all necessary measures to adequately respond to security incidents as well as to continuously improve the security of its IT environment," the Zurich-based organization said.
---
---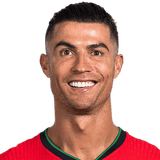 Get more from Cristiano Ronaldo
Follow your favorites to get information about games, news and more
---