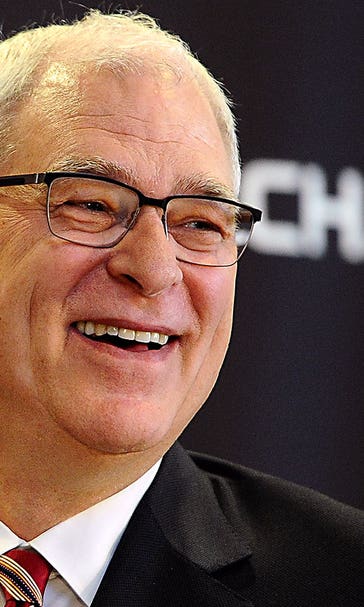 Zen and now: How Phil Jackson can help the Knicks right away
March 18, 2014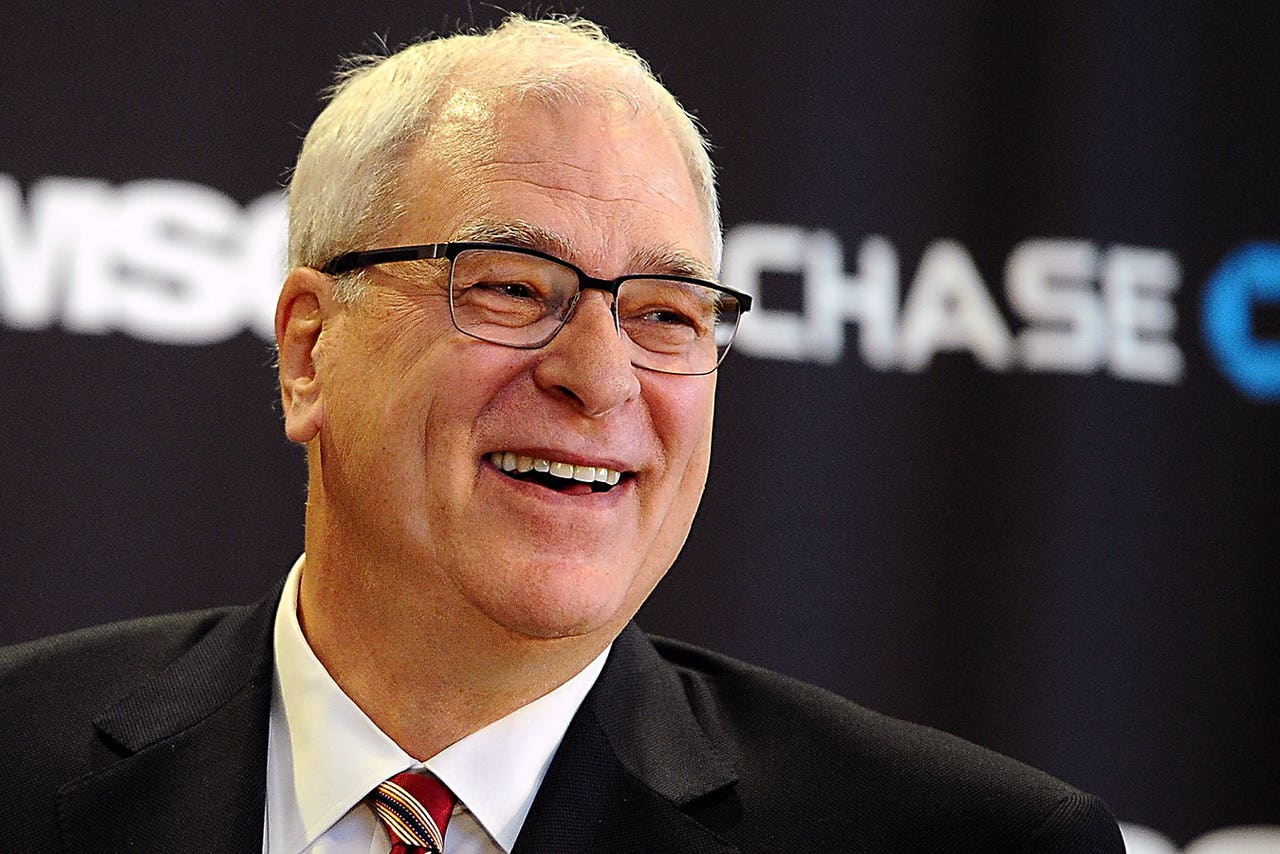 There was a time, believe or not, when being a fan of the New York Knicks wasn'€™t the desultory, soul-crushing experience that it has become under owner James Dolan. Twenty years ago, the Pat Riley-coached, Patrick Ewing-led ballers, the ones that bullied their way into the finals while Michael Jordan was a Birmingham Baron, came within a Hakeem Olajuwon fingertip from winning the team'€™s first championship since 1973. 
That title-winning team from 41 years ago boasted, among several Hall of Fame players, a Hall of Fame coach, although then he was merely a 6-foot-8 power forward from the University of North Dakota, a bench player averaging eight points and four rebounds on less than 18 minutes a game. He wasn'€™t the heart of the Knicks, but Phil Jackson witnessed firsthand what it took to win in the NBA. 
Eleven titles later as a coach, Jackson is now tasked with saving his old Knicks franchise, the one he tormented as Chicago'€™s head coach for so many seasons. His five-year mission: Rebuilding a team that has become, stemming from incidents both on the court and off, one of the NBA'€™s biggest jokes. He'€™ll also need to rekindle the lost love affair that Knicks fans of a certain age can now only barely recall. The Linsanity from two seasons ago was but a morsel of those years of sustained excitement and excellence in the '€˜90s, and they may be lost for good if Jackson can't resurrect them. 
This can be done. Though it will take something like 100 moves in only the most precise and proper direction, here are five things Jackson can do in the short-term to start making some headway:
1. Make nice with Melo
The Knicks'€™ contract situation through next season gives off chills like an old John Carpenter script. Practically every high-priced player on the roster will be back, because there'€™s no way in hell Amar'€™e Stoudemire ($23.4 million) or Andrea Bargnani ($11.5 million) are going to exercise their early termination option, although they'€™d probably win the city'€™s next mayoral election should they choose otherwise. Tyson Chandler, the team's best defensive presence, is on the hook for $14.6 million and J.R. Smith, Raymond Felton, Iman Shumpert, Pablo Prigioni, and Tim Hardaway Jr. will make a collective $15.3 million. That's a full roster in place with no financial flexibility. For Knicks fans, what you see now is what you'€™ll be getting again.
The biggest question is Carmelo Anthony, who can also exercise his early termination option, thereby walking away from a $23.3 million payday and heading into free agency. With limited options to tweak the roster as is — what team in its right mind would trade for Bargnani, right? — Jackson needs to sell Anthony on the future. Without him, Jackson's prospects for rebuilding the roster in the summer of 2015 becomes immensely more daunting.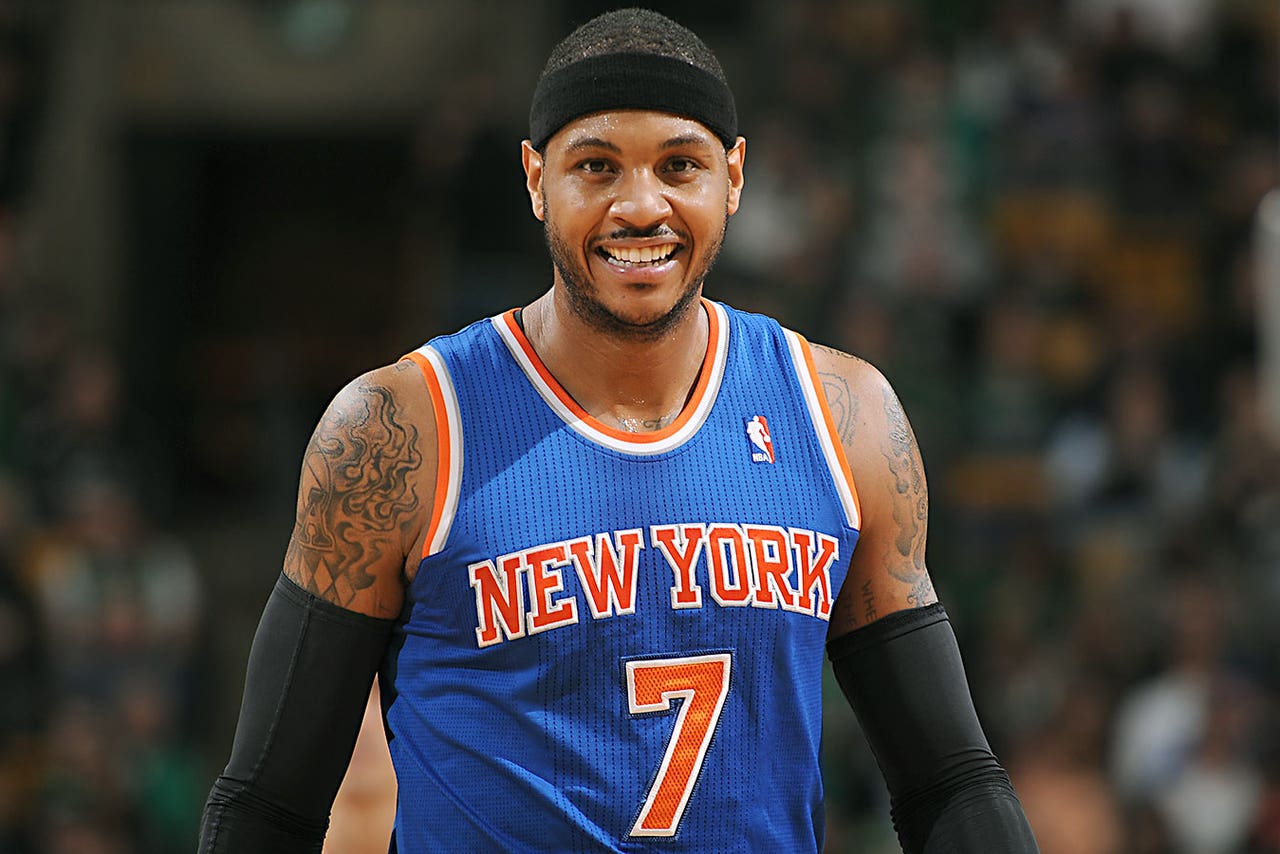 Making nice with 'Melo would be a good start for Jackson.
But with Anthony as the centerpiece, Jackson can build a franchise from the ground up, luring two or three top free agents and rounding out the roster with the kinds of steady role players that played such pivotal roles for him in Chicago and Los Angeles. 
Before all that can happen, Jackson needs to convince Anthony not to leave. Jackson has been critical of him before, but flashing two complete hands of championship rings would make for a most compelling argument under any circumstance.
2. Embrace analytics
It was in June 2011, only a month after Jackson formally announced his retirement as Lakers head coach, that the Dallas Mavericks won their first-ever championship, thanks in no small part to their early adoption of high-grade basketball analytics, new-fangled statistical insights derived from player-tracking cameras installed in the rafters above and around the court. Back then, only four teams were guinea-pigging this tech. Now, it's become commonplace in the NBA, which has developed fascinating new metrics from scratch based on its implementation. 
Jackson didn'€™t get to win 11 titles over a prestigious career by not being adaptive to the changing norms of the league, but this will be a learning curve he'€™ll need to get through sooner than later. The good news is that its application has become so widespread and its results so palatable that even the old guard can catch up fast.
3. Ignore the man upstairs
James Dolan, the odious and universally loathed chief executive of Cablevision, has become everything you do not wish your team'€™s owner to represent. His unrelenting micromanagement of player personnel has, over the years, driven away some of the top executives in the NBA, all people who, if given even just a modicum of real, unquestioned decision-making power, could have transformed this team long ago, or perhaps not let this situation get to the nadir it is now. Donnie Walsh, as close to a miracle worker as the Knicks have seen of late, came the closest, but even he was pushed out by Dolan by the summer of 2011, just three years after —€" much like Jackson's situation —€" he was hired as team president and given the mandate of changing a team stricken with back-ended contracts and a culture of perpetual failure.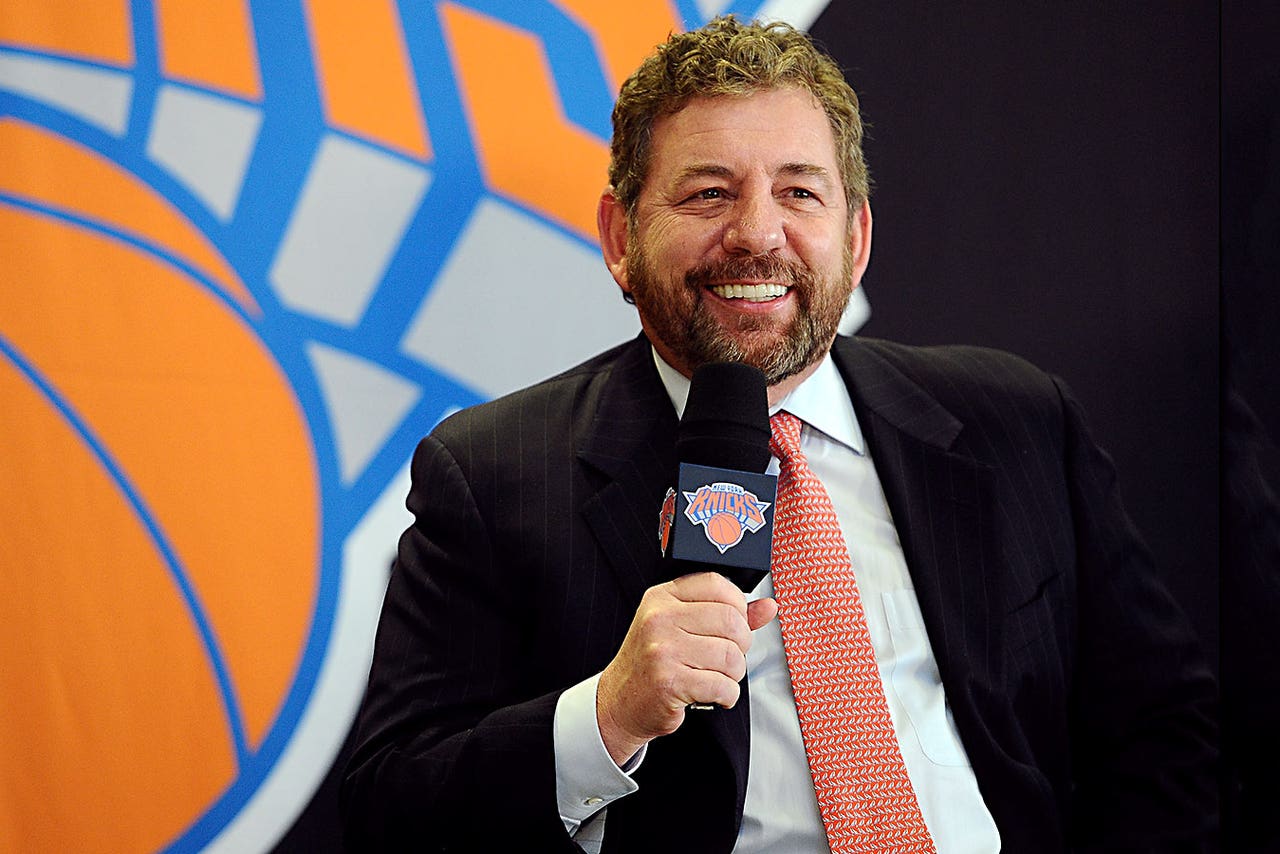 Best thing James Dolan can do? Stay out of Phil's way.
Jackson has produced the successful coaching career that he has by not kowtowing to big egos and bullies. He'€™ll need every ounce of diplomacy and tact he can muster when he's dealing with Dolan in the day-to-day operations of running the team. On some level, it's reasonable to assume that Jackson would not have even taken such a position without some reassurances against meddling from Dolan, who insists he'€™s ceding authority to Jackson. Whatever their arrangement, Jackson will assuredly hold him to their prearranged conditions, which should keep Dolan from sabotaging Jackson's reclamation strategy.
4. Bring in the right coach
Mike Woodson is as lame a duck as coaches come. There are already rumors about him ending up as Indiana head coach — the Hoosiers, that is —€" should the Knicks let him go. And the Knicks will let him go, because that will be Jackson'€™s absolute right to do so. Woodson enjoyed brief success last season as the Knicks won their first playoff series in almost 5,000 days, against a decrepit and undermanned Celtics squad. This season, they are irrevocably stuck on the wrong side of the playoffs bubble, and Woodson will take the fall, try as he may to fight the future.
Whomever Jackson decides to install as coach will speak volumes about his front-office philosophy will look like going forward in the long-term. The triangle offense that he perfected as head coach is not exactly embraced by today'€™s NBA, Jordan and Kobe's titles be damned, so Knicks watchers are curious to see if he'€™s comfortable moving away from that mindset and content to merely install a coach that's compatible only with his sensibilities off the court. Jackson, so far, seems amenable to something slightly different.
But this person will be responsible for making the roster successful after Jackson'€™s assemblage is underway, so there'€™s no small amount of importance on getting this one correct from the get-go.
5. Hear the fans (and have some fun!)
Knicks fans have become a surly bunch of naysayers, and with good reason. The team consistently underperforms relative to its talent, and Dolan has become an absentee owner, unwilling to play any sort of character beyond the shadowy villain who only emerges at the end of Act III. All this substandard play and management has grated on the fans for 15 years, and they deserve some sort of cathartic release, beyond just reveling in Jackson's installation as team president.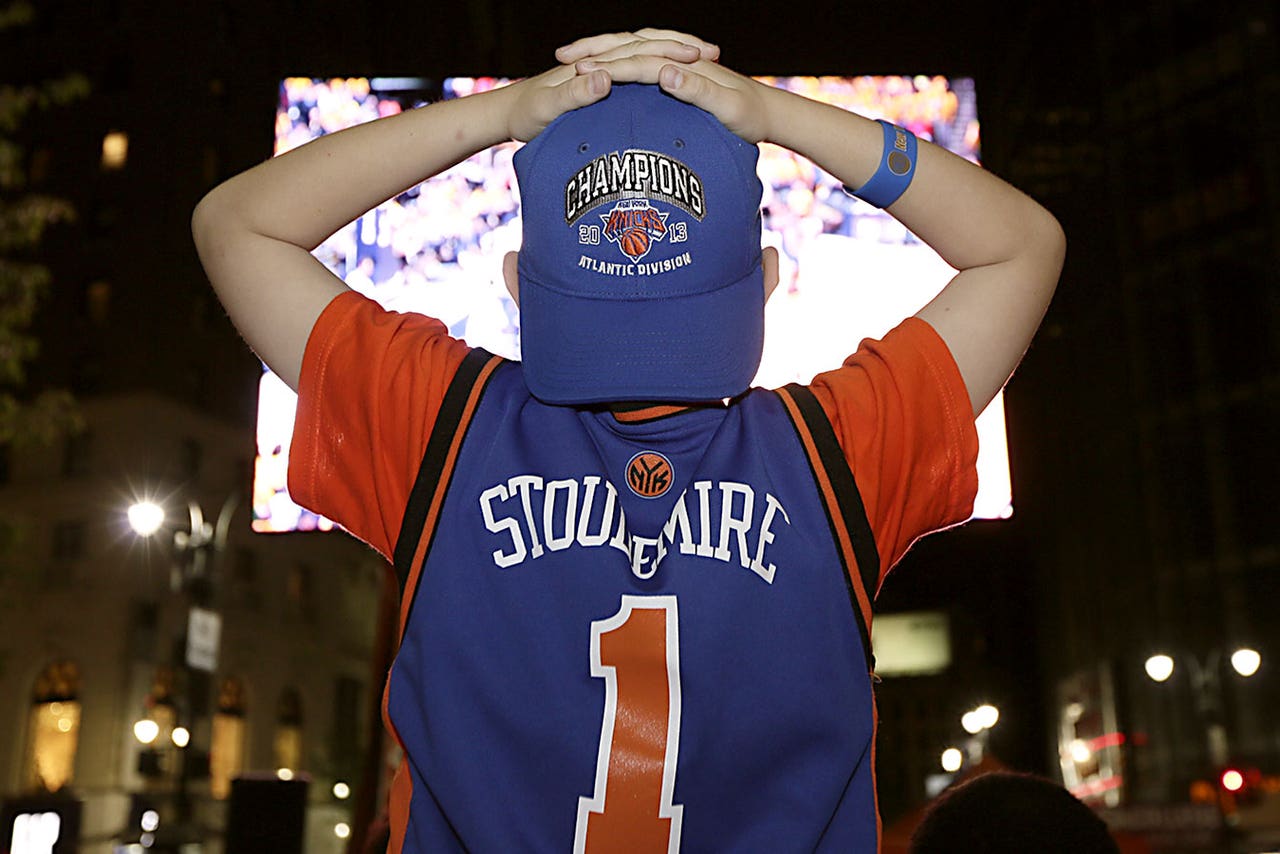 Changing the hearts of minds of Knicks fans starts with listening to them.
There is also a budding narrative, not even a full day into Jackson's tenure, that he'€™s doomed to fail. This may be so, and Knicks fans certainly have been burned so often that the scar tissue barely ever has time to heal. But this venture is, in its totality, doomed from the outset if Jackson acts like it is, that this is some sort of ceremonial hobby for which he collects a hefty check and whistles on his way out the back door with no consideration for his duties. 
No sane person would actually think this is Jackson's attitude, but perceptions are everything. So, at least in the near-future, more important than being good at his job is Jackson looking like he's enjoying his job. That'€™s because Knicks fans have forgotten that basketball can, and should be, above all else, fun. Sports are fun. Being a fan of the Knicks can be fun. Watching the Knicks improve and inch agonizingly closer to the NBA power they once resembled should be fun. This must be Jackson'™s implicit promise to fans in his words and actions. Knicks fans are a sorely forgiving lot, and Jackson would do well to stretch that goodwill as far as it goes. 
Jackson has pledged to be forthcoming and accessible to the New York media. Let's hope that promise extends beyond press row.
These are all things that can be accomplished, or at least set in real, inexorable motion within the month or two following the regular season's end. Jackson will have a grace period from fans and tea executives, sure, but he won'€™t need to fall back on such charity. The man has only known success, since that day 41 years ago when he captured his only title as a player (he was injured but on the roster of the Knicks' 1970 title-winning team too), backing up some of the game's greatest players in front of rabid Manhattan crowds every single night.
Phil Jackson is, in a way, a special kind of New York royalty, an adopted son whose long road home has come to its end -- and a new beginning is now here.
---
---