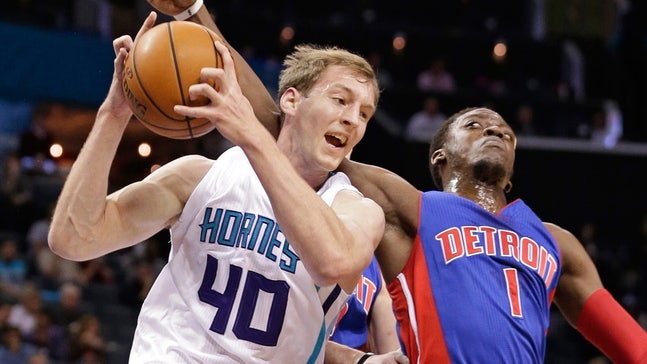 Zeller leads Hornets past Pistons 104-84
Published
Dec. 7, 2015 9:48 p.m. ET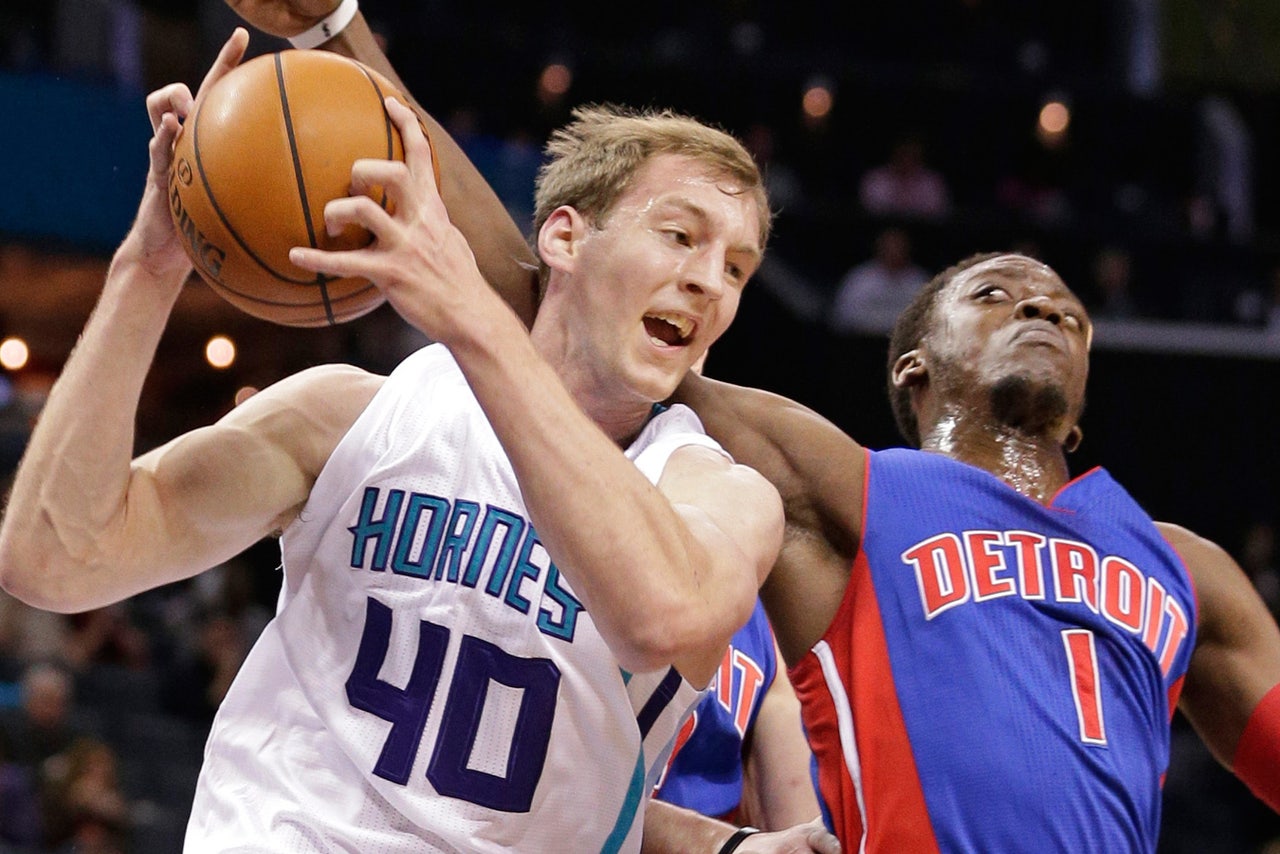 CHARLOTTE, N.C. (AP) -- Cody Zeller knew coming in he had a tough matchup against Andre Drummond and was giving up about 50 pounds.
So Zeller came up with a strategy that worked.
"I just tried to get into his legs and make it tough and keep him off the glass," Zeller said. "It was truly a group effort."
Zeller scored 20 points and Charlotte snapped Detroit's four-game winning streak with a 104-84 victory Monday night. The Hornets got Drummond into foul trouble in the third quarter and limited him to nine points and nine boards while outrebounding the Pistons 57-41 for their seventh win in nine games.
"He's feeling healthier with his shoulder," Hornets coach Steve Clifford said of Zeller. "The other night, you saw him step out and shoot the ball, which is something he's worked on consistently since the summer. It's paying off. He's put a lot of work in and the carry-over to the game is starting to come."
Marvin Williams had 14 points and 12 rebounds, and Kemba Walker added 14 points and nine rebounds for Charlotte. Nicolas Batum had 13 points, eight assists and seven rebounds in another solid all-around game for the Hornets (12-8).
The Pistons (12-10) were led by Kentavious Caldwell-Pope's 16 points and Ersan Ilyasova's 15 points and 11 rebounds.
Charlotte, which has struggled all season on the glass, turned the tables on Detroit despite playing without injured center Al Jefferson.
"It has to become who we are," Clifford said of the team's rebounding. "It has to be an every-night thing. If it is we have the chance to be the team that we think we can be."
Said Detroit coach Stan Van Gundy: "We didn't rebound the ball even when (Drummond) was out there. We got crushed when Andre was out there."
The Hornets led by as many as 26 in the third quarter and Clifford emptied his bench with about 3 minutes left in the game.
Charlotte improved to 9-3 at home.
The Pistons had scored 100 or more points in each of their last four wins but shot just 36.8 percent from the field and scored only 33 points in the second half.
"We have to figure out a way to generate some energy on the road," Anthony Tolliver said.
Zeller started at center, with Jefferson still out due to a strained left calf. The 7-footer who is coming off offseason shoulder surgery played physical and ran the court well, working hard to get to the foul line, where he was 10 of 13. He finished one point shy of his career high.
The Hornets led by 11 at halftime but stretched that to 26 late in the third behind an uncontested dunk in the lane by Spencer Hawes off an over-the-shoulder feed from Jeremy Lin.
Detroit closed the gap to 13 in the fourth, but the Hornets stormed back and left no doubt. Charlotte pushed the lead to 20 when Hawes scored on a pick-and-roll, and Williams controlled the boards by tipping out two long-range misses to keep possession of the ball.
TIP-INS
Pistons: Marcus Morris logged his 17th game with 10 or more points, finishing with 11. ... Detroit was 10 of 34 from 3-point range.
Hornets: Charlotte improved to 10-0 when scoring 100 points this season. ... Rookie guard Aaron Harrison played for just the third time this season.
WALKER BATTLES THROUGH
Clifford didn't think Walker would play because of an illness. However, he wound up starting and made his 400th career 3-pointer in the first quarter, joining Dell Curry and Glen Rice as the only Charlotte players to reach the milestone.
"He was obviously not 100 percent but he badly wanted to play and I thought he played a good game," Clifford said.
LOOKING TIRED
The Pistons clearly looked fatigued playing on the second night of a back-to-back.
"You have to be ready to play every night and we were not at all," Van Gundy said. "It is clear to everybody that they played harder than us and they deserved to win."
UP NEXT
Pistons: Host Memphis on Wednesday.
Hornets: Host Miami on Wednesday.
---
---