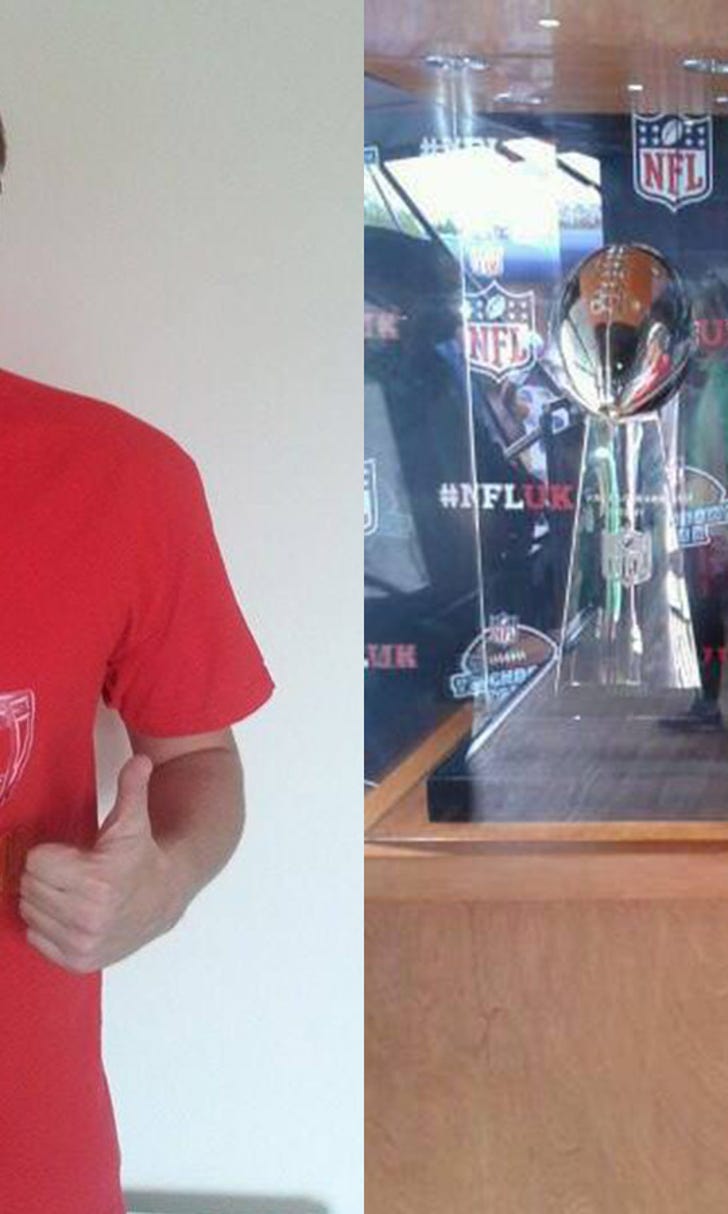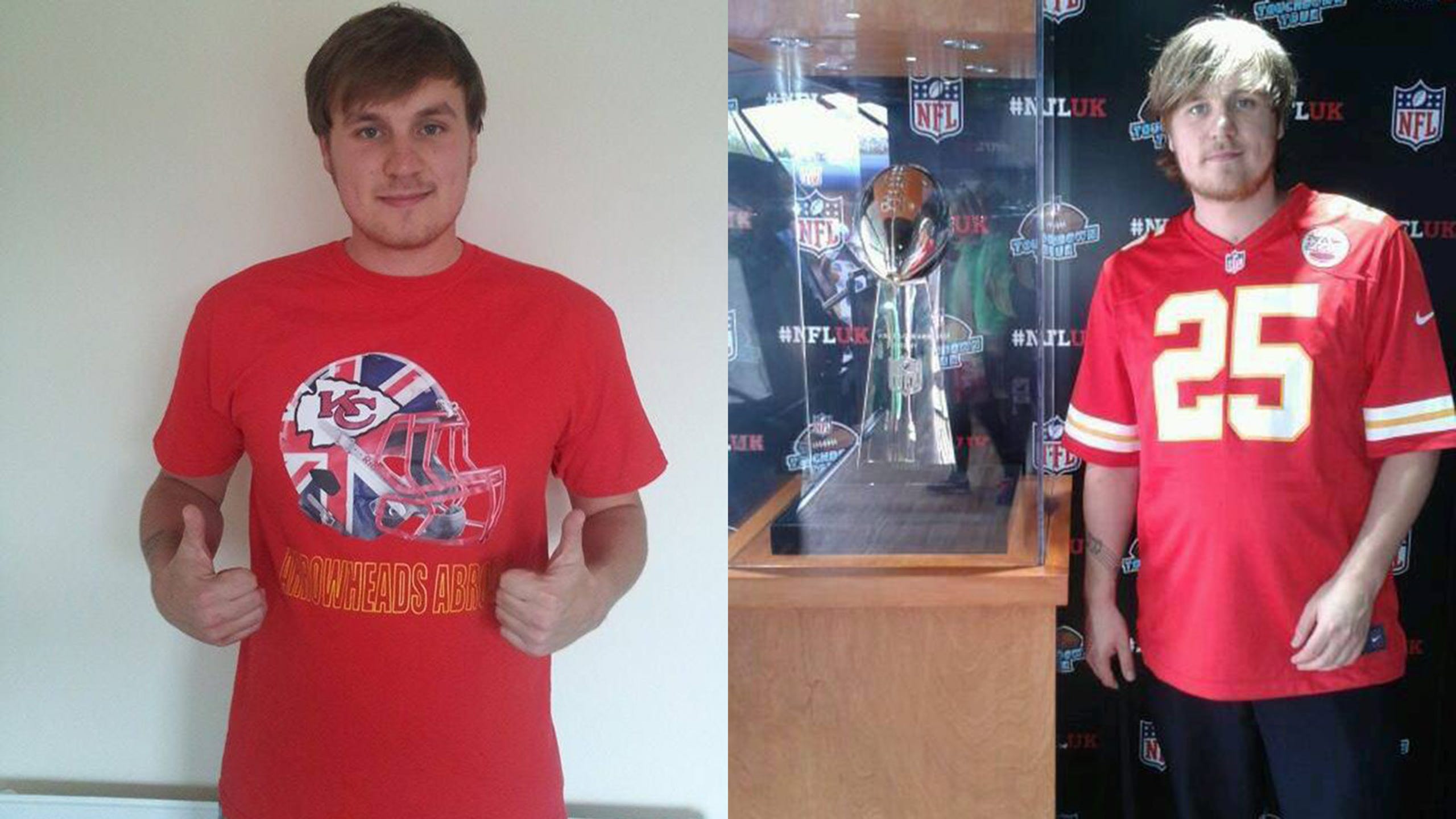 Win one for the Brit: Chief of team's UK fan club will be at Arrowhead on Sunday
BY foxsports • December 11, 2014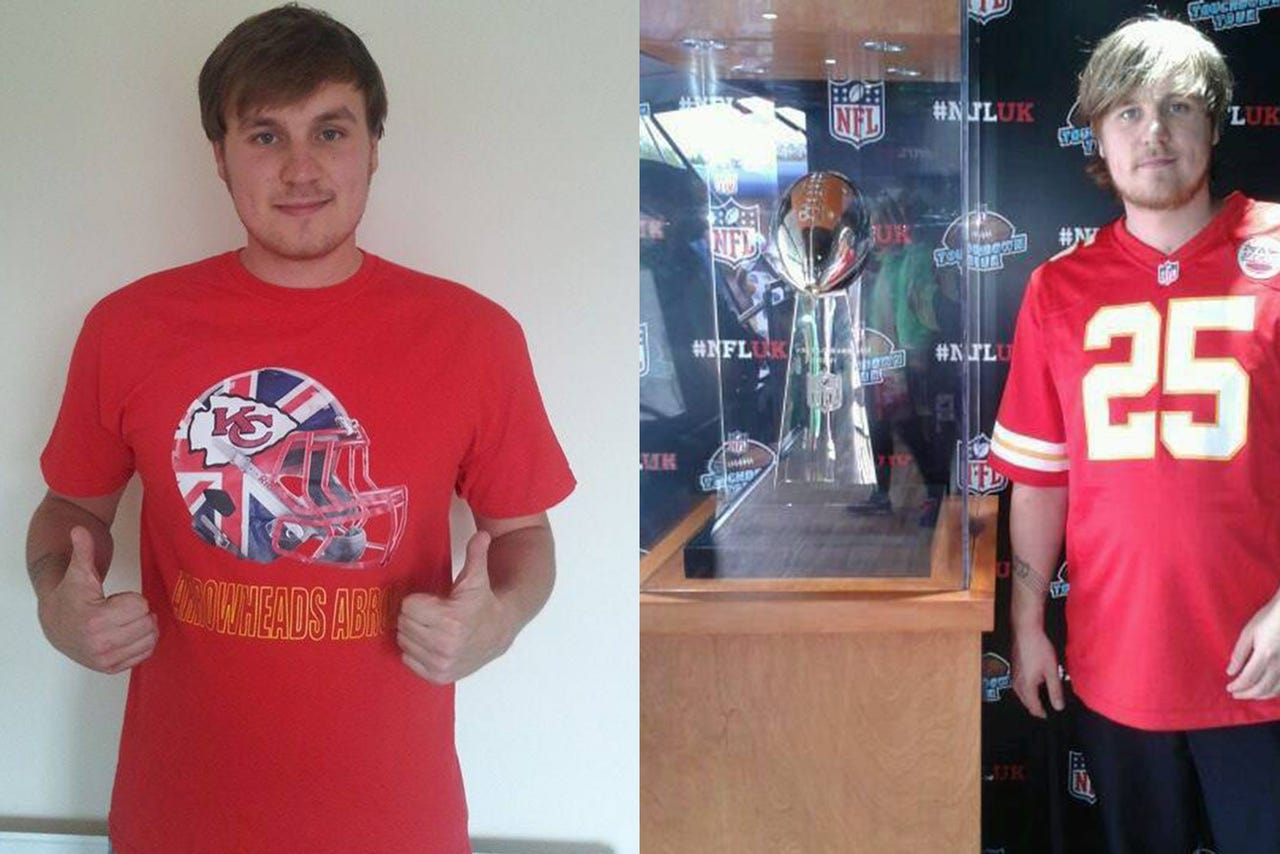 KANSAS CITY, Mo. -- Dude, England loves the Chiefs!
Well, OK, technically it's the Exeter Chiefs, a professional rugby club in Devon. And, to be honest, that love doesn't extend much beyond the country's southwest coast.
Although their logo -- or crest, as they call it across the pond -- has a lot of red and gold in it, too. So there's that.
"The average Brit doesn't know much -- if anything -- about the NFL," Tom Childs says. "If they do know any teams, I would put my mortgage, if I had one, on them being the Bears, Dolphins and Cowboys. As for the Chiefs, not a hope in hell."
Ah, see now, but here's the good news: Childs is doing everything in his power -- or as much as any 20-something in Leighton Buzzard, a town about the size of Cape Girardeau, some 40 miles north of London, can do -- to spread the gospel of Andy, Tamba and Jamaal.
Childs is one of the founders of Arrowheads Abroad, a Kansas City Chiefs fan club in the United Kingdom, and editor of the Arrowheads Abroad website. Arrowheads Abroad had more than 1,760 followers on Twitter as of early Thursday afternoon (@KCChiefsUK), and the 26-year-old has taken it upon his club to make the Chiefs, and Chiefs fans, feel as welcome as possible when the team plays Detroit at London's Wembley Stadium next Nov. 1.
"Can't wait for (the Chiefs in) London," Childs says, noting that Arrowheads Abroad has already set up a Halloween party to celebrate their beloved team. And while they can't replicate the exact parking lot ambience/smells of Arrowhead on game day, damned if they don't try.
But first, they'll be doing a little field research on Sunday. Firsthand.
If the Royals had SungWoo Lee, the Chiefs have ... well, Tom and Guy.
Childs and a pal will attend their first NFL game in the USA -- it's the former's first trip to the States, period -- on Sunday when the Chiefs (7-6) host the Oakland Raiders (2-11) at Arrowhead Stadium, the first of what's become three must-win games for the Andy Gang down the stretch.
"And I am not going to lie," Childs tells FOXSportsKansasCity.com. "I have high expectations.
"I expect the beer to be good, the Arrowhead faithful to be loud, the Chiefs to win and the barbecue to be out of this world."
And hey, who are we to disappoint?
"I heard about the SungWoo thing, and it seemed like he was really embraced in KC," Childs says of this past summer's viral sensation.
"I am not expecting the same treatment, to be honest. I should imagine there is only one thing rarer than a British Chiefs fan, and that is a Korean Royals fan."
One of the best things about the 21st century world is that the global village is smaller than ever before, especially where sports (and sports fans) are concerned. Continents are bridged by the Internet, a forum where a man in South Korea can follow the Royals, where a man in England can follow the Chiefs and a man in Nebraska can follow, say, the Hull City Football Club, download the podcasts, stream the post-match radio show live and for free, and share in the fan experience from oceans away.
Although it does beg the question: How does someone growing up north of London decide to adopt the Chiefs, the Kansas City ones, as his own?
The same way many 35-and-unders have -- video games. A dozen years ago, one of Childs' neighbors lent him a copy of EA Sports' iconic Madden Football series, and he "was hooked instantly."
A few days of playing later, young Tom decided he needed to pick a team of choice to offer up his heart to. As a follower of local soccer giant Arsenal, he decided the colors had to be red and white.
"Atlanta and Arizona have black on their kit (uniform)," Childs explains, "(That was) the same color as Manchester United (so), they're gone!"
That left two options: the 49ers ... or the Chiefs.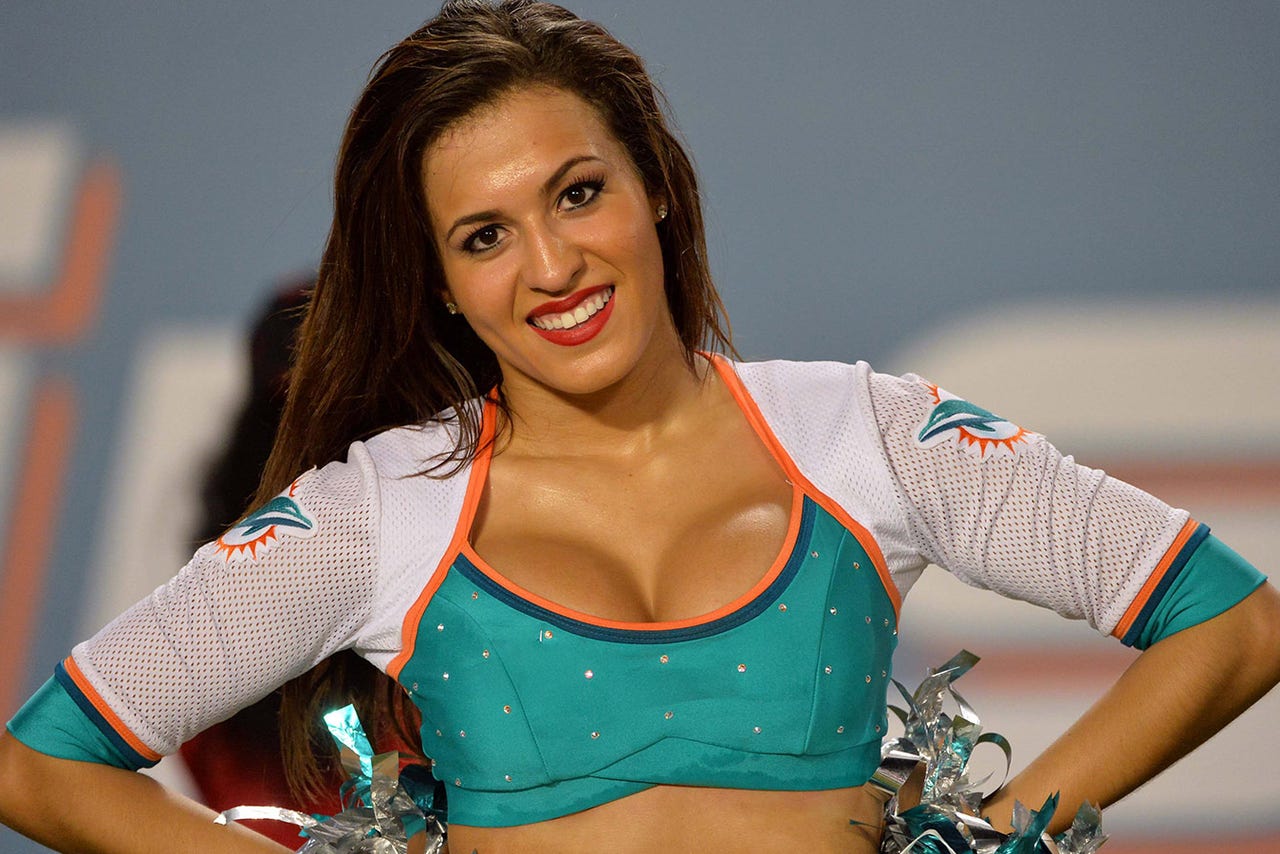 Flip through our photo album of NFL cheerleaders.
"To this day, I can't remember what the deciding factor was," Childs says. "But I'm very impressed with my past self for choosing the right team."
And now he's here, a tourist/fan/blogger, with his friend Guy -- another NFL-loving Brit, only one who's adopted, um ... Pittsburgh (boo, hiss).
"He's agreed to support the Chiefs Sunday," Childs says, "(and) even sport KC red, despite the playoff implications for his beloved Steelers."
Since joining the bandwagon -- and, really, forming his own British version -- in 2002, Childs has soaked up all the knowledge he can, cramming decades of glory in through websites and YouTube clips. He can tell you, without blinking, the year of the last Chiefs Super Bowl (1970), the team's last Super Bowl coach (Hank Stram), and the last franchise the Chiefs actually beat in the postseason (the Houston Oilers, 1994).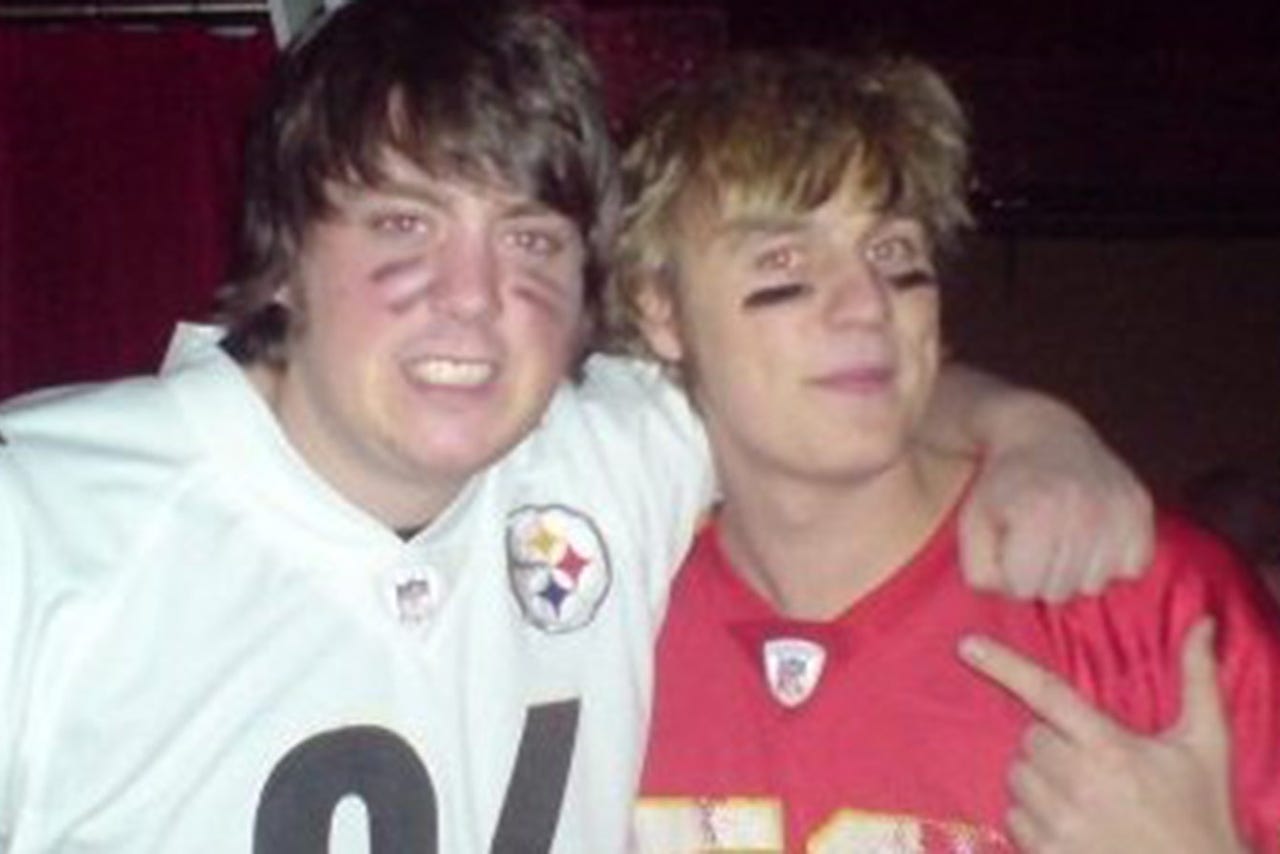 Tom Childs (right) with his friend Guy, a Steelers fan who is joining him on his trip to the U.S.

Childs even interviewed Christian Okoye last month for a piece that ran on the Arrowheads Abroad site.  He posed with the Lombardi Trophy when it toured the UK last year. After attending a number of NFL games in London wearing Chiefs gear -- and seeking out other Brits in Chiefs gear at Wembley -- he's thrilled to see his favorite team, finally, in person.
Also, just so ya know, he's pro-Alex.
"I think he is massively overachieving for the offense around him." Childs says of Alex Smith, the Chiefs' starting quarterback and a rather divisive figure as of late. "The offensive line, in my opinion, has only two players that will be solid starters for years to come (Eric Fisher and Rodney Hudson). Obviously, in (Anthony) Sherman, (Knile) Davis and (Jamaal) Charles, I think we have the best set of backs in the league.
"But in the passing game there is nothing outside for (Smith). (Dwayne) Bowe only catches crossing routes these days and the other guys just can't get open in the short window the offensive line gives Alex to throw in."
Childs is sooooooo Kansas City -- an English brother from another mother, if you like -- that he's a massive basketball junkie as well. He plans to attend the Kansas-Utah game Saturday afternoon at Sprint Center, and a jaunt through the National Collegiate Basketball Hall of Fame next door, as a preamble to the main show on Sunday morning.
"Back in the UK, we eat barbecue maybe 5 or 6 p.m., always on a summer's afternoon in the garden," Childs says. "Never in my life have I ate barbecue on a cold, winter Sunday morning in a car park. And to be honest, I cannot wait!"
So if you come across a tall geezer in a red Charles jersey with a funny accent, you already know the drill. Welcome him aboard. Welcome him home.
You can follow Sean Keeler on Twitter at @SeanKeeler or email him at seanmkeeler@gmail.com.
---
---