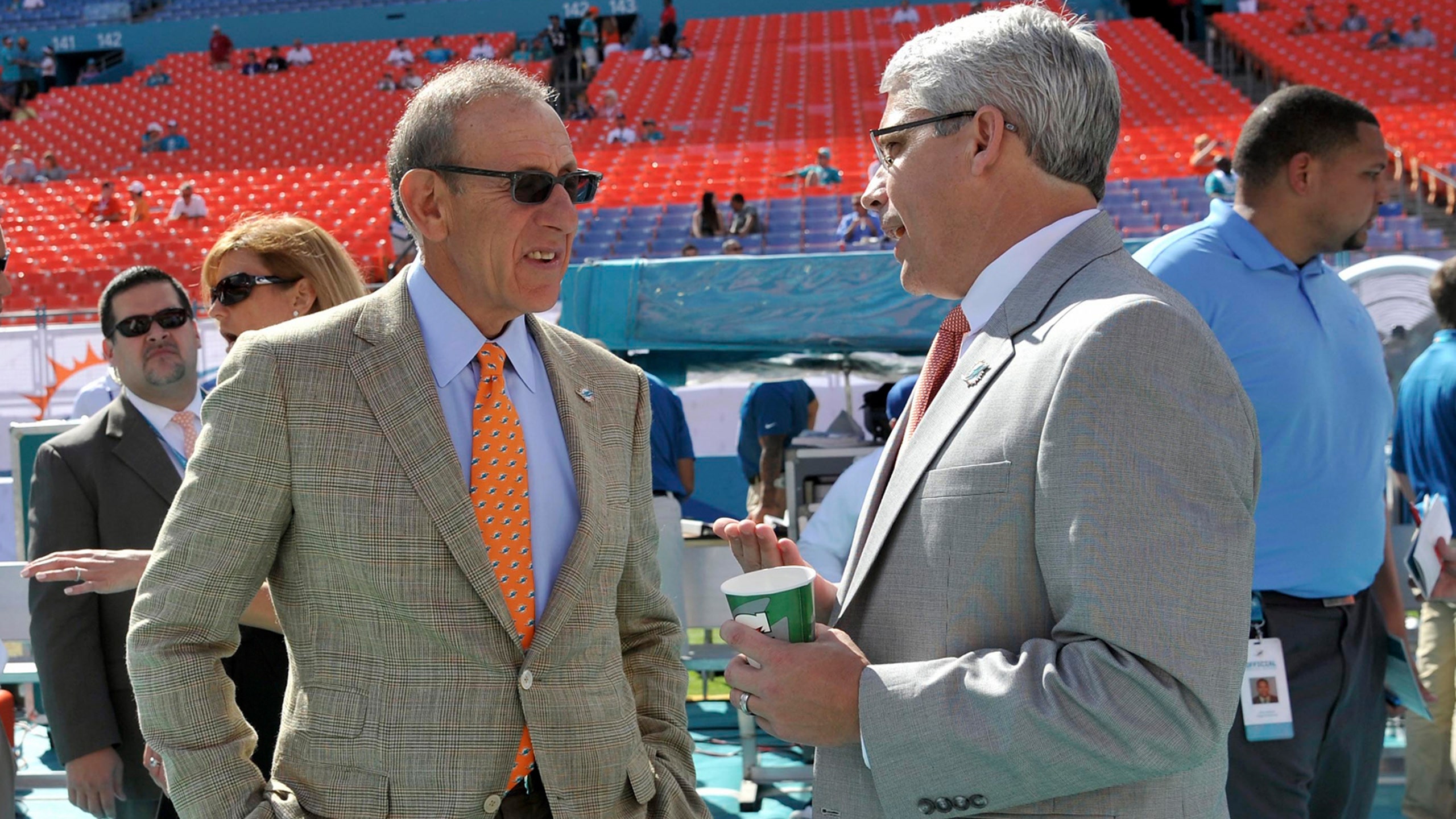 Who's the boss? Breaking down pros, cons of Mike Tannenbaum's role with Dolphins
BY foxsports • January 6, 2015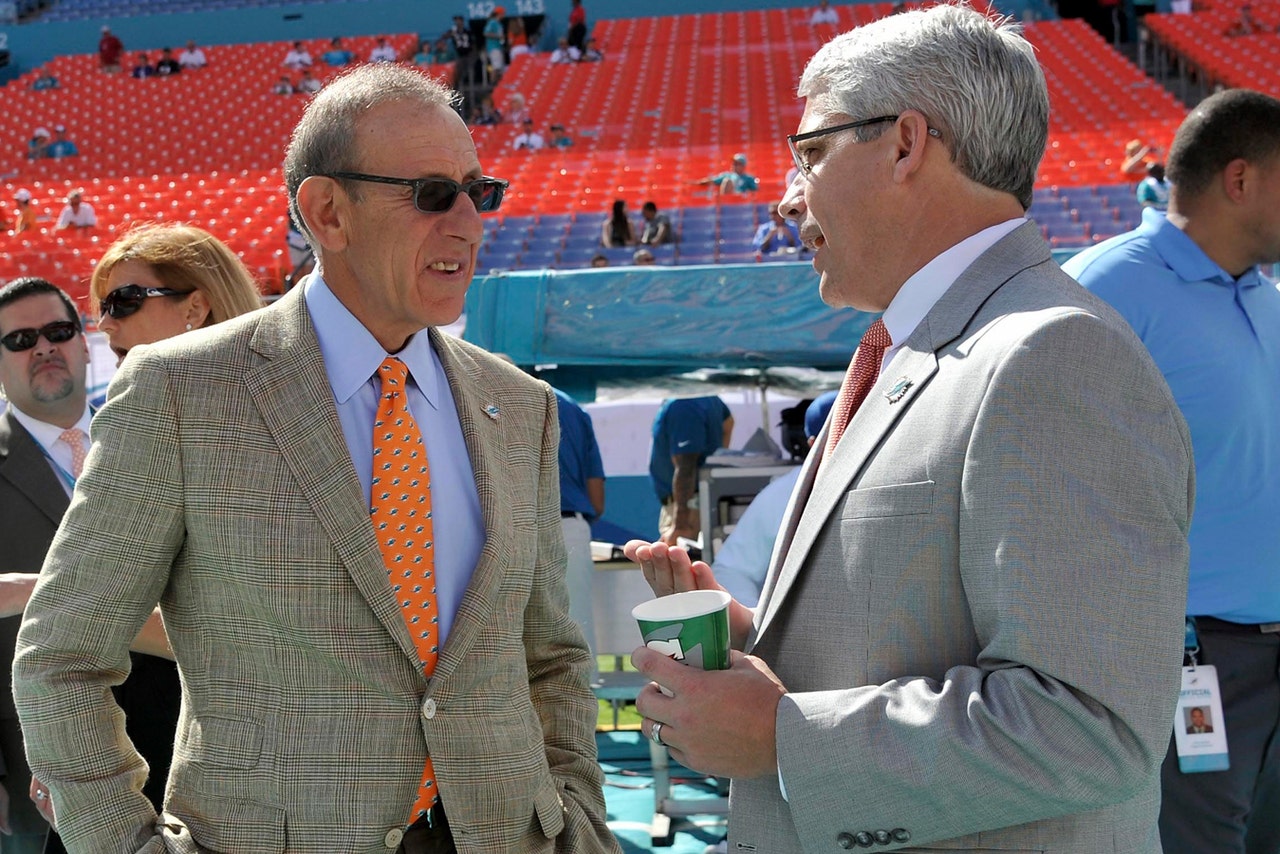 The Miami Dolphins continued a busy start to their offseason with Tuesday's announcement that Mike Tannenbaum will join the front office as the executive vice president of football operations.
Tannenbaum joined the Dolphins as a consultant in August 2014, and the former general manager of the New York Jets now assumes a wide-ranging role wielding significant power within the organization.
What that means was spelled out by Tannenbaum in a hastily assembled conference call to media, but how will it truly affect the Dolphins moving forward?
After two years away from the NFL working as a coaching agent for Priority Sports & Entertainment, Tannenbaum was lured back with a high-level position overseeing the front office, and he will report to Ross directly, as will head coach Joe Philbin.
"I want to thank Steve Ross for giving me an incredible opportunity," Tannenbaum said. "It was a hard decision from the standpoint of my business is going really well. But football is in my blood. I missed it dearly, missed getting in a foxhole with people committed to a cause."
General manager Dennis Hickey's role apparently remains unchanged with final say on draft picks and the roster, Tannenbaum said.
But will this move ultimately help or hurt the franchise's fortunes?
PROS
1. Fresh ideas.
Any help the Dolphins can get to improve the team remains the ultimate factor, and Ross believes Tannenbaum's 16 years with the Jets in the same division can be beneficial.
The stated goal of the franchise for 2014 was a winning record and making the playoffs. Neither happened, but there was plenty of progress and important steps were taken, Tannenbaum said.
"Going into the last two weeks of the season, the team was right in the middle of a playoff run," he said. "They have a really good young quarterback that got better this year with (offensive coordinator) Bill Lazor.
"I don't think we're far away. I think it's really critical that we have our self-evaluation of where the roster is, it starts with that. I think to have sustainable success, you really have to know your roster well. Then we have to attack our needs aggressively. That's a combination of the draft, trades and free agency. We'll put a good plan together, working together."
2. Experience.
Up top, the power structure adds another credible voice to the leadership of the franchise, and not just because of his past work with the Jets.
Tannenbaum's role as an agent gave him exposure to some of the top minds from different sports, and he plans on incorporating his experiences into his new role.
"I wouldn't trade the last two years for anything," he said. "I've learned a lot. I've really had a chance to reflect and spend time with college coaches, basketball coaches, player procurement, be it whatever sport. There are a lot of different things you can learn.
"I spent a lot of time with R.C. Buford of the (San Antonio) Spurs, for example, and how they do things or (Golden State Warriors coach) Steve Kerr or (Cleveland Cavaliers coach) David Blatt. It's been great and there are some ideas and things that I will be certainly talking to Dennis about how we can be better."
3. Forward thinking.
Tannenbaum said he would be hiring a sports performance director and will continue implementing the latest technology into the operation.
"Steve was interested in pursuing sports science, knowing that all of the jobs are done on a day-to-day basis doesn't always allow to look into innovation, so he asked me to do it," he said.
The effort to help maximize their roster began last season after he was brought onboard as a consultant, with the team implementing four next-generation tracking devices on the players measuring a wide variety of conditions.
CONS
1. Crowded front office.
Hickey's role still remains murky after just one season on the job, and having him now report to Tannenbaum -- with Philbin reporting directly to Ross -- is an awkward structure. There was already enough pressure on the front office to make the playoffs next season; this adds another element to their direction.
Let's not forget Bill Parcells' tenure with the Dolphins in a similar capacity working alongside general manager Jeff Ireland and coach Tony Sparano. That partnership ended unceremoniously after two and a half years under strained relationships with Ross and the front office.
It's only January, so there could be more in store and this may not be the only changes planned. Dan Marino was also brought onboard last season as a consultant; will he also be promoted?
2. Questionable Jets tenure.
Tannenbaum spent 16 years with the Jets in various capacities, and he became their general manager in 2007. He was let go before the 2013 season with an 57-55 record -- though head coach Rex Ryan led the team to back-to-back AFC title game appearances in 2009-10.
But many of his decisions backfired near the end of his tenure, and many of his draft picks didn't pan out, leaving behind a weak roster that had one of the worst records in the NFL, leading to firing of his own replacement John Idzik after two seasons.
3. Is there faith in Hickey?
Hickey did well in his first year as the general manager -- despite the team ultimately coming up short -- with a solid draft featuring wide receiver Jarvis Landry and offensive lineman Ja'Wuan James. His smart signings of Brandon Albert, Louis Delmas and Cortland Finnegan were also strong additions to the team.
So why the sudden change up top, where Hickey remains in charge of roster decisions but doesn't report directly anymore to Ross -- who insists on being a hands-on owner -- but rather to Tannenbaum, a former general manager with far more experience?
Tannenbaum insists the entire process will be a cohesive, collaborative effort.
"Dennis will have more time to worry about scouting and all of that entails and running the scouting department," he said. "There are a ton of administrative things that come across your desk that I'll handle, working with (team executive) Dawn Aponte and then, again, trying to take the big picture, when we see opportunities in analytics or innovation, trying to tie all of those things together. There are a lot of departments that go on in running a football team."
You can follow Surya Fernandez on Twitter @SuryaHeatNBA or email him at SuryaFoxSports@gmail.com.
---
---