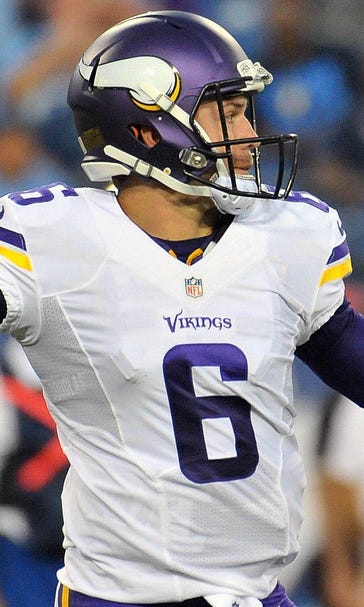 What did it mean? Vikings-Titans preseason game recap
BY foxsports • September 4, 2015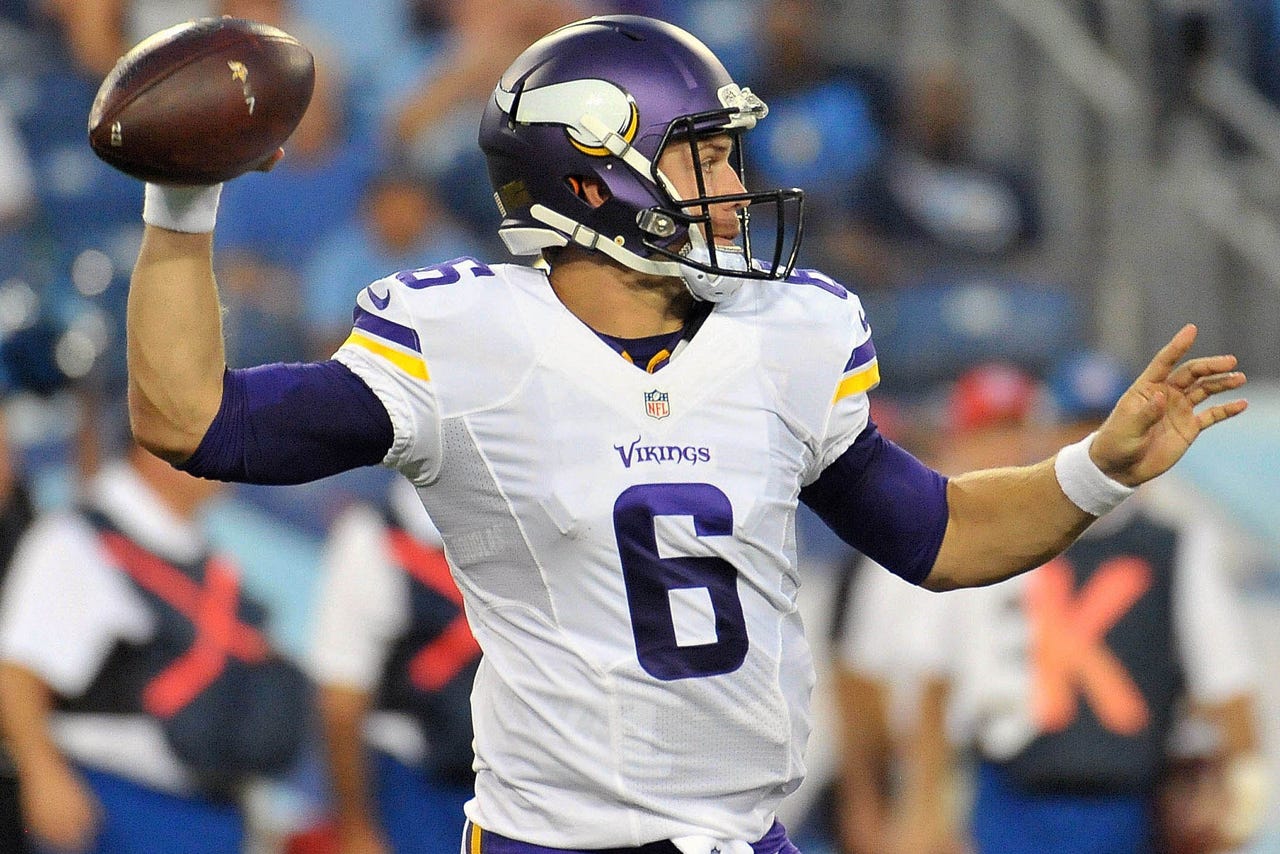 The 2015 Minnesota Vikings preseason is finally, mercifully over. (Seriously, doesn't it feel like the Hall of Fame Game took place eons ago?)
-- Taylor Heinicke is an NFL-caliber quarterback. Minnesota turned to its undrafted, 22-year-old rookie to take every snap in Tennessee, and Heinicke didn't disappoint. The Old Dominion product completed 27 of 41 passes for 279 yards and two touchdowns (and also had an 18-yard run). Is Minnesota willing to keep three QBs to accommodate Heinicke?
-- Time of possession might actually be important for the 2015 Vikings. After controlling the clock for the majority of their preseason slate, Mike Zimmer's troops lost the t.o.p.. battle Thursday, 34:12 to 25:48. Time of possession is a misleading stat for many teams, but perhaps not for this year's Vikings, who will likely heavily utilize Adrian Peterson and short, high-percentage passes.
-- The Vikings have a few tough decisions to make before whittling their roster down to 53 players by 3 p.m. Saturday. Positions where Minnesota has tough decisions to make: linebacker, tight end and cornerback.   
4 things we still don't know
-- How will Peterson handle his long layoff when he finally plays in the regular-season opener? The Vikings star continued his trend of staying on the sidelines throughout preseason play, meaning he hasn't seen game action since Week 1 of last season, due to his 2014 legal issues. Peterson warmed up Thursday before idling on the sidelines. The 30-year-old will run hard from Day 1 of the regular season, but will he be able to avoid injury?
-- Can kicker Blair Walsh be trusted for 16 regular-season games? Walsh went 1 for 2 on field-goal attempts in Nashville, missing a 48-yarder. He ended the preseason 5 for 11 on field-goal attempts. Every kick is a white-knuckle ride for Minnesota's fourth-year kicker right now.
-- Who is Minnesota's most trustworthy return man? The one thing former Gopher Marcus Sherels had going for him, above all else, was his sure-handed nature when handling punts. But the 27-year-old fumbled a kick late in Thursday's third quarter, handing the Titans the ball 11 yards from paydirt. Meanwhile, Diggs and Cordarrelle Patterson have shown big-play ability in recent weeks.  
-- Why is the NFL preseason so interminably long? First of all, no NFL team should be forced to play five exhibition contests in this era of supposed concern for player safety. And, secondly, no fan paying full price for a game ticket should be forced to watch nothing but backup players for the majority of the night. Here's how unimportant the final preseason game is: Tennessee is about to throw a 21-year-old starting QB to the wolves in just over a week, and yet the Titans only deemed it necessary to give Marcus Mariota four total snaps Thursday. Four! 
3 key stats
 --The Vikings allowed 13.8 points per game during their five-game exhibition run. Yes, Zimmer likely wasn't thrilled with Thursday's so-so showing, but, in today's NFL, yielding just 13.8 points per game would win you a lot of games over the course of a full season. 
2 Top performances
--We praised the likes of Heinicke and Diggs earlier, but how about the bounceback performance of rookie tight end MyCole Pruitt? The 6-foot-2, 258-pound Southern Illinois product showed no ill effects from his recent ankle ailment, hauling in three receptions for 41 yards, including a 28-yarder.
-- Who knows what the future holds for 25-year-old reserve linebacker Michael Mauti, but he finished the preseason in style at Tennessee. With just under five minutes remaining, the former Penn State star blocked a punt and recovered it, handing his squad the ball at the Titans' 26 yard-line.
 1 big moment
-- At the 13:28 mark of the opening quarter, Tennessee set an early tone in this contest, as receiver Harry Douglas ran largely untouched into the end zone for a 59-yard catch and run, due to botched coverage on a rub route. Zimmer's face has rarely looked so red.  
Next: Monday, Sept. 14, at San Francisco, 9:20 p.m. CT, in the regular-season opener.
Follow Kelly Beaton on Twitter
---
---